DroID: the Drosophila Interactions Database, a comprehensive resource for annotated gene and protein interactions
Received: 13 May 2008
Accepted: 07 October 2008
Published: 07 October 2008
Abstract
Background
Charting the interactions among genes and among their protein products is essential for understanding biological systems. A flood of interaction data is emerging from high throughput technologies, computational approaches, and literature mining methods. Quick and efficient access to this data has become a critical issue for biologists. Several excellent multi-organism databases for gene and protein interactions are available, yet most of these have understandable difficulty maintaining comprehensive information for any one organism. No single database, for example, includes all available interactions, integrated gene expression data, and comprehensive and searchable gene information for the important model organism, Drosophila melanogaster.
Description
DroID, the Drosophila Interactions Database, is a comprehensive interactions database designed specifically for Drosophila. DroID houses published physical protein interactions, genetic interactions, and computationally predicted interactions, including interologs based on data for other model organisms and humans. All interactions are annotated with original experimental data and source information. DroID can be searched and filtered based on interaction information or a comprehensive set of gene attributes from Flybase. DroID also contains gene expression and expression correlation data that can be searched and used to filter datasets, for example, to focus a study on sub-networks of co-expressed genes. To address the inherent noise in interaction data, DroID employs an updatable confidence scoring system that assigns a score to each physical interaction based on the likelihood that it represents a biologically significant link.
Conclusion
DroID is the most comprehensive interactions database available for Drosophila. To facilitate downstream analyses, interactions are annotated with original experimental information, gene expression data, and confidence scores. All data in DroID are freely available and can be searched, explored, and downloaded through three different interfaces, including a text based web site, a Java applet with dynamic graphing capabilities (IM Browser), and a Cytoscape plug-in. DroID is available at http://www.droidb.org.
Keywords
Gene Expression DataGene PairInteraction DataConfidence ScoreGene Expression Dataset
Background
Many of the important properties of biological systems emerge as a result of the interactions among genes and among their protein products. Genes and the proteins they encode participate in gene-gene, gene-protein, and protein-protein interactions to mediate a wide variety of biological processes. An increasing appreciation for the importance of charting these interactions has lead to many large-scale efforts to identify gene and protein interactions for a number of systems [1]. As this data continues to accumulate from a variety of sources there is an increasing need for comprehensive databases and analysis tools that allow biologists to make use of it. Genes and proteins that function in the same pathway, for example, interact directly or indirectly, and their functions can only be fully understood in the context of the interaction networks to which they belong.
Gene and protein interaction data have come from a variety of sources. To detect protein-protein interactions, for example, high throughput yeast two-hybrid [2–5] and co-affinity purification [6, 7] screens have been developed and applied to proteins from humans and several model organisms. To generate large networks of gene-protein interactions, high throughput techniques are being developed for detecting transcription factors and other proteins bound to DNA [8–11]. Finally, gene-gene interactions that suggest functional relationships between pairs of genes are being revealed by large-scale assays for genetic interactions [12, 13]. While each type of interaction data has proven useful for understanding how genes and their products work together in biological systems, the large amount of disparate data can be difficult to access and interpret. Combining data from different sources has become important because no single screen or technique is free from false positives and false negatives. Many studies have shown, for example, that interactions detected in multiple screens or by multiple techniques are less likely to be false positives (e.g., [14]), so that combining datasets can provide a simple way to gain confidence in any particular set of interactions. Likewise, the inability of any one technique or particular screen to detect all biologically relevant interactions suggests that combining datasets increases coverage.
A number of centralized databases have been implemented to store gene and protein interaction data and to make it publicly available [15–21]. While most of the data are from large-scale screens, several of these databases have also begun to include data from small-scale 'low throughput' experiments collected by manual curation of the literature. Despite the ideal of central databases to be comprehensive, a surprising number of interactions can be found in one database but not another [22, 23]. Thus, biologists have been well advised to consult multiple databases to get a complete picture of the available data. Most of the large interaction databases include data for many different species. Such multi-species databases, however, are rarely fully comprehensive for any one organism; for example, organism-specific gene information, such as gene expression and phenotype data is not available for searching and filtering the interaction data. Multi-organism databases also have difficulty representing potentially conserved interactions for any given species. Finding conserved interactions requires looking up the orthologous proteins and conducting searches for interaction data in each of several different organisms. Recently, a few public databases have addressed these issues in efforts to generate comprehensive resources for a particular species; e.g., HomoMINT [24] and UniHI for humans [25]. DroID is designed to be a comprehensive interactions database dedicated to the important model organism, Drosophila melanogaster.
Utility and discussion
Summary of the database
The current version of DroID (v4.0) contains 131,659 links among 9,511
D. melanogaster
genes, or roughly 64.4% of the predicted genes. The small amount of overlap between different interaction sets (Table
2
) shows that no single dataset adequately covers the available data, and serves to illustrate the value of making all data available in one location. A major limitation to the value of most interaction datasets is the presence of false positive interactions that have no biological significance. To overcome this limitation and to help biologists focus on the most reliable interactions, DroID assigns confidence scores to individual interactions to denote potential biological significance. The current version of the confidence scoring system (v2.0) assigned scores to the 126,896 physical interactions in DroID (excluding genetic interactions). Of these, 28,259 (22.3%) interactions received a score above 0.5, distinguishing them as the high confidence set. These scores should help biologist focus on the most reliable subset of the data for future studies. For example, networks and subnetworks can be filtered based on user-defined confidence limits to accommodate analyses that tolerate different levels of uncertainty.
Table 2
Overlap between interaction datasets
| | Worm | Yeast | Human | Genetic | Other* | Hybrigenics | Curagen |
| --- | --- | --- | --- | --- | --- | --- | --- |
| Finley | 14 | 73 | 118 | 15 | 6 | 4 | 48 |
| Curagen | 69 | 168 | 263 | 35 | 48 | 23 | |
| Hybrigenics | 8 | 15 | 54 | 24 | 9 | | |
| Other* | 12 | 52 | 220 | 182 | | | |
| Genetic | 8 | 55 | 403 | | | | |
| Human | 201 | 4830 | | | | | |
| Yeast | 137 | | | | | | |
Gene expression correlation
In addition to physical protein-protein interactions and genetic interactions, gene expression data can be a valuable tool for linking together genes that may function together. It has been shown, for example, that genes with correlated expression patterns are more likely to function together in common biological processes (e.g., [
41
,
42
]), and at least in yeast, proteins encoded by co-expressed genes are more likely to participate in direct physical interactions than random pairs [
48
]. To help reveal relevant functional linkages, every gene pair in DroID is annotated with gene expression correlation values. Consistent with findings in yeast, we found that the physical protein-protein interactions in DroID are encoded by gene pairs with significantly higher expression correlations than random gene pairs (p-value < 2.2*10
-16
, Figure
2A
and Figure
3
). In addition, higher expression correlation values were seen for gene pairs that genetically interact, and therefore are likely to function in common biological processes (Figure
2A
). Interestingly, the
Drosophila
physical interactions that overlap with interologs detected in other species have a significantly higher expression correlation than the remainder of the physical interactions (p-value < 2.2*10
-16
, Figure
2B
), suggesting that conserved interactions involve proteins that are more likely to be co-expressed than non-conserved interactions. It is noteworthy that the average correlation values are not very high (e.g., 0.13 for the DroID physical interactions) and that many gene pairs have a negative correlation. This result is not surprising for a multi-cellular organism in which functionally relevant interactions can occur between pairs of proteins even if they are only co-expressed during a fraction of developmental time or in just one or a few tissues.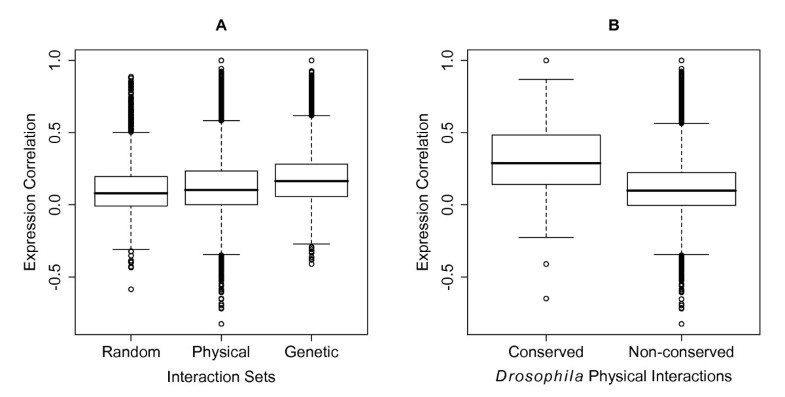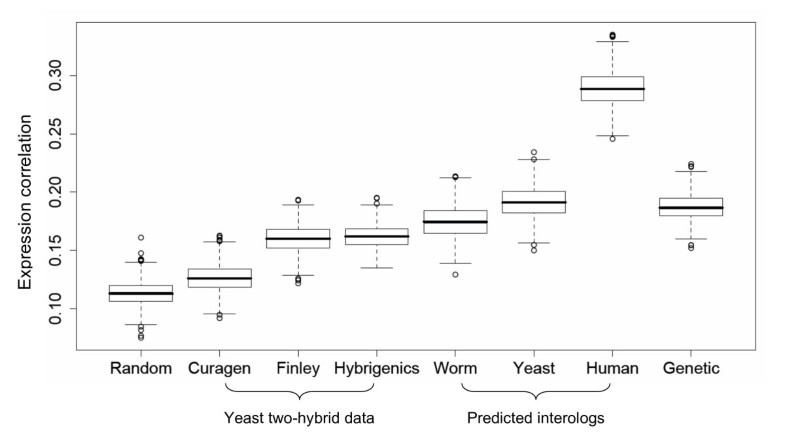 Viewing interaction data in the context of gene expression data
Gene expression data can also be used to view interaction data in a dynamic context. Most gene and protein interaction data that are currently available come from studies that are independent of gene expression. Examples include yeast two-hybrid data in which pairs of proteins are expressed together in yeast, whether or not they are co-expressed in vivo, and co-AP experiments in which often at least one of the proteins is artificially expressed with an affinity tag in tissue culture cells. Thus, the protein interactions in DroID and most other databases represent pairs of proteins that may interact in vivo, but only if they are expressed together. A powerful way to view this interaction data, therefore, is in the context of gene expression patterns for a particular tissue or developmental time point. DroID includes gene expression data from genome-wide developmental studies. This data can be used to constrain a set of interactions to include only genes expressed at a user-defined level and time point or developmental stage.
DroID access interfaces
All data in DroID can be accessed and downloaded in part or whole via three different interfaces (Figure 1). A user-friendly web interface is provided for simple searching, browsing, and downloading of DroID data. Going to the DroID web page opens a search box, which asks users for a term describing a gene or protein. The term can be a gene symbol, name, synonym, or a term describing a gene or protein (Figure 1A). Clicking 'Search Genes' produces a page listing genes that fit the search criteria. On this page, users select one or any number of the genes, and then have the option to select specific interaction datasets or to search all of them simultaneously. The search produces a results page listing the found interactions and their current confidence scores (Figure 1B). Each interaction is represented by the symbols of the two genes and a list of the datasets in which they were found. Additional information about each gene, including GO annotations and links to Flybase can be obtained by clicking on the gene symbol. Similarly, clicking on the dataset name for each interaction reveals its details, including original experimental data when available, references, and relevant links. The results page also includes several additional options for further analysis. These include an option to show the gene expression correlation values for each interaction and an option to filter the results by gene expression patterns or confidence scores. Utilizing these filters helps researchers to focus on interactions that are more likely to be true positives or that involve co-expressed genes. The results page also includes a link for downloading the interactions in formats that can then be uploaded into network analysis programs. Finally, a link is included that will generate a summary table showing the number of interactions for the selected genes in each of the interaction datasets, including those not originally searched. The summary table also includes a button that automatically opens the IM Browser applet to generate a graphical map of the interactions (see below).
DroID can be accessed via two different dynamic interfaces that allow an interaction network to be explored as a graph where nodes represent genes or proteins and edges connecting the nodes represent interactions. Viewing an interaction map in this way places each gene and interaction into the context of other interactions and facilitates biological insights that are not possible from simple lists of interactions. The first interface is a plug-in (Figure 1C) that allows DroID to be accessed through the powerful network visualization and analysis program, Cytoscape [49]. The second interface is IM Browser (Figure 1D), a program originally designed to access an earlier version of DroID and other interaction databases [28]. IM Browser runs as a java applet and allows advanced queries and dynamic graphing of search results. While a complete description of IM Browser capabilities is beyond the scope of this paper, a few features are worth noting here. First, the program easily accommodates new types of interaction data and dynamically enables all node and edge information to be used in searches and filtering. This feature is important as new techniques for detecting interactions are needed and continue to emerge, and each new technique has its own type of data. Second, interaction maps can be edited and saved to the user's local computer, and local datasets can be loaded into the program to allow the user to view and analyze their own interactions in the context of DroID data. Finally, a new feature of IM Browser allows maps to be filtered based on gene expression data or confidence scores. The constraint is implemented as a dynamic filter that can be applied to an existing interaction map. As new gene expression data becomes available, and eventually protein expression data is collected from proteomics studies, an increasingly fruitful way to view interaction maps will be in the context of specific temporal and spatial expression patterns.
Conclusion
DroID is a comprehensive interactions database designed specifically for Drosophila melanogaster. The database currently covers more Drosophila genes and interactions than any other single database and is periodically updated. Because it is an organism-specific database, it readily includes potentially conserved interactions found in other organisms by mapping them to Drosophila genes. The database also includes comprehensive gene information, including Drosophila-specific information, which can be used to search for and filter interactions and to analyze gene networks. DroID includes gene expression data, both as expression profiles and as correlation values, to help researchers link together genes that may function together in specific biological processes. Finally, DroID assigns updateable confidence scores to every physical interaction to help focus studies on biologically relevant links. Combined with three user interfaces, DroID should provide a valuable resource for studying Drosophila systems.
Availability and requirements
DroID is freely available for non-commercial use. Any modern web browser can access the DroID home page at http://www.droidb.org/. A web browser with an installed Java Virtual Machine can access IM Browser from the DroID home page or from a list of found interactions. Cytoscape [49] enables installation and usage of the DroID plugin for Cytoscape.
Declarations
Acknowledgements
We thank Jodi R. Parrish, George G. Roberts III, and Stephen Guest for helpful comments on the manuscript. This work was supported in part through grants from the National Institutes of Health (HG001536) and the National Center for Research Resources (RR18327).
Authors' Affiliations
(1)
Center for Molecular Medicine and Genetics, Wayne State University School of Medicine, Detroit, USA
(2)
Department of Biochemistry and Molecular Biology, Wayne State University School of Medicine, Detroit, USA
Copyright
© Yu et al; licensee BioMed Central Ltd. 2008
This article is published under license to BioMed Central Ltd. This is an Open Access article distributed under the terms of the Creative Commons Attribution License (http://creativecommons.org/licenses/by/2.0), which permits unrestricted use, distribution, and reproduction in any medium, provided the original work is properly cited.