Research article

Open Access
Acidithiobacillus ferrooxidans metabolism: from genome sequence to industrial applications
Received: 26 June 2008
Accepted: 11 December 2008
Published: 11 December 2008
Abstract
Background
Acidithiobacillus ferrooxidans is a major participant in consortia of microorganisms used for the industrial recovery of copper (bioleaching or biomining). It is a chemolithoautrophic, γ-proteobacterium using energy from the oxidation of iron- and sulfur-containing minerals for growth. It thrives at extremely low pH (pH 1–2) and fixes both carbon and nitrogen from the atmosphere. It solubilizes copper and other metals from rocks and plays an important role in nutrient and metal biogeochemical cycling in acid environments. The lack of a well-developed system for genetic manipulation has prevented thorough exploration of its physiology. Also, confusion has been caused by prior metabolic models constructed based upon the examination of multiple, and sometimes distantly related, strains of the microorganism.
Results
The genome of the type strain A. ferrooxidans ATCC 23270 was sequenced and annotated to identify general features and provide a framework for in silico metabolic reconstruction. Earlier models of iron and sulfur oxidation, biofilm formation, quorum sensing, inorganic ion uptake, and amino acid metabolism are confirmed and extended. Initial models are presented for central carbon metabolism, anaerobic metabolism (including sulfur reduction, hydrogen metabolism and nitrogen fixation), stress responses, DNA repair, and metal and toxic compound fluxes.
Conclusion
Bioinformatics analysis provides a valuable platform for gene discovery and functional prediction that helps explain the activity of A. ferrooxidans in industrial bioleaching and its role as a primary producer in acidic environments. An analysis of the genome of the type strain provides a coherent view of its gene content and metabolic potential.
Keywords
Sulfur Oxidation
Central Carbon Metabolism
Heavy Metal Resistance
Inorganic Sulfur Compound
Reverse Electron Flow
Background
Acidithiobacillus ferrooxidans is a Gram-negative, γ-proteobacterium that thrives optimally at 30°C and pH 2, but can grow at pH 1 or lower [1]. It is abundant in natural environments associated with pyritic ore bodies, coal deposits, and their acidified drainages [2, 3]. It is an important member of microbial consortia used to recover copper via a process known as bioleaching or biomining [4].
In a typical bioleaching operation, copper ore is first pulverized and placed in heaps. The heaps are then sprinkled with sulfuric acid and aerated to promote the microbial oxidation of iron and sulfur compounds. Some bioleaching heaps are very extensive; for example, the Escondida mine in northern Chile is putting into operation a heap that is 5 km long by 2 km wide and 126 m high (David Dew, personal communication). With a volume of a little more than one trillion (1012) liters, this bioleaching heap is arguably the world's largest industrial bioreactor.
Bioleaching of copper ores is a two-step process: first, the biological oxidation of Fe(II) to produce Fe(III); second, the chemical oxidation of Cu(I) to the more soluble Cu(II) by Fe(III) which is reduced to Fe(II) in the process.
A. ferrooxidans
plays a key role by reoxidizing the Fe(II) to Fe(III), thus completing the cycle and allowing bioleaching to continue (Figure
1
). The sulfuric acid produced by the biological oxidation of reduced sulfur compounds also promotes the solubilization of the Cu(II). Copper is recovered from this acidic solution using physico-chemical technologies such as solvent extraction and electroplating.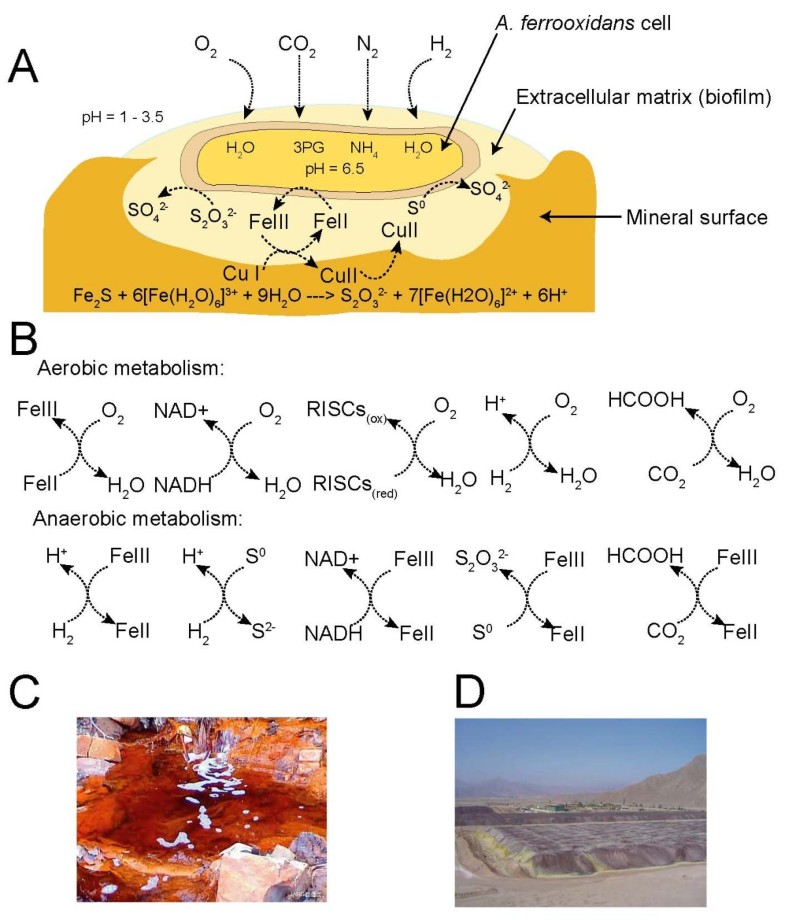 Bioleaching accounts for 10% of the copper production worldwide and is especially important as a technology for ores with a low percentage of copper that are otherwise uneconomical to extract. Another attractive feature of bioleaching is that it does not produce pollutants such as sulfur dioxide and arsenic that result from smelting. However, bioleaching does generate acid mine drainage that must be managed to prevent its release into the environment. The importance of bioleaching is likely to increase in the future as the mineral industry exploits ore deposits with lower copper content as richer ores become depleted. The increasing importance of bioleaching as a biotechnological process is stimulating increasing interest in the biology of A. ferrooxidans and associated bioleaching microorganisms.
A. ferrooxidans is one of the few microorganisms known to gain energy by the oxidation of ferrous iron in acidic environments, using the low pH of its natural environment to generate reverse electron flow from Fe(II) to NADH [5–8]. It can also obtain energy by the oxidation of reduced sulfur compounds, hydrogen, and formate [9, 10]. The microorganism makes an important contribution to the biogeochemical cycling of metals in the environment and has the potential to assist in the remediation of metal contaminated sites by its ability to oxidize and reduce metals. Ferric iron and sulfuric acid are major by-products of its energy-transducing processes, and these chemicals can mobilize metals in the environment including toxic metals such as arsenic [11]. It can also reduce ferric ion and elemental sulfur, thus promoting the recycling of iron and sulfur compounds under anaerobic conditions [12, 13]. Since the microorganism can also fix CO2 and nitrogen, it is thought to be a primary producer of carbon and nitrogen in acidic, nutrient-poor environments [14–17].
The study of A. ferrooxidans offers exceptional opportunities to probe life in extremely acidic environments. It may also offer insights into ancient ways of life in Archaean, euxinic, acidic seas [18] and suggest potential biomarkers to be used when searching for evidence of extra-terrestrial life [19]. One of its unusual properties is its ability to aerobically oxidize solid substrates such as pyrite (FeS2). Since the substrate cannot enter the cell, initial electron removal must take place either within the outer cell membrane or completely outside the cell. Although a substantial body of information exists regarding the use of solid minerals as electron sinks for biological processes (e.g., the reduction of ferric iron [20]), considerably less is known about how microorganisms recognize, attach to, and extract electrons from solid substrates. Investigations into the fundamental interactions between bacteria and mineral surfaces are critical for understanding the intricacies of interfacial biochemistry, biofilm formation, bacterial recognition of mineral surfaces, and the dispersal of microorganisms in the environment.
A. ferrooxidans thrives in mineral rich, acid environments where the concentration of dissolved ferrous iron can be as high as 10-1 M, about 1016 times that found in circum-neutral environments. The abundance of soluble iron has the potential to pose severe oxidative stress that could lead to DNA and protein damage via the Fenton reaction. This prompts questions as to the mechanisms that A. ferrooxidans employs for iron assimilation and homeostasis [21, 22] and how it balances its use of iron as both a micronutrient and as a required energy source. In its natural environment, it must also confront unusually severe toxicity due to the high concentration of dissolved metals (e.g., copper, arsenic, mercury).
Although the internal pH of A. ferrooxidans is about pH 6.5, proteins that are either wholly or partially outside the inner membrane must function at pH 1–2, raising fundamental questions regarding how they fold and make protein-protein contact when confronted with such an extremely high proton concentration. It also raises questions as to how proton-driven membrane transport and energy processes function in the face of a proton motif force (pmf) across the inner membrane that is several orders of magnitude higher than typically found in neutrophilic environments.
Unfortunately, the lack of a well-developed system for genetic manipulation has prevented thorough exploration of the molecular biology and physiology of A. ferrooxidans. A bioinformatics-based analysis of its genome offers a powerful tool for investigating its metabolism. However, many of the earlier investigations of its genetics and metabolism were carried out on a variety of strains, some of which may be only distantly (or not at all) related to A. ferrooxidans. This allows the possibility that some experimental results, including enzyme identifications were not reliable indicators of the metabolism of the species. Genomic analysis of the type strain of A. ferrooxidans can provide a more coherent view of the gene content and metabolic potential of the species.
An analysis of amino acid metabolism based on the draft genome sequence of A. ferrooxidans ATCC 23270 was previously reported [23]. Here we present a complete, genome-based blueprint of the metabolic and regulatory capabilities of A. ferrooxidans and relate these findings to its unique lifestyle. This analysis will add to our understanding of the biochemical pathways that underpin the biogeochemical processes, metabolic functions, and evolution of microbial communities in acidic environments. This information also advances our understanding of the role of A. ferrooxidans in industrial bioleaching.
Conclusion
• Bioinformatics analysis of the complete genome of the type strain of A. ferrooxidans (ATCC 23207) provides a valuable platform for gene discovery and functional prediction that is especially important given the difficulties in carrying out standard genetic research in this microorganism. The models presented herein should facilitate the design and interpretation of future experiments and enable the experimental investigator to focus on important issues.
• An analysis of the genome of the type strain provides a coherent view of the gene content and metabolic potential of this species (Figure 7).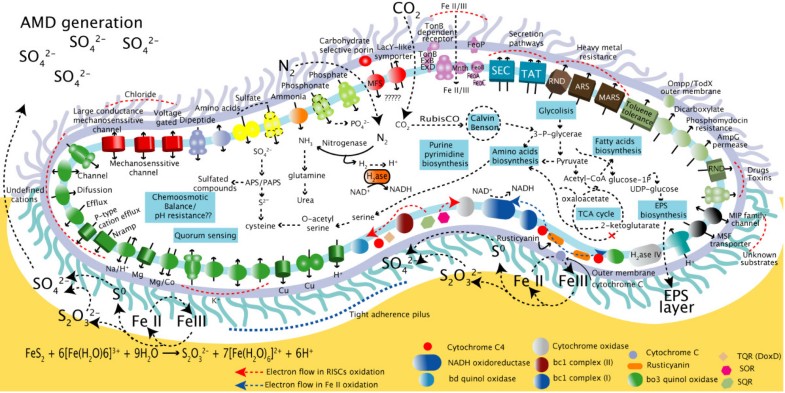 • Metabolic models support the key capabilities of A. ferrooxidans that pertain to its use in industrial bioleaching, including its ability to oxidize both sulfur and iron, to resist low pH, and to live in environments with potentially toxic organic and inorganic chemicals. They also suggest that it has the ability to precipitate metals in anaerobic environments, which would be deleterious to copper bioleaching activity.
• Our analysis also prompts several unexpected predictions, some of which could potentially be useful in biomining such as the proposed connection between biofilm formation and central carbon metabolism and the presence of several predicted quorum sensing mechanisms. Indications of past phage infection and conjugation events suggest potentially fruitful approaches for the development of efficient methods for genetic manipulation of this microorganism.
• Metabolic models also indicate how this microorganism could play an important role as a producer of fixed carbon and nitrogen and as a recycler of metals in bioleaching operations as well as in natural environments.
Methods
Genome sequencing and assembly
The genome was sequenced and assembled using the whole genome shotgun method as previously described [135–137].
Sequence annotation
Gene modeling was performed using CRTICA [138] and GLIMMER [139]. The lists of open reading frames (ORFs) generated by both strategies were merged using CRITICA start sites when models were identical. The translated ORFs were submitted to BLAST analysis against the UNIPROT database to evaluate overlaps and alternative start sites. The final list of coding sequences (CDSs) was translated, and these amino acid sequences were then used to query the following databases (August-December, 2007): National Center for Biotechnology Information (NCBI) nonredundant database, UniProt, TIGRFam, Pfam, PRIAM, KEGG, COG, and InterPro. Manual functional assignments were performed gene-by-gene, when needed. Comparative genome analyses were also performed using the Comprehensive Microbial Resource [140].
Nucleotide sequence accession numbers
The sequence and annotation of the complete A. ferrooxidans strain ATCC 23270 genome is available at the Comprehensive Microbial Resource (CMR) (J. Craig Venter Institute, http://www.jcvi.org) and in GenBank/EMBL/DDBJ accession number CP001219.
Declarations
Acknowledgements
We thank Joel Malek, the laboratory, IT and Bioinformatics staff at The Institute for Genomic Research (now incorporated within the JC Venter Institute) for assistance with sequencing and analysis. Work supported by Fondecyt 1050063, Fondecyt 11060164, DI-UNAB 34-06, DI-UNAB 15-06/I, and a Microsoft Sponsored Research Award. The sequencing and annotation was supported by the U.S. Department of Energy, Office of Biological Energy Research, Cooperative Agreement DE-FC02-95ER61962 to TIGR.
Authors' Affiliations
(1)
Center for Bioinformatics and Genome Biology, Fundación Ciencia para la Vida and Depto. de Ciencias Biologicas, Facultad de Ciencias de la Salud, Universidad Andres Bello, Santiago, Chile
(2)
J. Craig Venter Institute, Rockville, USA
(3)
The Institute for Genomic Sciences, University of Maryland, Baltimore, USA
(4)
Section of Evolution and Ecology, U.C. Davis, University of California Davis Genome Center, Davis, USA
(5)
Dept of Medical Microbiology and Immunology, U.C. Davis, University of California Davis Genome Center, Davis, USA
(6)
Division of Basic Pharmaceutical Sciences, Xavier University, New Orleans, USA
Copyright
© Valdés et al; licensee BioMed Central Ltd. 2008
This article is published under license to BioMed Central Ltd. This is an Open Access article distributed under the terms of the Creative Commons Attribution License (http://creativecommons.org/licenses/by/2.0), which permits unrestricted use, distribution, and reproduction in any medium, provided the original work is properly cited.