Research article

Open Access
Pseudogenes transcribed in breast invasive carcinoma show subtype-specific expression and ceRNA potential
Received: 10 November 2014
Accepted: 8 January 2015
Published: 22 February 2015
Abstract
Background
Recent studies have shown that some pseudogenes are transcribed and contribute to cancer when dysregulated. In particular, pseudogene transcripts can function as competing endogenous RNAs (ceRNAs). The high similarity of gene and pseudogene nucleotide sequence has hindered experimental investigation of these mechanisms using RNA-seq. Furthermore, previous studies of pseudogenes in breast cancer have not integrated miRNA expression data in order to perform large-scale analysis of ceRNA potential. Thus, knowledge of both pseudogene ceRNA function and the role of pseudogene expression in cancer are restricted to isolated examples.
Results
To investigate whether transcribed pseudogenes play a pervasive regulatory role in cancer, we developed a novel bioinformatic method for measuring pseudogene transcription from RNA-seq data. We applied this method to 819 breast cancer samples from The Cancer Genome Atlas (TCGA) project. We then clustered the samples using pseudogene expression levels and integrated sample-paired pseudogene, gene and miRNA expression data with miRNA target prediction to determine whether more pseudogenes have ceRNA potential than expected by chance.
Conclusions
Our analysis identifies with high confidence a set of 440 pseudogenes that are transcribed in breast cancer tissue. Of this set, 309 pseudogenes exhibit significant differential expression among breast cancer subtypes. Hierarchical clustering using only pseudogene expression levels accurately separates tumor samples from normal samples and discriminates the Basal subtype from the Luminal and Her2 subtypes. Correlation analysis shows more positively correlated pseudogene-parent gene pairs and negatively correlated pseudogene-miRNA pairs than expected by chance. Furthermore, 177 transcribed pseudogenes possess binding sites for co-expressed miRNAs that are also predicted to target their parent genes. Taken together, these results increase the catalog of putative pseudogene ceRNAs and suggest that pseudogene transcription in breast cancer may play a larger role than previously appreciated.
Keywords
Splice Junction
miRNA Target Prediction
miRNA Expression Data
Transcriptome Mappability
Adjacent Normal Sample
Background
Pseudogenes are genomic sequences sharing considerable sequence identity with protein-coding genes yet possessing features such as premature stop codons, deletions/insertions, or frameshift mutations that prevent them from producing functional proteins. There are three classes of pseudogenes: processed, duplicated, and unitary. A processed pseudogene lacks introns, resembling a spliced transcript that was inserted into the genome. A duplicated pseudogene is essentially a partial or complete copy of a protein-coding gene, including introns and sometimes even upstream regulatory elements. Thus, for any processed or duplicated pseudogene, there is an associated protein-coding gene called its parent gene that is highly similar in sequence. The third type of pseudogene is the unitary pseudogene, which arises when a protein-coding gene loses its coding potential through the accumulation of mutations. Unitary pseudogenes therefore do not have parent genes.
According to the GENCODE pseudogene annotations (v.17), there are nearly 15,000 human pseudogenes. Since their discovery in 1977, pseudogenes have generally been considered "biologically inconsequential" and non-functional [1]. Therefore, the discovery that a number of pseudogenes, such as PTENP1 [2], are transcribed was somewhat surprising. The ENCODE project recently performed a survey of publicly available expression data to identify transcribed pseudogenes, and found over 800 pseudogenes with strong evidence of transcription [3]. These transcribed pseudogenes showed both tissue-specific and constitutive expression profiles. In addition, many of the pseudogenes not found to be transcribed by ENCODE possessed properties indicative of transcription potential, including open chromatin, histone modifications that indicate transcriptional activity, transcription factor binding, and RNA polymerase II occupancy. Another recent study found evidence for over 2000 expressed pseudogenes in 13 different cancer and normal tissue types [4].
Although some pseudogenes are transcribed, this fact does not necessarily imply that pseudogene transcripts perform biologically important functions. However, recent research has revealed several mechanisms by which pseudogenes regulate gene expression. For example, in snail neurons, translation of the neural nitric oxide synthase mRNA is blocked by an antisense pseudogene transcript that binds to the mRNA [5]. Pseudogenes in mouse can form double-stranded RNA by base-pairing with their corresponding protein-coding genes and generate siRNAs to silence the expression of these genes [6]. Pseudogenes may also compete with mRNAs for transcript stability factors, as in the case of the human HMGA1-p pseudogene [7].
The most recent function identified for pseudogenes is post-transcriptional regulation of mRNA levels by competing for miRNAs. This mechanism was first discovered in animals when it was shown that two human pseudogenes, PTENP1 and KRASP1, are transcribed and harbor miRNA response elements (MREs) for some of the same miRNAs that target their corresponding protein-coding genes, PTEN and KRAS, respectively [8]. By binding and sequestering miRNAs that would otherwise bind and regulate PTEN or KRAS, the corresponding pseudogenes free the protein-coding genes from miRNA target repression. Thus, if the pseudogene is transcribed at a low level, more miRNAs will be able to target the parent gene transcripts, whereas an increase in pseudogene transcription will cause fewer miRNAs to target the parent gene. In this way, pseudogene RNA can compete with the parent gene RNA for miRNAs and thereby influence gene expression. This mechanism of regulation was first characterized in plants, where it was termed "target mimicry" [9]. Competition for miRNAs had also been used to create exogenous "miRNA sponges" containing specific MREs designed to soak up micro-ribonucleoprotein complexes and de-repress natural miRNA targets [10]. Salmena et al. coined the term competing endogenous RNA (ceRNA) to describe the function of PTENP1 and KRASP1 [11]. In theory, any type of RNA molecule, including mRNA, transcribed pseudogenes, and long non-coding RNA (lncRNA), can function as a ceRNA, provided the molecule shares at least one MRE with another RNA [12]. A number of ceRNAs have been identified since the initial discovery of PTENP1 and KRASP1, including mRNAs [13-15], and lncRNAs [16]. Non-coding transcripts may serve as more effective ceRNAs than mRNAs, since they are substrates for miRNA binding but are not translated. The absence of bound ribosomes on a non-coding transcript allows miRNAs to bind freely along the entire transcript rather than primarily in the regions that are outside the ribosome footprint as on mRNAs [17]. Transcribed pseudogenes are especially strong ceRNA candidates because pseudogenes are identified by alignment with protein-coding genes, so by definition, they possess strong sequence similarity with their corresponding parent genes. This suggests that pseudogenes are likely to share MREs with their parent protein-coding genes. In fact, the sequence similarity between the PTEN coding gene and the PTENP1 pseudogene was one of the initial observations that led to the discovery of the ceRNA function of the PTENP1 pseudogene [8].
Interestingly, several transcribed pseudogenes play a key role in the development of cancer. PTENP1, KRASP1, and OCT4-pg4 are known to promote tumor progression through their roles as ceRNAs [8,18]. The pseudogenes SUMO1P3 [19], ATP8A2-Ψ [4], and Nanog-p8 [20] have each been shown to enable cancer progression, but the mechanisms by which they do this are unknown. Ψ-PPM1K was shown to suppress oncogenic cell growth in hepatocellular carcinoma by generating endogenous siRNAs [21]. ATP8A2-Ψ is an especially interesting case, because it is the first published example of a pseudogene that is differentially expressed among cancer subtypes, showing high expression in breast cancer samples with luminal histology but very little expression in basal samples [4]. Also, ATP8A2-Ψ was shown to induce tumor progression when overexpressed in breast cancer cell lines [4].
Recently, a survey of RNA-seq data from The Cancer Genome Atlas project spanning seven cancer types showed that pseudogenes can be used to classify cancer samples into clinically relevant subtypes [22]. In particular, this study found that pseudogene expression alone separates endometrial cancer samples into groups corresponding to the major histological subtypes. Another interesting result from this study is that pseudogene-defined subtypes in kidney cancer show different patient survival rates. In addition, 547 pseudogenes with subtype-specific expression in breast cancer were identified. Finally, using miRNA expression data in conjunction with gene and pseudogene expression levels, they identified 38 pseudogenes with potential to function as ceRNAs in kidney cancer.
The pseudogenes that have been shown to participate in ceRNA interactions or play a role in cancer certainly represent provocative examples. However, the difficulty of reliably quantifying pseudogene expression and the lack of suitable datasets have hindered attempts to study these phenomena on a large scale. Therefore, it is not known whether pseudogenes like PTENP1 and ATP8A2-Ψ represent a few anomalous cases or point to a pervasive regulatory mechanism.
To begin to address this open and important question, we performed an investigation of the expression, subtype specificity, and ceRNA potential of transcribed pseudogenes in breast cancer using data from The Cancer Genome Atlas project (TCGA). The data include RNA-seq results for a total of 819 tumor and adjacent normal samples, along with sample-paired small RNA-seq. The dataset contains a representative sampling of breast cancer subtype, including 123 samples from the basal subtype, 60 her2 samples, 371 luminal A samples, and 170 luminal B samples. To the best of our knowledge, this study is the first to make use of sample-paired pseudogene and miRNA expression data to investigate the ceRNA mechanism in breast cancer.
Discussion
The recent paper by Han et al. that investigated pseudogene expression in cancer [
22
] identified 748 pseudogenes transcribed in breast cancer, 547 of which showed subtype-specific expression. Although the results of Han et al. partially overlap with our own, our study is distinct in two key ways: (1) we investigate the ceRNA potential of pseudogenes transcribed in breast cancer, but Han et al. do not and (2) we use a more detailed method for measuring pseudogene transcription, designed to maximize specificity. In an effort to avoid the artifacts that plague pseudogene transcription detection, we designed our analysis to be as conservative as possible. Consequently, the set of pseudogenes detected by our method is somewhat smaller. However, our set of pseudogenes is not simply a subset of theirs. Out of the 440 pseudogenes we detect, only 174 were also found by Han et al. (Figure
7
B). The remaining 266 represent novel pseudogene transcripts. In addition, 103 of the subtype-specific pseudogenes we identified overlap with the set of subtype-specific pseudogenes presented in Han et al. (Figure
7
C).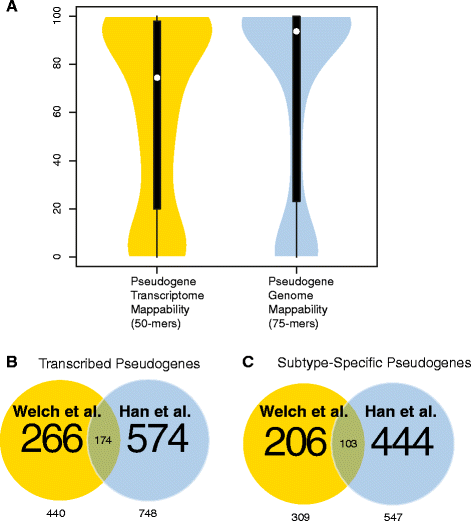 To understand why our set of pseudogenes is substantively different from that of Han et al., we carefully analyzed how they computed pseudogene expression levels. They used 75-mers to compute mappability, and decided for each exon whether to include or exclude reads for the entire exon. One shortcoming of this approach is that it either includes or excludes reads for entire exons, rather than making decisions for individual reads. In our experience, small islands of similarity within an otherwise distinct exon are often enough to promote false positive read alignments. Conversely, small islands of distinct sequence within an exon can be used to detect the presence of pseudogene transcripts. As a result, our approach detected 266 pseudogenes with strong evidence of transcription that were overlooked in Han et al. [22]. Another limitation is that the analysis in [22] did not account for the presence of splice junctions inserted into the genome. Processed pseudogenes containing concatenated exons are a major source of error in pseudogene RNA-seq alignments because RNA-seq aligners sometimes prefer unspliced alignments to spliced, particularly in the presence of SNPs. However, genomic mappability as used in [22] cannot detect such artifacts.
A more serious problem is that although the RNA-seq reads from the TCGA BRCA data are 50 bases long, Han et al. use mappability based on 75-mers to decide which pseudogenes are mappable. Given that longer sequences are more likely to be distinct in the genome, this mismatch between read length and the k-mer size used to compute mappability means that an exon that appears completely mappable may nonetheless have many misaligned reads. Figure 7A shows the difference in mappability obtained from 75-mers without accounting for splice junctions inserted in the genome and 50-mers. In the first case, the median mappability as a percentage of gene length is 94%, but in the second case it is 74%. The use of 75-mers as in [22] rather than 50-mers results in a loss of specificity. Thus, it is possible that some of the pseudogenes transcripts detected in this way are not actually transcribed, but are simply read alignment artifacts.
In summary, two major differences between the approach of Han et al. and our own method for computing pseudogene expression explain the differing lists of pseudogenes that were obtained. First, Han et al. either kept or removed entire pseudogene exons, while we made the decision for each individual read; this explains why we detected some pseudogenes that they did not. Second, Han et al. used 75-mers to compute genome mappability, but we used 50-mers and accounted for processed pseudogenes containing splice junctions; consequently, our list of pseudogenes did not include some of theirs. We emphasized specificity in our algorithm in order to facilitate the identification of the highest confidence pseudogenes and candidate ceRNAs for further analysis. If the methods used to derive pseudogene expression levels do not properly account for misaligned reads, it is difficult to exclude the possibility that apparent pseudogene-based classification of subtypes are actually driven by improperly aligned reads from protein-coding genes with subtype-specific expression. Furthermore, such misaligned reads could bias toward stronger positive correlations between parent genes and pseudogenes.
In this paper, we undertook an initial investigation to address the important questions of how pervasive the pseudogene ceRNA mechanism is and how pseudogene transcription relates to breast cancer subtype. Careful scrutiny of RNA-seq evidence yielded a high-confidence set of pseudogene transcripts, a subset of which exhibit strong subtype-specific expression and are candidates for ceRNA function. Further experimental work is needed to examine these candidates; in particular, assays for miRNA binding and siRNA knockdown experiments can provide more conclusive evidence for ceRNA interactions in individual gene-pseudogene pairs. Follow-up studies are also needed to determine the nature of the relationship between pseudogene expression and subtype. Many of the subtype-specific pseudogene transcripts are likely passengers rather than drivers. However, some of these may play a role in the tumor progression of individual subtypes, as was demonstrated in the case of ATP8A2-Ψ.
The integration of pseudogene, gene, and miRNA expression data demonstrates that while not all pseudogenes may function as ceRNAs, the phenomenon is likely more pervasive than currently appreciated. One limitation of our approach is that ceRNA activity may not always be indicated by positive correlation between a pseudogene and its parent gene or negative correlation between a pseudogene and its targeting miRNA. For example, if the miRNA regulation of a pseudogene is very strong, leading to rapid and robust degradation of the pseudogene, this could produce a negative correlation between pseudogene and parent gene. Furthermore, it is well-known that regulatory network structures such as incoherent feed-forward loops can produce positive correlation between an mRNA and a targeting miRNA [37]. Even with this limitation, our results suggest that more pseudogenes than currently known likely function as ceRNAs, and more detailed experimental work is required to determine the physiological significance of this function.
Abbreviations
ceRNA:

Competing endogenous RNA
miRNA:

microRNA
TCGA:

The cancer genome atlas
RPKUM:

Reads per kilobase of unique transcript per million reads
Declarations
Acknowledgments
The authors were supported by NIH grant HG06272 and NSF grant ABI/EF0850237 to J.F.P. NSF Graduate Research Fellowship DGE-1144081 supported JDW. PS and JB supported by NIDDK/NIH R00DK-091318-02. CMP supported by NCI P50-CA58223, U24-CA43848, Breast Cancer Research Foundation.
Authors' Affiliations
(1)
Curriculum in Bioinformatics and Computational Biology, The University of North Carolina at Chapel Hill, Chapel Hill, USA
(2)
Department of Computer Science, The University of North Carolina at Chapel Hill, Chapel Hill, USA
(3)
Department of Genetics, The University of North Carolina at Chapel Hill, Chapel Hill, USA
(4)
Lineberger Comprehensive Cancer Center, The University of North Carolina at Chapel Hill, Chapel Hill, USA
Copyright
© Welch et al.; licensee BioMed Central. 2015
This is an Open Access article distributed under the terms of the Creative Commons Attribution License (http://creativecommons.org/licenses/by/4.0), which permits unrestricted use, distribution, and reproduction in any medium, provided the original work is properly credited. The Creative Commons Public Domain Dedication waiver (http://creativecommons.org/publicdomain/zero/1.0/) applies to the data made available in this article, unless otherwise stated.