Research article

Open Access
Comprehensive analysis of CCCH-type zinc finger family genes facilitates functional gene discovery and reflects recent allopolyploidization event in tetraploid switchgrass
Received: 25 September 2014
Accepted: 6 February 2015
Published: 25 February 2015
Abstract
Background
In recent years, dozens of Arabidopsis and rice CCCH-type zinc finger genes have been functionally studied, many of which confer important traits, such as abiotic and biotic stress tolerance, delayed leaf senescence and improved plant architecture. Switchgrass (Panicum virgatum) is an important bioenergy crop. Identification of agronomically important genes and/or loci is an important step for switchgrass molecular breeding. Annotating switchgrass CCCH genes using translational genomics methods will help further the goal of understanding switchgrass genetics and creating improved varieties.
Results
Taking advantage of the publicly-available switchgrass genomic and transcriptomic databases, we carried out a comprehensive analysis of switchgrass CCCH genes (PvC3Hs). A total of 103 PvC3Hs were identified and divided into 21 clades according to phylogenetic analysis. Genes in the same clade shared similar gene structure and conserved motifs. Chromosomal location analysis showed that most of the duplicated PvC3H gene pairs are in homeologous chromosomes. Evolution analysis of 19 selected PvC3H pairs showed that 42.1% of them were under diversifying selection. Expression atlas of the 103 PvC3Hs in 21 different organs, tissues and developmental stages revealed genes with higher expression levels in lignified cells, vascular cells, or reproductive tissues/organs, suggesting the potential function of these genes in development. We also found that eight PvC3Hs in Clade-XIV were orthologous to ABA- or stress- responsive CCCH genes in Arabidopsis and rice with functions annotated. Promoter and qRT-PCR analyses of Clade-XIV PvC3Hs showed that these eight genes were all responsive to ABA and various stresses.
Conclusions
Genome-wide analysis of PvC3Hs confirmed the recent allopolyploidization event of tetraploid switchgrass from two closely-related diploid progenitors. The short time window after the polyploidization event allowed the existence of a large number of PvC3H genes with a high positive selection pressure onto them. The homeologous pairs of PvC3Hs may contribute to the heterosis of switchgrass and its wide adaptation in different ecological niches. Phylogenetic and gene expression analyses provide informative clues for discovering PvC3H genes in some functional categories. Particularly, eight PvC3Hs in Clade-XIV were found involved in stress responses. This information provides a foundation for functional studies of these genes in the future.
Keywords
Panicum virgatum
C3H
Evolution
Polyploidy
Stress
Development
Background
Zinc finger proteins, a large family in eukaryotes, make tandem contacts with their target molecules, such as the metal ion zinc, DNA, RNA, proteins and lipids, through their Zinc finger (Znf) motifs [1]. Their binding properties depend on the Znf domain's sequence, the number of Znf domains and the protein's higher-order structures [1]. The CCCHs, a unique subfamily of Znf proteins, feature a characteristic motif(s) comprising of three Cys and one His residues [2]. The number of CCCH proteins varies across diploid plant species, from 34 in Medicago truncatula [3] to 91 in poplar tree (Populus trichocarpa) [4]. So far, most identified CCCH proteins in plant species have one to six CCCH motifs [3-7]. The consensus sequence of the CCCH motif can be further classified according to the number of amino acid between the Cys and His residues in the CCCH motif, and most CCCH motifs contains C-X4–15-C-X4–6-C-X3–4-H sequence (X for any amino acid) [6].
In planta, CCCH genes play pivotal roles in cell fate specification and hormone-regulated stress responses. Till now, most reported plant CCCH genes were identified through differential expression analyses (e.g. AtPEI1, AtTZF1, OsDOS, and GhZFP1) or forward genetics approaches (e.g. AtHUA1 and AtSZF1/2). For example, AtPEI1, an embryo-specific CCCH gene that is indispensable for heart-stage embryo formation, was first isolated using a virtual subtraction method from the cDNA library of Arabidopsis embryos [8]. Using a differential hybridization screening, a cotton CCCH gene, GhZFP1, was isolated, which functions through interacting with a dehydration protein and a pathogenesis-related protein to positively regulate both salt tolerance and disease resistance [9]. Through microarray studies, AtTZF1 [10] and OsDOS [11] were identified as differentially expressed genes to sugar response or during pollination, respectively. Overexpressing AtTZF1 resulted in compact statured plants, late flowering and higher stress-tolerance through positively regulating abscisic acid (ABA)/sugar responses and negatively regulates gibberellic acid (GA) responses [10]; while overexpressing OsDOS in rice produced a marked delay of leaf senescence primarily through negatively regulating the jasmonic acid (JA) pathway [11]. Through the screening of developmental or salt-sensitive mutants and a map-based cloning approach (forward genetics), Arabidopsis genes AtHUA1 and AtSZF1/2 were identified and cloned [12]. AtHUA1 acts in floral morphogenesis by specifically processing AGAMOUS pre-mRNAs [12,13]; while AtSZF1 and AtSZF2 negatively regulate the expression of many salt-responsive genes and positively modulate the tolerance of Arabidopsis to salt stress [13].
Homologous gene analysis is another useful method to discover important genetic components. For example, CCCH genes OsTZF1 and AtTZF2/3/4/5/6 were identified in this way. OsTZF1 was isolated as the rice ortholog to AtTZF1 [14]. Expression of OsTZF1 is induced by drought, salt, hydrogen peroxide, as well as ABA, JA and salicylic acid (SA) [14]. Overexpression of OsTZF1 in transgenic rice has delayed seed germination, delayed leaf senescence, and enhanced tolerances to drought and salt stress, through regulating the downstream genes' pre-mRNA stability by directly binding to U-rich regions in the 3' -UTRs [14]. Arabidopsis genes, AtTZF2/3/4/5/6, were studied as close paralogous genes to AtTZF1 [15,16]. The expression patterns of AtTZF2/3 are similar to AtTZF1 and transcripts of these two genes can be found in various vegetative tissues and in flowers. Similar to OsTZF1, overexpression of AtTZF2/3 caused delayed senescence, enhanced longevity, and larger plants at the mature stage [15]. Unlike those of AtTZF1/2/3, expression of AtTZF4/5/6 are specific to seeds [16]. The expression levels of AtTZF4/5/6 decline during seed imbibition, and are up-regulated by ABA and down-regulated by GA. Mutant analysis showed that AtTZF4/5/6 are negative regulators for light- and GA-mediated seed germination responses by controlling genes critical for ABA and GA responses [16].
Switchgrass (Panicum virgatum L.) is a warm-season C4 perennial grass used for bioenergy and animal feedstock [17,18]. To avoid competing with food crops for arable field, a large proportion of switchgrass fields will be located on marginal lands where various abiotic stresses, such as salt, drought, and extreme temperatures, limit plant growth. Translating the knowledge gained from the study of model plant species, such as Arabidopsis, into crop species has contributed to improving important agronomic problems in major food crops [19,20]. For example, an Arabidopsis gene, Sodium Proton Exchanger 1 (AtNHX1), was identified as a key regulator of salt tolerance in Arabidopsis. When AtNHX1 was overexpressed in Brassica napus, tomato, and rice, all of the transgenic plants acquired a significant improvement in salt tolerance [20].
CCCH genes have great potential for plant genetic improvement. Mutant selection, differential gene expression, and homologous gene analyses are three classical approaches to identify important CCCH genes as described previously. However, since switchgrass is a self-incompatible grass with a complex allotetraploid genome, it is difficult to pinpoint important genes/loci in switchgrass using forward genetic tools (e.g. mutant selection and map-based cloning). Comprehensive gene family analysis combined with translational genomics provides an unprecedented opportunity to predict potential functions of CCCH genes. For example, Wang et al. predicted that certain subfamilies of the CCCH proteins in Arabidopsis were involved in stress tolerances, and showed that the subfamily IX gene members responded to salt, ABA, drought, and cold stresses [6]. Also, Peng et al. showed that CCCH subfamily I genes in maize were responsive to ABA and drought stimuli [7]. It is rational to adopt this strategy to conduct genome-wide comprehensive analysis on switchgrass CCCH genes as well.
The latest version of the switchgrass genome database (Panicum virgatum v1.1, DOE-JGI) includes 15× sequence coverage of the genome with about 6.5× from long linear reads [21]; in addition, over 93% of the protein-coding genes have been annotated [22]. This genomic dataset together with the transcriptomic databases (pviUTs & PviGEA) [23,24] provide us with a quality framework to address questions of biological significance from the perspective of genetic components. Here we make use of the publicly available switchgrass genomic [21] and transcriptomic [23,24] databases to systematically analyze CCCH gene family and to identify candidate genes contributing to plant development and stress tolerance in switchgrass.
Discussion
Large number of CCCH genes and higher percentage of them under diversifying selection reflect recent allopolyploidization event in tetraploid switchgrass
The estimated genome size of tetraploid switchgrass is ~1,600 Mb [37], which is smaller than that of maize (2,300 Mb) [38], but much bigger than that of rice (430 MB) [39,40]. The gene density in switchgrass was ~16.4 kb per gene [25], similar to rice (13.4 kb per gene) [39,40], but lower than maize (~35 kb per gene) [38]. Counting the genome size and average gene density, we can conclude that the number of genes in tetraploid switchgrass is ~1.5 times and ~3.0 times the number of genes in maize and rice, respectively. Consistently, the number of CCCH genes in switchgrass (103) is ~1.5 times that in maize (68). Yet, inconsistent with the above calculation, the number of CCCH genes in maize (68) and rice (67) are nearly the same.
The Poaceae family experienced a process of paleopolyploidization which happened around 70 Mya [41] and a subsequent "diploidization" process ~60 Mya [42]. Rice and the common ancestor of maize and sorghum diverged ~50 Mya [43]. Although maize genome went through additional whole-genome duplication ~5-12 Mya, at least 50% of its duplicated genes lost one or both member(s) over the past 5 million years [43]. More likely, the maize CCCH genes have undergone extensive gene loss or diversification process after the whole-genome duplication event, which ultimately lead to the current number of CCCH genes in maize.
The tribes Paniceae (switchgrass) and Maydeae (maize) diverged ~ 23 Mya [
35
]. It was proposed that the two sets of subgenomes of switchgrass originated from two closely related diploid progenitors which diverged less than 2 Mya, and the polyploidization events less than 1 Mya through comparing nucleotide substitution of the acetyl-coA carboxylase genes in homeologous chromosomes [
35
]. This estimation for the divergence time by Huang et al. [
35
] was largely consistent with our finding with
CCCH
genes that a large number of
PvC3H
gene pairs between homeologous chromosomes diverged ~3 Mya (Table
1
). Meanwhile, 15 out of 16 pairs of paralogous
PvC3Hs
with defined chr. locations were on corresponding homeologous chromosomes, accounting for 93.8% of the gene duplication event, which confirms that the two sets of subgenomes were originated from closely-related diploid grasses. After the allotetraploidization event in switchgrass, we would expect a similar gene loss process which occurred during maize evolution. Yet, the short time window (1–2 million years) after polyploidization allowed the existence of redundant homeologous
CCCH
genes, even though a large percentage of them (42.1%) are under diversifying selection. Taken together, the recent divergence of switchgrass diploid progenitors and the polyploidization event sufficiently account for the higher number of
CCCH
genes in the tetraploid switchgrass genome. A flowchart was drawn for better illustration of the above reasoning (Figure
9
).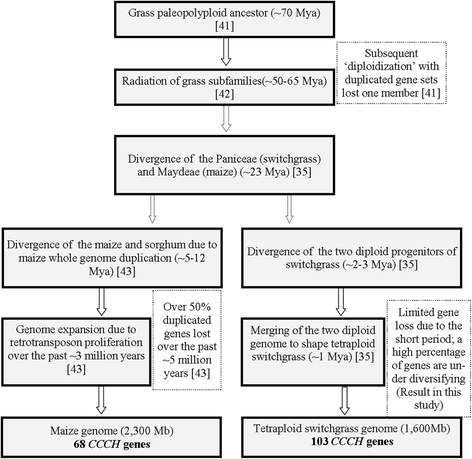 Polyploidy is an important route for fast evolution in flowering plants [34]. Switchgrass is a self-incompatible out-crossing ployploid grass. According to its native growth habitats and phenotypic features, switchgrass was classified into lowland and upland ecotypes [18]. The lowland ecotypes were mainly tetraploid (2n = 4x = 36), while the upland varied from tetraploid, hexaploid (2n = 6x = 54) to octoploid (2n = 8x = 72) [25,35]. Associated with the allopolyploid genome arising from combinations of divergent diploids, the tetraploid switchgrass is disomic inheritance [35]. In contrast to polysomic inheritance, disomic inheritance in polyploids presents opportunities for duplicated genes to diverge and evolve new functions [34]. Consistent with this theory, we found 42.1% CCCH gene pairs were under diversifying selection in this study. A total of 14 PvC3Hs were potentially Panicum-specific (PvC3H1, −9, −15, −19, −22, −25, −48, −53, −61, −65, −74, −86, −89, and −97), for which no ortholog (bootstrap value >50) was found among maize, rice and Arabidopsis CCCH genes (Additional file 3). This result suggests that these newly evolved genes and genes under diversifying selection could have different functions which ultimately allowed the successful adaptation of switchgrass across a wide geographical area in the North America.
CCCH gene family analysis facilitated functional gene discovery
CCCH type Znf proteins share an ancient origin which now can be found in both prokaryotes and eukaryotes. Plant CCCH genes play important roles in plant development, and abiotic and biotic stress responses. The order and logo of CCCH motifs, exon-intron structures, and presence and distribution of other functional domains in each clade were highly conserved, implying that genes in the same clade could have conserved or similar functions across di- and monocotyledonous plant species. Using the Blast2Go program [44], we listed the estimated functions of all PvC3H genes in Additional file 6.
Based on the phylogenetic analysis, uniform gene structure, conserved domains and genomic contexts, we established orthologous relationship between 18 well-characterized CCCH genes in model plants and switchgrass (Additional file 4). Most characterized Arabidopsis, rice and cotton CCCH genes are homologous to Clade-XIV PvC3Hs which were ABA- and stress-responsive. Over-expressing AtOXS2, AtSZF1/2, OsTZF1, AtTZF1/2, and GhZFP1 all lead to improved stress tolerance [9,10,13,14,45]. Overexpressing OsTZF1 and OsDOS also delayed leaf senescence in rice [11,14]. AtTZF4/5/6 and OsGZF1 encoded functional proteins regulating embryo maturity and/or seed germination [16,46]. It is still unknown whether or not over-expressing AtTZF4/5/6 and OsGZF1 could improve plant stress tolerance, but gene expression data showed that at least AtTZF4/5/6 were ABA responsive [16]. Therefore, it is safe to hypothesize that most PvC3Hs in Clade-XIV were ABA- and/or stress-responsive and potentially involved in plant stress signaling pathways. This hypothesis was further supported by the promoter and gene expression analyses.
We were able to find switchgrass orthologs to OsC3H12, AtHUA1 and OsLIC. OsC3H12 quantitatively contribute to defense against bacterial pathogens in rice likely through the JA-dependent pathway [33]. OsC3H12 was homologous to Clade-I PvC3Hs with the distinct feature of five CCCH motifs with three at the N-terminal and two at the C-terminal. For switchgrass, pathogenic diseases (e.g. rust) are a potential threat if the bioenergy plant were grown in large scales. Identifying quantitative trait loci for disease resistance would be important for breeding switchgrass cultivars with long-term disease resistant trait.
Two switchgrass orthologs (PvC3H27/68) to OsLIC were found, which could be involved in the establishment of grass architecture. Overexpressing OsLIC in rice induced the 'erect-leaf' phenotype through reducing the leaf angle against the stem [47]. Small leaf angles (erect leaves) greatly contributed to a high leaf area index (LAI, ratio between upper leaf surface area and shaded land area) to increase light perception for photosynthesis, especially in dense planting field [48]. Switchgrass is a bunch-type grass with robust tillers but no rhizome or stolon. Therefore, reducing shading effect of the upper leaves through adjusting leaf angles should be a promising way to improve its biomass yield per unit of land area, and PvC3H27/68 would be good candidate genes to work with for such purposes.
Two functional-annotated genes (OsEhd4 and AtFES1) found no orthologs in switchgrass. OsEhd4 encoded an Oryza-genus-specific regulator of photoperiod flowering in rice, which could be a rare CCCH gene resulted from diversifying selection. AtFES1, an Arabidopsis gene, was essential for the winter-annual habit of the herb by genetically suppressing FRI-mediated vernalization. Therefore, it was not surprising to see that the perennial grass switchgrass had no orthologs to AtFES1. This result was consistent with the gene duplication and divergence analysis. On the other hand, it would be interesting to see whether and how switchgrass-specific CCCH genes (e.g. PvC3H19/22) benefited the plants and shaped its unique plant statue and ecological fitness.
The functionality of the abovementioned PvC3H genes, particularly those orthologous to known functional rice and Arabidopsis CCCH genes, can be further confirmed through transgenic approaches. These PvC3Hs can be used in genetic engineering or as molecular markers in marker-assisted breeding to improve switchgrass agronomic traits, e.g., stress tolerance and delayed senescence.
Conclusions
The genome-wide study of switchgrass CCCH genes determined phylogenetic classification, evolution, tissue/organ level gene expression, and potential functions of these genes. The large number of CCCH genes and high percentage of them under diversifying selection reflect the recent evolution events of allotetraploid switchgrass. The Clade-XIVPvC3Hs were highlighted in this study for their responses to different abiotic stresses at transcriptional levels and for their potential regulatory roles in stress-tolerances. Manipulating the expression level of CCCH genes through biotechnological approaches could be an effective way to further improve the agronomic traits of switchgrass.
Abbreviations
Aa:

Amino acid
Ank:

Ankyrin repeat
BLAST:

The Basic Local Alignment Search Tool
CDS:

Coding sequence
HMM:

Hidden Markov Model
KH:

K homolog domain
kD:

Kilo-dalton
MW:

Molecular weight
Mya:

Million years ago
N-J:

The neighbor-joining
Pfam:

Protein family
pIs:

Isoelectric points
qRT-PCR:

Quantitative real-time PCR
RRM:

RNA-Recognition Motif
WD40:

WD40 repeat
Znf:

Zinc finger
Declarations
Acknowledgments
The genomic sequence data were produced by the US Department of Energy Joint Genome Institute and transcriptomic data by the Samuel Roberts Noble Foundation. We thank Dr Zhibing Lai, Dr. Wun Chao, Mr. David Jespersen and three anonymous reviewers for critical reading and comments on the manuscript. This study was supported by grant BK20140693 from the Natural Science Foundation of Jiangsu Province, China, by grant 31372359 from the National Natural Science Foundation of China, and by the Priority Academic Program Development of Jiangsu Higher Education Institutions.
Authors' Affiliations
(1)
College of Life Science, Nanjing Agricultural University, Nanjing, PR China
(2)
College of Agro-grassland Science, Nanjing Agricultural University, Nanjing, PR China
(3)
Jiangsu Key Laboratory for Poplar Germplasm Enhancement and Variety Improvement, Nanjing Forestry University, Nanjing, PR China
(4)
Department of Plant Biology and Pathology, Rutgers, the State University of New Jersey, New Brunswick, USA
Copyright
© Yuan et al.; licensee BioMed Central. 2015
This is an Open Access article distributed under the terms of the Creative Commons Attribution License (http://creativecommons.org/licenses/by/4.0), which permits unrestricted use, distribution, and reproduction in any medium, provided the original work is properly credited. The Creative Commons Public Domain Dedication waiver (http://creativecommons.org/publicdomain/zero/1.0/) applies to the data made available in this article, unless otherwise stated.