Research article

Open Access
Genetic diversity of male and female Chinese bayberry (Myrica rubra) populations and identification of sex-associated markers
Received: 21 October 2014
Accepted: 1 May 2015
Published: 19 May 2015
Abstract
Background
Chinese bayberry (Myrica rubra Sieb. & Zucc.) is an important subtropical evergreen fruit tree in southern China. Generally dioecious, the female plants are cultivated for fruit and have been studied extensively, but male plants have received very little attention. Knowledge of males may have a major impact on conservation and genetic improvement as well as on breeding. Using 84 polymorphic SSRs, we genotyped 213 M. rubra individuals (99 male individuals, 113 female varieties and 1 monoecious) and compared the difference in genetic diversity between the female and the male populations.
Results
Neighbour-joining cluster analysis separated M. rubra from three related species, and the male from female populations within M. rubra. By structure analysis, 178 M. rubra accessions were assigned to two subpopulations: Male dominated (98) and Female dominated (80). The well-known cultivars 'Biqi' and 'Dongkui', and the landraces 'Fenhong' are derived from three different gene pools. Female population had a slightly higher values of genetic diversity parameters (such as number of alleles and heterozygosity) than the male population, but not significantly different. The SSR loci ZJU062 and ZJU130 showed an empirical Fst value of 0.455 and 0.333, respectively, which are significantly above the 95 % confidence level, indicating that they are outlier loci related to sex separation.
Conclusion
The male and female populations of Chinese bayberry have similar genetic diversity in terms of average number of alleles and level of heterozygosity, but were clearly separated by genetic structure analysis due to two markers associated with sex type, ZJU062 and ZJU130. Zhejiang Province China could be the centre of diversity of M. rubra in China, with wide genetic diversity coverage; and the two representative cultivars 'Biqi' and 'Dongkui', and one landrace 'Fenhong' in three female subpopulations. This research provides genetic information on male and female Chinese bayberry and will act as a reference for breeding programs.
Keywords
Zhejiang Province
Female Plant
Male Plant
Dioecious Plant
Chinese Bayberry
Background
Chinese bayberry (Myrica rubra) is an evergreen fruit tree native to southern China and other Asian countries [1]. The fruit has a delicious flavour and high nutritional value, especially rich in anthocyanins. It can be eaten as fresh fruit and as processed products, and has become popular in China and other countries in recent years [2-4]. Among the six Myrica species in China, only M. rubra is commercially cultivated in Zhejiang, Jiangsu, Fujian and Guangdong, and is also grown in the Yunnan, Guizhou and Hunan provinces [5,6].
Chinese bayberry (2n = 16) belongs to the
Myricaceae
family, is usually dioecious, is wind pollinated, and only a few individuals are monoecious. Other species in the Myricaceae family such as
M. cerifera
,
M. faya
and
M. rivas-martinezii
are also dioecious plants [
7
-
9
], with unclear mechanism of sex determination. Monoecious plants have also been found in
M. faya
[
9
].
M. rubra
has a symbiotic association with nitrogen-fixing bacterium in the root system, which has also been found in other
Myricaceae
family members [
7
,
10
-
12
]. The morphology of its inflorescences and flowers varies with the sex of the tree (Fig.
1
). Male plants, with a different colour and shape of staminate catkins, are planted for landscape and pollination purposes [
1
]. The number of male plants is diminishing year by year because of their low economic benefits. Even though Chinese bayberry was domesticated in southern China more than 2000 years ago, it only has about fifty years of research history. The rich germplasm of Chinese bayberry is reflected by around 300 recorded landraces/cultivars [
5
], also some landraces including a group rather than a single scion variety. Zhejiang Province has the longest history of Chinese bayberry cultivation, with considerable germplasm resources. The main cultivars 'Biqi' (with black fruit and average weight of 11 g) and 'Dongkui' (red fruit and average weight of 22 g) are pure scion cultivars, and have been widely cultivated in China. While two landraces 'Fenhong' (pink fruit and average weight of 13 g) and 'Shuijing' (light yellow fruit and average weight of 15 g) are limited to local regions in Ningbo area of Zhejiang Province. Mutation and natural elite line identification has been the dominant way of breeding new cultivars [
6
].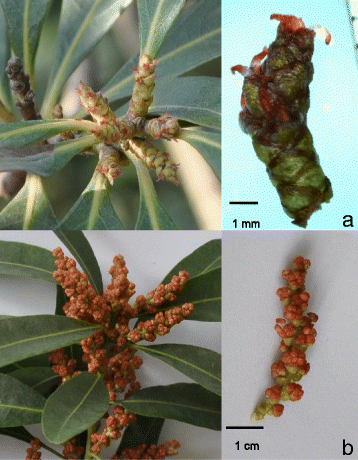 Genetic diversity, cultivar identification and the geographic origin of Chinese bayberry have been studied using molecular markers [5,6,13], but based on the dozen available markers [14,15], with the male plants rarely used in the study of cross breeding and genetic diversity. With the development of sequencing techniques, a large number of simple sequence repeat markers (SSRs) have been isolated in recent years [13,16,17]. Using SSR markers, no genetic differentiation has been found between M. rivas-martinezii and M. faya [8]. SSRs are powerful markers which have been widely used in studies on genetic diversity and population structure, and to construct linkage maps [18-22].
Molecular markers linked to sex determination have been reported in a few dioecious fruit crops. A microsatellite (GATA)n revealed sex-specific differences in papaya [23], and SCAR markers were then developed for sex determination [24,25]. Fraser found that sex-linked SCAR markers and the 'Flower-sex' phenotype mapped to the same linkage group in the dioecious species Actinidia chinensis (kiwifruit), which revealed putative X/Y sex-determining chromosomes[19]. However, there has been no report on male plant genetic diversity and sex determination in Chinese bayberry or other Myrica species. Here we report, for the first time, the genetic diversity of male plants of Chinese bayberry compared with the female plants, using 84 SSR markers. This information will be useful in the conservation of these diverse individuals and for direct application in the new initiative of the Chinese bayberry cross-breeding program.
Conclusions
Analysing male and female genotype data, we were able to estimate the genetic diversity of Chinese bayberry and demonstrate the rich diversity of the population. Phylogenetic cluster and population structure analyses revealed the sex trait effect on genetic structure stratification, and that Zhejiang Province could be the centre of diversity of M. rubra. The genetic diversity of the two cultivars 'Biqi' and 'Dongkui' and the landrace 'Fenhong' makes them an excellent source of variability for Chinese bayberry breeding programs. We also identified two SSR markers putatively associated to sex segregation in the two populations.
Abbreviations
CLUMPP:

CLUster matching and permutation program
AMOVA:

Analysis of molecular variance
PCoA:

Principal coordinate analysis
FDIST:

F distribution
Declarations
Acknowledgements
This work was supported by the Natural Science Foundation of China (31471843), Ningbo Science and Technology Research Fund (contract no 2012C10012) and the Agriculture and Forestry Bureau of Yuyao City for Chinese bayberry improvement (2014). We thank Miss Sha Sha, Dr. Chen Fangyong, Mr. Li Shaoyu and Mr. Liu Zhaoxin for assistance in collecting plant materials.
Authors' Affiliations
(1)
Department of Horticulture, College of Agriculture and Biotechnology, Zhejiang University, Hangzhou, China
(2)
Fruit Research Institute, Yuyao, PR China
(3)
The National Key Facility for Crop Gene Resources and Genetic Improvement (NFCRI)/Key Lab of Germplasm Utilization (MOA), Chinese Academy of Agricultural Sciences, Institute of Crop Science, Beijing, China
(4)
Forestry Technology Extension Center, Cixi, China
(5)
Bio-Macromolecules Analysis Lab, Analysis Center of Agrobiology, Environmental Sciences of Zhejiang University, Hangzhou, China
(6)
Zhejiang Institute of Subtropical Crops, Wenzhou, China
(7)
Wenzhou Vocational and Technical College, Wenzhou, China
(8)
Plant Breeding-Wageningen University and Research Centre, Wageningen, The Netherlands
Copyright
© Jia et al.; licensee BioMed Central. 2015
This is an Open Access article distributed under the terms of the Creative Commons Attribution License (http://creativecommons.org/licenses/by/4.0), which permits unrestricted use, distribution, and reproduction in any medium, provided the original work is properly credited. The Creative Commons Public Domain Dedication waiver (http://creativecommons.org/publicdomain/zero/1.0/) applies to the data made available in this article, unless otherwise stated.