Research article

Open Access
Early transcriptional events linked to induction of diapause revealed by RNAseq in larvae of drosophilid fly, Chymomyza costata
Received: 5 June 2015
Accepted: 9 September 2015
Published: 21 September 2015
Abstract
Background
Diapause is a developmental alternative to direct ontogeny in many invertebrates. Its primary adaptive meaning is to secure survival over unfavourable seasons in a state of developmental arrest usually accompanied by metabolic suppression and enhanced tolerance to environmental stressors. During photoperiodically triggered diapause of insects, the ontogeny is centrally turned off under hormonal control, the molecular details of this transition being poorly understood. Using RNAseq technology, we characterized transcription profiles associated with photoperiodic diapause induction in the larvae of the drosophilid fly Chymomyza costata with the goal of identifying candidate genes and processes linked to upstream regulatory events that eventually lead to a complex phenotypic change.
Results
Short day photoperiod triggering diapause was associated to inhibition of 20-hydroxy ecdysone (20-HE) signalling during the photoperiod-sensitive stage of C. costata larval development. The mRNA levels of several key genes involved in 20-HE biosynthesis, perception, and signalling were significantly downregulated under short days. Hormonal change was translated into downregulation of a series of other transcripts with broad influence on gene expression, protein translation, alternative histone marking by methylation and alternative splicing. These changes probably resulted in blockade of direct development and deep restructuring of metabolic pathways indicated by differential expression of genes involved in cell cycle regulation, metabolism, detoxification, redox balance, protection against oxidative stress, cuticle formation and synthesis of larval storage proteins. This highly complex alteration of gene transcription was expressed already during first extended night, within the first four hours after the change of the photoperiodic signal from long days to short days. We validated our RNAseq differential gene expression results in an independent qRT-PCR experiment involving wild-type (photoperiodic) and NPD-mutant (non-photoperiodic) strains of C. costata.
Conclusions
Our study revealed several strong candidate genes for follow-up functional studies. Candidate genes code for upstream regulators of a complex change of gene expression, which leads to phenotypic switch from direct ontogeny to larval diapause.
Keywords
Fruit flyPhotoperiodismDevelopmentDormancyGene expressionCell cycleEcdysteroidsEpigenetics factors
Background
Diapause is an environmentally programmed and hormonally regulated period of dormancy in invertebrates [1, 2]. Why study diapause? In an attempt to answer this question, Denlinger [3] provides various good explanations. First and foremost, diapause represents a central part of the life-cycle in many species and secures their survival over unfavourable seasons [3, 4]. More generally, diapause offers an excellent possibility to probe fundamental questions about the regulation of organismal development [3]. Environmental seasonal cues, most often photoperiod, are perceived during a species-specific sensitive stage and transduced into one of two ontogenetic alternatives: direct development versus diapause development [5]. During diapause development, the active lifestyle and the ontogenetic processes are transiently (for the harsh season) but dramatically turned off. The cell division cycles in proliferative tissues stop, the growth and morphogenesis slow down or cease, and, in adults, the development of gametes and reproduction behaviour disappear [6–8]. In contrast, other processes might be bolstered, such as metabolic pathways linked to the building of energy reserves [9, 10], and cellular protective systems to prevent aging [11], oxidative damage [12], or injury caused by a wide range of environmental stressors linked to harsh seasons [4, 13, 14]. The period of developmental arrest during diapause is not static but rather represents a dynamic succession of more or less clearly expressed ecophysiological phases of induction, preparation, initiation, maintenance and termination [6].
Despite the indisputable importance of diapause for insect science/applications and its great potential for basic research, molecular and physiological regulation of diapause remains mostly unknown [15]. This is partially caused by the fact that diapause is very weakly expressed in the classic model insect, Drosophila melanogaster [16]. Nevertheless, it is well established that switching between direct development and diapause is controlled by the alteration of hormonal signalling. In most insects, the decrease or absence of secretion of basic developmental hormones, juvenoids and ecdysteroids induces diapause [17–19]. Very briefly, these hormones are synthesized in endocrine glands, corpora allata and prothoracic gland, respectively, which are under the control of neuropeptides produced by specific brain neurons [20, 21], which, in turn, receive information about environmental cues from sensory neurons or light-sensitive cells including, most probably, central circadian clock neurons [22–24]. Recent discoveries in mosquito, Culex pipiens and fruit fly, D. melanogaster indicate that this transduction pathway communicates with insuling signalling pathway [25–27] but the details of this crosstalk only start to emerge and will need verification in other species.
Increasing accessibility of omic technologies and their applicability to non-model insects brought an important momentum for diapause research [28]. Many authors used transcriptomics to characterise gene expression changes in response to diapause. Their major motivations were twofold: to describe a holistic picture of the complex diapause syndrome and to reveal specific candidate genes and processes that critically regulate diapause transitions. These aims are complicated by the fact that different insect species enter diapause in different ontogenetic stages (embryos, larvae, pupae and adults), which widely differ in their hormonal milieu and tissue complexity. Although the common phenotypic features of diapause (developmental arrest, metabolic suppression, environmental stress resistance, etc.) are similar in most species, there may be diverse transcriptional strategies for producing them [14]. Most previous studies on transcriptomic signatures of insect diapause compared the nondiapausing insects to diapausing individuals in which the diapause syndrome was already fully expressed in the phase of diapause maintenance [29–39]. In other studies, the insects were exposed to stimuli known to terminate diapause and their transition from diapause to post-diapause quiescence and/or the resumption of development was studied [40–43]. Some previous studies specifically addressed the events during the initiation phase of diapause, alternatively called "early" diapause [14, 42, 44–49], and only very few studies focused on the earliest phase of diapause induction. The study by [50], for instance, detected only a few transcripts that were differentially regulated (4 upregulated, 22 downregulated) in the heads of photoperiod-sensitive generation of pea aphids, Acyrthosiphon pisum in response to acute shortening of daylength, which induces the egg diapause in the offspring of after-next generation. In contrast, the recent study [51] of maternal diapause induction in the mosquito Aedes albopictus identified differential expression of 2251 genes in response to diapause-inducing short-day photoperiods. Some other papers examined induction-linked expression in a limited number of genes only. For instance, we [7] previously assessed changes in the relative abundances of seven genes coding for cell cycle regulatory factors in the photoperiod-sensitive 3rd instar larvae of Chymomyza costata, and [52] studied eight genes related to small RNA biogenesis in the photoperiod-sensitive 1st instar larvae of the flesh fly, Sarcophaga bullata. However, the most important regulatory events during early stages of diapause induction, which decide about the future developmental destiny, remained underexplored.
In this study, we characterize global patterns of gene expression associated with very early stages of diapause in the larvae of drosophilid fly, Chymomyza costata using RNAseq technology. Our main goal was to identify candidate genes and processes linked to the regulation of the diapause induction phase (sensu [6]), when the decision for diapause development has just been taken but the diapause phenotype is not yet expressed. We previously found that the first three days of the 3rd larval instar is a period of maximum sensitivity to daylength in C. costata. Irrespective of photoperiodic conditions (long-day, LD or short-day, SD), early 3rd instar larvae actively move, feed, grow and develop while at the same time they sense the photoperiod and determine their future developmental destiny accordingly (direct development under LD vs. larval diapause under SD). The typical diapause traits will occur in C. costata larvae later, during the phase of diapause initiation (at age of 10–40 days of 3rd instar) [53, 54]. In addition to comparing larvae reared under constant LD and SD photoperiods from early embryonic stage, we also transferred the larvae from LD to SD conditions during their sensitive stage and observed immediate transcriptomic responses (within one hour and four hours) that might be linked to the developmental switch from direct development to diapause. Although much of the work we present is descriptive, our comparison of gene expressions in the photoperiodic wild-type (Sapporo) strain and non-photoperiodic diapause (NPD) mutant strain, which lacks the ability to enter photoperiod-induced diapause, allows us to deduce the potential changes or disturbances linked to light OFF (present in both strains) from the directed developmental response to daylength (present in wild-type strain only).
Discussion
In this paper, we first report on profound and characteristic differences in gene expression levels associated with photoperiodic conditions (SD vs. LD), which trigger different developmental destinies (diapause vs. direct development, respectively) in photoperiod-sensitive early 3rd instar wild-type larvae of C. costata; secondly, we report on fast, massive and directed change in the gene expression pattern after the transfer of wild-type larvae from LD to SD conditions (developmental switch, T vs. LD). Generally, our results prove that a characteristic transcriptomic signature of diapause develops relatively early in the larval ontogeny, i.e. long before overt phenotypic expression of the diapause syndrome. We found at least 1313 differentially expressed (DE) sequences in SD vs. LD wild-type 3rd instars (517 up, 796 down; Fig. 1b). It is problematic to compare the numbers of DE-sequences in various studies differing in experimental design and methodology. Nevertheless, in comparable studies that focused on early stages of diapause, the numbers of SD vs. LD DE-sequences ranged from only 26 (4 up, 22 down) in photoperiod-sensitive pea aphids [50], or 672 (288 up, 384 down) in early embryos of cricket [47], or 704 (336 up, 368 down) in pupae of flesh fly [14], to 2251 or 2506 in the adult females or pharate larvae, respectively, of the Asian tiger mosquito [46, 51]. With the exception of aphids and adult mosquitoes (both sharing rather specific case of maternally induced diapause that is overtly expressed in next generations), however, the above mentioned studies used insects that already were in diapause, though in its early stages. In contrast, our study focused on events that are linked to a phase of diapause induction that precedes the early phases of diapause development (initiation and maintenance) [6]. It was surprising to see how fast the transcriptomic profiles alter in response to a change of photoperiodic conditions from LD to SD. At T13, which means just one hour after the daylength shortening (advanced light OFF), we registered 903 DE-sequences (421 up, 482 down) in T vs LD conditions. At T17, four hours after the daylength shortening, we found 280 DE-sequences (130 up, 150 down).
Next, we will discuss in more detail the expression responses structured according to biologically meaningful gene clusters representing GO and KEGG categories obtained from our enrichment analysis (Tables 1, 2). We selected the representative sequences for each cluster, those which showed a significant fold-change in relation either to developmental destiny (SD vs. LD) or to developmental switch (T vs. LD) or to both, and present them in a form of heat maps for higher clearness.
Conclusions
Our RNAseq study reveals strong candidate genes (bracketed in following text) that might be principal regulators of very early stages of photoperiodically induced diapause in larvae of C. costata and, possibly, in other insects entering diapause in late larval instars. Our results indicate that the short-day signal inhibits the enzymatic pathway (spook/spookier) for the synthesis of an important developmental hormone, 20-hydroxy ecdysone, which eliminates a small peak of ecdysone titer typically occurring during early 3rd instar ontogeny under long days. In addition, expression of ecdysone receptor (ecr) is downregulated under short days. These changes are probably translated into decreased transcription of early (broad and E74) and late (for instance, eip 28/29, eip e3) ecdysone response genes, which, in turn, may govern subsequent deep alteration of gene expression profile and lead to diapause phenotype. Some factors with broad influence on gene transcription (e2f2, vrille) and protein translation (eIF4e) are strongly downregulated under short days. Epigenetic processes such as alternative histone marking by methylation (dpy-30), alternative splicing and small RNA-mediated regulation of gene expression (ago-2), and perhaps also ER processing and ERAD degradation of newly synthesized proteins, emerge as potentially important elements of the developmental switch. Blockade of morphogenesis (principal feature of diapause) is clearly represented in our results as a general decrease of expression levels in numerous mRNAs coding for cell cycle regulators. Restructuring of metabolic pathways, another feature of diapause, is indicated by differential expression of genes involved in metabolism of lipids, amino acids, organic acids, detoxification, redox balance, protection against oxidative stress, cuticle formation and synthesis of larval storage proteins.
One of the most salient outcomes of our study is that the highly complex alteration of gene transcription was observed within a time frame of only four hours after the change of photoperiodic signal (in fact, just in response to advanced dusk time without exposing the insects to even single complete long night). The response was not only highly complex and fast but also clearly directed (in contrast to undirected disturbance), which was documented by similarity of gene expression responses to constant photoperiod (short days during whole larval development) and change of it (transfer to short days). Moreover, we were able to verify the relevance of our RNAseq differential gene expression results in an independent qRT-PCR experiment involving wild-type (photoperiodic) and NPD-mutant (non-photoperiodic) strains of C. costata. The transfer from LD to SD conditions is known to gradually but rapidly (within 3–5 long nights) switch the ontogenetic programming from direct development to diapause [7, 52, 53]. In this paper, we show that the regulated change of developmental pathway starts as early as 1 h after the shortening of daytime. Such rapid change from direct development to diapause may reflect high ecological importance of diapause for C. costata larvae: missing the diapause entry at ecologically appropriate time (under short days signalling for coming winter) would mean strongly decreased chance for winter survival (risking the loss of life). Therefore, even the larvae that are very close to pupariation are able to rapidly switch for diapause if the photoperiod "seems to signal for it" (responding already to a phase shift of dusk time or to the first long night). The "wrong" decision to enter diapause may be easily corrected anytime later by returning to direct development pathway (risking the loss of time only) as the diapause larvae maintain photoperiodic sensitivity for many months (until death) when exposed to permissive ambient temperatures such as 18 °C [53].
In conclusion, our study indicates several strong candidate genes that deserve detailed attention in future functional studies. These candidates might represent upstream general regulators of a complex transfiguration of gene expression pattern, which eventually leads to phenotypic switch of developmental programming from direct ontogeny to larval diapause in insects.
Methods
Insect rearing, diapause induction and sampling
Two strains of
Chymomyza costata
(Zetterstedt, 1838) (Diptera: Drosophilidae) were used in this study: a wild-type (Sapporo) strain originally collected in Sapporo, Hokkaido, Japan, in 1983 and a non-photoperiodic-diapause (NPD) mutant strain, which was isolated by [
58
] from wild-type flies collected in Tomakomai, Hokkaido, Japan. Insects were cultured at constant temperature of 18 °C in incubators MIR154 (Sanyo Electric, Osaka, Japan) on an artificial diet as described by [
142
]. Developmental destiny of larvae was programmed using two different photoperiodic regimes: a long day regime (LD, 16 h light: 8 h dark) at which all larvae of both strains continue direct development (
i.e.
pupariate, pupate and metamorphose to adults), and a short day regime (SD, 12 h light: 12 h dark) that induces larval diapause in all individuals of Sapporo strain but no-diapause in larvae of NPD strain [
58
]. In order to switch the developmental destiny from direct development to diapause, the LD-reared wild-type larvae were transferred to SD conditions (T, transfer) on day three of their 3rd larval instar (
i.e.
approximately when 15-day-old since the egg deposition). The transferred larvae experienced four hour advanced light OFF time (dusk) on day 15 (see scheme in Fig.
5
). All wild-type strain larvae respond to such transfer by switching the developmental destiny from direct development to diapause, while NPD-mutant larvae show no response and continue developing [
54
].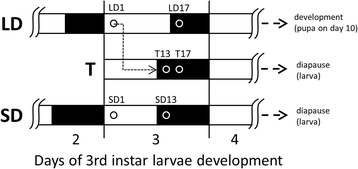 All experimental insects came from synchronized eggs (laid within one day) and a second developmental synchronization (for details, see [54]) took place during the 2nd to 3rd instar transition that means three days prior to sampling. All samples were taken on day three of 3rd instar when the larvae reach their maximum sensitivity to photoperiodic signal [53]. The samples were taken at two Zeitgeber times (Zt's) in each photoperiodic regime (i.e. LD1 and LD13; SD1 and SD17; T13 and T17, see Fig. 5). The given Zt's were selected on purpose, first, in order to take into account potential effect of diurnal fluctuations, which we know is generally very small based on the results of our parallel study (Koštál and Schöttner, unpublished results), and second, to allow comparing the transcriptomic responses to switch OFF the light (phase shift of dusk time). Three biological replicates were taken at each Zt, and each replicate consisted of a pool of 10 larvae. Night samples were taken under dim red light. Larvae were collected to 400 μl of ice cold RiboZol RNA Extraction Reagent (Amresco, Solon, OH, USA) in 1.5 ml microvial, immediately cut to small pieces by scissors and stored at −80 °C until next processing.
RNA sample processing, cDNA library production and RNAseq
The total RNA was extracted from whole larvae using the RiboZol RNA Extraction Reagent. Pellet of total RNA was dissolved in 20 μl of DEPC-treated water and an aliquot of 5 ul was taken for total RNA quality assessment on denaturing agarose gel and concentration measurement using Cary50 UV–VIS spectrophotometer (Varian, Palo Alto, CA, USA). The total RNA concentrations were levelled exactly to 0.5 ug/ul and the samples were either sent to the EMBLGenomics Core Facilities (GeneCore, Heidelberg, Germany) for cDNA library production and Illumina RNAseq or used for qRT-PCR validation of RNAseq results.
The cDNA libraries were prepared from the samples of Sapporo strain larvae using Covaris S2 (Covaris, Woburn, Massachusetts, USA) for fragmentation aiming for an insert size of about 150 nt and TruSeq RNA sample prep kit (Illumina, San Diego, California, USA).
The cDNA libraries were then sequenced using HiSeq2000 sequencer (Illumina, San Diego, California, USA). For the de-novo transcriptome assembly, the cDNA library was run on two lanes using 100 nt paired end sequencing, while for transcriptome profiling in the main experiment, we ran the samples randomly distributed on 3 lanes using 50 nt single end sequencing.
De-novo transcriptome assembly, gene annotation and mapping
For the de-novo transcriptome assembly, we used a mix of 18-d-old larvae that were collected at 6 different Zt's (1, 5, 9, 13, 17, 21) under both, LD and SD conditions in order to make sure that we do not miss any gene related to different developmental destinies or different Zt's. The quality of RNAseq results was first assessed using FastQC (http://www.bioinformatics.babraham.ac.uk/projects/fastqc/). The raw reads were trimmed and all adapters and overrepresented sequences were removed with Trimmomatic software [143]. The resulting reads were filtered with a Phred quality score of at least 28 and with a read length of at least 100 bp. The transcriptome was then assembled using kmers 35, 55, 75 in SOAPdenovoTrans [144] using default settings and merged with cd-hit-est with a setting of 100 % identity, to get rid of nested sequences [145]. A minimum sequence size was set to 100 nt in order to not miss short sequences. The transcriptome assembly was then annotated using Blastx (RefSeq NCBI database, E-value below 0.001). GO-terms, INTERPROs and Kegg IDs were retrieved using Blast2GO [146]. Since the exact number of genes/transcripts in C. costata is unknown, we blasted our database against D. melanogaster transcriptome in order to find putative orthologous genes using a minimum identity threshold of 50 % and an E-value below 1e-10. The D. melanogaster transcriptome was chosen primarily because of its very good annotation and also because of its close taxonomic relationship to C. costata.
Differential expression analysis, GO-term enrichment analysis, functional clustering and statistical analysis of RNAseq data
Quality control of RNAseq results was conducted as described above. Reads were then mapped to our C. costata reference transcriptome developed previously using Bowtie 2 [147] with default parameters. Read counts were estimated with eXpress (http://bio.math.berkeley.edu/eXpress/overview.html) and the differential expression analysis was conducted using DeSEQ2 [148]. Only those transcripts, which showed a log2 fold change (FC) above 0.55 or below −0.55 (equivalent to 1.5 absolute fold change) and a corrected P-value (using Benjamini and Hochberg multiple testing correction) below 0.01 were considered as significantly differentially expressed (DE). We only considered the sequences with a baseMean above 10 in order to avoid false positive genes (baseMean reflects the mean number of sequencing reads all across the sample per sequence). Using DESeq2, the normalization of the RAW counts has been conducted by taking into account the library sizes. Several basic comparisons were made: Short day vs. Long day (SD1 vs. LD1 and SD13 vs LD17; i.e. differences associated with developmental destiny) and Transfer vs. Long day (T13 vs. LD17 and T17 vs LD17; i.e. differences associated with developmental switch). To detect if any particular biological process, molecular function or cellular component were enriched in any condition, GO-term enrichment analyses were conducted using the Drosophila orthologous gene IDs with the module ClueGO [149] on Cytoscape software [150] and compared against the whole Drosophila melanogaster transcriptome. If several contigs were sharing the same Blast X result, then only one sequence would be considered for the enrichment analysis removing any redundancy in the dataset. The GO terms were considered significantly over- or underrepresented when a corrected Bonferroni p-value was below 0.05.
Based on our GO term enrichment analysis, representative and candidate sequences/transcripts were selected and clustered according to their putative role in diapause. Heat maps representing the differential expression of the gene clusters were constructed with TMev using Euclidian metric (average distance) [151].
Validation of RNAseq results
We validated and verified our results at three levels using qRT-PCR analysis of 25 selected mRNA transcripts (Additional file 4: Table S3). In the first level, the aliquots of total RNA that was subjected previously to the RNAseq experiment were taken for direct validation of the RNAseq results. The 5 uL (2.5 ug) aliquots of total RNA were treated with DNase I (Ambion, Life Technologies) followed by the first strand cDNA synthesis using Superscript III (Invitrogen, Carlsbad, CA, USA). The cDNA products (20 μL) were diluted 25 times with sterile water. Relative abundances of mRNA transcripts for selected transcripts were measured by quantitative real time PCR (qPCR) using the CFX96 PCR light cycler (BioRad, Philadelphia, PA, USA) and the IQ SYBR Green SuperMix (Bio-Rad). PCR reactions (total volume of 20 μL) contained 5 μL of diluted cDNA template and were primed with a pair of gene-specific oligonucleotide primers (Additional file 4: Table S3), each supplied in a final concentration of 400 nM. Cycling parameters were 3 min at 95 °C followed by 40 cycles of 94 °C for 15 s, 60 °C for 30s and 72 °C for 30s. Analysis of melt curves verified that only one product was amplified in each reaction. In addition, we checked the size of the PCR products for each gene by electrophoresis on 2 % agarose gel in selected samples. Emission of a fluorescent signal resulting from SYBR Green binding to double-stranded DNA PCR products was detected with increasing PCR cycle number. Quantitation cycle (C Q) for each sample was automatically calculated using the algorithm built in the CFX96 PCR light cycler software. The levels of mRNA transcripts of Ribosomal protein L32 (Rpl32) and β-tubulin 56D (β-tub) served as endogenous reference standards for relative quantification of the target transcript levels [152]. Each sample was run as a doublet (two technical replicates) of which the mean was taken for calculation. Relative ratios of the candidate mRNA levels (C Q) to geometric mean of the levels (C Q) of two reference gene mRNAs were calculated according to [153]. The Log2-transformed relative ratios were statistically analyzed using one-way ANOVA (with confidence intervals set to 95 %) followed by Bonferroni post-hoc tests using Prism6 (GraphPad Software, San Diego, CA, USA).
Second level: In order to verify that the differences in gene expression observed in RNAseq experiment are based on robust biological background, we conducted an independent replication of the experiment and sampled new wild-type larvae from different generation (1 year later). The same experimental design (LD, SD and T) was applied as for original RNAseq experiment, except that we omitted sampling at LD Zt1 and SD Zt1, and all samples were processed for qRT-PCR analysis.
Third level: The NPD-mutant strain larvae were used in order to see whether the differences in gene expression observed in RNAseq experiment are specifically related to sensitivity to photoperiodic signal. The NPD-mutant strain larvae (insensitive to photoperiodic signal) were subjected to the same experimental design (LD, SD and T) as wild-type larvae in original RNAseq experiment and all samples were processed for qRT-PCR analysis.
Abbreviations
DE:

Differentially expressed
20-HE:

20-hydroxy ecdysone
LD:

Long days
NPD:

Non-photoperiodic strain of C. costata
SD:

Short days
T:

Transfer from LD to SD
Zt:

Zeitgeber time
Declarations
Acknowledgements
We thank Irena Vacková for rearing the C. costata laboratory colonies and Dr. Astrid Schwarz for proofreading the manuscript. This study was supported by Czech Science Foundation grant no. 13-01057S to VK. RP received his salary from Modbiolin grant no. 316304 sponsored by European Union Seventh Framework Programme (FP7/2007-2013) and KS was supported by the Postdoc Bioglobe project, no. CZ.1.07/2.3.00/30.0032, co-financed by the European Social Fund and the state budget of the Czech Republic.
Data access
All Illumina raw read sequence files are available from ArrayExpress under accession E-MTAB-3620.
Open AccessThis article is distributed under the terms of the Creative Commons Attribution 4.0 International License (http://creativecommons.org/licenses/by/4.0/), which permits unrestricted use, distribution, and reproduction in any medium, provided you give appropriate credit to the original author(s) and the source, provide a link to the Creative Commons license, and indicate if changes were made. The Creative Commons Public Domain Dedication waiver (http://creativecommons.org/publicdomain/zero/1.0/) applies to the data made available in this article, unless otherwise stated.
Authors' Affiliations
(1)
Biology Centre CAS, Institute of Entomology, České Budějovice, Czech Republic
(2)
Faculty of Science, University of South Bohemia, České Budějovice, Czech Republic
(3)
Genomics Core Facility, European Molecular Biology Laboratory, Heidelberg, Germany