Research article

Open Access
Origin and evolution of the enhancer of split complex
Received: 18 June 2015
Accepted: 12 September 2015
Published: 18 September 2015
Abstract
Background
The Enhancer of split complex is an unusual gene complex found in Arthropod genomes. Where known this complex of genes is often regulated by Notch cell signalling and is critically important for neurogenesis. The Enhancer of split complex is made up of two different classes of genes, basic helix-loop-helix-orange domain transcription factors and bearded class genes. The association of these genes has been detected in the genomes of insects and crustaceans.
Results
Tracing the evolution of the Enhancer of split complex in recently sequenced Arthropod genomes indicates that enhancer of split basic helix-loop-helix orange domain genes arose before the common ancestor of insects and Crustacea, and before the formation of the complex. Throughout insect and crustacean evolution, a four-gene cluster has been present with lineage specific gene losses and duplications. The complex can be found in the vast majority of genomes, but appears to be missing from the genomes of chalcid wasps, raising questions as to how they carry out neurogenesis in the absence of these crucial genes.
Conclusions
The enhancer of split complex arose in the common ancestor of Crustacea and insects, probably through the linkage of a basic helix-loop-helix orange domain gene and a bearded class gene. The complex has been maintained, with variations, throughout insect and crustacean evolution indicating some function of the complex, such as coordinate regulation, may maintain its structure through evolutionary time.
Keywords
Notch SignallingbHLH ProteinbHLH GeneProneural GeneInsect Genome
Background
Evolutionary conserved complexes of genes are rare in insect genomes [1] while relatively common in vertebrates [2–4]. The best characterised is the Hox complex, found in the genomes of widely diverse animals, in which interlinked and coordinate gene expression appear to stabilise the genomic structure of the complex over evolutionary time [5]. Complexes of genes that remain intact over wide evolutionary distances in insect genomes presumably have similar features to the Hox complex, such as coordinate regulation, that maintain their genomic structure, while the genome is rearranged around them.
The Enhancer of Split Complex (E(spl)-C) is an unusual and conserved complex of genes first identified in Drosophila melanogaster. This complex differs from most in that the genes it contains encode two completely different sorts of proteins: bHLH-Orange domain transcription factors [6, 7] (bHLHO), and Bearded class proteins [8, 9] (Brd). The association between these two types of genes has been found in the genomes of both insects and crustaceans [10], implying that this complex first formed through the association of these genes rather than the more usual gene duplication.
A limited survey of insect and crustacean genomes has shown that the E(spl) complex is ancestrally made up of three bHLHO encoding genes (bHLH1, bHLH2 and her) and a single Brd-class gene [10]. The structure of the complex is modified in some insects, Drosophila being an example, where two bHLH-orange domain genes are absent from the complex and there are seven copies of the remaining one, the Brd-class gene, mα, has been duplicated and there are a range of unrelated genes inserted in the complex [6, 9–16].
The E(spl)-C was first identified as a modifier of the Notch mutant Split [17]. Subsequent studies have shown that the bHLH proteins encoded by E(spl)-C act as effectors of Notch cell signalling [13, 18]. During neurogenesis in Drosophila, presumptive neuroblasts signal to surrounding cells in proneural clusters through the Notch cell-signalling pathway (Reviewed in [19–21]). This pathway leads to expression of E(spl)-C bHLH genes [18], which act to repress the expression [22], and function [23], of proneural genes, a set of transcription factors that promote neural cell fate [24, 25]. Presumptive neuroblasts thus signal surrounding cells to block their differentiation as neuroblasts through the activation of Notch cell signalling, and the expression of the E(spl) bHLHO domain proteins [26–29]. E(spl) bHLHO domain proteins encode a c-terminal WRPW motif which recruits the transcriptional repressor Groucho, which in turn acts to attenuate gene expression by promoting RNA polymerase pausing, and causes local histone deacetylation [30]. E(spl) bHLHO domain proteins thus target transcriptional repression to proneural genes, and proneural gene targets.
Brd class proteins from the E(spl)-C, in contrast, antagonise Notch signalling by interacting with Neuralised [31], an E3 ubiquitin ligase, stimulating the degradation of a Notch ligand, Delta [32]. In Drosophila, brd-class proteins particularly act to pattern adult sensory precursor formation [8, 9]. Bearded class genes encode small proteins with amphipathic alpha helices, and little sequence conservation [9].
The genes contained within the E(spl)-C are regulated in a range of ways. While individual enhancer elements for some of the genes have been identified [33, 34], the entire complex appears also to be activated by Su(H) [9, 35–40], a transcription factor usually regulated by Notch signalling [41]. This Notch responsiveness is also found in a crustacean, Daphnia [42]. Individual transcripts are repressed, in Drosophila, by miRNAs binding to 3′UTR located sites (named GY, Brd and K- boxes) [15, 43, 44]. There is also evidence for coordinate regulation of the E(Spl)-C by cohesin [45], a chromatin structure regulating protein that coats the E(spl)-C in cells and represses expression, and repression by Polycomb group proteins [46]. The genomics DNA containing the E(spl)-C also is structured in three dimensions in cells such that the chromatin of the complex interacts with itself forming an isolated domain, but does not interact with flanking regions [46]. This self-interactive structure implies the complex is regulated in a coordinated manner [46].
E(Spl)-C bHLH proteins are closely related to other clades of insect bHLH-orange domain proteins, including clockwork orange (cwo), Similar to Deadpan, (Side), H airy and E (spl) related with a Y RPW domain (Hey), hairy (h), deadpan (dpn). These genes have multiple roles in insects. Hairy is a regulator of segmentation [47, 48], acting as a pair-rule gene in many arthropods [49–51]. Deadpan [52] has multiple roles in Drosophila development, such as dosage compensation [53] and regulating neuroblast proliferation through responding to Notch signalling [54]. Hey has been shown to regulate neuron fate determination [55]. Cwo (clockwork orange) has a role in regulating the circadian clock [56–59]. Side has no identified function in Drosophila. In non-arthropod animals, closely related genes, the HES genes (hairy-enhancer of split genes) act, in most situations, as effectors of Notch signalling [60, 61] though some these genes do have non-Notch related roles [62, 63]. Given this close phylogenetic relationship, and the role in Notch signalling conserved between arthropods and vertebrates, it seems likely that Notch responsiveness, and a role as an effector of Notch signalling, may be an ancestral function for this group of transcription factors. Indeed expression of E(spl)-mδ produces a neurogenic effect when mis-expressed in Xenopus embryos [64].
The unusual nature of the E(spl)-C, containing two types of genes, and its potential coordinate regulation, make understanding the dynamics of its evolution important. Here I examine the structure and relationships of the E(spl)-C from arthropod and onychophoran genomes, particularly those provided by the i5K consortium [65, 66]. The i5K consortium provides high quality Arthropod genome sequences that allow both the identification of genes, and examination of genome structure. This dataset allows us to trace both the origins and subsequent evolution of the E(spl)-C in arthropods.
Conclusions
The genomes of arthropods contain few evolutionary conserved gene complexes [
1
], the most well known being the Hox [
5
], runt [
88
] and E(spl)-C [
10
]. The E(spl)-C is restricted to Crustacea and insects, but the key bHLH genes arose before the formation of the complex. The complex appears to have become assembled in the lineage leading to insects and crustaceans, possibly though the association of the bHLH genes (with a long evolutionary history of Notch responsiveness) with the
mα
Brd-class gene (Fig.
9
). Presumably the formation of this complex gave some advantage in the regulation or expression of these genes, cementing the structure of the complex. The regulation of this complex in
Drosophila
through chromatin conformation regulators [
45
,
46
], and the suggestion of coordinate regulation [
46
], may provide an explanation for the conservation of the complex through 540 million years of arthropod evolution. This complex has remained stable in insect genomes, but while gene-loss and duplication has reshaped it in some lineages, its complete absence has only been detected in a group of Chalconid wasps.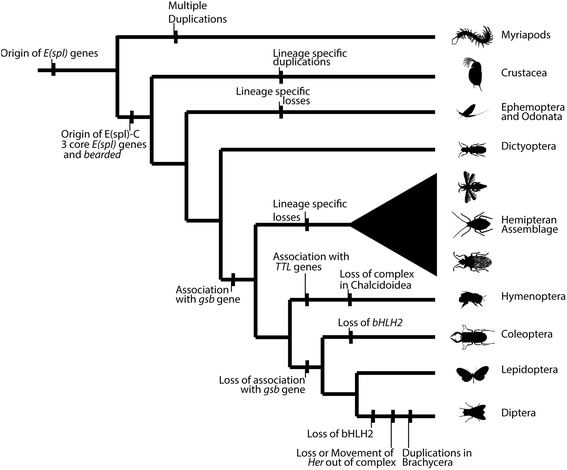 The pattern of evolution of the E(spl)-C implies some regulatory reason for the conservation of its structure, perhaps on a par with the well-described coordinate regulation of the Hox complex [5]. Examining the expression and function of these genes in species with variations of the complex, and in deeply branching groups such as myriapods, will provide insight into the reasons behind the conservation of this remarkable gene complex.
Methods
Gene identification
BHLHO domain genes and Brd-class genes were identified in arthropod genomes using Blast [69], with orthology assigned using a reciprocal blast best-hit approach. Coding sequences were either extracted from gene prediction sets, or, if such predictions were absent or erroneous, using FGENESH [89] on contigs identified as containing bHLHO sequences using tblastn [69]. Predicted proteins were generated and aligned using CLC Genomics Workbench (http://www.clcbio.com).
Genomic analyses were carried out using CLC Genomics Workbench to visualise the placement of bHLHO genes on scaffolds and contigs. Predicted proteins encoded in these regions were analysed with blastp [69], in the first instance, and HMMER [90] (to identify Brd-class encoding genes).
Phylogenetics
All phylogenetics were carried out using MrBayes [67] using the WAG model of protein [91] which proved to be the most appropriate model after testing using mixed models. Monte-Carlo Markov chains were run for 1000000 generations with the initial 25 % of trees discarded as burn-in. Consensus trees were visualised with Dendroscope [92] or CLC Genomics Workbench.
Ethics
This manuscript describes analysis of publically available genome sequences and annotation (used with permission) and thus did not require animal ethics approval.
Declarations
Acknowledgements
The author would like to acknowledge P.M. Dearden for critical reading of this manuscript. The author is grateful for the efforts of the i5K consortium and the Baylor College of Medicine Human Genome Sequencing Center who provided genome sequences and annotation. Hemipteran taxon images in Fig. 9 are from Joseph Hughes, used under a creative commons license (https://creativecommons.org/licenses/by-nc-sa/3.0/).
Open Access This article is distributed under the terms of the Creative Commons Attribution 4.0 International License (http://creativecommons.org/licenses/by/4.0/), which permits unrestricted use, distribution, and reproduction in any medium, provided you give appropriate credit to the original author(s) and the source, provide a link to the Creative Commons license, and indicate if changes were made. The Creative Commons Public Domain Dedication waiver (http://creativecommons.org/publicdomain/zero/1.0/) applies to the data made available in this article, unless otherwise stated.
Authors' Affiliations
(1)
Genetics Otago and Gravida (National Centre for Growth and Development), Biochemistry Department, University of Otago, Dunedin, New Zealand