Research article
Open Access
Transcriptomic analyses of regenerating adult feathers in chicken
Received: 2 June 2015
Accepted: 30 September 2015
Published: 6 October 2015
Abstract
Background
Feathers have diverse forms with hierarchical branching patterns and are an excellent model for studying the development and evolution of morphological traits. The complex structure of feathers allows for various types of morphological changes to occur. The genetic basis of the structural differences between different parts of a feather and between different types of feather is a fundamental question in the study of feather diversity, yet there is only limited relevant information for gene expression during feather development.
Results
We conducted transcriptomic analysis of five zones of feather morphologies from two feather types at different times during their regeneration after plucking. The expression profiles of genes associated with the development of feather structure were examined. We compared the gene expression patterns in different types of feathers and different portions of a feather and identified morphotype-specific gene expression patterns. Many candidate genes were identified for growth control, morphogenesis, or the differentiation of specific structures of different feather types.
Conclusion
This study laid the ground work for studying the evolutionary origin and diversification of feathers as abundant data were produced for the study of feather morphogenesis. It significantly increased our understanding of the complex molecular and cellular events in feather development processes and provided a foundation for future studies on the development of other skin appendages.
Keywords
FeatherChickenDevelopmentTranscriptomeRNA-seq
Background
The genetic and developmental basis of morphological complexity is one of the most important issues in evolutionary biology [1, 2]. Avian feather provides an excellent system for studying the evolution and development of novel morphological traits because it has diverse forms [3–6], and the complex structure of feathers allows for various types of morphological changes to occur. Yet, feathers are homologous with the simpler scales of reptiles and could have evolved from a scale-like epidermal appendage of dinosaurian ancestors of birds [7–10].
Feathers have evolved to have different forms in color, morphology and mechanical properties not only among different bird species, but also among different body regions of a bird individual, giving us an excellent model to study the molecular basis of phenotypic variation of an important structure in a single species. The feather has been used as a model to study morphogenesis of skin appendages [11, 12]. Several candidate genes have been found to be involved in feather formation [13]. For examples, barb and rachis are formed by a periodic invagination and regulated by BMP, NOG, SPRY, and FGF. Moreover, the basal branch pattern is formed by differential cell death and regulated by NCAM, SHH, and caspase. In addition, radial, bilateral symmetric, and asymmetric branching patterns are formed by modulating basal branching circuit that is involved the WNT3A gradient and SPRY. However, the genetic basis of feather variation is still largely unknown. A better understanding of the molecular dynamics associated with the process of feather growth will provide insight into the evolution of diverse feather structures.
The feather is also an excellent example of exaptation. Feathers initially might have evolved for heat regulation, but were then co-opted for display, and later co-opted for flight. These and other evolutionary novelties probably have occurred by changing the expression patterns of genes involved in feather development. The evolutionary co-option of plesiomorphic molecular signaling modules allows for the morphological innovations of feathers to originate and evolve [14, 15].
A hypothesis of morphological evolution postulates that form evolves largely through altering the expression of conserved genes [2]. The molecular and developmental mechanisms that produce the diversification of feather are still poorly understood. The epithelium and the mesenchyme are two major components in feather follicles [16–18]. The epithelium includes both the epithelium enwrapping the mesenchyme and the feather wall epithelium that is connected with the interfollicular epidermis. The mesenchyme includes the dermal papilla and the pulp [19, 20]. The invagination of the multilayered epithelium in the ramogenic zone starts branching morphogenesis. The rachis is formed by fusion of barb ridges at the anterior end of the feather. The marginal plate in basal layer flanking each barb ridge and axial cells undergo apoptosis after the barbule plates are keratinized. The feather branches open in the more mature distal end after the apoptosis of feather sheath and pulp epithelium. Thanks to the feasibility of experimental manipulation and observation, feather regeneration can be analyzed in a comprehensive way and has been proposed to be a unique model for understanding organogenesis [11].
High-throughput sequencing technologies have been applied to characterize transcriptome architectures [21–26]. Systems biology study provides a new technology platform that can reveal molecular expression profiles associated with different morphological developments. Bioinformatic analyses are used to identify genes associated with feather and scale differences [27]. These technologies and skills were used in this study.
The main goal of this study was to identify differentially expressed genes between different portions of feather using RNA-Seq. We characterized and quantified mRNAs that are expressed in the feather base during feather development in the domestic chicken. Feathers develop from the distal end to the proximal end in a temporal-spatial manner, thus providing an opportunity to analyze gene expression profiles associated with different zones of a feather (Fig.
1a
) [
5
]. Two zones of body feather and three zones of flight feather were selected to represent morphological, structural, and mechanical property differences in feathers (Additional file
1
: Figure S1). We made four comparisons: 1) between pennaceous and plumulaceous portions of body feather for understanding how the morphological differences between two parts of a body feather arise; 2) between the pennaceous portions of body feather and flight feather for understanding differences in physical and mechanical properties; 3) between the distal pennaceous portion and the proximal pennaceous portion of flight feather for understanding how the morphological differences between two parts of a flight feather arise; 4) between the proximal pennaceous portion and the calamus of a flight feather for understanding how the barb and rachis are differentiated. These analyses shed light on the genetic basis of feather diversity.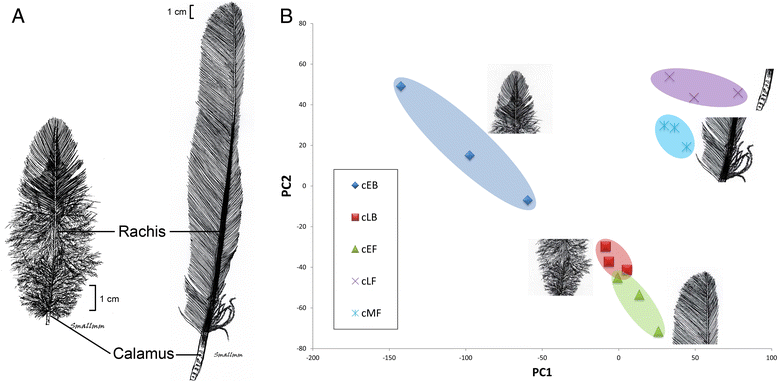 Conclusions
This study has significantly increased our understanding of the expression profiles of feather related genes. We examined the expression profiles of genes associated with the development of feather structure and compared the gene expression patterns in different types of feathers and different portions of a feather to advance our understanding of the molecular mechanisms of feather growth and the molecular basis of variation in feather structure. Our results are a valuable resource for understanding the molecular mechanisms of avian feather development. This study produced abundant data for the analysis of gene expression during feather morphogenesis. Morphotype-specifically expressed genes were identified from five zones of feather filament epithelia. Some identified genes may be associated with the growth control during feather regeneration, the formation of special branching structures, or barb differentiation themselves. The present study provides a basis for future study of the complex molecular and cellular events during feather development.
Methods
Animals
All the animals used in this study were processed following the approved protocol of Institutional Animal Care and Use Committees of the National Chung Hsing University (Taichung, Taiwan). For total RNA extraction, we used the Taiwan County Chicken (TCC_L2) breed chicken for wing flight feathers and white leghorn for body contour feathers. TCC_L2 and white leghorn chicken contour feathers are different in color but highly similar in morphology and structure.
Total RNA Isolation and RNA-seq
We collected regenerating pennaceous and plumulaceous portions of body contour feathers, the distal and proximal portions of primary flight feathers, and the calamus of primary flight feathers. Total RNA was isolated from early or late grow fresh feather epithelial tissues corresponding, respectively, to the distal and proximal part of a feather (Additional file 1: Figure S3), which was dissected from the follicle tissue and separated from the mesenchyme in Calcium-Magnesium Free Saline (CMFS 2X) on ice [79]. White leghorn chickens were used for body contour feathers to avoid melanin contamination, which is difficult to remove and can inhibit essential enzymatic reactions for RNA-seq [80, 81]. RNA-seq and analysis of paired-end reads were performed as described in Ng et al. 2014 [28]. Reads were mapped onto the chicken genome assembly ICGSC Gallus_gallus-4.0 (GCA_000002315.2).
Validation by real-time quantitative PCR
A total of 2 μg RNA of each sample was reverse transcribed with MultiScribe Reverse Transcriptase (Thermo Fisher Scientific, Waltham, MA) into cDNA for both Reverse Transcription PCR (RT-PCR) and Quantitative Reverse Transcription PCR (qRT-PCR) reactions. Total RNA was incubated with RT enzymes at 25 °C for 10 min prior to the RT reaction. RT reactions were performed at 37 °C for 2 h followed by the inactivation of RT enzyme at 85 °C for 10 s. For RT-PCR, 1 μl of 10× diluted cDNA was amplified by Fast Start Taq DNA polymerase (Roche Applied Science, Penzberg, Germany) in a total of 10 ul reaction. For RT-qPCR, 1 μl of 10× diluted cDNA products was quantified with 2 × SYBR Green Master Mix (Kapa Biosystems, Wilmington, MA) in a total of 10 ul reaction and performed on a Roche LightCycler 480 Instrument II. All the data were analyzed by the HTC1 software (Roche Applied Science). The 2-ΔΔCt method was used to calculate relative expression levels [82]. The cycling parameters of RT-qPCR were as follows: 95 °C for 3 min, then 40 cycles of 95 °C for 10 s, and annealing for 20 s. Gene names and primer sequences are shown in Additional file 3: Table S2. Each sample was analyzed in duplicates, and gene expression levels were normalized against the corresponding TATA-binding protein (TBP) expression level.
Multivariate analyses
Prior to statistical analyses performed with R v2.15.3 (R Development Core Team 2011), raw read counts were normalized by Fragments Per Kilobase of transcript per Million mapped reads (FPKM). Principal component analysis (PCA) was performed on the covariance matrix f using a custom R script based on the "prcomp" R package.
Identification of differentially expressed genes
We used the non-parametric method to identify differentially expressed genes (DEGs) between two samples [83]. Here, we set the q value (differentially expression probability) in the method to be 0.75 (this value is equivalent to an odd of 3:1, i.e., the gene is three times more likely to be differentially expressed than it is not) and require at least a 2-fold change in FPKM between the two samples.
Gene functional annotation, canonical pathway and upstream regulator analyses
Functional annotations of gene loci were compared with the complete genome using annotations from the Database for Annotation, Visualization, and Discovery (DAVID), which uses fuzzy clustering to group genes into functionally related classes based on the similarity of their annotations [84, 85]. Pathway analyses of differentially-expressed genes were carried out using the Ingenuity Pathways Analysis software (IPA; Ingenuity Systems, www.ingenuity.com). Each gene identifier was mapped to its corresponding gene object in the Ingenuity Pathways Knowledge Base. A canonical pathways analysis was generated to identify the pathways from the IPA library that were most significant. Fischer's exact test was employed to calculate the p-value which determines the probability that each biological function or/and canonical pathway is due to chance alone. The Upstream Analysis section of the core analysis was used to determine which upstream regulators were associated with the observed differently expressed genes.
Availability of supporting data
The full data sets have been submitted to NCBI Sequence Read Archive (SRA) under accession nos. SRX528281, SRX528834, SRX528843, SRX529337, SRX529339, SRX529353-SRX529362. Bioproject: PRJNA245063.
Abbreviations
FPKM:

Fragments Per Kilobase of transcript per Million mapped reads
RT-qPCR:

Real time quantitative PCR
DEGs:

Differentially expressed genes
PCA:

Principal components analysis
GO:

Gene ontology
DAVID:

Database for Annotation, Visualization, and Discovery
IPA:

Ingenuity pathways analysis
Declarations
Acknowledgments
The authors thank Drs. Meng-Shin Shiao, Meng-Ru Ho, Hsu-Chen Cheng, Pin-Chi Tang, Chua-Ti Ting, and Tzi-Yuan Wang for help. We thank two anonymous reviewers for their constructive comments. This study was supported by Ministry of Science and Technology (formerly known as National Science Council), Taiwan (MOST 104-2621-B-001-003-MY3 and 99-2321-B-001-041-MY2) and Academia Sinica, Taiwan. It was also supported by the National Institute of Arthritis and Musculoskeletal and Skin Diseases of the National Institutes of Health under Award Number AR 47364 and 60306. C.S.N. was supported by a postdoctoral fellowship from Academia Sinica, Taiwan. The content is solely the responsibility of the authors and does not necessarily represent the official views of the National Institutes of Health.
Open AccessThis article is distributed under the terms of the Creative Commons Attribution 4.0 International License (http://creativecommons.org/licenses/by/4.0/), which permits unrestricted use, distribution, and reproduction in any medium, provided you give appropriate credit to the original author(s) and the source, provide a link to the Creative Commons license, and indicate if changes were made. The Creative Commons Public Domain Dedication waiver (http://creativecommons.org/publicdomain/zero/1.0/) applies to the data made available in this article, unless otherwise stated.
Authors' Affiliations
(1)
Biodiversity Research Center, Academia Sinica, Taipei, Taiwan
(2)
Institute of Ecology and Evolutionary Biology, National Taiwan University, Taipei, Taiwan
(3)
Whole-Genome Research Core Laboratory of Human Diseases, Chang Gung Memorial Hospital, Keelung, Taiwan
(4)
Department of Pathology, Keck School of Medicine, University of Southern California, Los Angeles, USA
(5)
Department of Animal Science, National Chung Hsing University, Taichung, Taiwan
(6)
Center for the Integrative and Evolutionary Galliformes Genomics (iEGG Center), National Chung Hsing University, Taichung, Taiwan
(7)
Integrative Stem Cell Center, China Medical University, Taichung, Taiwan
(8)
Department of Ecology and Evolution, University of Chicago, Chicago, USA