Research article

Open Access
Genomic variation among populations of threatened coral: Acropora cervicornis
Abstract
Background
Acropora cervicornis, a threatened, keystone reef-building coral has undergone severe declines (>90 %) throughout the Caribbean. These declines could reduce genetic variation and thus hamper the species' ability to adapt. Active restoration strategies are a common conservation approach to mitigate species' declines and require genetic data on surviving populations to efficiently respond to declines while maintaining the genetic diversity needed to adapt to changing conditions. To evaluate active restoration strategies for the staghorn coral, the genetic diversity of A. cervicornis within and among populations was assessed in 77 individuals collected from 68 locations along the Florida Reef Tract (FRT) and in the Dominican Republic.
Results
Genotyping by Sequencing (GBS) identified 4,764 single nucleotide polymorphisms (SNPs). Pairwise nucleotide differences (π) within a population are large (~37 %) and similar to π across all individuals. This high level of genetic diversity along the FRT is similar to the diversity within a small, isolated reef. Much of the genetic diversity (>90 %) exists within a population, yet GBS analysis shows significant variation along the FRT, including 300 SNPs with significant FST values and significant divergence relative to distance. There are also significant differences in SNP allele frequencies over small spatial scales, exemplified by the large FST values among corals collected within Miami-Dade county.
Conclusions
Large standing diversity was found within each population even after recent declines in abundance, including significant, potentially adaptive divergence over short distances. The data here inform conservation and management actions by uncovering population structure and high levels of diversity maintained within coral collections among sites previously shown to have little genetic divergence. More broadly, this approach demonstrates the power of GBS to resolve differences among individuals and identify subtle genetic structure, informing conservation goals with evolutionary implications.
Keywords
Genotyping by sequencingCoral reefsPopulation genomicsRestoration geneticsFlorida reef tract
Background
Caribbean coral reef communities have lost nearly 80 % of coral cover since the early 1980s [1] due to multiple interacting factors such as overfishing, eutrophication, climate change, storm damage, grazer die-off, and disease [2, 3]. Amongst Caribbean corals, the genus Acropora has experienced particularly large declines over the last 30 years, with losses exceeding 95 % in some areas [4] and up to 90 % region-wide [5], a decline unparalleled in the fossil record [6]. The staghorn coral Acropora cervicornis is the fastest growing Caribbean coral [7] and is thought to reproduce largely by fragmentation [8]. Thus, active restoration propagates coral fragments in nurseries prior to outplanting to depleted reefs and is an effective coral restoration technique [9]. Active restoration is especially important for reef-building corals that provide the bulk of the three-dimensional complexity on reefs and support critical ecological functions for many other reef-associated species. Restoration efforts must consider how corals will respond to changing environments in today's oceans, where organisms may rely on a variety of responses, including physiological acclimatization or evolutionary adaptation [10–13]. With the increase in the number and scope of reef and coral restoration programs around the world, detailed knowledge is needed concerning the role that genetic diversity can play in the survivorship or remaining coral populations and the re-establishment of depleted populations based on nursery propagation.
Recent bottlenecks in the abundance of A. cervicornis can negatively impact this species' genetic diversity. Reduced populations may lose uniquely adapted individuals and rare alleles, each important for adaptation and potential recovery. Reduced genetic diversity also can compromise successful sexual reproduction by decreasing the potential of cross-fertilization (acroporids have low self-fertilization success [14]). Since A. cervicornis appears to undergo limited sexual recruitment, in part due to spatial gaps between existing populations, enhancing densities using nursery-reared coral colonies has become a focal point for increasing the chances of a successful mass-spawning event [9]. To repopulate reefs and increase population densities, greater knowledge on the genetic structure of A. cervicornis is needed so management strategies can be tailored to the appropriate areas and spatial scales. Specifically since the potential for evolutionary adaptation is related to genetic diversity and is critical for the survivorship of any species in today's changing environments [10], evaluation of genetic variation is needed to help recognize potential evolutionary outcomes and management repercussions.
Genetic variation in A. cervicornis shows significant regional structure (e.g., between Florida and the Bahamas) for populations separated by more than 500 km in both nuclear and mitochondrial genes, suggesting restricted gene flow over large distances and potentially isolated populations [15]. Yet, within a smaller region like the Florida Reef Tract (FRT), analysis of A. cervicornis using microsatellites showed little population differentiation and no significant population structure [16]; these results were confirmed with mitochondrial control region sequences that showed no significant population structure for staghorn corals within the FRT based on data from 52 individuals [17]. Although most genetic diversity is related to large distances among regions, population structure was detected over smaller spatial scales (as small as 2 km) in 3 of the 20 areas examined [15]. This rare, fine scale structure was attributed to one-way introgression of A. palmata into A. cervicornis [15]. The finding of moderate genetic structure among regions in the Caribbean separated by more than 500 km suggests that these distant areas require independent conservation and management practices. Approaches that provide higher differentiation at smaller scales would highlight the need for more local management and restoration strategies. These approaches require new techniques to resolve any meaningful genetic variation.
Recently, the ability to quantify genetic variation has greatly improved with the use of next-generation sequence technologies [
18
]. It is now possible to genotype large numbers of individuals at thousands of loci using Genotyping by Sequencing (GBS) [
19
]. Here we use GBS to investigate the genetic diversity within and among
A. cervicornis
populations using individuals collected throughout the FRT) with individuals from the Dominican Republic used as an outgroup (Fig.
1
; map was drawn using ESRI ArcMap 10.2). All individuals (except "Wild") are harbored in a network of in-situ nurseries, which represent critical repositories of genetic data [
20
] and the sustainable source of coral tissue being used for active restoration of this threatened species.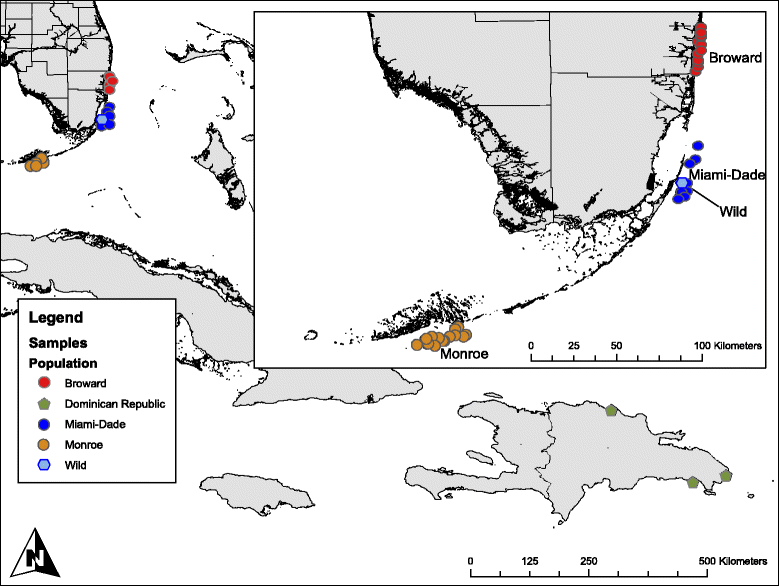 Methods
Coral collections
A total of 77 samples were collected and analyzed: 66 individuals along the Florida Reef Tract and 11 individuals from around the Dominican Republic (Table
1
). Dominican Republic corals were collected to serve as an out-group, enabling comparisons within the FRT to be considered relative to regional differences. Fifty-six FRT samples were received directly from a network of
in situ
nurseries harboring multiple corals originally collected from at least 500 m apart in separate reefs and tracked during propagation for active restoration efforts. Each of the FRT nursery corals was a unique genotype [
21
], which could potentially lead to an over-estimation of genetic diversity. An additional ten samples were collected from a single Miami-Dade county reef termed 'Wild' at 10-50 m intervals for a total of 66 colonies (Table
1
) from 57 sites along the FRT. Nursery collections were used because they represent past wide sampling effort, making current collection efforts more efficient. Samples were considered to be
A. cervicornis
based on morphology and microsatellite tags, with the exception of the 'Wild' site, which was determined solely based on morphology. Other studies have discovered significant one-way introgression between
A. palmata
and
A. cervicornis
[
15
]; however the role of introgression is beyond the scope of the present study as the use of several thousand loci precludes the ability to compare individual genes to known
A. palmata
sequences. All corals were sampled by slicing a ~0.5 cm apical tip with a clean razor blade and placing the tip in 320uL of a chaotropic salt solution while in the field (4.5 M guanadinium thiocynate, 2 % N-lauroylsarcosine, 50 mM EDTA, 25 mM Tris–HCl pH 7.5, 0.2 % antifoam, 0.1 M β-mercaptoethanol) [
22
]. Samples were transported back to the University of Miami/RSMAS and stored at 4 °C prior to processing.
Table 1
Sample collection locations for the 77 samples analyzed
| Region | Population | Samples Analyzed |
| --- | --- | --- |
| Florida | Broward (NSU) | 23 |
| | Miami-Dade (UM) | 10 |
| | Wild (Miami-Dade) | 10 |
| | Monroe (MOTE) | 23 |
| Dom. Republic | Punta Cana (PCEF) | 11 |
| Total | | 77 |
Collections were made under the following permits: Convention on International Trade in Endangered Species of Wild Fauna and Flora Permits 11US835702/9, United States Department of the Interior National Park Service Scientific Research and Collecting Permits BISC-2013-SCI-0010, NOAA Florida Keys National Marine Sanctuary Research Permit FKNMS-2011-150, and Florida Fish and Wildlife Conservation Commission Special Activity License SAL-13-1086-SCRP.
Genomic DNA and GBS
Genomic DNA was isolated using a silica column as described in [23]. Isolated DNA quality was assessed via gel electrophoresis and concentrations were quantified using Biotium AccuBlueTM High Sensitivity dsDNA Quantitative Solution according to manufacturer's instructions. After quantification, 100 ng of DNA from each sample was dried down in a 96-well plate. Samples were then hydrated overnight with 5 ul of water before restriction enzyme digestion and further processing. GBS was preformed using the restriction enzyme ApeKI, unique barcoded adapters (0.4pmol/sample) and 50 ng of genomic DNA as described in [19]. A range of PCR cycles was used to optimize the amplification of restriction fragments using primers that anneal to the adapters. DNA from the 18-cycle run was pooled, and the GBS library was sequenced (Illumina Hi Seq 2500, 100 bp single end reads; Elim Biopharmaceuticals, Inc., Hayward, CA).
Data processing and analysis
Raw Illumina sequences were received from Elim Biopharmaceuticals and processed using the GBS analysis pipeline TASSEL 4.0 [24]. The TASSEL pipeline trims sequence reads to 64 bp and removes reads that do not contain a cut site and barcode (to remove barcode dimer sequences); reads that did not meet these requirements were discarded. Reads were then aligned to the A. digitifera genome (the only published acroporid genome) to prevent the inclusion of Symbiodinium DNA, which would be present in background levels in any coral sample. Aligning to a genome also enhances the identification of allelic SNPs at a specific locus because sequence reads that match two or more locations in the genome are discarded [24]. This selection of SNPs that align to one location is only possible with a reference genome. Alignment to the A. digitifera genome results in unique sequence tags, which are aligned, 64 bp sequence reads that have a unique genome location. The TASSEL pipeline with BWA and Bowtie was used to call SNPs with a minimum allele frequency of at least 5 % and a minimum of 5 reads per locus to reduce the impact of sequencing error (by ensuring minimum frequency and number of reads the likelihood of false polymorphism calls decreases). Only loci called by both alignment tools were used to produce a conservative selection of loci for analysis. Before downstream processing, SNPs were filtered using an iterative progression to select individuals with at least 70 % of the called loci and loci that were present in at least 90 % of samples for analyses. Arlequin v.3.11 [25] was used to test Hardy-Weinberg Equilibrium and calculate genetic diversity among coral collections by calculating the percentage of polymorphic SNPs, observed heterozygosity (HO), expected heterozygosity (HE) and fixation index (FST). Loci with significantly greater observed than expected heterozygosity (p < 0.01) were discarded from analysis, and loci with significant linkage-disequilibrium (D' p-value < 0.01, or an r2 > 0.20) were identified using Tassel [24] with a 100 SNP sliding window (where the order of SNPs are defined by the A. digitifera genome) and removed.
For comparisons within populations, π, pairwise differences (different SNPs between samples/total SNPs*100), was calculated using the 'ape' package in R [26]. SNP π values were compared to more traditional measures of DNA sequence variation by correcting for the number of non-variable sites within each 64 bp sequence tag. Specifically, there are, on average, 1.4 SNP per 64 bp per sequence tag. Thus the average π * (1.4 SNP/64 bp sequence tag) provides an estimate of π when comparing DNA sequences with both invariable and polymorphic sites. For comparisons between populations, fixation index deviations from zero were tested by 10,000 permutations of alleles between individuals. To identify SNPs with FST outlier values (values larger than expected based on the observed data, [27]), the program LOSITAN [28] was used to generate 100,000 simulated SNPs, providing an expected neutral distribution of FST values and an estimate of P-values for each SNP. Structure [27] was used to identify the number of groups with similar allele frequencies (K). A model allowing admixture and correlated gene frequencies was used to carry out a total of 49 runs with seven independent runs for each K-value from 1–7. Ten-thousand permutations with 11,121 initial runs (burn-in) was used for each run. The K with the largest rate of change in the probability between groups was used to select the most parsimonious cluster [28]. RaXML was used to build a maximum likelihood tree [29] with 100 rapid bootstrap inferences. The best maximum likelihood tree (using a general time reversible model of nucleotide substitution and the Γ model of rate heterogeneity with ascertainment bias correction [30]) was selected and visualized using Dendroscope [31]. Discrimination analysis and comparisons of genetic and geographic distances (Mantel Test) were completed using 'adegenet' package in R [32, 33]. The Mantel Test was completed using a matrix of pair-wise differences in allele frequencies (Euclidean distances) and a matrix of geographic distances calculated from collection coordinates. Discrimination analyses (DAPC) was conducted in R using 'adegenet' [34]. DAPC was used in addition to Structure because it provides another metric of population differentiation, which does not assume un-relatedness, so potentially closely related individuals may be included.
Conclusions
The GBS approach produced genotype frequencies for 4,764 SNPs that allowed for the resolution of population differences unavailable using other techniques [15–17]. Each SNP had an average of 411 reads/SNP with 69 reads/SNP for the minor allele, so genetic differences likely represent real nucleotide divergence and not sequencing error. However, there are imperfections to this approach, including the differences in heterozygosity produced by different SNP alignment tools. Despite the caveats with this method, GBS provides the ability to resolve previously undiscovered variation in populations of A. cervicornis. Here, we show, for the first time, population structure across the FRT and high diversity within populations, including within a single reef evidenced as the genetic structure between and among FRT populations. Previous work on A. cervicornis using mtDNA, a few nuclear genes, and microsatellites found no difference among the FRT coral populations [15–17, 62].
To further develop effective conservation and management plans for this species and other threatened corals considered as candidates for active propagation and restoration, it is essential to understand the extent of genetic variation within and among populations [15, 17]. Using a GBS approach, we highlight population differences by revealing many SNPs that have distinct allele frequencies among populations including one hundred and fifty SNPs, which have outlier FST values indicative of adaptive difference. There are also significant differences over small spatial scales, exemplified by differences between Wild and Miami-Dade individuals that were all collected within the same area (Fig. 1). The high genetic variation present in FRT A. cervicornis may allow this species to endure the interacting threats posed by local stressors and climate change factors such as temperature anomalies and acidification Additionally, π pair-wise differences) is large (37 %) for all collections and similar to GBS measures of π in large outbred populations of 3-spine stickleback or natural populations of yeast [51, 52].
The GBS methodology used here highlights the ability to discover subtle changes in populations by using thousands of loci and large numbers of individuals. Conservation genetics using these high throughput techniques provide a new lens for assessing management implications and population connectivity via important increases in resolution, but also in varied and specific genetic metrics such as population structure, nucleotide diversity, and loci that may be under selection. These data are particularly important to active restoration projects as they give a better understanding of population structure, how and where to relocate coral, and potential repercussions of active intervention. Furthermore, the ability to describe genetic diversity over local to regional distributions enables conservation practitioners to manage resources over appropriate scales, becoming more efficient and effective. GBS allows for increased restoration effectiveness through conservation genetics, while developing a more thorough understanding of threatened coral communities.
Availability of supporting data
Raw sequences have been submitted to NCBI as a Sequence Read Archive (SRA). The Acropora cervicornis hapmap (DOI: 10.6070/H4FB50XX) and sequence tags (DOI: 10.6070/H49K4872) are available at LabArchives.com. Sequence files are available at NCBI's BioSample database, accessions SAMN03295587 - SAMN03295662.
Abbreviations
FRT:

Florida reef tract
GBS:

Genotyping by sequencing
SNP:

Single nucleotide polymorphism
DAPC:

Discriminant analysis of principal components
Declarations
Acknowledgements
We thank the University of Miami and in particular Will Drennan and Gary Hitchcock from the Marine Science Program for supporting the undergraduate research, which developed most of these data. Additional support for the adaptor primers was from NSF MCB 1158241 and and IOS 1147042. We would like to thank Nova Southeastern University, University of Miami – RSMAS, Mote Marine Lab, and the Punta Cana Ecological Foundation for nursery samples. We thank Steve Vollmer for technical advice.
Open AccessThis article is distributed under the terms of the Creative Commons Attribution 4.0 International License (http://creativecommons.org/licenses/by/4.0/), which permits unrestricted use, distribution, and reproduction in any medium, provided you give appropriate credit to the original author(s) and the source, provide a link to the Creative Commons license, and indicate if changes were made. The Creative Commons Public Domain Dedication waiver (http://creativecommons.org/publicdomain/zero/1.0/) applies to the data made available in this article, unless otherwise stated.
Authors' Affiliations
(1)
Rosenstiel School of Marine and Atmospheric Science, University of Miami, Miami, USA
(2)
Nova Southeastern University Oceanographic Center, Dania Beach, USA
(3)
Center for Coral Reef Research, Mote Marine Laboratory, Summerland Key, USA