Methodology article

Open Access
A streamlined tethered chromosome conformation capture protocol
Received: 14 October 2015
Accepted: 16 March 2016
Published: 1 April 2016
Abstract
Background
Identification of locus-locus contacts at the chromatin level provides a valuable foundation for understanding of nuclear architecture and function and a valuable tool for inferring long-range linkage relationships. As one approach to this, chromatin conformation capture-based techniques allow creation of genome spatial organization maps. While such approaches have been available for some time, methodological advances will be of considerable use in minimizing both time and input material required for successful application.
Results
Here we report a modified tethered conformation capture protocol that utilizes a series of rapid and efficient molecular manipulations. We applied the method to Caenorhabditis elegans, obtaining chromatin interaction maps that provide a sequence-anchored delineation of salient aspects of Caenorhabditis elegans chromosome structure, demonstrating a high level of consistency in overall chromosome organization between biological samples collected under different conditions. In addition to the application of the method to defining nuclear architecture, we found the resulting chromatin interaction maps to be of sufficient resolution and sensitivity to enable detection of large-scale structural variants such as inversions or translocations.
Conclusion
Our streamlined protocol provides an accelerated, robust, and broadly applicable means of generating chromatin spatial organization maps and detecting genome rearrangements without a need for cellular or chromatin fractionation.
Keywords
Hi-C
TCC
Chromatin
Conformation
Caenorhabditis elegans
Genome
Background
The spatial organization of the eukaryotic genome is now accessible through techniques involving massive parallel high-throughput sequencing ([1–3]). An understanding of how chromosomes fold can provide insight into complex relationships between chromatin structure, genetic activity and functional state of the cell ([4, 5]). In addition, genome wide chromatin interaction data sets can reveal long-range information about the grouping and linear organization of sequences along entire chromosomes, enabling high quality chromosome-scale de novo genome assembly [6].
Chromosome conformation capture (3C)-based techniques have emerged as powerful tools for mapping chromatin contacts ([1, 3, 7–13]). One recently-described technique, tethered conformation capture (TCC) [14], was developed to improve signal to noise ratio over previously published techniques, allowing in-depth analysis of both intra and inter-chromosomal contacts. 3C-based techniques use proximity ligation and massively parallel sequencing to probe the three-dimensional architecture of chromosomes within the nucleus, with closely interacting regions captured via the ligation step and identified through sequence analysis. In the resulting data sets, the probability of intra-chromosomal contacts is on average much higher than that of inter-chromosomal contacts, as expected if chromosomal territories are at least partially distinct. These data have supported a model in which chromosomal territories are indeed distinct entities: although the probability of interaction decays with linear distance, even loci separated by megabases on the same chromosome are more likely to interact than loci on different chromosomes.
We have developed a rapid tethered conformation capture (RTCC) technique to allow fast application of a TCC-based protocol in C. elegans. Our method allows detection of chromatin contacts using unfractionated whole tissues or whole organisms as starting material, avoiding extensive cellular and molecular fractionation steps. Applied to C. elegans, this protocol illuminates both the large scale structural partitioning (e.g., [15–21]) and fine resolution genome architecture dynamics (i.e. Crane et al. [22]).
Results and discussion
Detecting genome-wide chromatin contacts using RTCC
RTCC differs from previous chromosome conformation capture protocols in two key respects: (i) the lack of a need for cellular or chromatin fractionation, (ii) the application of efficient transposon tagging approach toward capture of potential ligation junctions.
Figure
1b
outlines the RTCC protocol with approximations of time for each step. Of note are the avoidance of cellular or chromatin fractionation steps in standard Hi-C, and the adaptation of the protocol for low input volumes in sequencing library preparation by adapting Nextera tagmentase [
23
] to sequencing of biotin-labeled junctions.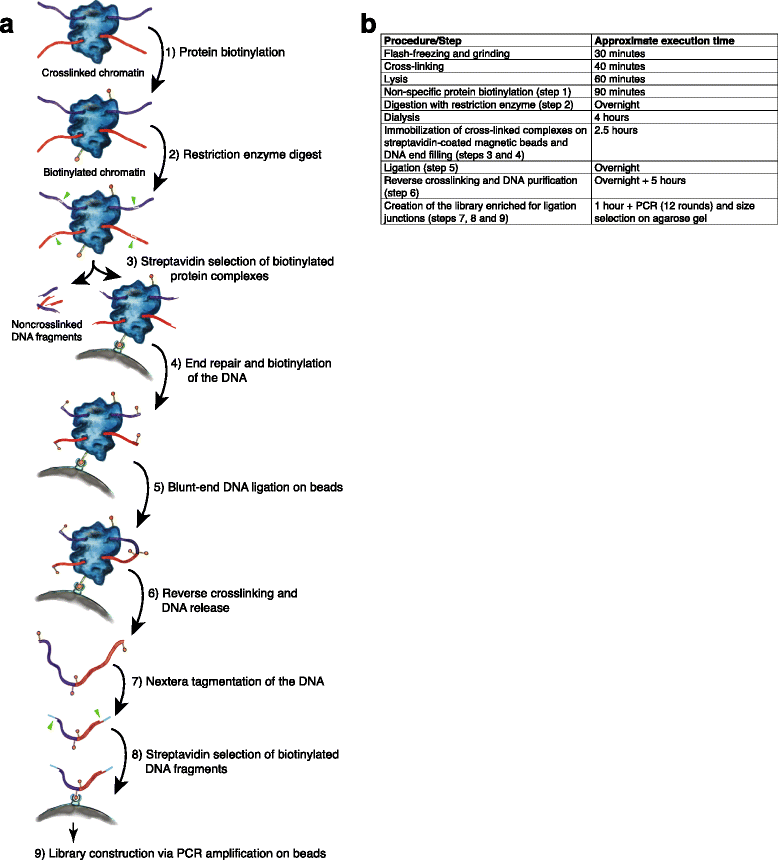 To preserve native features of genomic organization, whole worms were flash frozen and finely ground under liquid nitrogen. These frozen samples were quickly resuspended and subjected to formaldehyde treatment to chemically crosslink DNA and proteins. This material could then be used directly for molecular manipulations and analysis (Fig. 1), avoiding any need for an intervening nuclear or chromatin isolation step. In the cross-linked lysates, DNA was digested with a restriction enzyme, proteins were biotinylated non-specifically (cysteine biotinylation) [14], protein-DNA cross-linked complexes were immobilized at a low surface density on streptavidin-coated beads, and physically juxtaposed free DNA ends were filled in with a nucleotide mixture containing biotin-14-dCTP. Ligation of ends was then performed while fragments remained tethered to the surface of the beads. Following reversal of crosslinking and release of DNA, the Nextera tagmentation (transposon tagging/fragmentation) protocol was used to fragment the DNA and add linkers for sequencing in a single step [23]. The ligation junctions were purified by selection for biotinylated DNA fragments, which were subjected to massively parallel sequencing. Mapping of the sequenced junctions allowed detection of genomic locations for pairs of contacting loci.
We have applied RTCC to a variety of different tissue samples derived from
C. elegans
, using the DpnII, AvaII, and HindIII restriction enzymes, which cut respectively with 4, 4.5, and 6 base recognition specificities (appropriate restriction enzymes for this protocol must have the properties of leaving a 5' overhang, and of having an overhang for which one base is a "C".) Exemplary chromatin interaction intensity maps are shown in Fig.
2
. We then applied several approaches in evaluating the consistency and accuracy of this large-scale dataset.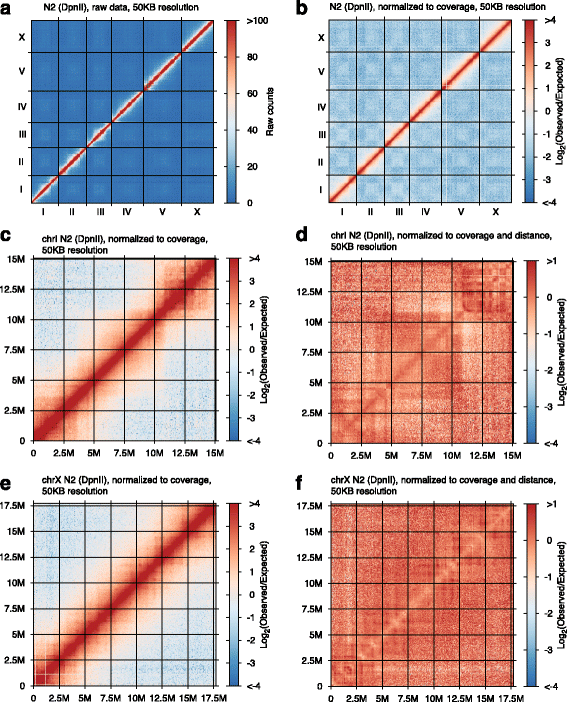 First, we evaluated the consistency of results from this approach by comparing results from different experimental replicates. The replicates were carried out with slight deviations in the underlying protocol, distinct stages and tissue distributions, and different choices of restriction enzymes; hence their consistency becomes a test for both biological and technical reproducibility. Indeed we observed that experimental replicates (Additional file 1: Figure S1) were highly correlated (Pearson's correlation coefficients vary between 0.76 and 0.97 for 50KB binned data).
Second we compared the chromatin interaction matrices obtained with RTCC with a recent Hi-C analysis performed using C. elegans embryos, acquired by Crane et al. [22] towards understanding of X chromosome topology remodeling during dosage compensation. This comparison likewise demonstrates experiment-to-experiment correlation, both by inspection (Additional file 2: Figure S2) and from calculating a formal Pearson correlation coefficient (>0.64).
Further validation of the RTCC data that we obtained comes from analysis of distances between interacting regions captured by RTCC ligation. With any proximity ligation protocol (even when optimized), we expect a subset of artefactual ligation events that will join DNA segments with no true association (in some cases, even DNA sequences from two different cells). Such events might be expected to lack a clear dependence on inter-locus distance, while bone-fide contacts that were captured from a physiological chromosome configuration would be expected to be much more frequent for closely linked loci.
Our data shows an expected and dramatic inverse association between the distance between the interacting loci and the number of intra-chromosomal contacts (Fig.
3
). Dependence of the chromatin contacts on the distance between interacting regions is consistent with DNA polymer-like behavior in which three-dimensional distance between loci increases with increasing genomic distance [
1
]. Analysis of frequencies of different types of contacts shows greater frequency of intra-chromosomal contacts than inter-chromosomal (Fig.
4
) supporting the idea of chromosome territoriality [
24
].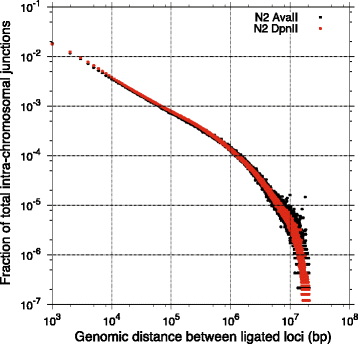 Chromatin interaction maps
Using the interaction information we obtained from the mapping of the sequenced DNA library (see Methods), we created a genome-wide raw chromatin interaction matrix. In order to create this matrix, the genome was divided into segments, the size of which depends on the depth of sequencing analysis and level of resolution required (Fig. 2 shows a series of such maps with a 50KB segment length). Each cell in the matrix m i,j corresponds to the number of contacts (proximity ligation products) between segment i and segment j of the genome. The interaction matrix can be depicted visually with a heat map, in which the color intensity correlates with contact frequency (Fig. 2a).
A whole genome raw contacts map for C. elegans shows 6 distinct squares aligned on the diagonal, each corresponding to an individual chromosome, supporting the idea that the probability of intra-chromosomal contacts is on average much higher than that of inter-chromosomal contacts and that chromosomes occupy distinct territories.
The whole genome chromatin interaction matrix was normalized using the expected number of contacts assuming each region has an equal chance of interacting with every other region in the genome, essentially normalizing to read coverage at each region. The resulting normalized whole genome matrix, presented as a heat map in Fig. 2b, exhibits more clear separation into 6 chromosomes and shows some of the intra-chromosomal organization features as well.
Zooming in to the single chromosome level (Fig. 2 c-f) allows study of intra-chromosomal structural organization features ([25, 26]). Tendencies for arm-arm and center-center interaction on the autosomes are evident from two dimensional heat maps that associate each combination of genome positions (x and y) with a color indicating the degree of over- or under-representation in the population of novel junctions. This observation is indicative of a physical basis for the observation that C. elegans autosomes show distinct features in arm and center regions (although both can house active genes, there is a tendency for constraint of contacts between chromosome arms and centers). These findings are consistent with results from linear analyses of chromosomal features ([15–21]), from cytological studies [27] and from another recently communicated chromosome capture analysis by Crane et al. [22]. Additional file 3: Figure S3 shows a remarkable association between center-arm positioning within each autosome for our data and data from Crane et al. [22]. One physical correlate of the association is suggested by alignment with a dataset derived from immunoprecipitation [28] using an antibody against the nuclear envelope component LEM-2 (Additional file 3: Figure S3, cyan). As noted also by Crane et al. [22] our data point to a more complex organization on the X chromosome, with evidence for a domain organization that differs from the end-center-end organization observed on the five autosomes.
Several years ago, it was noted that a subset of DNA segments on
C. elegans
autosomal arms exhibit a strongly periodic sequence character, with phased runs of A and T residues. Known as the "PATCs" regions, these genomic features are characteristic of introns and other noncoding sequences for a subset of genes expressed in the
C. elegans
germ line [
29
]. We found that PATC character (for which we use the quantitative measure defined in [
29
]) was strongly associated with partitioning of contacts between central and arm regions of chromosomes (Table
1
) This tendency appears to be a general property of this unusual genomic partition, as all five autosomes show similar arm-association-with-arm enrichment on both arms (Table
1
). This correspondence suggests a strong tendency for PATC-rich regions to inhabit their own subdomain of the connectivity network, and is consistent with proposed roles of such extended DNA sequence features in long range chromosomal organization [
29
].
Table 1
Correlation between Phased An/Tn Cluster (PATC) content and preference for interaction with chromosome arms
| Correlations for arms regions ONLY | chrI | chrII | chrIII | chrIV | chrV | chrX |
| --- | --- | --- | --- | --- | --- | --- |
| log2(arms/centers) vs. PATCs 25KB Pearson R values | 0.38 | 0.37 | 0.17 | 0.44 | 0.26 | 0.51 |
| log2(arms/centers) vs. PATCs 25KB Spearman R values | 0.36 | 0.50 | 0.18 | 0.45 | 0.48 | 0.49 |
| log2(arms/centers) vs. PATCs 50KB Pearson R values | 0.50 | 0.58 | 0.25 | 0.54 | 0.30 | 0.63 |
| log2(arms/centers) vs. PATCs 50KB Spearman R values | 0.46 | 0.60 | 0.25 | 0.55 | 0.58 | 0.61 |
Modeling-based evaluation suggests utility of RTCC in identification of chromosome structural variation
Information on genomic architecture from Hi-C and similar approaches has been useful in diverse genome-structure applications (e.g., [
30
,
31
]). To evaluate the utility of RTCC in investigating structural variation, we produced three conceptual "model reference genomes" with substantial structural variation, one where the standard N2 reference genome is related by a chromosomal fusion, one where the N2 genome is related by a reciprocal translocation, and one where the N2 genome is related by a large inversion. To model "real world" structural variants, we constructed the translocation with breakpoints at a homologous point in an extended DNA repeat (the transposon Tn5). This rearrangement would have remained undetected with paired end or split read sequencing. As shown in Fig.
5
all of the simulated structural variants could be readily detected using RTCC analysis.

Conclusions
In this study we modified and optimized TCC protocol to work with limited amounts of unfractionated tissue, avoiding subcellular fractionation and chromatin isolation.
The ability to measure proximity between genomic loci in linear space can be utilized both in structural studies of chromosomes and in applications such as genome assembly or phasing.
The RTCC protocol that we present here should provide an efficient and robust means of performing Hi-C experiments in general and in nematodes in particular. Our method allows detection of long-range contacts between genomic loci, supplying useful information to study three-dimensional organization of the genome. Further, Hi-C data sets generated using our RTCC protocol can provide a measurement of proximity between genomic elements in linear sense, allowing this knowledge to be used in bioinformatics applications such as LACHESIS for high quality genome assembly [6].
Abbreviations
3C:

chromosome conformation capture
GEO:

gene expression omnibus
PATC:

periodic A/T cluster
RTCC:

rapid tethered conformation capture
TCC:

tethered conformation capture
Declarations
Acknowledgments
We are grateful to M. Stadler, K. Artiles, J. Pak, L. Hansen, R. Bell, E. Sarinay Cenik, M Shoura, B. Fu, N. Jain, S. Silas, L. Wahba, C. Frokjaer-Jensen and J. Arribere for help and discussion.
Some strains were provided by the CGC, which is funded by NIH Office of Research Infrastructure Programs (P40 OD010440). This work was supported by a Human Frontiers Science Program Fellowship (LT000517/2011) to IG and by NIH grants R01GM37706 to AF and R01GM53804 to AV.
Open AccessThis article is distributed under the terms of the Creative Commons Attribution 4.0 International License (http://creativecommons.org/licenses/by/4.0/), which permits unrestricted use, distribution, and reproduction in any medium, provided you give appropriate credit to the original author(s) and the source, provide a link to the Creative Commons license, and indicate if changes were made. The Creative Commons Public Domain Dedication waiver (http://creativecommons.org/publicdomain/zero/1.0/) applies to the data made available in this article, unless otherwise stated.
Authors' Affiliations
(1)
Department of Genetics, Stanford University School of Medicine, Stanford, USA
(2)
Departments of Developmental Biology and Genetics, Stanford University School of Medicine, Stanford, USA
(3)
Departments of Pathology and Genetics, Stanford University School of Medicine, Stanford, USA