Research article
Open Access
The Trichoderma atroviride putative transcription factor Blu7 controls light responsiveness and tolerance
Received: 19 August 2015
Accepted: 22 April 2016
Published: 4 May 2016
Abstract
Background
Most living organisms use sunlight as a source of energy and/or information about their environment. Consequently, they have developed mechanisms to sense light quality and quantity. In the fungus Trichoderma atroviride blue-light is perceived through the Blue Light Regulator Complex, which in turn up-regulates a set of genes (blu) and down-regulates another set (bld), triggering asexual reproduction. To gain insight into this process, we characterized the blu7 gene, which encodes a protein containing a C2H2 zinc finger domain.
Results
Δblu7 mutants show reduced conidiation at low light fluences, which is still clear even when exposed to saturating light. For the first time we show a genome wide survey of light regulated gene expression in T. atroviride, including RNA-seq analyses of the wild type and the Δblu7 strains after brief exposure to blue-light. Our data show a reduction in the number of induced genes and an increase in down-regulated genes in the mutant. Light activates stress responses and several metabolic processes in the wild type strain that are no longer activated in the mutant. In agreement with the misregulation of metabolic processes, continuous exposure to white light strongly inhibited growth of the ∆blu7 mutant, in a carbon source dependent fashion. RNA-seq analyses under constant white light using glucose as sole carbon source revealed that localization and transport process present the opposite regulation pattern in the ∆blu7 and wild type strains. Genes related to amino acid, sugar and general transporters were enriched in the induced genes in the mutant and the repressed genes of the wild type. Peptone supplemented in the media restored growth of the ∆blu7 mutant in constant light, suggesting a role of Blu7 in the regulation of nitrogen metabolism in the presence of light.
Conclusions
Blu7 appears to regulate light sensitivity in terms of induction of conidiation, and to play a major role in supporting growth under continuous exposure to light. The diminished conidiation observed in ∆blu7 mutants is likely due to misregulation of the cAMP signaling pathway and ROS production, whereas their low tolerance to continuous exposure to light indicates that Blu7 is required for adaptation.
Keywords
BLRRNA-seqPhotoconidiationNitrogen metabolismGlucoseGrowthLight
Background
Most organisms can perceive light as a signal and the response to this stimulus depends on the length of exposure and light quality, serving as a cue of environmental conditions [1]. Fungi can perceive a wide range of light wavelengths, from far red to ultraviolet (UV) light [2–4]. Many reports on light responses in fungi are related to reproduction, which determines whether they should enter asexual or sexual reproduction or neither [4–8].
The best-characterized photoreceptor in fungi is the White Collar Complex (WCC) of Neurospora crassa. This blue light photoreceptor WCC, formed by the White Collar (WC-1, WC-2) proteins, regulates pigmentation, circadian rhythm, conidiation and phototropism of perithecial beaks [9–11]. The WCC of N. crassa controls all light responses characterized so far in this fungus, despite the presence of red (phytochromes), UV (cryptochromes) or green (opsin) photoreceptors in its genome [12–15]. However, a cryptochrome dependent oscillator (CDO) driving rhythmic spore development under constant light, where the Frequency/WCC oscillator does not operate, was recently described [16]. The cog-1 (cry-dependent oscillator gate-1) mutation uncovered this CRY (Cryptochrome) dependent oscillator in N. crassa, which regulates light responsive genes independently of the WCC. Similarly, as no obvious biological functions for Phy-1/Phy-2 or Nop-1 are reported, their role might be masked by the WCC function. Moreover, in Aspergillus nidulans the phytochrome (FphA) is involved in repression of sexual development and mycotoxin production by red light, whereas the LreA and LreB proteins (orthologues of the WC proteins) stimulate both [6, 17, 18].
Asexual reproduction induced by light in T. atroviride results in the formation of the so called "conidiation ring" in the periphery of the colony. The BLRC, formed by the BLR1 and BLR2 proteins, is responsible for the perception of blue light [19]. Like their N. crassa counterparts, the BLR proteins have GATA zinc finger DNA binding domains, that allows them to act as transcription factors, and PAS domains to form a protein complex. The BLRC controls the transcriptional response to light and photoconidiation [19–21]. In T. atroviride a set of genes targeted by the BLRC was identified by microarray analysis after a 30 min pulse of white light [22]. Rosales et al. [22] reported only 40 differentially expressed genes, 30 blue light up-regulated (blu) and 10 blue light down-regulated (bld). From the 40 light regulated genes, only the blu7 gene was predicted as a putative transcription factor (TF) encoding a C2H2 zinc finger DNA binding domain protein. In this sense, microarray analyses covering the complete genome of the fungus N. crassa revealed the activation of six genes encoding transcription factors in response to light [15]. However, recently, high-throughput RNA sequencing showed that there are 58 light responsive transcription factors in N. crassa [23]. Furthermore, transcriptional regulation by the N. crassa's WCC in response to a brief pulse (8 min) of white light was recently analyzed by Chip-Seq, uncovering more than 400 genes regulated by this complex, including 24 transcription factors (TFs) as direct targets [24]. Currently, only six of the transcription factors, (2 GATA (WC-1, SUB-1), 2 C2H2 (CSP-1, SAH-1) and 2 Zn2Cys6 (VAD-3 & Cutinase TF-1ß)) reported by Chen et al., [15] have been studied in response to constant white light exposure. These transcription factors regulate genes after illumination at early or late stages [15]. However, only the absence of the GATA factor sub-1 (submerged protoperithecia-1) showed the expected lack of expression in late light regulated genes after illumination with white light, as a component of a second transcriptional cascade [15]. Despite the lack of late light regulated genes in ∆sub-1, asexual reproduction and carotenoid accumulation after illumination is similar to that of the wild type (WT); suggesting a main role of sub-1 in sexual reproduction, acting as a repressor of protoperithecia formation [25]. The recent findings by RNA-seq analysis of the light response in N. crassa revealed a complex regulation of gene expression during illumination, unveiling down-regulated genes previously not found by microarrary analysis. In addition, TFs negatively regulated after the light treatment were discovered, integrating more pieces to the puzzle of the light response in this fungus [23].
In A. nidulans the LreA and LreB proteins regulate 425 genes positively and 108 genes negatively in response to a brief pulse of light, representing 5 % of the genome [26]. Expression of the flbC gene, a C2H2 TF involved in conidiation, depends on the complex photoreceptor system integrated by the Light Response proteins LreA and LreB as well as the red light photoreceptor FphA. flbC activation turns on the expression of the transcription factor brlA, a well-known C2H2 TF regulator of conidiation [27]. The photoreceptor complex also activates the expression of flbB and flbD encoding bZIP and cMYC TFs, which also regulate the expression of brlA, to promote the morphological transition of vegetative growth to conidiophores in A. nidulans [26]. BrlA regulates the transition of the elongated hyphae to metulae, which in turn activates abaA expression [28]. AbaA controls the correct formation of conidial beaks, whose maturation is reached upon activation of WetA [29]. T. atroviride has one orthologue of the flbC gene as putative transcriptional activator but its expression does not appear to be affected by light, similarly to what is observed in A. fumigatus [30]. Despite the fact that there is no obvious brlA orthologue in the genome of T. atroviride, homologues of AbaA (37 % identity with A. nidulans) and WetA (A. nidulans, 66 % identity of the C-terminal region) have been identified. Overall, it is clear that there are undiscovered light transcriptional response pathways in T. atroviride. At least part of such pathways must be BLRC targets, such as the putative C2H2 transcription factor Blu7, acting downstream in response to light. The rapid activation of blu7 expression, by the Blr proteins, showed a maximum at 15 min both under constant illumination and after a pulse of blue light, suggesting a role in the control of early light regulated genes [31].
The cAMP signaling pathway is involved in several processes in fungi, such as growth, reproduction and nutrient utilization [32, 33]. In T. atroviride light stimulates cAMP synthesis and asexual reproduction is stimulated by addition of extracellular cAMP both in the dark and in light on rich medium, but requires the presence of the Blr1 and Blr2 proteins. Intriguingly, the induction of asexual sporulation by sudden carbon starvation also requires the presence of the Blr1 and Blr2 proteins, but the addition of extracellular cAMP triggers conidiation even in the absence of the blr1 or blr2 genes [34]. In addition, extracellular cAMP changes the degree of stimulation of conidiation provoked by different carbon sources in the blr mutants of T. atroviride, both in a positive and negative way [35]. Furthermore, the carbon source available and the Blr1 or Blr2 proteins act together to stimulate growth and conidiation in the presence of light or in the dark [35, 36]. These data led to the proposal that the cAMP-signaling pathway regulates conidiation genes through the action of the cAMP dependent kinase (PKA) in coordination with the BLRC in response to light [34]. On top of that, the BLRC dependent PAS domain protein Envoy of Trichoderma reesei, another photoreceptor, regulates cAMP production in the presence of light mainly by inhibition of the corresponding phosphodiesterase, linking regulation of asexual reproduction and nutrient signaling by modulating the expression of the G-proteins Gna1 and Gna3 [37].
The present work describes the role of the putative C2H2 zinc finger transcription factor Blu7 in the response to light. RNA-seq analysis of the blu7 gene replacement mutants was carried out after a pulse of blue light (100 μmolm−2) to evaluate its role in photoconidiation. The rapid accumulation of the blu7 mRNA in response to light led us to hypothesize that it could be part of a transcriptional cascade resulting in asexual reproduction. The Blr1 and Blr2 dependent induction of asexual reproduction by glucose starvation led us ask if the Blu7 C2H2 zinc finger protein is involved in this process. Hence, we evaluated the transcriptional response of the ∆blu7 mutant when exposed to constant white light on glucose as a carbon source. Surprisingly, the transcriptional analysis of the light response uncovered a role of the blu7 gene in nitrogen regulation in a glucose dependent way.
Discussion
Asexual reproduction of T. atroviride is induced by light, nutrient limitation and mechanical damage. The BLR complex does not only regulate photoconidiation, but also conidiation in response to sudden carbon deprivation [34]. Notwithstanding, downstream components of the signaling pathway initiated through the BLR proteins are largely unknown. A cDNA microarray analysis identified a single putative transcription factor induced by a pulse of white light. Based on that microarray approach, covering only 12 % of the genes in the genome, 40 genes (2.8 %) were found to be light regulated. To extend our knowledge of the transcriptional response of T. atroviride to light to a genome wide scale, we used RNA-seq to analyze the role of the putative transcription factor Blu7 in the control of asexual development, light sensitivity, and response to light on glucose as carbon source.
The transcriptional response of the WT and ∆blu7 mutant, 30 min after a pulse of 100 μmolm-2 of blue light, showed 4.8 % of the genome responsive with more than 2-fold change, similarly to N. crassa, A. nidulans and A. fumigatus [15, 26]. Interestingly we observed a significant correlation (R2 = 0.87) of the up-regulated genes shared between the Δblu7 mutant and the WT, in contrast the down-regulated genes were not correlated (R2 = 0.57), showing more negative values in log2FC of the ∆blu7 responsive genes. These data indicate that Blu7 plays a particularly relevant role in tuning the regulation of light repressed genes.
The GO-terms (developmental and multicellular organismal process) induced after the pulse of light only in the WT were related to hypothetical genes, whereas in the signaling category present only in the ∆blu7 mutant the genes encoded Envoy1, a 3'–5' cyclic nucleotide phosphodiesterase and an arrestin domain-containing protein. In this regard, it has been established that env1 is an orthologue of the N. crassa vivid involved in the negative regulation of light responsive genes in a process called photoadaptation. While the cyclic nucleotide phosphodiesterase controls cAMP levels by hydrolyzing the phosphodiester bond in cAMP. In Trichoderma it is known that there is a transient biphasic oscillation in intracellular cAMP levels, activation of adenylyl cyclase, and phosphorylation of proteins upon exposure to a pulse of blue light. In fact, addition of exogenous cAMP to Trichoderma promotes sporulation even in the dark [51], whereas atropine, a compound known to inhibit adenylyl cyclase in Neurospora [52], prevents sporulation even after photoinduction [53]. In addition, the arrestin gene, which encodes a protein that blocks coupling of the GPCR to G proteins, was more strongly induced in the mutant. Thus, changes in arrestin levels could contribute to lower cAMP production by impairing GPCRs GNA1 or GNA3 signaling. Furthermore, Envoy1 has been postulated as a regulator of cAMP levels in T. reesei trough repression of the cAMP phosphodiesterase [37], and the G-protein coupled receptors GNA1 and GNA3 direct that control of cAMP levels by regulating env1 and their own expression. In agreement with our observations of the light induction of blu7, the corresponding mutants are less responsive to light, hence to conidiation, possibly due to reduced phosphodiesterase repression and partial loss of cAMP signaling of GNA1 or GNA3 by the presence of the Arrestin protein. Although, the cAMP accumulation in the ∆blu7 mutant after the pulse of blue light requires further investigation in order to validate this hypothesis. Taking together these data, we suggest that in the T. atroviride WT strain cAMP might allow asexual reproduction after the pulse of light, but in the ∆blu7 strain the missing signaling impairs conidiation at low light fluence. At high blue light fluence another level of regulation may exist, such as the accumulation of ROS or DNA damage, to induce conidiation in order to survive to extreme environments.
In agreement with these observations, a peroxisomal catalase and one heat shock protein were induced only in the WT, and another catalase was more strongly induced in the mutant than in the WT. Thus, the typical activation of stress responses observed in several fungi after exposure to light [54] is reduced in the Trichoderma ∆blu7 mutants. It has been observed that oxidative stress stimulates differentiation in N. crassa, Aspergillus and Trichoderma [36, 55–57], and ROS produced upon light exposure induces conidiation in N. crassa [58]. In this sense, catalases and superoxide dismutases reduce ROS after the light pulse to re-establish cell homeostasis. Furthermore, it was recently shown that in B. cinerea the white collar proteins are required to deal with ROS produced under constant illumination, and that the Bcltf1 GATA TF, a homologue of SUB-1 of N. crassa, is important to cope with oxidative stress [59]. In the ∆blu7 mutant described here we observed a higher expression of sub-1, which might, consequently result in lower levels of ROS after exposure to light, and might play a particularly relevant role at low light fluences.
Another possible explanation for the reduced catalases transcript levels and lower conidiation levels in the ∆blu7 mutants is that there is a higher reducing power in these mutants than in the WT. In this regard, we observed 11 genes with oxidoreductase activity repressed only in the mutant. Also, we observed 6 genes encoding enzymes with reductase activity (cyclohexanone monooxygenase, lipooxigenase 1, berberin family protein, FAD monooxygenase, FAD binding domain protein, NADPH dehydrogenase) more strongly induced in ∆blu7 and 4 genes (encoding: short chain dehydrogenase reductase, oxidoreductase protein, FAD dependent oxidoreductase, NADH-flavin oxidoreductase NADH oxidase family protein) repressed only in the WT. In addition, there were 2 genes (encoding cyclohexanone monooxygenase, & FAD monooxygenase) repressed to a lower extent in the ∆blu7 mutant (FC 0.49, 0.47) than in the WT strain (FC 0.36, 0.36). Therefore, the reduced levels of ROS signaling and cAMP production would not be sufficient to trigger conidiation in the ∆blu7 mutants at low light fluence. This defect might be compensated at high light fluence by higher production of ROS, although under those conditions these signals might be regulated through another mechanism.
In N. crassa and A. nidulans the WCC controls several transcription factors that in turn regulate asexual reproduction [15, 17, 26, 60]. Among the transcription factors regulated by a pulse of blue light only 6 have GO annotation. We observed two TF (cp2 and sub-1) more strongly induced in the ∆blu7 mutant. GRHY-like or CP2 has been found in several fungal transcriptomes of light treatments [15, 24, 26]. Recently a CP2/GRHY-like was identified as a conidial separation-2 (csp-2) allele in N. crassa and shown to be involved in conidial separation and spore release by cell wall remodeling [39]. Reports on the study of a sub-1 deletion mutant showed that its presence is required to activate late light regulated genes in N. crassa. However, the mutant presents defects only in sexual development [15, 25]. It might be that some of the genes more strongly induced in the ∆blu7 mutant are not directly under its control, but at least are in part regulated by CP2 or SUB-1.
Under constant illumination, we observed a growth delay in the ∆blu7 mutant at high light intensities (above 10 μmolm−2s−1). This is in agreement with the requirement of the BLR proteins to grow in the presence of blue or red light in T. atroviride [19]. Under constant illumination the BLRC must regulate genes to deal with the constant exposure to light (i.e., growth, morphogenesis, stress). The growth delay of the mutants under constant blue light suggests that Blu7 participates in light tolerance. Reduced tolerance of the ∆blu7 mutants was much more evident when glucose was used as sole carbon source compared to rich media, such as PDA, suggesting a role of Blu7 in carbon metabolism to tolerate continuous light exposure. The combination of light with different carbon sources differentially stimulates conidiation and growth, and this response depends on the BLR proteins [35, 36]. In addition, the downstream target of the BLRC, Envoy1 of T. reesei is involved in carbon dependent growth in the presence of light.
Since light only temporarily delayed growth of the mutants, we suggest that they are affected in their capacity to tolerate light. These phenotypes resemble those of the ∆env1 mutants of T. reesei and T. atroviride in constant light on PDA [61, 62]. In the env1 mutants of T. reesei the lack of the negative feedback loop, over the light regulated genes controlled by the BLRC, leads to a reduced growth [61, 62]. In this loop Envoy acts as a repressor of negative regulators of growth activated by the BLR proteins. Accordingly, the stronger induction of env1 in ∆blu7 suggests that Blu7 participates as a positive regulator of growth in this negative feedback loop; however, further investigation is required to test this hypothesis.
Conidiation of the ∆blu7 mutant was not completely impaired but reduced in constant light. This is also in agreement with the phenotype of ∆env1 mutants of T. atroviride which produce more conidia than the WT strain in response to light, likely due to a longer permanence of mRNAs of photoconidiation genes, such as blu7 [62]. In the ∆blu7 mutant, the increased induction of env1 may lead to fast shut down of the photoconidiation genes and the absence of Blu7 in reduced cAMP levels, due to increased transcript levels of the cAMP phosphodiesterase gene, and thereof of its enzymatic activity.
The differentially expressed genes observed in the ∆blu7 and the WT grown on glucose containing medium under continuous exposure to white light reflected major metabolic changes in both strains compared to darkness. Since in darkness, growth of the WT and the ∆blu7 mutant was similar, glucose uptake or metabolism is not deficient or impaired. This points to a light activation of the Blu7 protein or its light regulation through an interacting protein to support metabolic changes. Interestingly, GO-terms related to localization and transport categories were repressed in the WT and induced in the ∆blu7 mutant. These categories contained genes encoding sugar, amino acid and multidrug transporters. In addition, we observed two-fold higher induction of the nmrA gene (Id 35890) in the WT (FC = 3.9) compared to the ∆blu7 mutant (FC = 1.8). In A. nidulans, NmrA is a negative regulator of nitrogen metabolite repression, which controls expression of enzymes and permeases necessary for the use of non-preferred nitrogen sources [63, 64]. Thus, the partial nitrogen metabolism deregulation observed in the ∆blu7 mutant might be due to nmrA repression, leading to the induction of several amino acid transporter genes in ∆blu7. In M. oryzae the tps1 gene (encoding a trehalose-6-phosphate synthase), a glucose-6-phosphate sensor, negatively regulates NMR inactivating Nmr1-3. Also the multidrug and toxin extrusion (MATE)-family pump Mdt1, a downstream target of Tps1, is involved in glucose assimilation, conidiation and virulence [65]. Similarly, we observed several monosaccharide and general sugar transporters induced in ∆blu7 and repressed in the WT, as well as multidrug transporters induced in both strains. These observations point to the light regulation of carbon and nitrogen metabolism to stimulate conidiation and growth in T. atroviride, respectively.
Carbon or nitrogen starvation results in the formation of less branched compact hyphae than those observed in rich media, in addition the sudden lack of nitrogen or carbon source in T. atroviride resembles the ring of conidiation triggered by a pulse of light [19]. Interestingly, in the absence of the blr1 or blr2 genes the induction of conidiation by carbon (glucose) starvation is lost, in contrast nitrogen starvation can still stimulate conidiation, suggesting an independent regulation of asexual reproduction by the BLR proteins [34]. Thus we hypothesized that nitrogen metabolism should be involved in hyphal growth under constant light. Several genes encoding enzymes with peptidase activity (papain cysteine protease, candidapesin-3 precursor, family a1 protease, microbial serine protease, extracellular alkaline serine protease), including an intracellular serine protease, were induced in the WT strain, suggesting that protein degradation or recycling of nitrogen resources is activated in response to light. Nitrogen metabolism related genes have also been found among the light regulated genes of N. crassa [15, 23].
In accordance with these observations, we found an allantoinase-encoding gene (Id. 300514), involved in purine metabolism, induced only in the WT. Besides two allantoate permeases (Ids. 257840 & 127784) were repressed in the WT, but not in the ∆blu7 strain, and two allantoate transporters (Ids. 302043 & 35866) were induced only in the mutant - allantoate is used as nitrogen storage in plants [66]. Transport of amino acids was repressed in the WT, mainly methionine transport. In contrast, in ∆blu7 higher induction levels of genes encoding amino acid transporters and allantoate transporters were observed. These data are highly coincident with the transcriptional response to nitrogen starvation reported in the phytopathogenic fungus Magnaporthe grisea [67]. Taken together, our data appear to indicate that the absence of Blu7 mimics a nitrogen starvation condition when Trichoderma is grown under constant exposure to light, which results in clearly reduced growth. Restoration of growth rate and radial colony size of the WT and ∆blu7 mutants by the addition of peptone to the media suggests that light growth inhibition is mainly due to nitrogen intracellular metabolism, and that Blu7 indirectly participates in the regulation of nitrogen metabolism in the presence of light under limited nitrogen supply (Fig. 8). As a consequence of the lack of Blu7, the mutants have lower capacity to recycle nitrogen sources, requiring the induction of general amino acid transporters, which in the presence of peptides from peptone are taken up and metabolized, resulting in much better growth.
We also observed misregulation of the ras GTPase (rsr1; Id. 300901), which was induced to higher levels in the ∆blu7 (FC = 5.2) mutant than in the WT (FC = 2.0). Activation of this pathway in yeast involves a G-protein coupled receptor and RAS signaling to regulate glucose availability [68, 69]. From the GPCRs regulated in both strains only the predicted GPCR gene Id. 40423 is more strongly induced in the ∆blu7 mutant, which might act as an upstream regulator. GPCRs are involved in amino acid and carbon source sensing as well as in cAMP perception. The gpr1 gene (Id. 83166), encoding a homolog of the N. crassa cAMP receptor Gpr1 [70, 71], is induced only in the WT strain. Silencing of gpr1 in T. atroviride P1 reduces growth, conidiation and secondary metabolism [71]. In Yeast the GPR1-GPA2 GPCR system is involved in the regulation of cAMP signaling [69]. The absence of Gpr1 in the ∆blu7 mutants in conjunction with the increase in cAMP phosphodiesterase might be reflected in the lack of protein kinase A (PKA) activity resulting in the loss of this signaling pathway to regulate the light response. PKA signaling after a pulse of light is required to regulate up or down responsive genes, also regulated by the BLR proteins [19, 34]. We further observed 6 serine-threonine protein kinase encoding genes induced only in the WT, which might exert posttranslational modifications in transcription factors, consequently affecting regulation of gene expression in response to light, or might directly affect enzyme activity, resulting in altered metabolism.
An overview of the data presented here is depicted in Fig.
9
. The BLRC perceives light and induces
blu7
expression. Transient increase of cAMP by inhibition of the 3'–5' cAMP phosphodiesterase leads to activation of photoconidiation genes by PKA. Growth rate under constant light depends on nitrogen availability, controlling the uptake from the media or mobilization of stored nitrogen (Fig.
9
).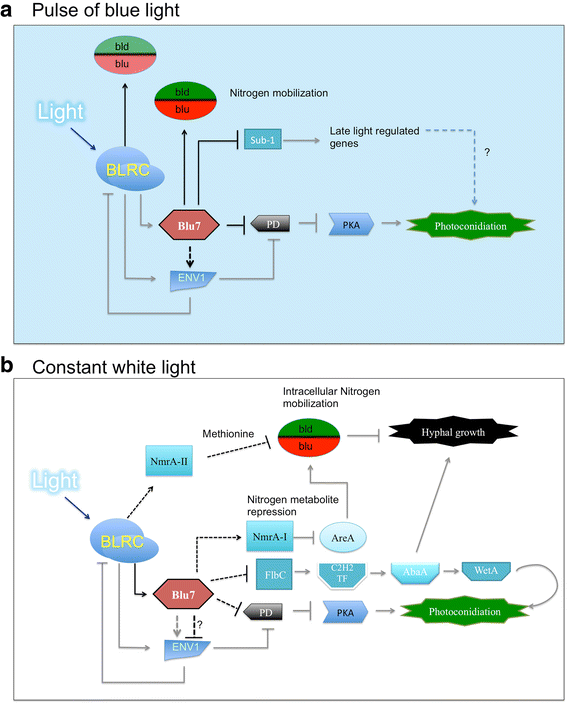 Conclusions
The present work describes the transcriptional response to light of the mutant in the putative transcription factor encoding gene blu7, a BLRC dependent light regulated gene in T. atroviride. The blu7 gene is required for photoconidiation at low but not at high blue light fluence. The absence of blu7 resulted in increased levels of expression of the 3'-5' cAMP phosphodiesterase encoding gene, which could explain the reduced conidiation observed in the mutant. Furthermore, the increased expression of env1 observed in the ∆blu7 strain under constant illumination suggests linked roles in photoadaptation between these two regulators. Interestingly, the growth inhibition response of the blu7 replacement mutant to light was reduced in rich media. The decreased expression of energy and metabolism related genes in the ∆blu7 mutant under constant light may explain the slower growth, rendered by defective nitrogen metabolism.
Ethics (and consent to participate)
Not applicable.
Consent to publish
Not applicable.
Abbreviations
bld:

blue light down-regulated
BLR:

blue light regulator
blu:

blue light up-regulated
cAMP:

cyclic adenosine monophosphate
FC:

fold change
FDR:

false discovery rate
GO:

gene ontology
PD:

phosphodiesterase
RNA-seq:

ribonucleic acid sequencing
TF:

transcription factor
WC:

white collar
WT:

wild type
Declarations
Acknowledgements
We wish to thank Dr. Miguel Hernández and M. Sc. Manuel Villalobos for assistance with the bioinformatics and statistical analyses. J.E. C-Ch. is indebted to CONACYT for a doctoral fellowship.
Funding
This work was supported by grant FORDECYT-2012-02-193512 from CONACyT to A H-E.
Open AccessThis article is distributed under the terms of the Creative Commons Attribution 4.0 International License (http://creativecommons.org/licenses/by/4.0/), which permits unrestricted use, distribution, and reproduction in any medium, provided you give appropriate credit to the original author(s) and the source, provide a link to the Creative Commons license, and indicate if changes were made. The Creative Commons Public Domain Dedication waiver (http://creativecommons.org/publicdomain/zero/1.0/) applies to the data made available in this article, unless otherwise stated.
Authors' Affiliations
(1)
Laboratorio Nacional de Genómica para la Biodiversidad, CINVESTAV Sede Irapuato, Irapuato, Mexico
(2)
Present Address: Unit for Basic and Applied Microbiology, Faculty of Natural Sciences, Autonomous University of Querétaro, Querétaro, Mexico