Research article

Open Access
The genome of the emerging barley pathogen Ramularia collo-cygni
Received: 9 November 2015
Accepted: 12 July 2016
Published: 9 August 2016
Abstract
Background
Ramularia collo-cygni is a newly important, foliar fungal pathogen of barley that causes the disease Ramularia leaf spot. The fungus exhibits a prolonged endophytic growth stage before switching life habit to become an aggressive, necrotrophic pathogen that causes significant losses to green leaf area and hence grain yield and quality.
Results
The R. collo-cygni genome was sequenced using a combination of Illumina and Roche 454 technologies. The draft assembly of 30.3 Mb contained 11,617 predicted gene models. Our phylogenomic analysis confirmed the classification of this ascomycete fungus within the family Mycosphaerellaceae, order Capnodiales of the class Dothideomycetes. A predicted secretome comprising 1053 proteins included redox-related enzymes and carbohydrate-modifying enzymes and proteases. The relative paucity of plant cell wall degrading enzyme genes may be associated with the stealth pathogenesis characteristic of plant pathogens from the Mycosphaerellaceae. A large number of genes associated with secondary metabolite production, including homologs of toxin biosynthesis genes found in other Dothideomycete plant pathogens, were identified.
Conclusions
The genome sequence of R. collo-cygni provides a framework for understanding the genetic basis of pathogenesis in this important emerging pathogen. The reduced complement of carbohydrate-degrading enzyme genes is likely to reflect a strategy to avoid detection by host defences during its prolonged asymptomatic growth. Of particular interest will be the analysis of R. collo-cygni gene expression during interactions with the host barley, to understand what triggers this fungus to switch from being a benign endophyte to an aggressive necrotroph.
Keywords
Ramularia leaf spotDothideomycetesRubellin toxinEndophyteNecrotrophWhole genome sequencing
Background
Ramularia leaf spot has emerged as a newly important disease of barley associated with significant grain yield and quality losses across Europe and a number of other temperate regions of the world [
1
]. The disease was first recognised in 1893 in Italy and the fungal pathogen first described as
Ophiocladium hordei
[
2
]. Sutton and Waller [
3
] reclassified this ascomycete fungus to the genus
Ramularia
, within the family Mycosphaerellaceae in the class Dothideomycetes and proposed the species name
R. collo-cygni
because of the distinctive swan's neck-like shape of the fungal conidiophores (Fig.
1a, b
). This systematic position was subsequently supported by phylogenetic analysis of fungal ribosomal DNA sequences [
4
,
5
].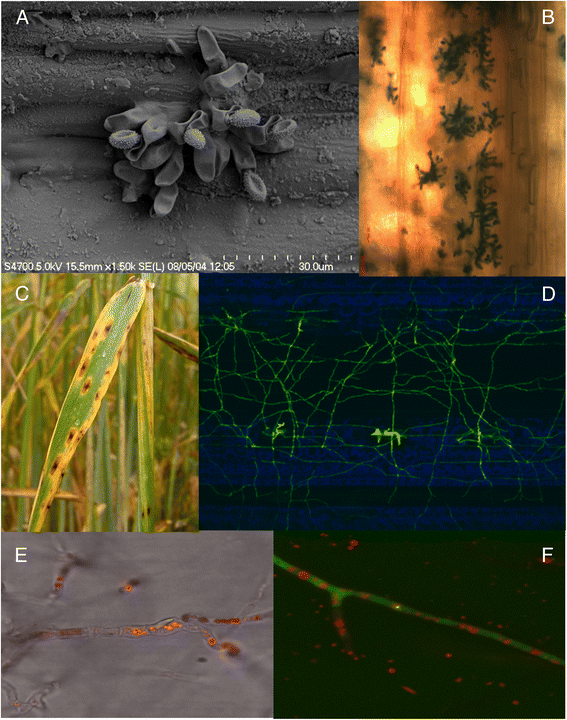 The importance of Ramularia leaf spot as a disease of barley has become more apparent in recent years as reliable methods for isolation and detection of R. collo-cygni have become available [6–10]. Ramularia leaf spot is often confused with physiological leaf spotting and leaf spotting diseases, such as net blotch caused by the fungus Pyrenophora teres, but is distinguished by characteristic reddish-brown, rectangular lesions visible on both sides of the leaf and surrounded by a chlorotic halo (Fig. 1c). Recently reclassified as a major pathogen of its main host plant barley (Hordeum vulgare), R. collo-cygni has also been reported to colonise wheat, rye, oats, maize and many other grass species including the model Brachypodium distachyon [11, 12]. R. collo-cygni is transmitted both via spores and through infected seeds [6, 13], and exhibits intercellular, apoplastic colonisation of its host [10, 14, 15]. Disease is typically observed late in the growing season after the crop flowers, suggesting a link between Ramularia leaf spot symptom expression and host developmental stage [16]. However, R. collo-cygni can also colonise the host asymptomatically (Fig. 1d; [13]). Expression of Ramularia leaf spot symptoms has been linked to host genetics [17–19] but, as with many other Dothideomycete diseases, expression of symptoms has a strong environmental component, in particular responding to light intensity [8, 20–22]. This lifestyle, asymptomatic vertical transmission through seeds combined with the ability to switch lifestyle when faced with an adverse host environment, is reminiscent of that followed by many plant endophytes [23, 24]. Indeed, it was proposed that R. collo-cygni was ancestrally an endophyte and that pathogenicity is a more recent evolutionary phenomenon [25]. Whether changes in pathogen or host genetics or agronomic practices have resulted in the emergence of Ramularia leaf spot as an important pathogen of barley since the late 1990s is currently unclear.
Many Dothideomycetes produce secondary metabolites that are involved in fungal pathogenesis and/or virulence [26]. R. collo-cygni produces a number of anthraquinone-derived secondary metabolites called rubellins [27, 28]. Rubellin D, the most widely studied of these compounds, is a light activated, nonhost specific phytotoxin [26]. Rubellins are likely to be synthesised through a polyketide synthase pathway [29], similar to toxin production in other Dothideomycetes [26, 30, 31]. Rubellin D may act by increasing reactive oxygen species (ROS) production resulting in α-linolenic acid peroxidation, leaf chlorosis and necrosis [27, 28]. How R. collo-cygni produces these toxic secondary metabolites and what roles rubellins have in fungal colonisation and disease expression remains to be determined.
To address these and other questions relating to the biology of this fungus and its phylogenetic position within the Dothideomycetes, we have sequenced and assembled the genome of R. collo-cygni isolate DK05 Rcc001 (isolated from a susceptible host). We compare the genome to those of other plant pathogens including Zymoseptoria tritici [syn. Mycosphaerella graminicola], Pseudocercospora fijiensis [syn. Mycosphaerella fijiensis] and Dothistroma septosporum [syn. Mycosphaerella pini] from the Mycosphaerellaceae. The high-quality genome of R. collo-cygni provides a foundation for future studies aimed at understanding why Ramularia leaf spot has emerged as an important threat to barley production.
Conclusions
Ramularia leaf spot recently emerged as an important disease of barley in temperate regions across the world. The 30.3 Mb genome of R. collo-cygni was predicted to contain 11,617 gene models, metrics consistent with the genome size and gene content of other Dothideomycetes. Phylogenetic analysis as well as observed similarities between R. collo-cygni and Z. tritici, P. fijiensis and D. septosporum at the gene level support classification of R. collo-cygni within the Mycosphaerellaceae [72]. Differences between the genomes of these fungi may hold the key to the unique pathology of R. collo-cygni. In particular identifying the fungal genes involved in the transition from endophytic growth to necrotrophy, the biosynthesis of the rubellin toxins and a further understanding of the genetic structure of R. collo-cygni populations [73] are important goals. Projects are currently underway within the R. collo-cygni research community to sequence additional genomes from geographically distinct isolates and those collected from non-barley hosts to improve our understanding of how this endophyte has recently established itself as the cause of a newly important foliar disease of barley.
Abbreviations
AA, auxiliary activities; AEB, alkyl ester broth; CAZymes, carbohydrate-active enzymes; CBM, carbohydrate-binding modules; CE, carbohydrate esterases; DMATS, dimethylallyl tryptophan synthases; DUF, domain of unknown function; GH, glycoside hydrolase; GO, gene ontology; GS, growth stage; GT, glycosyltransferases; NRPS, non-ribosomal peptide synthases; ORF, open reading frame; PDA, potato dextrose agar; PKS, polyketide synthases; PL, polysaccharide lyases; ROS, reactive oxygen species; SSP, small secreted protein; TC, terpene cyclases
Declarations
Acknowledgements
This research was supported by grant-in-aid from the Scottish Government RESAS (GMcG, JMF, FD, MK, AM, JMT, KG, LJP FB and NDH) and by a Danish government grant 'BRCC- Restricting the pathogenic effect on barley of the endophytic fungus Ramularia collo-cygni' (ES and AM). AA, KK, JJR and KHK are supported by strategic funding from the United Kingdom Biotechnology and Biological Sciences Research Council (BBSRC) including the Institute Strategic Programme Grant 20:20 Wheat® (BB/J/00426X/1). KHK and the PHI-base project are supported by the BBSRC PhytoPath grant (BB/K020056/1) and the National Capability grant (BB/J/004383/1). Edinburgh Genomics is partly supported through core grants from NERC (R8/H10/56) and BBSRC (BB/J004243/1). We thank Steve Goodwin and Craig Coleman for access to the P. fijiensis and P. semeniperda sequence data and the Joint Genome Institute for access to sequence data produced by the US Department of Energy Joint Genome Institute http://www.jgi.doe.gov/ in collaboration with the user community.
Funding
This research was funded by a Scottish Government RESAS grant, a Danish government Strategiske Forskningsråd grant, Biotechnology and Biological Sciences Research Council grants BB/K020056/1, BB/J/004383/1, BB/J/00426X/1, BB/J004243/1 and Natural Environment Research Council grant R8/H10/56. None of these funding bodies were involved in the design of the study nor the collection, analysis, and interpretation of data and in writing the manuscript.
Authors' contributions
GMcG, JMF, FD, MK, AM, JMT, KG, LJP, NDH, FB, MB, UT, ES, AA, JJR, KK, KHK designed and performed the experiments. AA, UT, ES, GMcG performed the genome assembly and annotation. GMcG wrote the manuscript with input from all authors. All authors have read and approved the manuscript prior to submission.
Competing interests
The authors declare that they have no competing interests.
Consent for publication
Not applicable
Ethics approval and consent to participate
Not applicable
Open AccessThis article is distributed under the terms of the Creative Commons Attribution 4.0 International License (http://creativecommons.org/licenses/by/4.0/), which permits unrestricted use, distribution, and reproduction in any medium, provided you give appropriate credit to the original author(s) and the source, provide a link to the Creative Commons license, and indicate if changes were made. The Creative Commons Public Domain Dedication waiver (http://creativecommons.org/publicdomain/zero/1.0/) applies to the data made available in this article, unless otherwise stated.
Authors' Affiliations
(1)
Crop Protection Team, Crop and Soil Systems Group, SRUC, Edinburgh, UK
(2)
Department of Computational and Systems Biology, Rothamsted Research, Harpenden, UK
(3)
Department of Plant Biology and Crop Science, Rothamsted Research, Harpenden, UK
(4)
Institute of Evolutionary Biology, School of Biological Sciences, University of Edinburgh, Edinburgh, UK
(5)
Edinburgh Genomics, The University of Edinburgh, Edinburgh, UK
(6)
Present address: Forest Research, Alice Holt Lodge, Farnham, UK
(7)
Present address: Syngenta, Jealott's Hill International Research Centre, Bracknell, UK