Research article
Open Access
Genome sequence, population history, and pelage genetics of the endangered African wild dog (Lycaon pictus)
Received: 22 July 2016
Accepted: 2 December 2016
Published: 9 December 2016
Abstract
Background
The African wild dog (Lycaon pictus) is an endangered African canid threatened by severe habitat fragmentation, human-wildlife conflict, and infectious disease. A highly specialized carnivore, it is distinguished by its social structure, dental morphology, absence of dewclaws, and colorful pelage.
Results
We sequenced the genomes of two individuals from populations representing two distinct ecological histories (Laikipia County, Kenya and KwaZulu-Natal Province, South Africa). We reconstructed population demographic histories for the two individuals and scanned the genomes for evidence of selection.
Conclusions
We show that the African wild dog has undergone at least two effective population size reductions in the last 1,000,000 years. We found evidence of Lycaon individual-specific regions of low diversity, suggestive of inbreeding or population-specific selection. Further research is needed to clarify whether these population reductions and low diversity regions are characteristic of the species as a whole. We documented positive selection on the Lycaon mitochondrial genome. Finally, we identified several candidate genes (ASIP, MITF, MLPH, PMEL) that may play a role in the characteristic Lycaon pelage.
Keywords
Lycaon pictusGenomePopulation historySelectionPelage
Background
The African wild dog (
Lycaon pictus
) is an endangered canid species (International Union for Conservation of Nature Red List Classification: C2a (i)) [
1
]. While the species formerly ranged over most of sub-Saharan Africa, wild dogs suffer from a suite of threats including severe habitat fragmentation, human persecution, and disease epidemics. They are now restricted to less than seven percent of their former range [
2
], with only small, and frequently declining, remnant populations in fragmented pockets of eastern and southern Africa (Fig.
1
). They maintain enormous home ranges (varying between 200 and 2000 km
2
) and naturally live at very low densities, even compared to other carnivores [
3
]. Primarily a hunter of antelopes, the African wild dog is a highly distinct canine. Wild dogs are differentiated from other canine species by their anatomical adaptations related to hypercarnivory and cursorial hunting, including high-crowned, sectorial teeth and the lack of dewclaws [
4
]. They have a highly specialized social structure in which both males and females disperse to form new packs and only a single dominant pair in each pack reproduces [
5
]. Wild dogs are also noted for their colorful pelage, from which they derive their species name
pictus
('painted'), and the absence of an undercoat.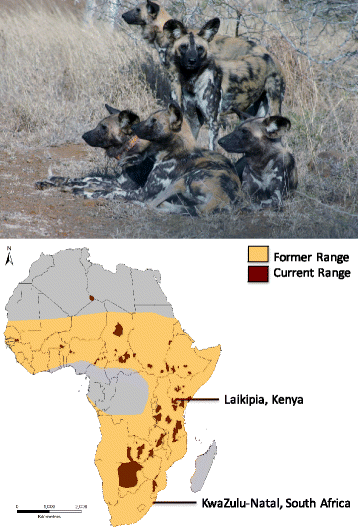 Eastern and southern populations of wild dogs are genetically and morphologically distinct [6], although there is a large admixture zone covering Botswana, south-eastern Tanzania, and Zimbabwe [7]. Gene flow occurs across the species' entire range [8], which is unsurprising given the excellent dispersal capabilities documented in Lycaon pictus [1]. Nevertheless, Marsden et al. [2] documented both genetic structuring between extant Lycaon populations (likely the result of habitat fragmentation) and a recent reduction in effective population size (N e) since the 1980s. Furthermore, African wild dogs exhibit very little major histocompatibility complex variation, which may reflect population decline [8].
To better understand African wild dog genomic evolution, genetic variation and population history, we shotgun sequenced whole genomes from two individuals from widely separated populations with very different modern ecological histories: Laikipia County, Kenya and Hluhluwe-Imfolozi Park, KwaZulu-Natal Province, South Africa. Wild dogs disappeared from Laikipia, Kenya in the 1980s and reappeared in 2000 – likely recolonizing from a small population in neighboring Samburu district (~50 km distant). The population in Laikipia alone now numbers more than 150 dogs and 15 packs [9]. We sequenced a female (sampled July 2003) from this recolonized population. In contrast, wild dogs were reintroduced to Hluhluwe-Imfolozi Park, KwaZulu-Natal Province in 1980 and remained as a single pack for many years [10]. Eventually, Lycaon breeding effectively ceased until new animals were introduced in 1997 and afterwards (2001, 2003, etc.) [11]. The KwaZulu-Natal wild dogs are now managed as part of the South African Lycaon "metapopulation" [12, 13]. We sequenced a male (sampled October 2007), born in KwaZulu-Natal to parents that were translocated from Limpopo province in 2003. Therefore, the South African individual's ancestry represents genes from the northeastern part of the country.
The genomes from these two populations represent some of the first published wild canid genomes and are particularly valuable given the susceptibility of wild dogs to diseases and habitat fragmentation [9, 14]. We used our novel genome sequences to reconstruct the last 1,000,000 years of Lycaon genome demography and population history. We identified over a million polymorphic sequence variants for further population-level study. These variants produced ~35 million predicted genic effects. We identified over 15,000 candidate genes that may have undergone adaptation since the Lycaon/Canis divergence. We found evidence of positive selection on the Lycaon mitochondrial genome. Finally, we examined genes involved in canid coat phenotype to identify candidate genes underlying the characteristic Lycaon pelage.
Conclusions
We provide two genome sequences of Lycaon pictus, representing two individuals from highly divergent ecological regions (Laikipia County, Kenya and KwaZulu-Natal Province, South Africa). We identified over a million polymorphic Lycaon SNPs, useful for further population-level analyses. Analyses of these genomes showed that extant Lycaon populations have endured at least two population contractions within the last 1,000,000 years. We identified chromosomal regions of high and low diversity and over 15,000 candidate divergent genes. Furthermore, Lycaon mitochondrial genomes have undergone positive selection, suggestive of selection for metabolic processes. Finally, we identified four candidate genes (ASIP, MITF, MLPH, PMEL) that may be involved in Lycaon pelage patterns.
Abbreviations
bp:

Base pairs
CDS:

Coding sequence
dN/dS :

Non-synonymous substitutions per non-synonymous site to synonymous substitutions per synonymous site
IACUC:

Institutional Animal Care and Use Committee
MSY:

Male-specific Y chromosome
N/S:

Non-synonymous substitutions to synonymous substitutions
N e :

Effective population size
SNP:

Single nucleotide polymorphism
Declarations
Acknowledgements
We thank Penny Becker (United States Fish and Wildlife Service), Michael Somers (University of Pretoria) and David Wildt (Smithsonian Conservation Biology Institute) for facilitating collection of the South African sample. We are grateful for the assistance of Adam Ferguson (Mpala Research Centre) in the production of the Lycaon range map. We thank the members of the Center for Conservation Genomics, Smithsonian Conservation Biology Institute for helpful advice on this manuscript.
Funding
The Morris Animal Foundation (D14ZO-308) and the National Geographic Society (8846–10) supported this research.
Authors' contributions
MGC performed the molecular genetic assays, carried out bioinformatics analyses, and wrote the manuscript. KHM and RFC conceived the study. MTRH and LDP performed bioinformatics analyses and contributed to the manuscript. RW, MSG, and JEM provided the Lycaon samples. KHM, RFC, HSY, RW and JEM participated in the design of the study. All authors reviewed and approved the manuscript.
Competing interests
The authors declare that they have no competing interests.
Consent for publication
Not applicable.
Ethics approval and consent to participate
The Lycaon pictus individuals were sampled under IACUC protocols approved by the University of California, Davis (10813), the Smithsonian National Zoological Park (08–21), and Humboldt State University (06/07.W.209.A). Ezemvelo KZN Wildlife, the Kenya Wildlife Service, the National Museums of Kenya, the Kenya National Council for Science and Technology, and Mpala Research Centre gave permission and relevant permits to conduct this research and provided logistical support. All experiments were conducted in compliance with the Convention on the Trade in Endangered Species of Wild Fauna and Flora and the International Union for the Conservation of Nature Policy Statement on Research Involving Species at Risk of Extinction.
Open AccessThis article is distributed under the terms of the Creative Commons Attribution 4.0 International License (http://creativecommons.org/licenses/by/4.0/), which permits unrestricted use, distribution, and reproduction in any medium, provided you give appropriate credit to the original author(s) and the source, provide a link to the Creative Commons license, and indicate if changes were made. The Creative Commons Public Domain Dedication waiver (http://creativecommons.org/publicdomain/zero/1.0/) applies to the data made available in this article, unless otherwise stated.
Authors' Affiliations
(1)
Center for Conservation Genomics, Smithsonian Conservation Biology Institute, Washington, USA
(2)
Department of Environmental Science and Policy, George Mason University, Fairfax, USA
(3)
Division of Mammals, National Museum of Natural History, MRC 108, Smithsonian Institution, Washington, USA
(4)
Department of Ecology, Evolution and Marine Biology, University of California Santa Barbara, Santa Barbara, USA
(5)
Department of Wildlife, Humboldt State University, Arcata, USA
(6)
Institute of Zoology, Zoological Society of London, London, UK