Research Article
Open Access
Swept away: ocean currents and seascape features influence genetic structure across the 18,000 Km Indo-Pacific distribution of a marine invertebrate, the black-lip pearl oyster Pinctada margaritifera
Received: 8 September 2016
Accepted: 12 December 2016
Published: 10 January 2017
Abstract
Background
Genetic structure in many widely-distributed broadcast spawning marine invertebrates remains poorly understood, posing substantial challenges for their fishery management, conservation and aquaculture. Under the Core-Periphery Hypothesis (CPH), genetic diversity is expected to be highest at the centre of a species' distribution, progressively decreasing with increased differentiation towards outer range limits, as populations become increasingly isolated, fragmented and locally adapted. The unique life history characteristics of many marine invertebrates such as high dispersal rates, stochastic survival and variable recruitment are also likely to influence how populations are organised. To examine the microevolutionary forces influencing population structure, connectivity and adaptive variation in a highly-dispersive bivalve, populations of the black-lip pearl oyster Pinctada margaritifera were examined across its ~18,000 km Indo-Pacific distribution.
Results
Analyses utilising 9,624 genome-wide SNPs and 580 oysters, discovered differing patterns of significant and substantial broad-scale genetic structure between the Indian and Pacific Ocean basins. Indian Ocean populations were markedly divergent (F st = 0.2534–0.4177, p < 0.001), compared to Pacific Ocean oysters, where basin-wide gene flow was much higher (F st = 0.0007–0.1090, p < 0.001). Partitioning of genetic diversity (hierarchical AMOVA) attributed 18.1% of variance between ocean basins, whereas greater proportions were resolved within samples and populations (45.8% and 35.7% respectively). Visualisation of population structure at selectively neutral loci resolved three and five discrete genetic clusters for the Indian and Pacific Oceans respectively. Evaluation of genetic structure at adaptive loci for Pacific populations (89 SNPs under directional selection; F st = 0.1012–0.4371, FDR = 0.05), revealed five clusters identical to those detected at neutral SNPs, suggesting environmental heterogeneity within the Pacific. Patterns of structure and connectivity were supported by Mantel tests of isolation by distance (IBD) and independent hydrodynamic particle dispersal simulations.
Conclusions
It is evident that genetic structure and connectivity across the natural range of P. margaritifera is highly complex, and produced by the interaction of ocean currents, IBD and seascape features at a broad scale, together with habitat geomorphology and local adaptation at regional levels. Overall population organisation is far more elaborate than generalised CPH predictions, however valuable insights for regional fishery management, and a greater understanding of range-wide genetic structure in a highly-dispersive marine invertebrate have been gained.
Keywords
Population genomicsAquacultureCore-periphery hypothesisSNPHydrodynamic dispersalSpecies distribution
Background
Understanding the patterns and processes shaping population genetic structure across the extent of a species' distribution is an important prerequisite for biological conservation and management efforts, as well as studies of speciation [1]. For marine taxa, regional fishery management and aquaculture practices also rely on biologically meaningful population structure to delineate discrete stocks [2–4]. The ability to quantify genetic variation across the geographical limits of a species may shed light on why species might demonstrate stable range boundaries, and also permit assessment of the conservation value of central (C) versus marginal (M) populations [1, 5, 6]. Several studies (reviewed by Eckert et al. [5] and Sexton et al. [6]), have investigated the central-marginal (C-M) hypothesis, also known as the core-periphery hypothesis (CPH; [5, 7, 8]). While many comparisons between taxa have revealed a general decline in genetic diversity and increased differentiation towards range margins, others show no clear patterns [1].
It is expected that the interplay of microevolutionary forces, (namely natural selection, genetic drift and gene flow), will largely determine the magnitude and extent of population structure and connectivity, although the spatial distribution and demographic characteristics of the species could also exert strong influences [5, 6]. The CPH provides a model for interpreting how microevolutionary forces may shape genetic divergence patterns throughout a species' range. Under this model, a species which colonises a geographical gradient of environmental conditions, is over time expected to exhibit maximised abundance (highest survival, reproduction and growth rates) around a central point where conditions are optimal, while populations become smaller, more fragmented, increasingly divergent and influenced by selective forces towards the periphery [5, 7, 9]. However, exactly how the abundant centre distribution relates to the partitioning of genetic diversity, patterns of differentiation and adaptive differences across the C-M cline, remains a contentious topic [5, 9]. One explanation offered suggests that both effective population size (N e) and gene flow (m) should be highest at the centre, and lowest at range margins. Consequently, central populations are expected to be less genetically differentiated and possess higher levels of genetic diversity, than those existing at range margins [5, 7]. Furthermore, due to environmental heterogeneity across a C-M cline, local adaptation may be observed between populations existing at the core and range peripheries.
While several studies have examined C-M genetic patterns in terrestrial taxa [5, 10], comparatively few investigations have involved marine species [8], and marine invertebrates in particular [11]. Marine systems present several challenges for range-wide studies, as >70% of invertebrates and many vertebrates are characterised by large population sizes, high fecundity, external fertilisation and larvae that typically remain in the plankton for several weeks, although this may vary anywhere from a few minutes to years [12–16]. Consequently, C-M patterns compared to terrestrial taxa may differ from expectations under the CPH, as the homogenising influence of gene flow may maintain high connectivity across the C-M cline [8]. Furthermore, divergence and local adaptation may not be as apparent if populations remain highly connected, and environmental gradients are shallow.
Among marine invertebrates, species which are either completely sessile as adults (e.g. barnacles, sponges and ascidians), or possess very limited mobility (e.g. sea urchins, bivalves, gastropods), present additional challenges for assessment of C-M trends [17, 18]. As larvae undergo pelagic dispersal and recruitment, differential selective pressures and survival rates pre- and post-settlement, and also between the plankton and benthos may strongly influence the genetic composition of populations [19, 20]. Furthermore, the spatial distribution of a population may be limited to isolated biodiversity hotspots (e.g. single bivalve beds), or an entire reef shelf [21, 22].
Given the complex nature of the biological and environmental influences at play, it is important to consider multiple sources of information for range-wide investigations in the marine environment, particularly when the species being examined is extensively distributed across heterogenous habitats. Considerations that have been highlighted in previous analyses of C-M patterns involving terrestrial taxa, include examination of the geographical direction of the periphery studied, latitudinal effects, the effects of species-range geometry (e.g. shape and size), as well as sampling strategy [1, 5, 10]. While not all of these may apply to marine scenarios, for taxa that employ a broadcast spawning reproductive strategy, consideration of the extent of ocean current-mediated larval dispersal addresses many of these points [4, 23–26].
Incorporation of environmental data such as dispersal modelling into range-wide studies is capable of offering unprecedented insights into larval dispersal limits [4, 25, 27–29], and when considered together with both neutral and adaptive patterns of population structure, permit a holistic assessment of concordance with the CPH, or other models of range-wide structuring. The advantage of using independent datasets also includes the potential to reveal and/or corroborate previously undiscovered or poorly understood biogeographic barriers to dispersal, cryptic speciation and regional local adaptation [30–33].
The black-lip pearl oyster
Pinctada margaritifera
(Pteriidae), is a marine bivalve mollusc that has a broad Indo-Pacific distribution (Fig.
1
), and is highly valued for cultured pearl and pearl shell production [
34
,
35
]. Aquaculture of this species comprises a valuable industry and important source of coastal community livelihood across almost the entire extent of its distribution [
34
,
36
]. While analyses to examine population structure and connectivity have previously been carried out, these have produced mixed findings, incorporated a range of different marker types (allozymes, mtDNA and microsatellites), and never examined the entirety of the species distribution [
19
,
37
–
43
]. The current species description includes a total of six sub-species [
35
,
44
,
45
], that are described exclusively on the basis of variable morphological characters [
46
]. In the Pacific basin, Hawaiian populations are known as
P. margaritifera
var.
galstoffi
(Bartsch, 1931), Cook Islands and French Polynesian individuals as
P. m.
var.
cummingi
(Reeve, 1857), and all Central and Western Pacific specimens as
P. m.
var.
typica
(Linnaeus, 1758). Indian Ocean populations are represented by
P. m.
var.
persica
(Jameson, 1901; Persian Gulf),
P. m.
var.
erythraensis
(Jameson, 1901; Red Sea) and
P. m.
var.
zanzibarensis
(Jameson, 1901; East Africa, Madagascar and Seychelle Islands [
44
]).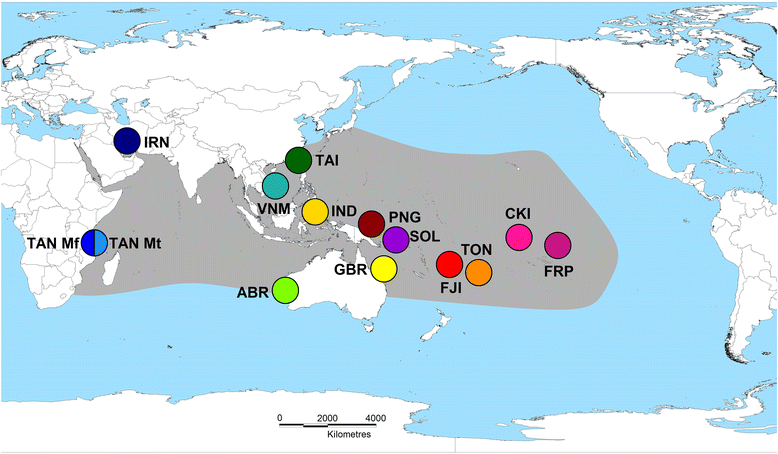 Significant genetic heterogeneity has been reported for P. margaritifera at nuclear markers (allozymes, anDNA markers and microsatellite loci), at various sites in the Western and Central Pacific [37, 42, 47], while contrastingly mitochondrial markers did not [37]. More recent work also using microsatellite loci, discovered significant genetic structure both within and between French Polynesian island archipelagos, attributed to "open" and "closed" atoll lagoon hydromorphologies restricting patterns of gene flow [39]. Since then, genome-wide SNPs have been developed and characterised [48], and used to investigate stock structure for fishery management and aquaculture in the Fiji Islands [4], where a single genetic stock was identified.
Previous studies of range-wide genetic structuring in Pteriid pearl oysters have produced mixed results. Lind et al. [49] reported a reduction in genetic diversity towards the range periphery of the silver-lip pearl oyster, P. maxima, which is consistent with CPH assumptions. However, the natural distribution of this species is considerably less extensive than that of P. margaritifera [34, 35]. A bivalve which has a range similar to that of P. margaritifera is the Akoya pearl oyster, currently recognised as the P. fucata/martensii/radiata/imbricata species complex [35, 50]. While the population genetic structure of this taxon is pending resolution, it is thought that it may comprise one cosmopolitan, circum-globally distributed species, possessing a very high degree of intraspecific variation across its range [34, 35, 51].
Larval development of P. margaritifera occurs over 26–30 days in captivity [52, 53], however, time to settlement may be prolonged if conditions are unfavourable [54]. The high dispersal potential (and thus gene flow) in this species suggests that CPH trends may not be easily identifiable across the broader species range, except perhaps in situations where larval dispersal is restricted by seascape features (e.g. closed atoll lagoons or current gyres), or at the very limits of the species distribution where favourable habitat is limited, impacting fitness and population growth. Here, we assess populations of P. margaritifera across the extent of its Indo-Pacific distribution spanning over 18,000 km, and compare our observations with expectations under the CPH and regional morphological subdivisions. Independent population genomic and hydrodynamic approaches were utilised to assess population genetic structure, adaptive variation and larval connectivity. Through the use of independent biological and environmental datasets, this work sheds light on the links between genetic structure, ecology and oceanography, to reveal how populations of a broadcast spawner can be organised and maintained in the marine environment.
Discussion
This study examined range-wide population genetic structure and connectivity in the black-lip pearl oyster, over its ~18,000 km natural distribution. Assessments of differentiation at both neutral and adaptive markers, together with an independent particle dispersal simulation indicate that the evolutionary and physical processes organising population genetic structure are highly complex. At broad and regional scales, surface ocean currents, geographic distance and habitat geomorphology play important roles in regulating connectivity. At sub-regional and local scales, seascape features such as coral atolls, shoals and straits may impede gene flow, and the presence of environmental heterogeneity result in adaptive differences between populations.
In the Pacific Ocean, our observations do not lend support for a strong CPH model, where P. margaritifera is expected to exhibit reduced diversity and increased differentiation towards its range limits. However, this does not imply that CPH trends are absent, as very high levels of gene flow may conceal C-M gradients and sampling may not have detected the true range limits. The presence of local adaptation in habitat sub-regions also supports the presence of hetereogenous environments. Conversely in the Indian Ocean, clear divergence between the marginal populations sampled suggests the presence of C-M clines cannot be discounted, and requires further investigation at higher sampling densities, with particular attention to central populations. It is apparent that the mechanisms underlying range-wide genetic structure in P. margaritifera are quite complex, and require closer examination to better understand the evolutionary, ecological and physical factors at work.
Conclusions
Our findings hold regional fishery management implications for Pacific populations of P. margaritifera, with the discovery of five distinct genetic stocks in the region. Given the economic importance of pearl oyster aquaculture for several Pacific Island nations [34, 134], this data provides a benchmark for further evaluation of fine-scale population structure at the level of individual countries and territories, to inform localised fishery management policies. Results presented here are also important for fishery management and aquaculture development in other broadcast spawning marine taxa, as an informed approach for designating stock boundaries relies on robust datasets comprising ecological, evolutionary and physical information.
Abbreviations
AMOVA:

Analysis of molecular variance
BIC:

Bayesian information criterion
CPH:

Core-periphery hypothesis
DAPC:

Discriminant analysis of principal components
DArT PL:

Diversity arrays technology Ltd
DMSO:

Dimethyl sulfoxide, C2H6OS
DNA:

Deoxyribonucleic acid
DVM:

Dorsoventral measurement
ENSO:

El Niño Southern Oscillation
ESU:

Evolutionary significant unit
EtBr:

Ethidium bromide, C21H20BrN3
FDR:

False discovery rate
GBR:

Great barrier reef
gDNA:

Genomic deoxyribonucleic acid
HL:

Homozygosity by locus
HWE:

Hardy-Weinberg equilibrium
HYCOM:

Hybrid coordinate ocean model
IBD:

Isolation by distance
IR:

Internal relatedness
JCU:

James Cook University, Australia
k-NN:

Number of nearest neighbours k-threshold
LD:

Linkage disequilibrium
MAF:

Minor allele frequency
MLH:

Multi-locus heterozygosity
mtDNA:

Mitochondrial deoxyribonucleic acid
MU:

Management unit
NCBI:

National centre for biotechnology information (U.S.A.)
NJ:

Neighbour-joining
PCR:

Polymerase chain reaction
PIC:

Polymorphic information content
PNG:

Papua New Guinea
QQ-plot:

Quantile-Quantile plot
RE:

Restriction enzyme
SH:

Standardised heterozygosity
SNP:

Single nucleotide polymorphism
Declarations
Acknowledgements
We wish to thank Shannon Kjeldsen, Eike Steinig, Maria Nayfa and Roger Huerlimann for advice on various statistical analyses including the Netview_P pipeline, provision of computing hardware, Linux scripting and outlier analyses. We also thank anonymous reviewers for their evaluation of the manuscript, and Litia Gaunavou for generation of the sampling site map. For either providing or assisting with collection of oyster tissue samples, our gratitude also extends to Gustaf Mamangkey, Naomi Gardiner, Ismail Saidi, Samantha Nowland, Rowan McIntyre, Steve Warden, Jo Buckee, Tina Weier, Georgia Langdon, Tevainui Frogier-Ellis, Hoc Tan Dao, Hứa Thái Tuyến, Samad Jahangard, Hossein Rameshi, Mehdi Doroudi, Max Wingfield, Laura Simmons, Gregory Bennett, Philippa Cohen, Waghon Lalao, Yu Wen Chiu, Eric Gan, Cherie Morris, Shirleen Bala, Justin Hunter, Pranesh Kishore, Adi Dionani Salaivanua, Kelly Brown, Jerome Taoi, Epeli Loganimoce, Albert Whippy, Bai Whippy, Toga Whippy, Isimeli Loganimoce, Marilyn Vilisoni, Babitu Rarawa, Ilitomasi Nuku, Samisoni Rakai, Patrick Fong, Nepoci Raleve and Claude Prévost. Logistical support for fieldwork in the Fiji Islands was provided by project partners the Secretariat of the Pacific Community (SPC) and the University of the South Pacific (USP).
Funding
This study was conducted within the Australian Centre for International Agricultural Research (ACIAR) Project FIS/2009/057: "Pearl Industry Development in the Western Pacific" led by the University of the Sunshine Coast. The research was carried out during a John Allwright Fellowship awarded to MML. The funding source (ACIAR) had no direct involvement in the study design, collection, analysis and interpretation of the data, nor the decision to submit this article for publication.
Availability of data and materials
All data generated or analysed during this study are included in this published article and its Additional files.
Authors' contributions
MML carried out all tissue collections, laboratory bench work, participated in the investigation design and conceptualisation, developed modifications to the genotyping protocol, performed all data analyses and drafted the manuscript. PCS developed the broad project concept, participated in the investigation design, provided supervisory support, all project funding, advice on pearl oyster biology and ecology, and edited the manuscript. DRJ participated in the investigation design, provided supervisory support and edited the manuscript. CB developed the particle dispersal software and refined it for this investigation, participated in the investigation design, and edited the manuscript. KRZ participated in design and conceptualisation of the project, provided statistical advice and technical input on investigation design, provided supervisory support and edited the manuscript. Note for use of the HYCOM hydrodynamic model: funding for the development of HYCOM has been provided by the United States National Ocean Partnership Program and the Office of Naval Research. Data assimilative products using HYCOM are funded by the U.S. Navy. Computer time was made available by the DoD High Performance Computing Modernization Program, and the output is publicly available at http://hycom.org. All authors read and approved the final manuscript.
Competing interests
All authors declare that they have no competing interests.
Consent for publication
Not applicable.
Ethics approval and consent to participate
The work described herein has been carried out (where appropriate) in accordance with the Code of Ethics of the World Medical Association (Declaration of Helsinki) for animal experiments. All oysters were handled in accordance with James Cook University's animal ethics requirements and guidelines.
Open AccessThis article is distributed under the terms of the Creative Commons Attribution 4.0 International License (http://creativecommons.org/licenses/by/4.0/), which permits unrestricted use, distribution, and reproduction in any medium, provided you give appropriate credit to the original author(s) and the source, provide a link to the Creative Commons license, and indicate if changes were made. The Creative Commons Public Domain Dedication waiver (http://creativecommons.org/publicdomain/zero/1.0/) applies to the data made available in this article, unless otherwise stated.
Authors' Affiliations
(1)
Centre for Sustainable Tropical Fisheries and Aquaculture, and College of Science and Engineering, James Cook University, Townsville, Australia
(2)
Australian Centre for Pacific Islands Research, Faculty of Science, Health, Education and Engineering, University of the Sunshine Coast, Maroochydore, Australia
(3)
Geoscience Division, Secretariat of the Pacific Community, Nabua, Fiji Islands