Research article
Open Access
Origin and phylogenetic status of the local Ashanti Dwarf pig (ADP) of Ghana based on genetic analysis
Received: 3 August 2016
Accepted: 2 February 2017
Published: 20 February 2017
Abstract
Background
The Ashanti Dwarf Pig (ADP) of Ghana is an endangered pig breed with hardy and disease resistant traits. Characterisation of animal genetic resources provides relevant data for their conservation and sustainable use for food security and economic development. We investigated the origin and phylogenetic status of the local ADP of Ghana and their crosses with modern commercial breeds based on mtDNA, MC1R, Y-chromosome sequence polymorphisms, and genome-wide SNP genotyping.
Results
The study involved 164 local pigs sampled from the three agro-ecological zones of Ghana. Analyses of the mitochondrial D-loop region and Y-chromosome sequences revealed both European and Asian genetic signatures, with differences between the geographical zones. Black coat colour is the most predominant within the breed, with black MC1R alleles of both Asian and European origin. European alleles for spotting are present at a low frequency in the sample set, and may account for the occurrence of spotted piglets in some APD litters. PCA analysis of SNP data revealed a strong location and breed effect on clustering of local Ghanaian pigs. On a global level, Ghanaian local pigs cluster closely with European pigs of commercial origin, but we identified intervals via FST analyses that may elucidate loci for ADP specific traits.
Conclusions
The presence of both European and Asian contributions, with differences between geographical zones probably reflects trading and colonial influences. Understanding the effects of admixture on important adaptive and economic traits of the ADP and other local breeds in Africa is critical for developing sustainable conservation programmes to prevent the decline of these genetic resources.
Keywords
Local pigsD-LoopGene sequencingSNP genotyping
Background
Pigs (Sus scrofa) display enormous phenotypic diversity in terms of shape, colour, size, production and reproduction abilities. Indigenous pig breeds in China, for instance, are well-known for their unique reproductive and lactation performance, good meat quality, strong adaptability and disease resistance traits [1].
The Ashanti Black Forest Dwarf Pig of Ghana, commonly called the Ashanti Dwarf Pig (ADP), is a local breed raised at the subsistence level in mixed farming systems in Ghana [2, 3]. In terms of phenotypic advantages the ADP is hardy; the breed can survive under poor management, and typically subsists by rooting and scavenging. Pigs are more resistant to heat stroke [3–5], and remain more active than introduced breeds across a range of environmental conditions. They are also considered less susceptible to the majority of local diseases and parasites [6, 7]. For other traits of economic importance, the meat of the ADP is considered superior to exotic pigs [8], it has a low demand for feed [9], and good mothering ability. The latter is particularly important in free ranging pigs where there is the need to defend piglets from predators. The ADP is also unusual in that it can digest fibrous matter and tannin-rich diets more efficiently than imported genotypes [5, 10, 11].
Despite these advantages, ADP, like other local pigs, are smaller than the imported commercial breeds [8], with low growth rates, and poorer reproductive performance. The average mature body weight is 60 kg, litter size is 5–7 piglets, and there is high (22.3%) pre-weaning mortality based on piglet deaths from all causes [12–14].
Ghana's report on Animal Genetic Resources (AnGR) indicates that, apart from the indigenous ADP, there are various locally adapted exotic breeds as well as crosses between these exotics and the local ADP [15]. Our experience in Ghana is that some farmers who have crossed ADPs with exotic breeds have generated animals with relatively high growth rate, but their ability to forage on fibrous feed, and resistance to diseases are reduced. Thus, in spite of its relatively low cost of production, the ADP has over the years faced a threat from exotic breeds such as the Large White, Landrace and Duroc [6].
Genetic characterisation of the ADP, including an understanding of its historical origin, remains an unknown, whilst phenotypic distinction between purebred and F1 crossbred pigs is often difficult. Recently, Adjei et al. [5] reported that there is a wide variation in the morphological attributes of the local pig populations. In general, animals classified by owners as ADPs presented a concave head profile (85.9%), black coat colour (67.5%), plain coat colour pattern, erect ears (84.7%) projecting backwards (52.2%) and a short cylindrical snout. Although the majority had short and straight body hair type, others had long and dense, or long and curly coats. A few had a straight back line but the majority were swaybacked (84.7%). Other local pigs in the survey had semi-lop ears, straight head profile, white and black coat colour type, patchy and spotted coat colour patterns, and long and cylindrical snouts. It is possible these differences in phenotypes occur owing to genotypic differences in the local swine gene pool, reflecting their admixture, which could potentially dilute highly beneficial adaptive genes.
In this study, we have collected information from local producers about their stock, whether there is known to be crossbreeding with exotic breeds in the local pig population, or whether farmers believe their animals to be pure ADP. Based on the information provided, the genetic analysis allows an assessment of the accuracy of the classification of "crossbred" or "purebred" ADP, alongside investigating the potential origins and genetic diversity of the ADP and other local pig populations in Ghana. The ADP has co-evolved to adapt to its environments, and loss of animals means depletion of favourable alleles from the wider gene pool which may be equally important for the improvement of exotic breeds in the future. Addressing questions about the numbers of animals, and what genetic factors contribute to their niche traits will be a major step toward the development of sustainable conservation and improvement programmes to prevent ADP decline and extinction [16], [17].
A number of approaches have been developed to study the origin, genetic variation and unique attributes of animal genetic resources. Mitochondrial DNA (mtDNA) sequences generate phylogenetic trees at several taxonomic levels, from within species to among orders (e.g. [18, 19]). MtDNA is maternally inherited, haploid, non-recombining and its evolutionary rate of base substitution is much faster than that of nuclear DNA [20]. Thus it can be used to follow the maternal contributions within the porcine domestication process [21, 22]. In contrast, fragments of sequence from the Y chromosome have been analysed to study paternal lineages in domesticated pigs [23, 24]. These studies show that there is more than one Y chromosome lineage in domestic breeds and European wild boar based on the combinations of major alleles on the non-recombining portion of the Y chromosome (NRY). Four major Y chromosome populations can be identified based on the sex determining region Y (SRY) gene which is responsible for sex determination in mammals [25–27]. Mitochondrial, SRY and additional NRY sequence polymorphisms are described in this study as part of the analysis of the genetic origins of the ADP.
Coat colour is another important trait [28] and among the contributing genes, the melanocortin receptor 1 (MC1R) locus is the most consistently polymorphic [29]. Upon stimulation, the receptor regulates the balance between the two pigments eumelanin (black) and pheomelanin (red) produced by melanocytes [30]. Mutations in the MC1R gene affect coat colour in pigs [31, 32]; loss-of-function mutations are associated with recessive red coat colour or spotting, whereas dominant black colouring is linked with mutations affecting MC1R signalling [29]. As black is the dominant colour of the ADP, sequences from ADP or local cross-bred animals, were compared against the porcine reference genome and matched to haplotypes defined in [33].
Based on the sequences from selected DNA regions, results suggest the ADPs have both European and Asian ancestry, with a difference between animals from the north and south of the country. Both mitochondrial data and coat colour suggest a stronger contribution from Asian genetics in the north of Ghana. An FST analysis identified regions of the genome differing between ADPs and European commercial pigs, Chinese pigs and Duroc. Within these regions, we have identified intervals with genes for lipid metabolism, skeletal development and thyroid function which provide signatures for organoleptic qualities, lean carcass and body size and the potential for their preferential selection in the ADP.
Results
For investigation of the genetic relationships, and evaluation of local Ghanaian pigs, 165 animals were sampled from the agro-ecological zones as shown in Fig.
1
. A full list of samples can be found in Additional file
1
: Table S1.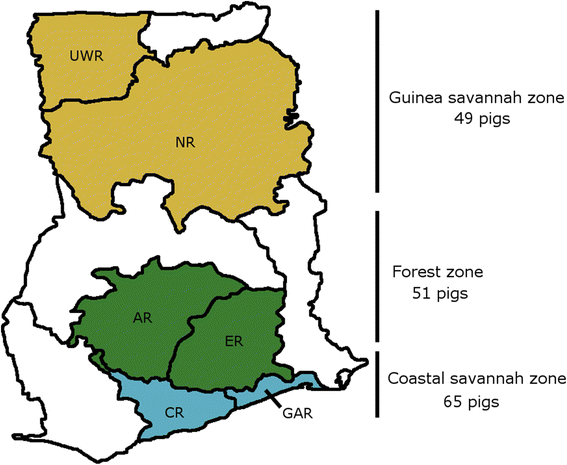 Discussion
The Ashanti Dwarf Pig (ADP) has often been held as an example of a local pig breed with important genetic characteristics worthy of preservation and conservation. To preserve and enhance the breed, the Babile Pig Breeding Station was established in 1995 by the Ministry of Food and Agriculture in a National Livestock Services Project (NLSP). Through selective breeding, it has worked to generate ADP breeding stock with superior reproductive traits, both for local farmers and NGOs who use livestock as a medium in their poverty alleviation strategies. However, the population of ADP at the station has been reducing (from 382 in 2011, to 219 in 2015) due to lack of funds. This poses a serious threat to these valuable genetic resources and calls for urgent intervention. In this study, we further show that the animals described by local Ghanaian farmers as ADP may in fact derive from pigs of different ancestries. This raises the question of what is an ADP; if it is a distinct breed, then our results indicate that the pure Ashanti pigs themselves may exist in far fewer numbers in Ghana than previously thought.
The history of pigs in Sub-Saharan Africa is unclear. The importation of European breeding stock both during and post the colonial period in Africa has diluted the ancestral genetic signatures of local animals [39]. Similarly, a clear genetic dichotomy between East and West African local pigs has been reported based on Y, mitochondrial and autosomal data [40]. This found that local pig haplotypes from West Africa (Nigeria and Benin) clustered together with European haplotypes with a mean frequency of 50% and, to a lower extent, with Near Eastern Sus scrofa populations. More significantly, pigs from West Africa did not display any of the haplotypes that are characteristic of Asian (Far Eastern) populations. Conversely, DNA samples from pigs of East Africa demonstrated the presence of Asian alleles. This might be as the result of direct introgression of local animals with Far Eastern breeds, or introduced through a European intermediary, given that British breeds were strongly admixed with Chinese pigs in the 18–19th centuries [40, 41].
Conclusions
Local ADPs of Ghana display genetic signatures indicative of both European and Asian origins at the loci described here. Although the ADP is nominally a black coated breed, the recent occurrence of spotted piglets in APD litters may be due to epistatic interactions, or a low frequency of the recessive E P allele in the selected populations introduced through unrecorded crossbreeding with other local pigs. The data presented suggest that morphology alone cannot be used to adequately characterise Ghanaian local pigs. It will be necessary to sample a larger population of local pigs in Ghana to find out how the adaptive and economic traits of the ADP have been affected by crossbreeding, and define allelic variants of value to the longer term animal breeding programme in Ghana.
Abbreviations
ADP:

Ashanti Dwarf pigs
FST :

Fixation index (F-statistic)
MC1R:

Melanocortin receptor 1
mtDNA:

Mitochondrial DNA
PCA:

Principle components analysis
SNP:

Single nucleotide polymorphism
SRY:

Sex determining region Y
Declarations
Acknowledgements
The Mammalian Molecular Genetics Laboratory of the Pathology Department, University of Cambridge is acknowledged for hosting ROA during his visit to Cambridge University. We also acknowledge laboratory assistance from Ms. Kerry Harvey, Mrs. Jo Bacon, and Mrs. Kim Lachani of the same laboratory. CAS and NAA are also Fellows of Hughes Hall, Cambridge.
Funding
The authors are grateful to Cambridge in Africa Research Excellence (CAPREx) for the award of Post-doctoral Fellowship to ROA, and the Alborada Trust for supporting the Research. G.L is supported by the European Research Council (337574-UNDEAD), and BMS is supported by BBSRC grant number BB/N000129/1. CAS is funded by the Department of Pathology and Hughes Hall, Cambridge.
Availability of data and materials
Mitochondrial sequences are deposited under accession numbers KU306949 to KU306962. SNP data is deposited under GEO accession number GSE84604.
Authors' contributions
ROA and DOA collected the samples, prepared DNA, and recorded the data on the animals from Ghana. ROA carried out the sequencing and genotyping experiments, as well as analysis of sequence data. BMS and GL contributed to analysis of the mitochondrial sequences, and JB carried out all the analyses in PLINK. CAS, NAA and ROA prepared the grant application and developed the research programme that led to this work. BMS, CAS and ROA prepared the manuscript. All authors read and approved the final manuscript.
Competing interests
The authors declare that they have no competing interests.
Consent for publication
Not applicable.
Ethics approval and consent to participate
Samples were collected with the permissions of farmers under the guidance and supervision of veterinarians of the Ministry of Food and Agriculture (MOFA), Ghana. Ethical approval for the study was given by the Institutional Animal Care and Use Committee (NIACUC), Noguchi Memorial Institute for Medical Research, University of Ghana for the period 5th May 2015 to 4th May 2018 (NIACUC PROTOCOL NUMBER: 2015-01-1 N).
Open AccessThis article is distributed under the terms of the Creative Commons Attribution 4.0 International License (http://creativecommons.org/licenses/by/4.0/), which permits unrestricted use, distribution, and reproduction in any medium, provided you give appropriate credit to the original author(s) and the source, provide a link to the Creative Commons license, and indicate if changes were made. The Creative Commons Public Domain Dedication waiver (http://creativecommons.org/publicdomain/zero/1.0/) applies to the data made available in this article, unless otherwise stated.
Authors' Affiliations
(1)
Animal Breeding and Genetics Research Group, Department of Animal Science, University of Ghana, Legon-ACCRA, Ghana
(2)
Mammalian Genetics Research Group, Department of Pathology, University of Cambridge, Cambridge, UK
(3)
Palaeogenomics and Bio-Archaeology Research Network, Research Laboratory for Archaeology, Oxford, UK