Research article

Open Access
A reference gene set for sex pheromone biosynthesis and degradation genes from the diamondback moth, Plutella xylostella, based on genome and transcriptome digital gene expression analyses
Received: 13 September 2016
Accepted: 14 February 2017
Published: 1 March 2017
Abstract
Background
Female moths synthesize species-specific sex pheromone components and release them to attract male moths, which depend on precise sex pheromone chemosensory system to locate females. Two types of genes involved in the sex pheromone biosynthesis and degradation pathways play essential roles in this important moth behavior. To understand the function of genes in the sex pheromone pathway, this study investigated the genome-wide and digital gene expression of sex pheromone biosynthesis and degradation genes in various adult tissues in the diamondback moth (DBM), Plutella xylostella, which is a notorious vegetable pest worldwide.
Results
A massive transcriptome data (at least 39.04 Gb) was generated by sequencing 6 adult tissues including male antennae, female antennae, heads, legs, abdomen and female pheromone glands from DBM by using Illumina 4000 next-generation sequencing and mapping to a published DBM genome. Bioinformatics analysis yielded a total of 89,332 unigenes among which 87 transcripts were putatively related to seven gene families in the sex pheromone biosynthesis pathway. Among these, seven [two desaturases (DES), three fatty acyl-CoA reductases (FAR) one acetyltransferase (ACT) and one alcohol dehydrogenase (AD)] were mainly expressed in the pheromone glands with likely function in the three essential sex pheromone biosynthesis steps: desaturation, reduction, and esterification. We also identified 210 odorant-degradation related genes (including sex pheromone-degradation related genes) from seven major enzyme groups. Among these genes, 100 genes are new identified and two aldehyde oxidases (AOXs), one aldehyde dehydrogenase (ALDH), five carboxyl/cholinesterases (CCEs), five UDP-glycosyltransferases (UGTs), eight cytochrome P450 (CYP) and three glutathione S-transferases (GSTs) displayed more robust expression in the antennae, and thus are proposed to participate in the degradation of sex pheromone components and plant volatiles.
Conclusions
To date, this is the most comprehensive gene data set of sex pheromone biosynthesis and degradation enzyme related genes in DBM created by genome- and transcriptome-wide identification, characterization and expression profiling. Our findings provide a basis to better understand the function of genes with tissue enriched expression. The results also provide information on the genes involved in sex pheromone biosynthesis and degradation, and may be useful to identify potential gene targets for pest control strategies by disrupting the insect-insect communication using pheromone-based behavioral antagonists.
Keywords
Pheromone-biosynthesis enzymes
Pheromone-degrading enzymes
Detoxification
Carboxyl/Cholinesterase
Aldehyde oxidase
Fatty acyl reductase
Desaturase
Background
In moths, reproductive isolation relies heavily on mature female adults producing and releasing species-specific sex pheromone components to attract conspecific males. Adult male antennae on the other hand specifically perceive these sex pheromone components from a distance resulting in the successful location of the female to initiate and complete mating behavior [1]. In lepidopterans, type I sex pheromone components are fatty acid derivatives with 0–4 double bond containing carbon chains of varying lengths (C10-C18) and an oxygenated functional group that can be an aldehyde, alcohol or an acetate ester. Type II sex pheromone components are hydrocarbons or epoxides [2, 3]. In female moths, the type I sex pheromones are synthesized de novo and the genes involved in the biosynthesis are regulated in a specialized manner in their sex pheromone glands (PGs). Sex pheromone biosynthesis employs a modified fatty-acid biosynthesis pathway that includes various processes such as acetylation, desaturation, chain shortening, reduction, and oxidation, either separately or in combination [2, 4].
Type I sex pheromone biosynthesis pathway in moths initiates in PG by the release of pheromone biosynthesis activating neuropeptide (PBAN) from the subesophageal ganglion, which then circulates unbound to the PG where it binds to the pheromone biosynthesis activating neuropeptide receptor (PBANr) [5]. The resulting signal, then triggers several enzyme pathways starting with acetyl-CoA carboxylase (ACC) that catalyzes the conversion of acetyl-CoA to malonyl-CoA and finally resulting in the synthesis of pheromone precursors (mostly 14, 16 or 18 carbon saturated fatty acids) [4]. Later, double bonds are introduced into the pheromone precursors at specific positions (Δ5 [6], Δ6 [7], Δ9 [8–12], Δ10 [13, 14], Δ11 [9, 15, 16] and Δ14 [17, 18]) by different desaturases (DESs), and the chain is shortened by a modified β-oxidation pathway [19]. Finally, the unsaturated pheromone precursors are modified to form various functional groups such as aldehyde, alcohol or acetate ester, by three enzymes, aldehyde reductase, fatty acyl reductase and acetyltransferase, respectively [2, 20–22]. Some of these enzymes have been shown to have substrate specificity. For example, pgFARs from Spodoptera exigua have substrate preference for C14 and C16 fatty acids [23].
Males on the other hand, have evolved a sensitive antennal olfaction system to trace even very low amounts of sex pheromone components released from the female located at a long distance [24]. These sex pheromone components enter the male antennal pores and are transported by pheromone binding proteins (PBPs) [25–27] through the antennal sensillum, and activate membrane-bound pheromone receptors (PRs) [28–30]. After PR activation, the pheromone molecules must be rapidly degraded to release and refresh the PR. Depending on the functional group on a pheromone, whether an aldehyde, alcohol or ester, degradation of pheromones involves specific enzymes in the pheromone degradation pathway. Aldehyde oxidase (AOX) is an antennal enzyme that catalyzes the oxidation of aldehyde sex pheromones to carboxylic acids, which were biochemically characterized in the antennae of Manduca sexta [31], Antheraea polyphemus and Bombyx mori [32]. Thus far, only one insect AOX (AtraAOX2) from Amyelois transitella has been functionally characterized to hydrolyze aldehyde sex pheromone components and some plant volatiles in vitro [33]. However, a number of putative AOX genes have been reported in lepidopterans at the nucleic acid level [34–36]. Aldehyde-degradation involves the NAD(P)− dependent aldehyde dehydrogenase (ALDH) and AR enzymes that convert sex pheromones to their corresponding acids and alcohols, respectively [37–39]. Antennal carboxyl/cholinesterase (CCE) hydrolyzes ester sex pheromone components. In previous studies, we functionally characterized five carboxyl/cholinesterases (CXEs) belonging to the CCE family from S. exigua and Spodoptera litura; in vitro expressed SexiCXE10 specifically degraded ester plant volatiles and three other CCEs (SexiCXE4, SexiCXE13 and SlitCXE13) had dual roles, i.e., they hydrolyzed sex pheromone components as well as plant volatiles [40–43]. Other members of the multi-function enzyme families include CYPs [44, 45], UGTs [46] and GSTs [47], which are also considered as odorant-degrading enzymes (ODEs) or pheromone-degrading enzymes (PDEs).
The diamondback moth (DBM), Plutella xylostella (Lepidoptera: Plutellidae), is a notorious pest of cruciferous vegetables worldwide. The major known pheromone components extracted from female DBM moth PGs include three different functional groups that were type I sex pheromone components; (Z)-11-hexadecenal [Z11-16:Ald] [48], (Z)-11-hexadecenyl acetate [Z11-16:Ac] [49–52] and (Z)-11-hexadecenol [Z11-16:OH] [49–52]. These studies also revealed that both female and male DBM need precise regulation of sex pheromone biosynthesis that facilitates their communication through the various structural components. In recent years, sex pheromone reception has been studied extensively because of its potential use as green targets for environmentally friendly pest control measures. Male DBMs have PBPs that are designed for sex pheromone reception. Thus far, three PBPs have been cloned and characterized in P. xylostella. These PBPs robustly bound all three sex pheromone components (Z11-16:Ald, Z11-16:OH and Z11-16) [53] thereby enhancing the electrophysiological responses of DBM to sex pheromone components in vitro [54]. In the recently sequenced DBM genome [54], two gene sequences likely to be odorant/pheromone-degrading enzymes such as CYPs [55] and GSTs [56] were identified. However, the tissue specific expression of these genes are not known. To identify additional genes involved in the DBM pheromone biosynthesis and degradation, in this study, we combined transcriptome based digital gene expression (DGE) and genome mapping. By using these methods, we identified a total of 299 genes belonging to 14 gene families potentially involved in the sex pheromone biosynthesis and degradation pathways. The tissue specific expression pattern of these genes was also confirmed qPCR.
Results and discussion
Overview of the transcriptomes
Six transcriptomes from male antennae (m_Ant), female antennae (f_Ant), legs (L), heads (H), abdomens (AB) and female pheromone glands (PG) were sequenced using the Illumina HiSeq 4000 platform (Illumina, Tianjin, China) and assembled with Trinity (version r20140413p1). To obtain an accurate expression pattern, we removed as much of the ovipositor as possible from the females due to its adherence to the pheromone glands (Fig.
1
). Illumina sequencing yielded 5.96–6.84 giga bases (Gb) for each of the six transcriptomes. We first mapped the transcriptome reads to the DBM reference genome (Genome assembly version 2,
http://iae.fafu.edu.cn/DBM/
) (Table
1
) and obtained the following mapping rates that were favourable for annotation: 42.29% (legs), 39.6% (male antennae), 38.65% (female antennae), 42.27% (heads), 43.7% (pheromone glands) and 41.65% (abdomens). Then, we supplemented the original genome annotation file (18,105 genes Genome assembly version 2,
http://iae.fafu.edu.cn/DBM/
) and found 3,839 novel genes (Additional file
1
: Table S1). Further to obtain more unigenes, we also performed a
de novo
assembly of the six transcriptomes that yielded unigenes with a median length of 334 nt with the longest unigene being 28,680 nt in length. Finally, these reads were assembled into 125,385 transcripts and 89,332 unigenes, with N50 lengths of 1,831 and 1,499 nt, respectively (Table
2
).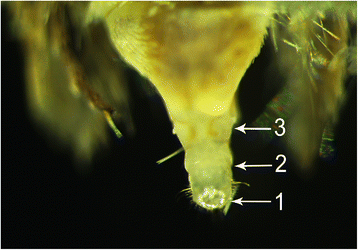 Table 1
Summary of P. xylostella transcriptome mapping to the reference genome
| Sample_name | L | M_Ant | F_Ant | H | PG | AB |
| --- | --- | --- | --- | --- | --- | --- |
| Total reads | 53439024 | 54660234 | 50948026 | 51117268 | 47655468 | 54606672 |
| Total mapped | 22601392 (42.29%) | 21647440 (39.6%) | 19691333 (38.65%) | 21606597 (42.27%) | 20826116 (43.7%) | 22742109 (41.65%) |
| Multiple mapped | 2634934 (4.93%) | 2802997 (5.13%) | 2425347 (4.76%) | 2059342 (4.03%) | 2283645 (4.79%) | 2736184 (5.01%) |
| Uniquely mapped | 19966458 (37.36%) | 18844443 (34.48%) | 17265986 (33.89%) | 19547255 (38.24%) | 18542471 (38.91%) | 20005925 (36.64%) |
| Read-1 | 10216135 (19.12%) | 9618895 (17.6%) | 8799050 (17.27%) | 9995946 (19.55%) | 9468501 (19.87%) | 10206183 (18.69%) |
| Read-2 | 9750323 (18.25%) | 9225548 (16.88%) | 8466936 (16.62%) | 9551309 (18.69%) | 9073970 (19.04%) | 9799742 (17.95%) |
| Reads map to ' + ' | 9980188 (18.68%) | 9391804 (17.18%) | 8600732 (16.88%) | 9758204 (19.09%) | 9242300 (19.39%) | 9976030 (18.27%) |
| Reads map to '-' | 9986270 (18.69%) | 9452639 (17.29%) | 8665254 (17.01%) | 9789051 (19.15%) | 9300171 (19.52%) | 10029895 (18.37%) |
| Non-splice reads | 13506179 (25.27%) | 12550858 (22.96%) | 11270056 (22.12%) | 10945264 (21.41%) | 12244204 (25.69%) | 13297124 (24.35%) |
| Splice reads | 6460279 (12.09%) | 6293585 (11.51%) | 5995930 (11.77%) | 8601991 (16.83%) | 6298267 (13.22%) | 6708801 (12.29%) |
Table 2
Summary of P. xylostella de novo transcriptome assembly
Tissues

F_Ant

M_Ant

L

H

AB

PG

Total size (Gb)

6.36

6.84

6.68

6.38

5.96

6.82

GC content

47.26

45.98

47.46

54.59

47.77

45.01

 Number of transcripts

125,385

 Total unigene count

89,332

 Genes with homologues in NR

26,657

 Total transcript nucleotides

113,082,390

 Total unigene nucleotides

65,915,278

 N50 transcript length

1831 nt

 N50 unigene length

1499 nt

 Longest unigene length

28,680 nt

 Median unigene length

334 nt
BLASTx searches of all 89,332 unigenes showed that 29.84% were homologous to proteins in several insect genome databases (Bombyx mori, Danaus plexippus, Acyrthosiphon pisum, Anopheles gambiae, Apis mellifera, Drosophila melanogaster, Tribolium castaneum, Lucilia cuprina, Rhodnius prolixus and Solenopsis invicta, http://ensemblgenomes.org/info/genomes) with a cut-off E-value of 10−5. The highest homology (31.2%) was with B. mori sequences, followed by sequences from D. plexippus (27.8%), A. gambiae (12.6%), D. melanogaster (9.7%), and T. castaneum (5.3%) (Additional file 2: Figure S1a).
Then, we used Blast2GO to annotate unigenes into functional groups based on Gene ontology (GO). The GO annotations were used to classify the transcripts into functional groups according to specific GO categories. In the molecular function category, the genes expressed were mostly enriched for catalytic activity (e.g., hydrolase and oxidoreductase) and binding (e.g., nucleotide, ion, and odorant binding). In the biological process category, the most common were the cellular and metabolic processes. In the cellular component category, the most represented were the following two terms: cell (GO:0005623) and cell part (GO:0044464) (Additional file 2: Figure S1b).
The putative pathways of pheromone biosynthesis and degradation are shown in Fig.
2
. We identified a number of genes related to the pathways by using the BLASTx search. Below, we describe the specific tissue expression patterns of these genes using qPCR.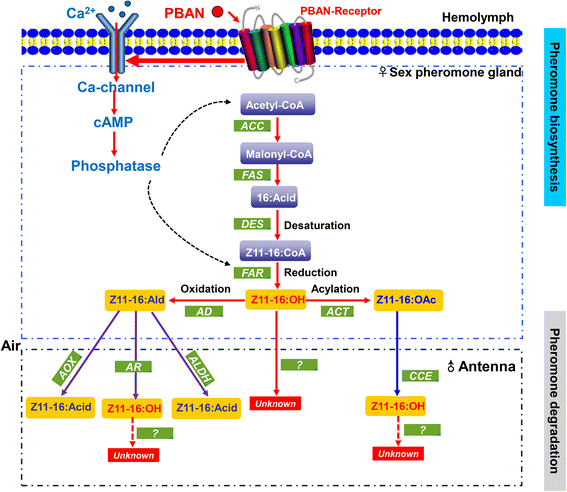 Genes involved in the sex pheromone biosynthesis pathway
Sex pheromone and other odorant-degrading enzyme genes
Conclusions
Based on massive Illumina sequencing, in this study we sequenced the transcriptomes from six tissues of the diamondback moth. Genome mapping and de novo assembly of our DBM transcriptome data provides a reference gene set for sex pheromone biosynthesis pathway and degradation genes in this notorious agricultural pest. Further analysis of their tissue specific expression pattern via digital gene expression and qPCR validation revealed the identification of the following genes in the pheromone biosynthesis and degradation pathways. A) In the sex pheromone biosynthesis gene category, we identified two PBAN receptor isoforms with PG biased expression, 7 ACCs, 8 FASs, 4 FATPs, 16 DESs, 7 FARs, 21 ACTs and 22 ADs. Two PG abundant PxDESs, PxDES12 and 16, could be involved in Δ11 desaturation. Three possible candidate pgFARs, PxFAR5, 6 and 7, were also identified to have PG dominant expression and could participate in the reduction of Z11-16:acid to Z11-16:OH. B) In the odorant/sex pheromone-degrading gene category, we identified three AOXs, five ALDHs, 15 ARs, 49 CCEs, 27 UGTs, 85 P450s and 26 GSTs. Among these genes, two AOXs, one ALDH, five CCE, five UGTs, eight P450s and three GSTs displayed antennae dominant expression, and were proposed to be involved in sex pheromone components and plant volatiles degradation. Together, our data provides a strong reference for the genes involved in sex pheromone biosynthesis and degradation pathways, and will be a useful gene set for future gene function studies. This data set may also provide potential gene targets to design pest control strategies based on disrupting pheromone-based behaviors of insect pests.
Methods
Insect samples
The 5th instar larvae of DBMs were purchased from an insect rearing facility in Henan province, China. The rearing conditions were 27 °C, 14 L : 10D photoperiod and 65% ± 5% relative humidity (RH). We collected approximately 300 antennae, 300 heads, 300 legs, and 100 abdomens from 3-day old adults of both sexes (male/female = 1:1), and 100 female sex pheromone glands for transcriptome sequencing. Three biological replicates of these samples were also collected for qPCR. Ovipositors that were adhered to the abdomens were removed as much as possible to avoid tissue contamination. The tissue samples were stored in liquid nitrogen at −80 °C until further use.
cDNA library construction and Illumina sequencing
Total RNA was extracted using TRIzol reagent (Invitrogen Carlsbad, CA, USA) according to the manufacturer's protocol. RNA degradation and contamination was monitored on 1% agarose gels. RNA purity was checked using the NanoPhotometer spectrophotometer (IMPLEN, CA, USA). RNA concentration was measured using Qubit RNA Assay Kit in Qubit 2.0 Fluorometer (Life Technologies, CA, USA). RNA integrity was assessed using the RNA Nano 6000 Assay Kit of the Agilent Bioanalyzer 2100 system (Agilent Technologies, CA, USA). The cDNA library construction and Illumina sequencing of the samples were performed by Novogene Bioinformatics Technology Co. Ltd, Beijing, China. A total amount of 3 μg RNA was used as input material for the RNA sample preparations. Sequencing libraries were generated using NEBNext Ultra RNA Library Prep Kit for Illumina (NEB, USA) following manufacturer's recommendations and index codes were added to assign sequences to each sample. Briefly, mRNA was purified from total RNA using poly-T oligo-attached magnetic beads. Fragmentation was carried out using divalent cations under elevated temperature in the NEBNext First Strand Synthesis Reaction Buffer (5×). First strand cDNA was synthesized using random hexamer primer and M-MuLV Reverse Transcriptase (RNase H-). Second strand cDNA synthesis was subsequently performed using DNA polymerase I and RNase H. Remaining overhangs were converted into blunt ends via exonuclease/polymerase activities. After adenylation of 3′ ends of DNA fragments, NEBNext Adaptor with hairpin loop structure were ligated to prepare for hybridization. In order to select cDNA fragments that were 150–200 bp in length, the library fragments were purified with the AMPure XP system (Beckman Coulter, Beverly, USA). Thereafter, 3 μL USER Enzyme (NEB, USA) was added to size-selected, adaptor-ligated cDNA and incubated at 37 °C for 15 min followed by 5 min at 95 °C. Then, PCR was performed with Phusion high-fidelity DNA polymerase, universal PCR primers, and index (X) primer. Finally, the PCR products were purified (AMPure XP system) and the library quality was assessed on an Agilent Bioanalyzer 2100 system.
De novo assembly of short reads and gene annotation
Raw data (raw reads) in fastq format were first processed through in-house perl scripts. In this step, clean data (clean reads) were obtained by removing the adapter sequences, reads containing poly-N, and low quality reads from the raw data. Simultaneously, Q20, Q30, GC-content, and sequence duplication level of the clean data were calculated. All downstream analyses were based on clean data with high quality. De novo transcriptome assembly was performed using the short reads assembly program Trinity (version: r20140413p1) with min_kmer_cov set to 2 by default and all other parameters were set to default values. The overlap settings used for the assembly were 30 bp and 80% similarity, and all the other parameters were set to their default values.
Unigenes >150 bp were aligned by BLASTx with protein databases, including Nr, Swiss-Prot, KEGG, and COG (e-value < 10–5), to identify proteins with high sequence identity and to assign putative functional annotations. Next, we used the Blast2GO program (version: b2g4pipe_v2.5, e-value = 1.0E-6) (https://www.blast2go.com/) to obtain GO annotations of the unigenes and we obtained the GO functional classifications using the WEGO software (http://wego.genomics.org.cn/cgi-bin/wego/index.pl).
Reads mapping to the reference genome
Reference genome and gene model annotation files were downloaded directly from the DBM genome website: http://iae.fafu.edu.cn/DBM/. Index of the reference genome was built using Bowtie v2.2.3 and paired-end clean reads were aligned to the reference genome using TopHat v2.0.12. We selected TopHat as the mapping tool to generate a database of splice junctions based on the gene model annotation file to yield a better mapping result compared to other non-splice mapping tools.
Quantification of gene expression level
HTSeq v0.6.1 was used to count the read numbers mapped to each gene. Then, FPKM of each gene was calculated based on the length of the gene and reads count mapped to this gene. FPKM, which is the expected number of Fragments Per Kilobase of transcript sequence per Millions base pairs sequenced, considers the effect of sequencing depth and gene length for the reads count at the same time, and is currently the most commonly used method for estimating gene expression levels [107].
Differential expression analysis
Prior to differential gene expression analysis, for each sequenced library, the read counts were adjusted by the edgeR program package through one scaling normalized factor. Differential expression analysis of two samples was performed using the DEGSeq R package (1.20.0). The P values were adjusted using the Benjamini & Hochberg method. Corrected P-value of 0.005 and log2 (Fold change) of 1 (for de novo assembly: P value was adjusted using q value. qValue < 0.005 & |log2(foldchange)| > 1 was set as the threshold for significant differential expression).
Novel transcripts prediction
The Cufflinks v2.1.1 Reference Annotation Based Transcript (RABT) assembly method was used to construct and identify both known and novel transcripts from TopHat alignment results.
Phylogenetic tree
Amino acid sequences of selected AOX, CCE, FAR and DES were aligned with MAFFT (E-INS-I parameter). Thereafter, PhyML 3.1 with WAG substitution model was used to construct a maximum likelihood phylogenetic tree using Bayesian analysis. The deduced protein sequences used in the phylogenetic tree are listed in Additional file 5. Finally, the trees were viewed and group edited with FigTree v1.4.2 (http://tree.bio.ed.ac.uk/software/figtree/).
RNA extraction and cDNA synthesis
Total RNA was extracted using EasyPure RNA Kit (TransGen Biotech, Beijing, China) following the manufacturer's instructions, in which DNase digestion was included to avoid the genomic DNA contamination. RNA quality was checked with a spectrophotometer (NanoDrop 2000, Thermo Fisher Scientific, USA). The single-stranded cDNA templates were synthesized from 1 μg total RNA from various tissue samples using the PrimeScriptRT Master Mix (TaKaRa, Dalian, China) at 42 °C for 1 h. The reaction was terminated by heating at 70 °C for 15 min.
Quantitative real time PCR and data analysis
qPCRs were performed for each sample using an iCycle iQ (Bio-Rad, CA, USA) according to the minimum information for publication of quantitative Real-Time PCR Experiments [108]. Gene-specific primers were designed by Beacon Designer 7.6 (PREMIER Biosoft International, CA, USA) and are listed in Additional file 6: Table S3. The mRNA levels were measured in three technical replicates from each of the three biological replicates by qPCR using TransStart Tip Green qPCR SuperMix, as described by the manufacturer (TransGen Biotech, Beijing, China). The mRNA levels were quantified using ribosomal protein L8 (RPL8) as the reference gene [56]. Means and standard errors were calculated based on at least two biological replicates. Relative expression level of the mRNAs for genes was calculated according to the 2−ΔΔCq method. Relative fold-changes in the different tissues were calculated and normalized based on the transcript levels in the bodies.
Abbreviations
ACC:

Acetyl CoA Carboxylase
ACT:

Acetyltransferase
ACT:

Acetyltransferase
AD:

Alcohol dehydrogenase
AKR:

Aldo-keto reductase
ALDH:

Aldehyde dehydrogenase
AOX:

Aldehyde oxidase
AR:

Aldehyde reductase
CCE:

Carboxyl/cholinesterase
cDNA:

Complementary DNA
CYP:

Cytochrome P450
DBM:

Diamondback moth
DES:

Desaturase
FAR:

Fatty acyl-CoA reductases
FAS:

Fatty acid synthase
FATP:

Fatty Acid Transport Protein
FPKM:

Fragments per kilobase per million mapped fragments
GO:

Gene ontology
GST:

Glutathione S-transferase
MDR:

Medium-chain dehydrogenases/reductase
PBANr:

Pheromone biosynthesis activating neuropeptide receptor
PBP:

Pheromone binding protein
PR:

Pheromone receptor
qPCR:

Quantitative real time qPCR
SDR:

Short chain dehydrogenases/reductase
UGT:

UDP-glycosyltransferases
Declarations
Acknowledgements
We thank Zhao-Qun Li (Tea Research Institute, Chinese Academy of Agricultural Science, China) for taking pictures of the DBM female sex pheromone gland, Michael Court (UGT nomenclature committee) for the nomenclature of P. xylostella UGTs, Martine Maïbèche-Coisne (Université Pierre et Marie Curie, France) for help collecting the B. mori and H. armigera UGT sequences and Ya-Nan Zhang (Huaibei Normal University, China) for critique of an earlier version of the manuscript.
Funding
This research was supported by the National Natural Science Foundation of China (Grant Nos. 31401750 and 31360528 for PH and JW), Natural Science Foundation of Guizhou Province of China (Grant No. QKH-J [2014]2062 for PH), Scientific Research Foundation of Guizhou University, China (RJH Project Grant No. 2013–28 for PH), Major Program of Innovation Research Team of Educational Commission of Guizhou Province of China (Grant No. QJH-KY[2016]113 for MH), Science and Technology Platform for Talent of Guizhou Province (Grant No. QKH [2016]5608 for MH and XF-T), Science and Technology Project of Guizhou Province (QKH Major Project, Grant No. QKH (2012) 6012 for MH) and the National Natural Science Foundation of China (Grant No. 21262009 for WM-X). The funders had no role in study design, data collection and analysis, decision to publish, or preparation of the manuscript.
Availability of data and materials
The datasets of DBM transcriptomes during the current study are available in the NCBI SRA database (http://trace.ncbi.nlm.nih.gov/Traces/sra/. Accession numbers: SRR3955374; SRR3972213; SRR3972295; SRR3972298; SRR3972299 and SRR3972322). This Transcriptome Shotgun Assembly of genes have been deposited at DDBJ/EMBL/GenBank under the accession number GEYN00000000, these assembled genes are also listed in Additional file 7, the data evaluation of P. xylostella de novo tissue transcriptomes are in Additional file 8 and the detailed annotation information of de novo assembly are listed in Additional file 9: Table S4.
Authors' contributions
PH conceived and designed the experiments; XL-W and LH-Z prepared the DBM samples, PH and JW collected and evaluated the transcriptome data, PH, YF-Z and LH-Z analysed the odorant degradation genes, WM-X and MH analysed the sex pheromone biosynthesis genes, PH, DY-H and YF-Z performed the qPCR assay of the odorant degradation genes and analysed the data, MH, XF-T and WM-X performed the qPCR assay of the sex pheromone biosynthesis genes and analysed the data. PH, YF-Z and JW constructed the phylogenetic trees, PH, XL-W and MH prepared the initial draft of the manuscript and YF-Z, DY-H, JW and WM-X participating in modifying the final version. All authors read and approved the final manuscript.
Competing interests
The authors declare that they have no competing interests.
Consent for publication
Not applicable.
Ethics approval and consent to participate
Not applicable.
Open AccessThis article is distributed under the terms of the Creative Commons Attribution 4.0 International License (http://creativecommons.org/licenses/by/4.0/), which permits unrestricted use, distribution, and reproduction in any medium, provided you give appropriate credit to the original author(s) and the source, provide a link to the Creative Commons license, and indicate if changes were made. The Creative Commons Public Domain Dedication waiver (http://creativecommons.org/publicdomain/zero/1.0/) applies to the data made available in this article, unless otherwise stated.
Authors' Affiliations
(1)
State Key Laboratory Breeding Base of Green Pesticide and Agricultural Bioengineering, Key Laboratory of Green Pesticide and Agricultural Bioengineering, Ministry of Education, Guizhou University, Guiyang, People's Republic of China
(2)
Biogas Institute of Ministry of Agriculture, Chengdu, People's Republic of China
(3)
The High Educational Key Laboratory of Guizhou Province for Natural Medicinal Pharmacology and Druggability, Guizhou Medical University, Huaxi university town, Guizhou, People's Republic of China
(4)
College of Plant Protection, Nanjing Agricultural University, Nanjing, People's Republic of China
(5)
Agriculture Economic and Rural Development, RENMIN University of China, Beijing, People's Republic of China
(6)
Guizhou Grass Jelly Biotechnology Company Limited, Chishui, People's Republic of China