Research article
Open Access
Widespread of horizontal gene transfer in the human genome
Received: 9 August 2016
Accepted: 21 March 2017
Published: 4 April 2017
Abstract
Background
A fundamental concept in biology is that heritable material is passed from parents to offspring, a process called vertical gene transfer. An alternative mechanism of gene acquisition is through horizontal gene transfer (HGT), which involves movement of genetic materials between different species. Horizontal gene transfer has been found prevalent in prokaryotes but very rare in eukaryote. In this paper, we investigate horizontal gene transfer in the human genome.
Results
From the pair-wise alignments between human genome and 53 vertebrate genomes, 1,467 human genome regions (2.6 M bases) from all chromosomes were found to be more conserved with non-mammals than with most mammals. These human genome regions involve 642 known genes, which are enriched with ion binding. Compared to known horizontal gene transfer regions in the human genome, there were few overlapping regions, which indicated horizontal gene transfer is more common than we expected in the human genome.
Conclusions
Horizontal gene transfer impacts hundreds of human genes and this study provided insight into potential mechanisms of HGT in the human genome.
Keywords
Horizontal Gene TransferHorizontal Gene Transfer EventGreat ConservationLength CoverageCandidate Horizontal Gene Transfer
Background
The acquisition of genes from an organism other than a direct ancestor, which is called horizontal gene transfer (HGT), is well known in bacteria and unicellular eukaryotes [1–6]. Although the transfer of genes is thought to be crucial in prokaryotic evolution, its existence in higher organisms, including animals, is less well established [7–9]. However, in recent years, more and more instances of horizontal gene transfer have been reported in multicellular eukaryotes, even in humans [7–12]. This phenomenon has been previously reported in bovine genome, which has a high abundance of the BovB sequence of the python and copperhead reptiles. However, the BovB sequence was more similar between cows and reptiles than cows and horses. A proposed mechanism for this phenomenon was horizontal gene transfer between organisms with ticks as the media [13]. Another project discovered the "Space Invaders," or SPIN elements, that were highly conserved between seven distantly related species from diverse lineages. A proposed mechanism to explain the similarity of sequences between two species with a very distant common ancestor was horizontal gene transfer [9].
A recent study investigated the possibility of HGT in 26 animal species (10 primates, 12 flies and four nematodes) and a simplified analysis in a further 14 vertebrates. Genome-wide comparative and phylogenetic analyses show that HGT in animals typically gives rise to tens or hundreds of active 'foreign' genes, largely concerned with metabolism. This analyses suggest that while fruit flies and nematodes have continued to acquire foreign genes throughout their evolution, humans and other primates have gained relatively few since their common ancestor [10].
In this study, we analyzed the pair-wise alignment data between the human reference genome hg19 [14] and 53 other vertebrates (41 mammalian vertebrates and 12 non-mammalian vertebrates). We identified potential HGT regions in the human genome (see Methods). Genome annotations and genome-wide signals from recent genomics or epigenetics studies [15, 16] of these sequences have been gathered to infer the functions of these predicted HGT regions, and evolutionary trends of these sequences have been analyzed. This study thus sheds light upon the prevalence of HGT and provide an insight of its underlining mechanisms.
Methods
Pair-wise alignments between the human genome and 53 vertebrate genomes
We started with the pair-wise blastz alignments between the human reference genome hg19 [14] and 53 other vertebrates (41 mammalian vertebrates and 12 non-mammalian vertebrates). The alignment data were then linked into chains and formed into an alignment net [17]. More details about the pair-wise alignment data can be found in the UCSC Genome Browser website [18].
HGT identification pipeline
From the pair-wise alignment data, we identified the human genome regions that were conserved between 12 non-mammalian vertebrates and the human genome. These regions were then compared to the mammalian genomes to create HGT regions. A human genome region is called a non-mammal conserved region if this region is aligned to at least two non-mammal genomes with an identity no less than 40% and the aligned human genome region length is longer than 1000 bps. For these non-mammal conserved regions, if a region can be aligned to at most 8 (<20%) of the 41 mammals with an alignment identity ≥40% and length of the aligned region longer than 40% of the human region, this region is defined as a predicted HGT region (Fig.
1
).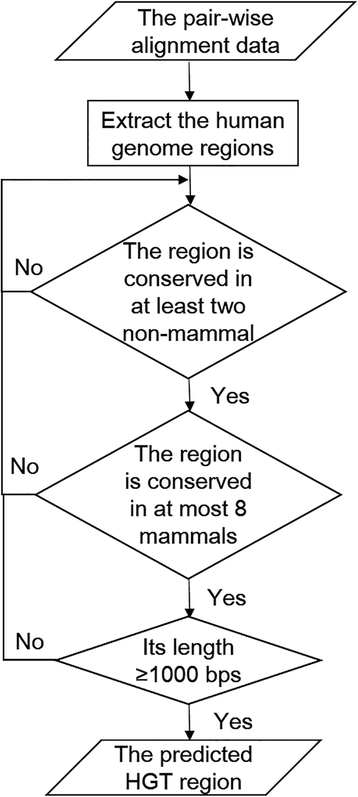 It's notable that this set of predicted HGT regions are not comprehensive since some regions may be separated by small gaps between alignment sequences that cause two short, yet close, conserved sequences to be filtered out. In order to check the reliability of HGT predictions, we explored various identity thresholds in the pipeline (40%, 50 and 60%) between vertebrates and the human genome and the length coverage (40%, 20% and 0) between mammals and the human genome to calculate the number of predicted or candidate HGT regions.
Conservation analysis of predicted HGT regions
To verify the conservation levels of the sequences we extracted, we randomly sampled 50 sequences from our results and verified the sequences based on the existence of homologous sequence in several groups of vertebrates using the University of California Santa Cruz (UCSC) Comparative Genomics track (Primate Chain/Net, Placental Chain/Net, Vertebrate Chain/Net) [17, 19, 20]. We grouped the 53 vertebrates into two bins: the first bin includes all non-human mammals; the second bin includes all non-mammal vertebrates. For each of our samples, we determined if less than eight mammals have homology sequences with ≥40% identity with hg19 and ≥ 40% of the human genome region length covered.
Genes Overlapping predicted HGT regions
We checked whether our sets of predicted HGT sequences overlapped with known coding genes in ENSEMBL database [21]. We downloaded the Homo sapiens gene data from ENSEMBL database and converted them into bed format file. For each sequences dataset, we intersected the Ensembl Genes with these sequences to discover genes that had any overlap with the predicted HGT regions.
Coding status analysis
We extracted the transcript IDs from the overlapped Ensembl genes and searched these IDs through the Ensembl Human Gene sets table, in which these genes were classified as protein coding, pseudogenes, etc. [21].
Gene enrichment analysis
All involved genes were generated from Ensemble Genes [21] and enrichment of these genes was calculated using the Database for Annotation, Visualization and Integrated Discovery (DAVID [22, 23], version 6.7) with all human genes as the background level. All items were adjusted with the modified Fisher Exact p-value (EASE score) < 0.05. The gene enrichment results were shown in three aspects: 1) molecular functions, 2) biological processes, and 3) cellular components.
Chromatin state analysis
Using the Broad chromHMM [15] Chromatin State track in nine cell lines (Gm12878, H1hesc, Hepg2, Hmec, Hsmm, Huvec, K562, Nhek, Nhlf), we checked the chromatin states of HGT regions. We then compared the percentages of different chromatin states in these regions against the corresponding values in the whole human genome as the background.
Repeat analysis
We used the RepeatMasker track from the UCSC Genome Browser to generate distributions of the different types of repeats, including SINEs, LINEs, LTRs, DNA repeats and simple repeats [18]. We divided the HGT regions and flanking regions into five regions: w1 (300 bps upstream regions of the HGT regions), w2 (the beginning 300 bps of the HGT regions), w3 (the middle regions of the HGT regions), w4 (the ending 300 bps of the HGT regions), and w5 (300 bps downstream of the HGT regions). We calculated the average proportions of different types of repeats in the five regions of our sequences and drew the average proportions curve of different types of repeats within the HGT regions and 300 bps upstream and downstream of the HGT regions.
GC content analysis
We calculated the GC content and drew GC content curve for the HGT regions with a similar approach as the above section we did for repeats.
Histone modification analysis
In order to predict regulatory functions of our sequence, regulatory related histone modification and histone variants on the sequences in H1-hESC cell lines was investigated. One transcription related histone marks: H3K4Me1; and four regulation-related histone marks and variations: H2A.Z, H3K4Me3, H3K9Ac, and H3K27Ac [24] were applied. In addition, one histone methylation related to polycomb-repression: H3K27Me3 [16, 24] was also included. All these datasets were downloaded from the corresponding tracks in the UCSC genome browser.
Highlighting conservation in phylogenetic tree
We took the phylogenetic tree directly from the Comparative Genomics track "Vertebrate Multiz Alignment & Conservation (100 Species)" [25, 26]. For each HGT region, we extracted the homologous sequences from related vertebrate genomes. Then we aligned these homology sequences by ClustalW and constructed the phylogenetic tree by Maximum Likelihood Method using MEGA6 [27]. We compared this HGT homologous sequence based phylogenetic tree with the species phylogenetic tree and analyzed the differences between two phylogenetic trees. In order to show the predicted HGT events between these species, we used Sprit [28] to calculate the minimum subtree prune and regraft (SPR) distance between the species phylogenetic tree and the HGT homology sequence based phylogenetic tree.
Searching the homologous sequences in media species
In order to check the confidence levels of the HGT regions found in the human genome, we checked the possible transfer paths from other species to human. 22 HGT fragments (similarity between vertebrates and hg19 was larger than 60% with lengths at least 1000 bps and no alignment between mammalian genomes and hg19 was allowed) were aligned with blastn to the Nucleotide collection database of National Center for Biotechnology Information (NCBI), which consists of all nucleotide sequences available. We searched the Nucleotide collection database to find the homologous sequences of our HGT fragments in some species, which might be the media species for the HGT progress, such as parasites, bacteria or fungi.
Results
In our pipeline (see Methods), we compared pair-wise alignment block regions between 53 vertebrates and the human genome and extracted those human genome sequences that show greater conservation with non-mammalian vertebrates than with most mammals. With the similarity threshold (40%) and the length coverage (40%) between mammalian genomes and hg19, our pipeline has found 1,467 HGT regions longer than 1,000 bps.
Conclusions
Hundreds of human genes were found to be more conserved with non-mammals than with most mammals. Few of these genes overlapped with known horizontal transferred genes. This indicated that horizontal gene transfer is more common than we expected in the human genome. This study provided insight into potential mechanisms of HGT in the human genome.
Abbreviations
HGT:

Horizontal Gene Transfer
SPIN:

Space invaders
SPR:

Distance: subtree prune and regraft distance
Declarations
Acknowledgements
Not applicable.
Funding
This work was supported by grants from the National Natural Science Foundation of China [61272250, 61472246 and J1210047]; the National Basic Research Program of China [2013CB956103]; and the National High-Tech R&D Program (863) [2014AA02150 and 2012AA101601]. The funders had no role in study design, data collection and analysis, decision to publish, or preparation of the manuscript.
Authors' contributions
CW conceived and designed the project; WH, LT and YL implemented and tested the system; CW, WH, LT, YL, NH and CS analyzed the data; CW, WH, LT and YL wrote the manuscript. All authors read and approved the final manuscript.
Competing interests
The authors declare that they have no competing interests.
Consent for publication
Not applicable.
Ethics approval and consent to participate
Not applicable.
Publisher's Note
Springer Nature remains neutral with regard to jurisdictional claims in published maps and institutional affiliations.
Open AccessThis article is distributed under the terms of the Creative Commons Attribution 4.0 International License (http://creativecommons.org/licenses/by/4.0/), which permits unrestricted use, distribution, and reproduction in any medium, provided you give appropriate credit to the original author(s) and the source, provide a link to the Creative Commons license, and indicate if changes were made. The Creative Commons Public Domain Dedication waiver (http://creativecommons.org/publicdomain/zero/1.0/) applies to the data made available in this article, unless otherwise stated.
Authors' Affiliations
(1)
School of Life Sciences and Biotechnology, Shanghai Jiao Tong University, Shanghai, China
(2)
Harvard College, Harvard University, Cambridge, USA
(3)
Shanghai Center for Bioinformation Technology, Shanghai, China