Research article
Open Access
Atp8 is in the ground pattern of flatworm mitochondrial genomes
Received: 12 September 2016
Accepted: 18 May 2017
Published: 26 May 2017
Abstract
Background
To date, mitochondrial genomes of more than one hundred flatworms (Platyhelminthes) have been sequenced. They show a high degree of similarity and a strong taxonomic bias towards parasitic lineages. The mitochondrial gene atp8 has not been confidently annotated in any flatworm sequenced to date. However, sampling of free-living flatworm lineages is incomplete. We addressed this by sequencing the mitochondrial genomes of the two small-bodied (about 1 mm in length) free-living flatworms Stenostomum sthenum and Macrostomum lignano as the first representatives of the earliest branching flatworm taxa Catenulida and Macrostomorpha respectively.
Results
We have used high-throughput DNA and RNA sequence data and PCR to establish the mitochondrial genome sequences and gene orders of S. sthenum and M. lignano. The mitochondrial genome of S. sthenum is 16,944 bp long and includes a 1,884 bp long inverted repeat region containing the complete sequences of nad3, rrnS, and nine tRNA genes. The model flatworm M. lignano has the smallest known mitochondrial genome among free-living flatworms, with a length of 14,193 bp. The mitochondrial genome of M. lignano lacks duplicated genes, however, tandem repeats were detected in a non-coding region.
Mitochondrial gene order is poorly conserved in flatworms, only a single pair of adjacent ribosomal or protein-coding genes – nad4l-nad4 – was found in S. sthenum and M. lignano that also occurs in other published flatworm mitochondrial genomes. Unexpectedly, we unambiguously identified the full metazoan mitochondrial protein-coding gene complement including atp8 in S. sthenum and M. lignano. A subsequent search detected atp8 in all mitochondrial genomes of polyclad flatworms published to date, although the gene wasn't previously annotated in these species.
Conclusions
Manual, but not automated genome annotation revealed the presence of atp8 in basally branching free-living flatworms, signifying both the importance of manual data curation and of diverse taxon sampling. We conclude that the loss of atp8 within flatworms is restricted to the parasitic taxon Neodermata.
Keywords
atp8 Mitochondrial genomesFlatwormsEvolutionGene orderDuplicationsTandem repeats
Background
Flatworms represent a group with more than 100 complete mitochondrial genomes sequenced at present and thus it could be assumed that the group is well sampled. However, previous sampling strategies have focussed on the parasitic Neodermata and have not been comprehensive in free-living (turbellarian) flatworms. In particular, 97 mitochondrial genomes are available from the Neodermata, and only 12 from free-living flatworms: four species of Polycladida [
1
,
2
] and 8 species of Tricladida [
3
–
5
], covering 2 of 11 recognised turbellarian orders (Fig.
1a
). Recent phylogenomic studies have shown that the Catenulida and Macrostomorpha are the earliest branching taxa of Platyhelminthes [
6
,
7
], but only a relatively short mitochondrial genome fragment (6,881 bp) from
Microstomum lineare
(Macrostomorpha) has been characterised [
8
] from either of these two groups.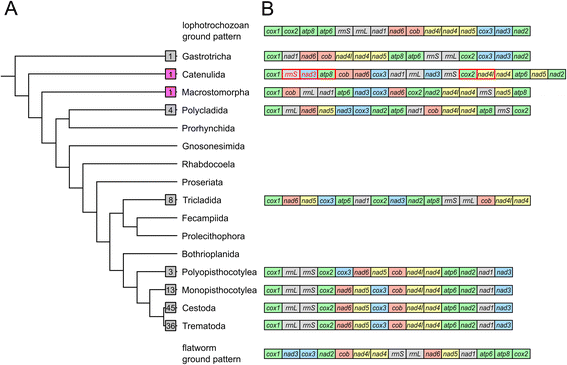 Until recently, the gene order of Platyhelminthes was considered to be highly conserved, with few exceptions [9]. This notion was largely influenced by taxonomically biased sampling, as only a single complete mitochondrial genome of a free-living flatworm, Dugesia japonica [3], was available. When the first mitochondrial genomes of polyclads became available, a third gene order pattern within flatworms was identified [1, 2].
All previously published free-living flatworm mitogenomes represent large species, which imposes a further sampling bias. Here, we provide the first mitochondrial genomes from microscopic turbellarians representing the orders Catenulida and Macrostomorpha to shed light on the ground plan of mitochondrial genomes in Platyhelminthes. Stenostomum sthenum is a freshwater species from a genus with a worldwide distribution, and which predominantly reproduces asexually by fission [10]. The marine species Macrostomum lignano is considered a model organism whose genome has recently been sequenced [11].
Conclusions
We have sequenced two mitochondrial genomes from the earliest branching flatworm taxa, Catenulida (Stenostomum sthenum) and Macrostomorpha (Macrostomum lignano). S. sthenum shows a highly unusual duplication pattern including a ribosomal, a protein-coding and several tRNA genes, and has several genes transcribed from the minus strand. M. lignano has a markedly different gene order from that known from the partial mitochondrial genome of another macrostomorphan, Microstomum lineare. Even with our newly sequenced species, mitochondrial genome data are still lacking from half of flatworm orders (Fig. 1a). With the currently available information on flatworm mitochondrial genomes, only a preliminary ancestral mitochondrial gene order for flatworms can be inferred. More representatives of early divergent, non-parasitic taxa such as Catenulida and Macrostomorpha, but also from the 7 as yet unsequenced flatworm orders are required to obtain a comprehensive picture of mitochondrial genome evolution in flatworms. Another major conclusion of the present study is that atp8 is present in several and possibly all free-living flatworms, and that atp8 has been lost only in the parasitic Neodermata.
Manual curation of automatically annotated mitochondrial genomes is still very important. Without meticulous analysis of new and published mitochondrial genomes of free-living flatworms, and the combined use of RNA and DNA data, atp8 may not have been found and annotated in flatworm mitochondrial genomes.
A very recent paper on the mitochondrial genome of the closely related catenulid Stenostomum leucops [22] has annotated a divergent atp8 gene, which supports the findings reported here for S. sthenum.
Methods
Animals
Stenostomum sthenum and Macrostomum lignano have been kept as laboratory cultures since 2009 and 1995, respectively. For S. sthenum, a clonal line started from a single animal collected in Innsbruck, Austria, and for M. lignano, non-inbred culture animals [23] have been used for generating the RNAseq reads as described by Egger et al. [6] as well as for total genomic DNA extraction for next-generation sequencing (NGS) and PCR experiments.
DNA extraction and Illumina sequencing
About 100 specimens of clonal S. sthenum and M. lignano, respectively, were pooled for total genomic DNA extraction using the E.Z.N.A. Tissue DNA kit (Omega Bio-Tek) following the Tissue DNA-Spin protocol. Next-generation sequencing was performed on an Illumina HiSeq 2000 instrument delivering 33,362,560 (S. sthenum) and 54,410,350 (M. lignano) 100 bp paired-end reads that were subsequently trimmed and QC filtered using the fastx-toolkit (hannonlab.cshl.edu/fastx_toolkit/), leaving 29,990,734 (S. sthenum) and 52,268,272 (M. lignano) 100 bp paired-end reads for assembly. The custom sequencing service was provided by the Norwegian Sequencing Centre (www.sequencing.uio.no).
Assembly
The mitochondrial genome of each species was reconstructed by directly assembling the NGS reads using the mitochondrial baiting and iterative mapping algorithm MITObim 1.8 [24] with the default settings of the program, and the optional quality trimming option trimreads (see the program's tutorial at https://github.com/chrishah/MITObim for details). The partial cytochrome oxidase subunit 1 sequences of S. leucops (GenBank accession number AJ405976) and M. lignano (GenBank accession number KP308282), respectively, were used as starting seeds for the assemblies.
BLAST search in transcriptomes
The BLAST+ suite [25] with published protein-coding mitochondrial genes as queries was used to screen the transcriptomes [6] of S. sthenum and M. lignano. Furthermore, all genes annotated from the MITObim assemblies were used for BLAST searches of the respective transcriptomes.
DNA extraction for PCR
DNA was extracted from 100-220 animals per species with phenol:chloroform:isoamylalcohol or a QIAamp DNA Micro Kit (Qiagen), eluted in nuclease-free water or buffer AE. PCRs were done with 15-170 ng of extracted DNA in 50 μl tubes, with varying conditions.
Annotation and gene order
For gene annotation, BLAST searches [26], as well as MITOS [20], ARWEN [27] and DOGMA [28] predictions were employed. For the analysis of putative atp8 sequences, we also used SMART [12] with default parameters to identify domains, and the ExPASy tool ProtScale (http://web.expasy.org/protscale/) to determine hydrophobicity profiles of amino acid sequences. Gene order rearrangements were analysed with CREx [13] and TreeREx [15]. Tandem Repeats Finder was used to identify tandem repeats [29].
Mapping RNAseq reads to the mitochondrial genomes
Bowtie2 [30] and samtools [31] were used with default parameters to map RNAseq reads [6] to the assembled mitochondrial genomes of S. sthenum, M. lignano and the published mitochondrial genome of the polyclad Prosthiostomum siphunculus [2]. Mapped reads were visualised with the Integrative Genomics Viewer [32]. Figures were made with mtviz (pacosy.informatik.uni-leipzig.de/mtviz), Inkscape (www.inkscape.org) and GIMP (www.gimp.org).
Amino acid alignments
For multiple gene alignments of atp8, we have used MAFFT [33] with the parameters "-l -o ' --inputorder --auto ' -a 50 -e 1.0e-10 -s input" on amino acid sequences of our own sequences, downloaded sequences from NCBI of lophotrochozoan atp8 proteins and putative atp8 sequences in triclads [5]. Accession number of used sequences are: AKD00049 (Lepidodermella squamata), AAF02682 (Platynereis dumerilii), ACJ11904 (Sipunculus nudus), BAM11165 (Sepiella japonica), ACE62808 (Ascobulla fragilis), AES86298 (Phoronopsis harmeri), BAG12588 (Loxosomella aloxiata), AJP00039 (Bugula neritina), AAK95499 (Terebratalia transversa) and AKT74029 (Micrura bella). For visualisation of alignments, we have used GeneDoc (http://genedoc.software.informer.com/2.7/).
Abbreviations
atp6:

ATP synthase F0 subunit 6
atp8:

ATP synthase F0 subunit 8
cob:

Cytochrome b
cox1:

Cytochrome c oxidase subunit I
cox2:

Cytochrome c oxidase subunit II
cox3:

Cytochrome c oxidase subunit III
nad1:

NADH dehydrogenase subunit 1
nad2:

NADH dehydrogenase subunit 2
nad3:

NADH dehydrogenase subunit 3
nad4:

NADH dehydrogenase subunit 4
nad4l:

NADH dehydrogenase subunit 4L
nad5:

NADH dehydrogenase subunit 5
nad6:

NADH dehydrogenase subunit 6
PCR:

Polymerase chain reaction
RNAseq:

RNA sequencing.
Declarations
Acknowledgements
We are grateful for having access to the Abel high computing facility of the University of Oslo (UiO) through the Norwegian Metacenter for Computational Science (NOTUR; grant k9201) to LB. We thank the Research Focal Point Scientific Computing at the University of Innsbruck for providing infrastructure for assemblies. Max Telford is gratefully acknowledged for providing opportunity to start this work, and we are indebted to Pia Aanstad and Lena Egger for English corrections.
Funding
"The sequencing service for Stenostomum sthenum and Macrostomum lignano gDNA was provided by the Norwegian Sequencing Centre (www.sequencing.uio.no), a national technology platform hosted by the University of Oslo and supported by the 'Functional Genomics' and 'Infrastructure' programs of the Research Council of Norway and the Southeastern Regional Health Authorities". BE was supported by a Leverhulme Trust grant (F/07 134/DA). Publication costs are supported by the University of Innsbruck. The funding bodies had no role in study design, data collection, analysis and interpretation, decision to publish, or writing of the manuscript.
Availability of data and materials
The assembled and annotated mitochondrial genomes of Stenostomum sthenum and Macrostomum lignano are available on NCBI's Genbank under the accession numbers MF078638 and MF078637, respectively.
Authors' contributions
BE and BF designed the study, and LB and BF sequenced and assembled DNA reads. BE cultured experimental animals, performed PCRs, mapped RNA reads to the genome and prepared all figures and tables. All authors have analysed the data, contributed to the manuscript and approved the final version.
Competing interests
The authors declare that they have no competing interests.
Consent for publication
Not applicable.
Ethics approval and consent to participate
Flatworms are not subjected to laws governing their usage, but care has been taken to minimise unnecessary harm to the experimental animals.
Publisher's Note
Springer Nature remains neutral with regard to jurisdictional claims in published maps and institutional affiliations.
Open AccessThis article is distributed under the terms of the Creative Commons Attribution 4.0 International License (http://creativecommons.org/licenses/by/4.0/), which permits unrestricted use, distribution, and reproduction in any medium, provided you give appropriate credit to the original author(s) and the source, provide a link to the Creative Commons license, and indicate if changes were made. The Creative Commons Public Domain Dedication waiver (http://creativecommons.org/publicdomain/zero/1.0/) applies to the data made available in this article, unless otherwise stated.
Authors' Affiliations
(1)
Institute of Zoology, University of Innsbruck, Innsbruck, Austria
(2)
Natural History Museum, University of Oslo, Blindern, Norway
(3)
Department of Tumor Biology, Institute for Cancer Research, The Norwegian Radium Hospital, Oslo University Hospital, Nydalen, Norway