Research article
Open Access
Coping with living in the soil: the genome of the parthenogenetic springtail Folsomia candida
Received: 13 January 2017
Accepted: 9 June 2017
Published: 28 June 2017
Abstract
Background
Folsomia candida is a model in soil biology, belonging to the family of Isotomidae, subclass Collembola. It reproduces parthenogenetically in the presence of Wolbachia, and exhibits remarkable physiological adaptations to stress. To better understand these features and adaptations to life in the soil, we studied its genome in the context of its parthenogenetic lifestyle.
Results
We applied Pacific Bioscience sequencing and assembly to generate a reference genome for F. candida of 221.7 Mbp, comprising only 162 scaffolds. The complete genome of its endosymbiont Wolbachia, was also assembled and turned out to be the largest strain identified so far. Substantial gene family expansions and lineage-specific gene clusters were linked to stress response. A large number of genes (809) were acquired by horizontal gene transfer. A substantial fraction of these genes are involved in lignocellulose degradation. Also, the presence of genes involved in antibiotic biosynthesis was confirmed. Intra-genomic rearrangements of collinear gene clusters were observed, of which 11 were organized as palindromes. The Hox gene cluster of F. candida showed major rearrangements compared to arthropod consensus cluster, resulting in a disorganized cluster.
Conclusions
The expansion of stress response gene families suggests that stress defense was important to facilitate colonization of soils. The large number of HGT genes related to lignocellulose degradation could be beneficial to unlock carbohydrate sources in soil, especially those contained in decaying plant and fungal organic matter. Intra- as well as inter-scaffold duplications of gene clusters may be a consequence of its parthenogenetic lifestyle. This high quality genome will be instrumental for evolutionary biologists investigating deep phylogenetic lineages among arthropods and will provide the basis for a more mechanistic understanding in soil ecology and ecotoxicology.
Keywords
CollembolaIntragenomic rearrangementGene family expansions Hox genesHorizontal gene transferGenome collinearityCarbohydrate metabolismPalindrome
Background
The soil environment harbors communities that are functionally important and abundant, as well as biologically extremely diverse. In addition, the greater part of soil microbes and invertebrates remains unknown and has been qualified as the "unseen majority" [1]. To reveal the functionalities of soil organisms, genome information may be of help. Until now such information is mostly limited to nematodes, representatives of the (microscopic) microfauna and a few macrofaunal species, such as the earthworm Lumbricus rubellus [2]. Previously, we studied the genome sequence of a representative of the mesofauna, the springtail Orchesella cincta, which is an obligate sexual reproducing species belonging to the family of Entomobryidae [3]. In this paper, we focus on the parthenogenetic species Folsomia candida, belonging to the family of Isotomidae.
F. candida
(Fig.
1
) is a soil-dwelling invertebrate that belongs to the hexapod subclass Collembola (springtails), which shares the most recent common ancestor with insects [
4
]. Collembola are one of the most abundant arthropods. They inhabit soil and leaf litter layers and they have radiated into many niches [
5
]. For many years,
F. candida
has been used as a model organism for standardized toxicity tests [
6
,
7
].
F. candida
has a high rate of reproduction and is easy to culture, which makes it suitable for laboratory testing.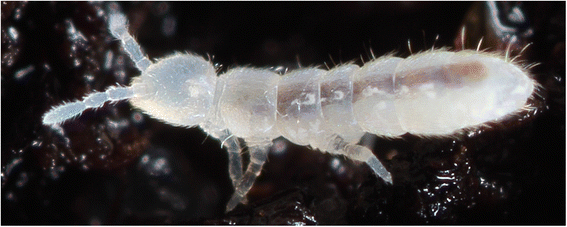 The genome of F. candida is diploid and consists of seven chromosome pairs [8]. It has been suggested that the sex determination is diplo-diploid (XX/XO) [8, 9], although definite proof of this is still lacking. Overall, F. candida reproduces through parthenogenesis, although bisexual populations have been observed [10]. Riparbelli et al. [11] have shown that the oocyte is able to self-assemble microtubule-based asters to support centrosome formation and successfully complete meiosis I. The highly unusual spindle structures in subsequent rounds of mitosis may cause maintenance of diploidy in the absence of fertilization [11]. Parthenogenesis is most likely imposed by Wolbachia, an endosymbiotic bacterium located in the ovaries and brain of the animal [10]. In fact, the presence of Wolbachia is essential for reproduction: animals cured of Wolbachia by antibiotic treatment lay eggs that fail to hatch and develop [12, 13]. Despite these observations, causal evidence of Wolbachia-mediated induction of parthenogenesis is currently lacking [14].
In the soil ecosystem, desiccation stress is an important selective factor [15]. F. candida is adapted to cope with moderately dry soil conditions through a unique system of water vapor absorption. The animal maintains all body fluids hyperosmotic to its surroundings to allow net water uptake from the atmosphere by passive diffusion along the gradient in water potential. Below a relative air humidity of 95% the animal actively increases the osmotic pressure of its body fluids by a production of sugars and polyols [16]. Indeed, a transcriptome study performed by Timmermans et al. [17] confirmed the involvement of sugar metabolism in drought adaptation.
Collembolans are a globally significant group of organisms that play a major role in soil functioning [18], particularly through their effect on the rate of litter decomposition and nutrient fluxes [19]. F. candida prefers grazing on fungi growing on organic surfaces rather than on soil particles [5], which has been suggested to stimulate the spread of fungal infections among plants [20]. These plants benefit from a moderate amount of grazing activity by having an increased transfer of spores of essential arbuscular mycorrhizal fungi (AMF) from other plants [21]. More recently, plants have been shown to transfer feeding repellents to their mycorrhizae when the fungal hyphae of AMF are grazed by F. candida [22]. This indicates a tritrophic interaction between plant, AMF, and F. candida potentially improving soil fertility and plant production.
In this study, we describe the first high-quality reference genome of F. candida, assembled from Pacific Bioscience SMRT long sequence reads. We pay special attention to features of the genome that may be associated with a parthenogenetic lifestyle inside the soil. We focus on expanded and lineage-specific gene families as well as horizontal gene transfer (HGTs), and genes related to stress tolerance. We also investigated intragenomic rearrangements and discuss potential consequences of parthenogenesis on genome structure and variation. Where possible, we compare data to the already available genome sequence of O. cincta. The presented genome will be highly instrumental for evolutionary biologists investigating deep phylogenetic lineages among arthropods and will provide the basis for a more mechanistic understanding in soil ecotoxicology.
Conclusions
We successfully applied PacBio sequencing to assemble high quality nuclear and mitochondrial genomes of F. candida, including a genome of its endosymbiont Wolbachia. Functional analysis of expanded gene families suggests they are involved in response to environmental stress, recombination and DNA repair, and membrane tracking of lipids. Expansions in such families could be beneficial pre-adaptations to cope with life in the soil as a parthenogenetic species. We also identified a substantial number of HGTs, mainly enriched for carbohydrate active enzymes that may be optimal for unlocking carbohydrates from the plant and fungal decaying matter, which may provide an abundant food source in soil. Moreover, a functional antibiotic biosynthesis cluster was identified, suggesting the production of yet undiscovered antimicrobial compounds in an animal genome.
Analysis of Hox genes indicates a disorganized structure as compared to ancestral arthropod Hox organization. Despite that, F. candida shows a clear anteroposterior axis formation, commonly observed among hexapods. The collinearity analysis of the F. candida genome reflects some extraordinary features that may be related to genetic consequences of a parthenogenetic lifestyle.
Finally, all genome information is organized within the F. candida genome portal (http://www.collembolomics.nl/folsomia/portal) featuring the data and results of our analyses. It will assist researchers interested in the genome and genes of F. candida, and also facilitate further functional studies of this fascinating species.
Methods
Sample preparation and sequencing
F. candida animals ("Berlin strain", Vrije Universiteit, Amsterdam) were kept at 15 °C in a climate room [57]. For high molecular DNA isolation, we crushed 16 times 100 animals with CTAB lysis buffer (800 μl per 100 animals) and incubated the lysates for 2 h at 65 °C. We extracted DNA from the lysates with phenol:chloroform:isoamyl alcohol (25:24:1) and chloroform:isoamyl alcohol (24:1). After this step, we pooled the water phases into 4 samples and precipitated the DNA with isopropanol. The pellets were dried and solved in 400 μl H2O. To each aliquot, we added 1 μl RNAse (100 mg/ml) and after an incubation of 15 min at 37 °C, we purified the DNA again with chloroform:isoamyl alcohol. We precipitated the DNA with (3 x volume) ethanol 100% and (1/10 x volume) NaAc (3 M, pH = 5.2), washed the pellets with ethanol 70% and after drying we solved the DNA in 200 μl H2O. An extra cleanup of the DNA was necessary for downstream procedures. Therefore, we used the MoBio Power Clean® DNA clean up kit and followed the manufacturer's protocol. F. candida genome fragments of more than 20 kbp were sequenced using 12 SMRT cells on the PacBio RS II platform (with P6 chemistry) according to the manufacturer's protocol at the Leiden Genome Technology Center (LGTC).
At the initial stage of the project, we also generated Illumina genomic data. For that, we isolated DNA from 2 × 50 animals from an isofemale line of F. candida. The animals were washed in 70% ethanol and crushed in 200 μl PBS. 200 μl Nuclei Lysis Solution (Promega) and 4 μl Proteinase K (20 mg/ml, Roche) were added before incubation for 15 min at 65 °C. After incubation 340 μl DNA Lysis Buffer (Promega) was added. The lysate was centrifuged for 10 min at 14.000 rpm. DNA was recovered from the supernatant using a DNA spin column (Promega), following the manufacturer's protocol. DNA of the 2 samples was pooled and precipitated with ice-cold 2,5 x volume 100% ethanol/0,1 x volume NaAc (3 M, pH = 5,2) at −80 °C. After washing with ice-cold 70% ethanol, the DNA pellet was solved in 30 μl H2O. For sequencing, we used 3 μl 500 ng/μl DNA. Next-generation sequencing was performed on the Illumina HiSeq2000 platform at the LGTC.
Assembly of F. candida genome
The assembly of F. candida genome PacBio reads was done with the Falcon assembler [58]. Reads longer than 8 kbp were assembled with the following parameters (output_multi, min_it = 0.70, local_match_count_threshold = 2, max_n_read = 200, max_diff = 100, max_cov = 50, min_cov = 5, bestn = 10) followed by PBJelly [59] scaffolding and gap filling and polishing with Quiver [60]. Afterwards, we performed another scaffolding with SSPACE-LongRead v.1.1 (l = 2) [61] and polished final scaffolds with Pilon v.1.13 (−-fix bases, −-diploid) [62]. Blobology was applied to identify taxon-annotated GC-coverage plots, possibly indicating contamination from external sources [63]. CEGMA pipeline v.2.4 [64] and Benchmarking Universal Single-Copy Orthologs (BUSCO) tool v.1.1 [65] was used to identify universal single copy orthologs in the assembly as a measure of the completeness and contiguity.. Additionally, we mapped F. candida de novo transcripts [23] to the genome scaffolds with Blat and used isoblat v.3.0 [66] to assess assembly completeness. The genome of Wolbachia endosymbiont was identified among assembled scaffolds using BlastN [67] against other Wolbachia genomes. All reads mapping to these two scaffolds were selected and assembled in Falcon [58] (output_multi, min_it = 0.70, local_match_count_threshold = 2, max_n_read = 100, max_diff = 40, max_cov = 60, min_cov = 2, bestn = 10) followed by PBJelly [59]. Strings of N's were removed from the scaffolds of the original assembly introducing breaks and the two assemblies were merged using Minimus2 [68]. The remaining two gaps were resolved by blasting the trimmed edges of the scaffolds to the PacBio library in search for reads bridging them. Consensuses of these reads were created with PBdagcon (https://github.com/PacificBiosciences/pbdagcon), after which they were manually inserted into the assembly. Thereafter all reads were mapped back to the assembly and a consensus was created with PBdagcon [69] followed by a polishing with Quiver [60].
To reconstruct a mitochondrial genome of F. candida, quality checked Illumina reads were trimmed in Trimmomatic v.0.33 [70] with the following parameters: ILLUMINACLIP:TruSeq2-PE.fa:2:30:10; LEADING:3; TRAILING:3; SLIDINGWINDOW:4:15; HEADCROP:8; MINLEN:50. The reads were then error corrected in Lighter (k = 17; alpha = 0.085) [71]. We used a PacBio read covering the complete mitochondrial genome as a reference for IOGA [72]. The annotation of the mitochondrial genome was performed in MITOS annotation web-tool [73] followed by manual curation.
Genome annotation
Genome annotation was performed using the MAKER v.2.31.8 pipeline [74]. Augustus v.3.1.0. [75] and GeneMark [76] were used as ab initio gene predictors; they were trained using BRAKER1 [77] with raw RNA-Seq data (17.9 Gbp Illumina, SRR935329 [23], 3.3 Gbp Illumina, SRR921597 [4]). The de novo F. candida transcriptome [23], as well as RNA-Seq data mapped with TopHat2 [78] and protein sequences from D. pulex, A. pisum and D. melanogaster from the Ensembl Genomes database [79] were used as transcript-based and protein homology-based evidence, respectively. We used RepeatMasker with RepBase database [80, 81] together with a de novo repeat library, constructed using RepeatModeler [82] to find and mask repeats in the F. candida genome. Functional annotation was assigned with BlastP [67] (E-value threshold of 0.1) using SwissProt, TrEMBL databases, and InterProScan analysis [83] against the Superfamily [84] and Pfam [85] protein databases. Also, we used Blast2GO suite v.3.1 to predict gene ontology (GO) terms in our dataset based on InterPro domains and BlastP hits against Swiss-Prot database (E-value threshold of 1e−5). To identify secondary metabolite biosynthesis gene clusters, we applied antiSMASH [86].
Gene family expansion analysis
OrthoFinder with inflation parameter of 1.5 [87] was used to calculate ortholog clusters between F. candida, O. cincta, T. castaneum, P. humanus, A. pisum, D. melanogaster, A. aegypti, S. maritima, I. scapularis, T. urticae, D. pulex and C. elegans. In order to identify expanded gene families in F. candida, we calculated z-scores as proposed by Cao et al. [88]. In short, the gene number for each family was subtracted by the average gene number of the family among all species in the analysis. This number was then divided by the standard deviation of the average gene number. Gene families with z-scores ≥2 were assumed to be expanded. Additionally, we performed a BlastN search (with E-value threshold of 1e−5) of expanded gene families against genes that were differentially expressed in response to stress [29].
Horizontal gene transfer
To identify foreign genes in the genome of F. candida, we performed calculations of the horizontal gene transfer index h based on the protocol described by Crisp et al. [36] with a number of modifications described by Faddeeva-Vakhrusheva et al. [3]. The final set of foreign genes was predicted based on the h-score, followed by a physical linkage test (PacBio long read evidence of physical linkage of HGT candidate to neighboring native genes). HGT candidates that passed the linkage test, but with a best metazoan Blast bit-score of ≥50 were also subjected to phylogenetic validation with the same parameters as described by Faddeeva-Vakhrusheva et al. [3, 36]. To predict enriched gene ontology biological processes and molecular functions among the foreign genes in F. candida, we performed GO enrichment analysis using the topGO package [89] in R (v.3.2.2) with an elim algorithm (with the p-value threshold of 0.05). To check whether HGT genes were enriched for carbohydrate metabolism a chi-square test was performed. We additionally checked CAZy (Carbohydrate-Active enZYmes Database) domains [90] in the HGT genes and we compared the number of HGT genes with CAZy (with an e-value <0.1) domains to the number of native genes with CAZy domains with a chi-square test.
Hox gene cluster analysis
We used BlastP to identify Hox genes and we assessed the synteny manually using the genomic locations on scaffold 4.
Collinearity analysis
A BlastP search of all-against-all F. candida proteins was performed using an E-value cutoff of 1e−10. Collinear blocks of genes were detected using the package MCScanX [91]. Synteny plots were drawn using Circos [92]. A pearson correlation test was performed to statistically test association between collinear blocks, transposons and horizontally transferred genes.
Abbreviations
ABC:

ABC transporter
Abd:

Abdominal
ACVS:

Amino adipyl-cysteine-valine synthase
AMF:

Arbuscular mycorrhizal fungus
ANK:

Ankyrin
Antp:

Antennapedia
CAZy:

Carbohydrate enzyme
Dfd:

Deformed
Dscam:

Down syndrome cell adhesion molecule
FPKM:

fraction per kilobase of exon per million fragments
ftz:

Fushi-tarazu
GST:

Glutathione S-transferases
HGT:

Horizontal gene transfer
IPNS:

Isopenicillin N synthase
lab:

Labial
miR:

microRNA
PacBio:

Pacific Biosciences Sequencing
pb:

Proboscipedia
Scr:

Sex combs reduced
SMRT:

Single molecule real-time sequencing
SNP:

Single nucleotide polymorphism
Ubx:

Ultrabithorax
wFol:

Wolbachia endosymbiont of F. candida
Declarations
Acknowledgements
We thank Prof. Dr. Johan den Dunnen for facilitating next-generation sequencing at the LGTC, Dr. Marnix Medema for performing antiSMASH analysis, Michael Akam and David Ferrier for helpful discussions on the Hox gene cluster, and Peter H. Neleman for help with python scripts. We also thank 1KITE Consortium, Sara Calçada Novais, and Tiago Filipe da Silva Simões for providing additional RNA-Seq data for F. candida. We acknowledge SURFsara support team for assistance with the calculations on the SURFsara LISA cluster and SURFsara cloud. Finally, we thank Roland den Hollander from VU IT for Research for help with website hosting.
Funding
This work is supported by grant F08.001.03 and F07.003.05 from the BE-BASIC foundation. DR receives additional funding from EU FP7 program Sustainable Nanotechnologies (SUN) grant number 604305. JE and KK are supported by the Netherlands Organisation for Scientific Research, VICI grant 865.12.003. These funding bodies had no role in the design of the study and collection, analysis, and interpretation of data or in writing this manuscript.
Availability of data and materials
Data deposition: raw Illumina and PacBio data are deposited to the NCBI SRA under accessions SRX1356974 and SRX1436141 correspondingly. The draft genome including gene annotations is available at GenBank under BioProject accession: PRJNA299291. The mitochondrial genome is available at GenBank under accession number KU198392. In addition, all genomic data is available via http://www.collembolomics.nl/folsomia/portal/. The complete genome of the Wolbachia endosymbiont of Folsomia candida is available at GenBank under accession number Bioproject accession number PRJNA300838.
Authors' contributions
DR, AFV and NMvS conceived, designed, coordinated the study and drafted the manuscript. SYA and AFV performed the assembly of the genome. KK, DR and JE performed collinearity analysis and Spearman rank tests. KK provided frequency distribution graphs of PacBio read coverages in scaffolds. MFLD, AFV and SS performed further scaffolding of the initial genome assembly, performed gene annotation and set up the genome portal. AFV performed orthology analysis and gene family expansion analysis, and DR assisted in interpretation of the GO-enriched annotated gene families. VA, WS, AFV and DR performed HGT analysis, including phylogenetic validation and PacBio linkage tests. AAK and JE assembled the wFol genome including initial annotation of the wFol genome. GLN performed CAZy analysis and assisted in the interpretation of GO enrichment of the HGT gene set. CAMvG assisted in the analysis of gene family expansions involved in stress response. JM prepared ultra clean high molecular genomic DNA for PacBio sequencing and assisted in PacBio SMRT library preparation and sequence data acquisition. DR performed Hox gene cluster analysis and microRNA analysis. All authors provided input and comments on subsequent revisions of the manuscript and approved the final version. Finally, each of the authors have confirmed to be accountable for all aspects of the work by appropriately investigating and resolving issues related to accuracy and integrity.
Competing interests
The authors declare that they have no competing interests.
Consent for publication
Not applicable.
Ethics approval and consent to participate
Not applicable.
Publisher's Note
Springer Nature remains neutral with regard to jurisdictional claims in published maps and institutional affiliations.
Open AccessThis article is distributed under the terms of the Creative Commons Attribution 4.0 International License (http://creativecommons.org/licenses/by/4.0/), which permits unrestricted use, distribution, and reproduction in any medium, provided you give appropriate credit to the original author(s) and the source, provide a link to the Creative Commons license, and indicate if changes were made. The Creative Commons Public Domain Dedication waiver (http://creativecommons.org/publicdomain/zero/1.0/) applies to the data made available in this article, unless otherwise stated.
Authors' Affiliations
(1)
Department of Ecological Science, Vrije Universiteit Amsterdam, Amsterdam, The Netherlands
(2)
Department of Animal Sciences, Animal Breeding and Genetics, Wageningen University, Wageningen, The Netherlands
(3)
Department of Human Genetics, Leiden University Medical Center, Leiden, The Netherlands
(4)
Leiden Genome Technology Center, Leiden University Medical Center, Leiden, The Netherlands
(5)
Department of Plant Sciences, Bioinformatics Group, Wageningen University, Wageningen, The Netherlands
(6)
Institute of Biotechnology, Vietnam Academy of Science and Technology, Hanoi, Vietnam