Leveraging network analytics to infer patient syndrome and identify causal genes in rare disease cases
BMC Genomics
2017
18(Suppl 5):551
Published: 11 August 2017
Abstract
Background
Next-generation sequencing is widely used to identify disease-causing variants in patients with rare genetic disorders. Identifying those variants from whole-genome or exome data can be both scientifically challenging and time consuming. A significant amount of time is spent on variant annotation, and interpretation. Fully or partly automated solutions are therefore needed to streamline and scale this process.
Results
We describe Phenotype Driven Ranking (PDR), an algorithm integrated into Ingenuity Variant Analysis, that uses observed patient phenotypes to prioritize diseases and genes in order to expedite causal-variant discovery. Our method is based on a network of phenotype-disease-gene relationships derived from the QIAGEN Knowledge Base, which allows for efficient computational association of phenotypes to implicated diseases, and also enables scoring and ranking.
Conclusions
We have demonstrated the utility and performance of PDR by applying it to a number of clinical rare-disease cases, where the true causal gene was known beforehand. It is also shown that PDR compares favorably to a representative alternative tool.
Keywords
NGSWhole-genome sequencingExome sequencingRare disease diagnosisVariant selectionGenetic disordersDiagnostic odyssey
Background
Whole genome and exome sequencing is widely used to identify disease-causing variants in patients with multiple congenital abnormalities and rare genetic disorders. However, a key challenge in using this approach is finding the true causal variants among the hundreds of rare, functional (coding and/or regulatory) variants. It can take many hours to evaluate the relationship between variants in a patient's sequence data and his phenotype or disease, in order to identify the disease-causing mutation [1]. In addition, the disease-causing variant is successfully identified in only 25–30% cases [2, 3].
Here, we describe Phenotype Driven Ranking (PDR), an algorithm integrated into Ingenuity Variant Analysis (QIAGEN Bioinformatics, Redwood City, CA) [4] that uses observed patient phenotypes to prioritize diseases and genes in order to expedite causal-variant discovery. Our method is based on a network of phenotype-phenotype, phenotype-disease, and disease-gene relationships constructed from the QIAGEN Knowledge Base (KB) [5], and aims to identify diseases that can explain both the phenotypes observed as well as the genetic variations detected. The approach explicitly allows for traversal of a phenotype/disease hierarchy, which connects more specific phenotypes to more general ones, and thereby expands the search space of phenotype terms that can be associated with a given disease. For each disease, a score is computed that reflects the similarity between the phenotypic profile and disease, and this score is in turn used to rank variants that reside in disease-implicated genes.
A number of tools, such as Phenolyzer [6], Phevor2 [7], Phen-Gen [8], GeneCards [9], and Exomiser [10] leverage databases of gene-disease-phenotype relationships and phenotype information to prioritize candidate genes. All of these tools, including PDR, require a list of phenotypes as input, either in the form of HPO identifiers [11] or clinical terms, to generate a ranked list of genes based on the plausibility of being associated with those phenotypes. Using next-generation sequencing data (e.g. supplied as a VCF file), this gene list can then be further trimmed down by focusing on relevant variants. Some tools leverage integration with other tools to provide this capability (Phevor2 + VAAST [12], Phenolyzer + ANNOVAR [13], PDR + Ingenuity Variant Analysis), while others offer it as part of the tool (Phen-Gen, Exomiser). Similarly, by partnering or independently, many of these tools (Phevor2 + VAAST, PDR + Ingenuity Variant Analysis, Phen-Gen, Exomiser) can provide family-based analysis involving several samples, useful for identifying variants compatible with the disease inheritance mode. With the exception of Exomiser, all of the tools mentioned are web-based with content updates to reflect new gene-disease and disease-phenotype relationships in the computations.
A few studies [6, 9] have benchmarked some of these existing tools against each other. To put our method in context, in this paper we will carry out a comparison of PDR and Phenolyzer by assessing the detection of previously known causal genes in rare disease cases. Phenolyzer, in contrast to Phen-Gen and Exomiser, operates on the gene level (not variant-level) and therefore uses the same input as the PDR algorithm, making it best suited for this comparison. Moreover, Phenolyzer compared favorably to Phevor2 and GeneCards for monogenic diseases [6], which suggests it as ideal benchmark for PDR's targeted use case.
Results and discussion
We have tested and benchmarked PDR with 27 patient cases from Inova Translational Medicine Institute, Fairfax, VA (ITMI). Some of these cases have been studied and published elsewhere in different contexts [34–40]. For the present analysis, fastq files were used to call variants within the BxWB hereditary disease pipeline [41] that directly exports data to Ingenuity Variant Analysis. Here, we set up a filtering and interpretation pipeline as described in the Methods section using best practices guidelines. For all 27 cases, the causal variant and gene had previously been determined with very high confidence by the ITMI clinical genetics team based on manual review of relevant literature, and additional information not used by PDR itself, like inheritance and occurrence of structural variants such as de novo large deletions. Additional file 2: Table S3 lists physician-reported phenotypes as well as reported causal disease genes for all 27 cases.
As an example, results for one of the analyzed cases, which has also been published previously [
35
], is shown in Fig.
2a-c
. In this case, five observed phenotypes, meningomyelocele, unilateral renal agenesis, prominent nose, hirsutism, and retrognathia, were entered into PDR (Fig.
2a
). The workflow included the filter cascade described in the Methods section. In addition, we only looked at de novo variants in the probands, as whole genome sequence data for both parents was also available. The known causal gene and diagnosed disease, EP300 and Rubinstein-Taybi Syndrome, are found at the top position in the rank-ordered table (Fig.
2b
). When all genes with rare, deleterious variants in the proband are passed to the PDR filter without applying the inheritance model, EP300 ranks fourth. Figure
3c
shows the corresponding phenotype-disease-gene subnetwork. Note, that one of the user-supplied phenotypes is not directly connected to the disease, but through two intermediate terms (dysgenesis, and unilateral renal dysgenesis) in the disease/phenotype hierarchy.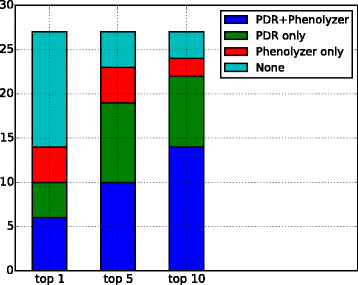 Detection and ranking of known causal disease variants and genes using PDR
In order to benchmark our approach, we examined whether known causal genes could be recovered by PDR alone using the provided patient phenotypes in each of the 27 cases (see Additional file: 2 Table S3). In 22 out of 27 cases, the reported causal gene ranked within the top 10 genes inferred by PDR. In 9 cases, the previously reported gene was also the highest scoring one, and variants present in the causal gene were consistent with the disease mode of inheritance (heterozygous for dominant genes and homozygous or compound heterozygous for recessive). In the remaining cases, the causal variant could be identified using a combination of the disease score, causal relation between the genes and diseases, consistency between variant genotype and mode of inheritance, and the computed ACMG classification. In 4 out of 27 cases, PDR could not identify the correct gene.
It is interesting to ask, why in some cases the disease associated with the known causal gene scored lower than other diseases. Closer examination revealed, that in about half of those cases, other diseases could be explained by a greater number of supplied phenotypes, while in the other half the number of explaining phenotypes was the same, but some of them were more specific or could be connected to the disease through shorter paths. This underscores the sensitivity of the disease score w.r.t. the proper selection of input phenotypes. Providing a more complete set of observed phenotypes, or supplying more specific ones, will more likely discriminate the actual disease (and its causal gene) from others. In practice, it is usually sufficient that the actual causal gene, variant, and disease scores near the top of the list (not necessarily in first place) since information other than phenotypes, for example mode of inheritance, zygosity, and variant classification, can be used to distinguish it from other high-scoring disease/gene/variant combinations.
We want to point out that for two of the 27 patient test cases considered here the corresponding publications, [35, 37], were previously curated into the QIAGEN KB, and support causal gene-disease relationships EP300 ➔ Rubinstein-Taybi syndrome, and NOTCH1 ➔ Adams-Oliver syndrome in the network. However, this does not introduce data circularity, since those two relationships are also each supported by more than 10 other independent literature findings. Findings from [35] and [37] could therefore simply be removed from the KB with no effect on our results.
Comparison analysis
Here, we compare PDR to Phenolyzer, a widely used tool to determine likely causal genes from observed phenotypes, which has also been shown to perform well compared to other, similar tools [7] (see Background section). In addition to phenotypes, Phenolyzer can also be provided with a set of target genes which will then be the only ones scored. To carry out the comparison analysis, for each of the 27 patient cases described above, we determined the set of genes (including the known causal gene) that was used as input into the PDR algorithm within Ingenuity Variant Analysis (i.e. those genes that pass the preceding filter cascade), and used those genes as input into the Phenolyzer web interface [42] with default parameter settings.
When directly entering phenotype terms from Additional file 2: Table S3 into Phenolyzer, on the average only 62% of them could be recognized directly. We therefore tried to map all provided phenotypes to corresponding HPO identifiers first in a pre-processing step (using also synonym mapping), before entering them into Phenolyzer, which on the average was successful for 92% of the input terms. For each of the 27 patient cases, we then determined the rank of the previously known causal gene, when all genes are ranked by score, for both PDR and Phenolyzer (for details see Additional file 2: Table S3). Figure 3 shows the result of the comparison analysis for causal genes ranked as top 1, top 5, and top 10. It is seen that, when only looking at top 1-ranking genes, about half of the causal genes are missed by both, PDR and Phenolyzer, with the remaining genes found either by both, PDR only, or Phenolyzer only in about equal proportions. For top 10-ranking genes, both PDR and Phenolyzer find the majority of causal genes, however, for causal genes only discovered by one of the tools, PDR is seen to have an advantage. In total, both tools recover 10 out of 27 genes as top-ranking, while PDR finds the causal gene in 22 out of 27 cases among the top 10, compared to 16 out of 27 for Phenolyzer.
When interpreting these results, it needs to be noted that the algorithms underlying both tools, while similar in mapping phenotypes to diseases and then to causal genes, differ in key aspects. PDR likely has the substantial advantage of relying on a powerful ontology and being able to "propagate" phenotype terms through a disease/phenotype hierarchy to find impacted diseases. Phenolyzer, on the other hand, expands its search space for disease-associated genes beyond known disease-gene associations from the literature (as PDR does) by employing gene-gene relationships like protein-protein binding. It is possible that we will implement a similar feature for PDR in the future.
Conclusions
The Phenotype-Driven Ranking filter (PDR) in Ingenuity Variant Analysis uses phenotypes to infer and rank matching diseases and enables prioritization of disease-causing variants and genes from whole genome and exome sequence data for individuals with genetic disorders. Apart from variant and gene prioritization, PDR can also be used as a diagnostic aid that enables fast and accurate disease prediction based on clinical signs and symptoms observed alongside genotype information. We demonstrate here that PDR performs well for a number of clinical cases where the causal gene was known previously, and also show how it compares to a representative existing tool.
Footnotes
1
The Allele Frequency Community [17] is a hosted allele frequency database, founded by QIAGEN and participating members in 2014. It is a freely accessible "opt-in" community resource designed to facilitate sharing of anonymized, pooled allele frequency statistics among community members.
2
Numbers below represent a snapshot at the time of manuscript submission, and will likely change due to content updates of the QIAGEN KB in the future.
Declarations
Acknowledgments
Not applicable.
Funding
AK, SS, ST, RAR, and DRR were funded as employees of QIAGEN. Publication costs for this article are covered by QIAGEN.
Availability of data and materials
PDR is available as part of Ingenuity Variant Analysis [4]. The Inova Genomes collection (from which our 27 clinical test cases were drawn) is available commercially from QIAGEN [43]. Data and analysis for the case discussed above (Rubinstein-Taybi Syndrome), and shown in Fig. 2, can be accessed within Ingenuity Variant Analysis here: https://variants.ingenuity.com/Phenotype-DrivenRanking.
Authors' contributions
AK, SS, and DRR initiated the project and contributed to the method. AK developed and implemented the algorithm. ST provided guidance and project management for commercialization. RAR provided guidance using QIAGEN's ontology and knowledge base. AK, SS, and ST performed the benchmarking study and comparison to alternative tools. AK, SS, ST, and RAR wrote the manuscript. All authors read and approved the final manuscript.
Ethics approval and consent to participate
All 27 cases discussed were selected from the Inova Genomes collection [43] which includes nearly 7000 phenotypically and ethnically diverse whole genome samples from more than 2100 consented families, with all de-identified genome samples being linked to demographic and ancestral information, and more than one third linked to a clinical phenotype. This study was approved by the Inova Research Center and Western Institutional Review Boards (WIRB #20121680).
Consent for publication
All individuals whose data is part of the Inova Genomes collection [43], including the 27 cases discussed here, have given their consent for publication.
Competing interests
AK, SS, ST, RAR, and DRR are employees of QIAGEN.
Open AccessThis article is distributed under the terms of the Creative Commons Attribution 4.0 International License (http://creativecommons.org/licenses/by/4.0/), which permits unrestricted use, distribution, and reproduction in any medium, provided you give appropriate credit to the original author(s) and the source, provide a link to the Creative Commons license, and indicate if changes were made. The Creative Commons Public Domain Dedication waiver (http://creativecommons.org/publicdomain/zero/1.0/) applies to the data made available in this article, unless otherwise stated.
Authors' Affiliations
(1)
QIAGEN Bioinformatics, Redwood City, USA