Transcriptomic analysis of the response of Acropora millepora to hypo-osmotic stress provides insights into DMSP biosynthesis by corals
Received: 22 March 2017
Accepted: 25 July 2017
Published: 14 August 2017
Abstract
Background
Dimethylsulfoniopropionate (DMSP) is a small sulphur compound which is produced in prodigious amounts in the oceans and plays a pivotal role in the marine sulfur cycle. Until recently, DMSP was believed to be synthesized exclusively by photosynthetic organisms; however we now know that corals and specific bacteria can also produce this compound. Corals are major sources of DMSP, but the molecular basis for its biosynthesis is unknown in these organisms.
Results
Here we used salinity stress, which is known to trigger DMSP production in other organisms, in conjunction with transcriptomics to identify coral genes likely to be involved in DMSP biosynthesis. We focused specifically on both adults and juveniles of the coral Acropora millepora: after 24 h of exposure to hyposaline conditions, DMSP concentrations increased significantly by 2.6 fold in adult corals and 1.2 fold in juveniles. Concomitantly, candidate genes enabling each of the necessary steps leading to DMSP production were up-regulated.
Conclusions
The data presented strongly suggest that corals use an algal-like pathway to generate DMSP from methionine, and are able to rapidly change expression of the corresponding genes in response to environmental stress. However, our data also indicate that DMSP is unlikely to function primarily as an osmolyte in corals, instead potentially serving as a scavenger of ROS and as a molecular sink for excess methionine produced as a consequence of proteolysis and osmolyte catabolism in corals under hypo-osmotic conditions.
Keywords
DMSP pathway Acropora millepora CoralSalinity stressMethionine
Background
Dimethylsulphoniopropionate (DMSP) and its volatile breakdown product dimethylsulphide (DMS) are key components in the global sulphur cycle; the conversion of DMSP to DMS delivers biogenic sulphate aerosols into the marine boundary layer, thereby transferring sulphur from the oceans to the atmosphere [1]. DMS can subsequently be oxidized into sulphate particles and, when combined with ultrafine sea salt and other marine organic aerosols, contributes to the formation of clouds, increasing their reflectance and thereby acting in local climate regulation [2]. DMSP is produced by several classes of algae and a few higher plants [3, 4]. In addition, coral reefs are hotspots for the production of this compound [5, 6]. This high production of DMSP has previously been ascribed solely to the high densities of the dinoflagellate Symbiodinium present in coral tissues. It is becoming increasingly clear, however, that photosynthesis is not a prerequisite for DMSP production: the coral animal [7] and some heterotrophic bacteria [8] have recently been shown to produce DMSP. However, the molecular mechanisms underlying the production of DMSP by corals are unknown and are only partially understood in other eukaryotes.
DMSP biosynthesis is thought to have evolved independently at least three times; two different pathways have been described in higher plants [
9
,
10
], and the third was identified in the marine macroalga
Ulva intestinales
[
11
] but might also operate in several phytoplankton species and heterotrophic bacteria (Fig.
1
). The common denominator in these three pathways is the use of the sulphur-containing amino acid methionine as a precursor. The identities of the intermediates involved in each pathway have largely been established, providing insights into the classes of enzymes involved. However, with the exception of
dsyB
which was recently identified in Alphaproteobacteria [
8
], the identities of the genes involved are unknown at this time. Candidate genes for the algal pathway have emerged from proteomic and gene expression analyses under conditions that lead to increased DMSP production. Proteomic analyses of DMSP-producing diatoms implicated specific aminotransferases, reductases, methyltransferases and decarboxylases [
12
,
13
] on the basis of their increased abundance under hypersaline conditions, though their involvement in DMSP synthesis remains to be confirmed.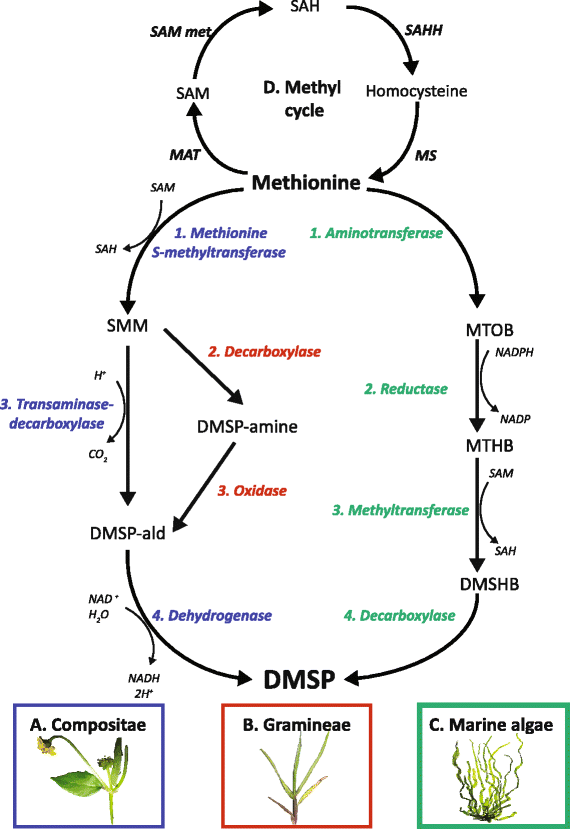 A range of cellular functions have been attributed to DMSP: it can act as an osmolyte [14] or cryoprotectant [15, 16]. DMSP and its breakdown products acrylate, DMS and dimethylsulfoxide (DMSO) also possess antioxidant capabilities, and are capable of scavenging hydroxyl radicals and reactive oxygen species (ROS), suggesting potential functions in the stress responses of organisms such as corals [17]. Consistent with this, oxidative stress triggered by decreased salinity resulted in increased conversion of DMSP to DMSO in the reef-building coral Acropora millepora [18]. However this effect was not observed with other coral species, such as Stylophora pistillata and Pocillopora damicornis [18]. Thus, whilst DMSP has been implicated in ROS-scavenging in at least some corals, an osmoregulatory role remains an additional possibility.
Although corals have traditionally been thought of as stenohaline osmo-conformers [19], shallow water corals can experience major fluctuations in salinity and must therefore have mechanisms to tolerate these environmental conditions. Currently limited data are available on the effects of hyperosmotic stress on corals, but there is evidence that corals can tolerate acute exposure to hypersaline (40 practical salinity units (PSU)) conditions [20]. Moreover, coral reefs occur in the Arabian Gulf and Gulf of Oman at 40–42 PSU, and appear to be adapted to these conditions [21]. On the Great Barrier Reef (GBR), rain associated with tropical cyclones can lower the salinity of surface waters significantly (up to 7–10 PSU) [22], with these hyposaline conditions sometimes prevailing for weeks [23]. Hyposaline conditions can lead to coral mortality and changes in coral community composition; however, the response seems to vary among species and through time [24]. Heavy rainfall, induced by the increased occurrence and intensity of tropical storms and cyclones [25], is likely to expose coral reefs to more extreme and sudden salinity variations.
The genome of the reef-building coral Acropora millepora encodes orthologs of the reductase and methyltransferase (Fig. 1c, steps 2 and 3) implicated in DMSP biosynthesis in algae, suggesting that corals also use an algal-like pathway to produce DMSP from methionine [7]. To better understand the role and route of DMSP production in corals, the transcriptomic response of A. millepora to salinity stress was investigated. Assuming that DMSP acts as an osmolyte in corals, we hypothesized that genes involved in its synthesis will be up-regulated under salinity stress. Adult colonies (harboring DMSP-producing photosynthetic symbionts), as well as aposymbiotic juveniles (devoid of any photo-symbionts) of A. millepora were exposed to hyposaline conditions reflecting those experienced in extreme weather events (25 PSU for the adults and 28 PSU for the juveniles) in parallel experiments and hypersaline (40 PSU) conditions for the adults. The analyses presented here focused on candidate genes encoding enzyme classes that could fulfill each of the steps necessary to transform methionine into DMSP. The expression data support the idea that corals are equipped with the necessary enzymatic machinery for DMSP biosynthesis and can rapidly change the expression of the corresponding genes.
Results
Concentration of DMSP in coral tissues
Exposure of adult
A. millepora
colonies to a sudden decrease in salinity (25 PSU) resulted in a 2.6 fold increase in tissue DMSP concentration after 1 h (from 9.02 nmol mm
−2
at 35 PSU to 23.76 nmol mm
−2
in the treatment) compared to the controls. DMSP levels in these colonies continued to increase through time, reaching 31.46 nmol mm
−2
after 24 h, representing a 3.5 fold increase in DMSP relative to the control (TukeyHSD, p adj <0.05; Fig.
2a
and Additional file
1
: Table S1). In aposymbiotic
A. millepora
juveniles, exposure to low salinity (28 PSU) also triggered an increase of DMSP levels of 1.2 fold after 24 h (from 2.66 nmol mm
−2
at 35 PSU to 3.27 nmol mm
−2
in the treatment) and of 1.4 fold after 48 h relative to control juveniles maintained at 35 PSU (ANOVA,
p
< 0.0005; Fig.
2b
and Additional file
1
: Table S3).

In contrast, adult A. millepora nubbins exposed to hypersaline conditions (40 PSU) exhibited no significant change in tissue DMSP concentrations compared to the controls (TukeyHSD, p adj >0.05; Fig. 2 and Additional file 1: Table S1). At both time points, the concentration of the DMSP breakdown product acrylate did not differ significantly from controls in either treatment (Additional file 4: Figure S1). Furthermore, no clear physiological changes were observed in the corals during the 24 h period of both hypo- and hypersalinity stress experiments, as assessed by PAM fluorometry (MANOVA, H-F Pr > 0.05; Additional file 5: Figure S2, Additional file 1: Table S2) and Symbiodinium cell density (Additional file 5: Figure S2).
Differential gene expression and candidate DMSP biosynthesis gene identification
5.5–10.2 million RNAseq reads were obtained for each adult coral sample while 3.4–8.8 million reads were obtained for each juvenile coral sample (GEO reference GSE96916). Principal component analysis (PCA) of the count matrix of the 26,622 A. millepora gene predictions revealed that while colony had a strong influence on grouping in the case of the adult samples, the juveniles were clearly separated by treatments (Additional file 6: Figure S3). In both adult corals and juveniles, the number of differentially expressed genes (DEGs; FDR < 0.05) was higher after 24 h compared to 1 h in the adults and 48 h in the juveniles (Additional file 7: Figure S4).
BlastP analysis of the A. millepora gene predictions led to the identification of coral members of gene families implicated in DMSP biosynthesis in other organisms (Table 2 and Additional file 2: Table S4), some of which were differentially expressed in response to hyposaline stress and on this basis are considered as candidates for roles in DMSP biosynthesis in corals. Amongst the genes up-regulated under hyposaline conditions were members of each class of enzyme in the DMSP biosynthesis pathway previously described in the alga Ulva intestinalis [11], whereas there was no evidence for up-regulation of genes encoding enzyme classes implicated in DMSP-synthesis in higher plants (DMSP-amine oxidase and S-methylmethionine (SMM) transaminase-decarboxylase; Table 2 and Fig. 1a and b, step 3).
Six transaminase family members (Table 2, AT1- AT6) were identified as candidates for the initial aminotransferase step in the algal biosynthetic pathway (conversion of L-methionine to 2-oxo-4-methylthiobutanoate; MTOB), on the basis of elevated levels of expression in adults and/or juveniles during hypo-osmotic stress. One of these candidate genes, AT1 was expressed at higher levels at both time points in both juveniles and adults, and is therefore of particular interest. Although BlastP NR database comparisons classified the AT1 predicted protein as most similar to ethanolamine-phosphate phospholyases (EC2.6.1.88), its overall sequence similarity (5E−35) to the aminotransferase candidate (269005) from the diatom Fragilariopsis cylindrus [12] is consistent with the hypothesis that the two proteins play analogous roles in DMSP metabolism. While the expression levels of five other aminotransferases (AT2 – AT6) were less consistent across the treatments, BlastP NR comparisons imply that their transamination reactions are likely to be 2-oxoglutarate dependant and hence cannot be excluded as candidates for roles in DMSP biosynthesis (Additional file 2: Table S4).
The second step in the algal DMSP biosynthesis pathway involves the reversible reduction of MTOB to 4-methylthio-2-hydroxybutyrate (MTHB), but this reaction is not restricted to DMSP-producing organisms [43]. Table 2 lists the differentially expressed genes (REDOX1-REDOX10) that encode NAD- or NADP-dependant dehydrogenases. Due to their redox capacities, the dehydrogenases corresponding to EC1.2.1.3 (Table 2, REDOX2, REDOX3, REDOX5 and REDOX8) could equally well correspond to the enzyme carrying out the terminal step (oxidation of DMSP-aldehyde; DMS-ald) in the plant DMSP biosynthetic pathway or that which converts MTOB to MTHB in the algal pathway. REDOX1 was consistently up-regulated in adult and juvenile corals with database comparisons indicating that it is a 10-tetrahydrofolate reductase since the N-terminal part of the protein contains a hydrolase domain highly specific for this class of enzyme (5.79E−144 similarity with NCBI cd08647). Moreover, TargetP (http://www.cbs.dtu.dk/services/TargetP/) predicts that REDOX1 is mitochondrial, which is consistent with the location of the best NR database matches and therefore of relevance to its ability to function in DMSP synthesis. REDOX2 and REDOX3 were differentially up-regulated in the adults when excluding time as a factor (Additional file 2: Table S5), and significantly up-regulated in juveniles (at 24 h in the case of REDOX3; at both time points for REDOX2). REDOX2 may be the best candidate for enzymatic reduction of MTOB, as it matches (9.31E−12) to a dehydrogenase (177646) that is highly up-regulated in the diatom F. cylindrus under conditions that lead to DMSP biosynthesis via the algal pathway [12].
Both the plant and algal DMSP biosynthesis pathways feature S-adenosylmethionine-dependent (SAM-dependent) methylation steps. In the algal pathway, conversion of MTHB to dimethysulphonio-2-hydroxybutyrate (DMSHB) involves a SAM-dependant methyltransferase, as does the conversion of methionine to SMM in the plant pathway (Fig. 1). Two methyltransferases (METHYL1 and METHYL2) were up-regulated during salinity stress (Table 2), although database comparisons suggest other primary roles for both METHYL1 and METHYL2 due to their methyltransferase domains (NCBI cd02440) being class I type, as is also the case for the methionine S-methyltransferase Q9LTB2 (which functions in the plant DMSP pathway), and the algal methyltransferase (212856) identified by Lyon et al. [44]. Of the candidates, METHYL1 was the most consistently up-regulated in the hyposaline treatments. A third SAM-dependant methyltransferase METHYL3 (Table 2), was initially identified as the most likely candidate for the conversion of MTHB to DMSHB [7] based on its similarity to the primary candidate for this role in the alga F. cylindrus [12]. Note, however, that METHYL3 was not differentially expressed as a result of exposure to altered salinity conditions.
The final step in the algal DMSP biosynthesis pathway, the transformation of DMSHB to DMSP, is the least well understood. The enzyme involved is thought to be an oxygen dependant decarboxylase [43], but has not been characterised. Four candidate enzymes (DECARB1-DECARB4) were identified in the coral on the basis of similarity with the diatom decarboxylases implicated in DMSP biosynthesis [44], but neither these nor the candidates from the diatom are likely to be oxygen-dependent. All of the four Acropora candidates encode pyridoxal phosphate (PP) dependent decarboxylases; like the diatom candidate 263016 [12], DECARB1 encodes a group IV PP-dependent decarboxylase (Pfam02784). The remaining three coral candidate decarboxylases are of the group II PP-dependent type (Pfam00282). None of these coral candidate decarboxylases showed consistent up-regulation across the hyposaline manipulation experiments (Table 2).
Differential expression of genes involved in methionine metabolism
Although methionine adenosyltransferases (MAT1 and MAT2), which convert methionine to its activated form (
S
-adenosyl methionine), were up-regulated under hyposaline conditions (Table
2
; Fig.
3
), other coral genes implicated in methionine salvage and the methyl cycle (Table
2
) were down-regulated. Methionine synthase (MS), which methylates homocysteine to regenerate methionine, was down regulated in both adults and juveniles, as were the other methyl cycle enzymes, methylenetetrahydrofolate reductase (MTHFR) and serine hydroxymethyltransferase (SHMT; Table
2
). Although methionine synthase was down-regulated under hyposaline conditions, methionine can also be generated by methylation of homocysteine by the action of betaine-homocysteine methyltransferase (BHMT; Fig.
3
), two coral homologs of which (BHMT1 and BHMT2) were up-regulated in both adults and juveniles (Additional file
2
: Table S4). In addition to generating methionine, the action of BHMT converts betaine to dimethylglycine (DMG), which can be converted to glycine by a series of enzymes (Fig.
3
; DMGDH (EC1.5.8.4), SARDH (EC1.5.8.3) and GNMT (EC2.1.1.20), all of which were up-regulated under hyposaline conditions (Additional file
2
: Table S4). It is also interesting to note that, of a list of genes potentially involved in methionine salvage from SAM (Fig.
3
, EC 4.1.1.50, 2.5.1.16, 2.4.1.28, 4.2.1.109 and 3.1.3.77), the only gene differentially expressed under hyposaline conditions enabling the final conversion to 3-methylthiopropionate of this pathway (Fig.
3
, EC1.13.11.53) and was down-regulated (Additional file
2
: Table S4) in both adults and juveniles. Finally, the coral homolog to the enzyme involved in the methionine trans-sulphuration pathway (cystathionine γ-lyase (CGL), EC4.4.1.1; Additional file
2
: Table S4) was not differentially expressed, providing further evidence that methionine is not shunted into either the methyl cycle or the methionine salvage pathways, but rather being driven into DMSP biosynthesis.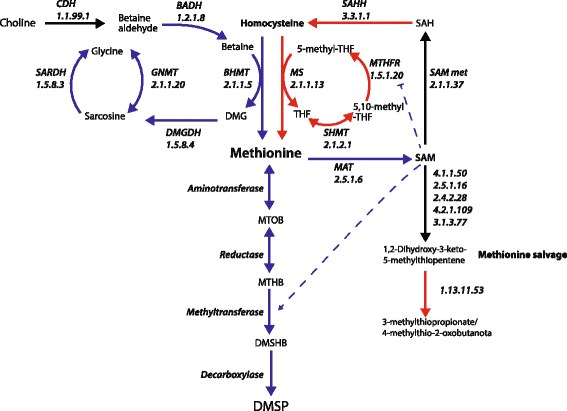 Conclusions
Hyposaline stress increased DMSP production in both adults and aposymbiotic juvenile corals, and transcriptomic analyses highlight the potential involvement of specific candidate genes in the production of DMSP via an alga-like pathway. The DMSP produced is likely to provide protection against increased levels of ROS arising as a consequence of stress, but may also constitute a molecular sink for methionine resulting from osmolyte catabolism as well as proteolysis. The biochemistry of DMSP production is not well established for any eukaryotic system and the transcriptomic data presented here have enabled the identification of candidates for roles in DMSP biosynthesis in corals. These results represent an important first step towards understanding the contribution of the coral host to the extremely high DMSP concentrations recorded in coral reefs, and towards a deeper understanding of the cellular functions of this key molecule.
Abbreviations
BADH:

Betaine aldehyde dehydrogenase
BHMT:

Betaine-homocysteine methyltransferase
CDH:

Choline dehydrogenase
CGL:

Cystathionine γ-lyase
DEG:

Differentially expressed gene
DMG:

Dimethylglycine
DMGDH:

Dimethylglycine dehydrogenase
DMS:

Dimethylsulfide
DMSHB:

Dimethylsulfonio-2-hydroxybutyrate
DMSO:

Dimethylsulfoxide
DMSP:

Dimethylsulfoniopropionate
FAA:

Free amino acid
FDR:

False discovery rate
FSW:

Filtered seawater
GNMT:

Glycine N-methyltransferase
MAT:

Methionine adenosyltransferase
MS:

Methionine synthase
MTHB:

4-methylthio-2-hydroxybutyrate
MTHFR:

Methylenetetrahydrofolate reductase
MTOB:

2-oxo-4-methylthiobutanoate
PAM:

Pulse amplitude modulated
PP:

Pyridoxal phosphate
PSU:

Practical salinity unit
ROS:

Reactive oxygen species
SAH:

S-adenosylhomocysteine
SAHH:

S-adenosylhomocysteine hydrolase
SAM:

S-adenosylmethionine
SARDH:

Sarcosine dehydrogenase
SDC:

S-methyl-L-methionine decarboxylase
SHMT:

Serine hydroxymethyltransferase
SMM:

S-methylmethionine
Declarations
Acknowledgments
The authors thank Victor Beltran and the staff of the National Sea Simulator (SeaSim) at the Australian Institute of Marine Science for their support, and Simon Davy (Victoria University, Wellington) for permission to cite results from an unpublished thesis. The authors also gratefully acknowledge Andrew Negri and Jan Tebben, for providing the coral larvae and extracts of crustose coralline algae, respectively, and assistance during the experiments. Finally, Sylvain Fôret was a major contributor to work reported here, and his untimely passing is not only a source of great sadness to many, but also represents a major loss to the marine genomics community.
Funding
CA gratefully acknowledges receipt of an AIMS@JCU scholarship, and the work was supported by the Australian Research Council via the ARC Centre of Excellence for Coral Reef Studies. Note that the funding bodies were not involved in the design of the study or in any aspect of the collection, analysis and interpretation of the data or paper writing.
Availability of data and materials
Predicted protein sequences: Provided as Additional file 3.
RNAseq reads were submitted to the Gene Expression Omnibus (GEO) under the reference number GSE96916.
Authors' contributions
CA, DGB, DJM, CAM and J-B R conceived and designed the experiments. CA, J-BR, CAM, DCH, DGB and BL carried out the experiments. CA, J-BR, CAM, DCH and SF analysed the data. CA, J-BR, DGB and DJM wrote the manuscript, with input from all authors. All authors read the article and approved the final version.
Ethics approval and consent to participate
The work on corals described here was carried out under GBRMPA permit G09/30327.
Consent for publication
Not applicable.
Competing interests
The authors declare that they have no competing interests.
Publisher's Note
Springer Nature remains neutral with regard to jurisdictional claims in published maps and institutional affiliations.
Open AccessThis article is distributed under the terms of the Creative Commons Attribution 4.0 International License (http://creativecommons.org/licenses/by/4.0/), which permits unrestricted use, distribution, and reproduction in any medium, provided you give appropriate credit to the original author(s) and the source, provide a link to the Creative Commons license, and indicate if changes were made. The Creative Commons Public Domain Dedication waiver (http://creativecommons.org/publicdomain/zero/1.0/) applies to the data made available in this article, unless otherwise stated.
Authors' Affiliations
(1)
AIMS@JCU, and Department of Molecular and Cell Biology, James Cook University, Townsville, Australia
(2)
ARC Centre of Excellence for Coral Reef Studies, James Cook University, Townsville, Australia
(3)
Climate Change Cluster (C3), Faculty of Science, University of Technology, Sydney, Australia
(4)
Australian Institute of Marine Science, Townsville, Australia
(5)
Evolution and Ecology, Research School of Biology, The Australian National University, Canberra, Australia
(6)
Laboratoire d'excellence CORAIL, Centre de Recherches Insulaires et Observatoire de l'Environnement (CRIOBE), Papeete, French Polynesia
(7)
College of Science and Engineering, James Cook University, Townsville, Australia