Research article

Open Access
Mitochondrial genomes of blister beetles (Coleoptera, Meloidae) and two large intergenic spacers in Hycleus genera
Received: 16 November 2016
Accepted: 31 August 2017
Published: 6 September 2017
Abstract
Background
Insect mitochondrial genomes (mitogenomes) exhibit high diversity in some lineages. The gene rearrangement and large intergenic spacer (IGS) have been reported in several Coleopteran species, although very little is known about mitogenomes of Meloidae.
Results
We determined complete or nearly complete mitogenomes of seven meloid species. The circular genomes encode 13 protein-coding genes (PCGs), 22 transfer RNAs (tRNAs) and two ribosomal RNAs (rRNAs), and contain a control region, with gene arrangement identical to the ancestral type for insects. The evolutionary rates of all PCGs indicate that their evolution is based on purifying selection. The comparison of tRNA secondary structures indicates diverse substitution patterns in Meloidae. Remarkably, all mitogenomes of the three studied Hycleus species contain two large intergenic spacers (IGSs). IGS1 is located between trnW and trnC, including a 9 bp consensus motif. IGS2 is located between trnS2 (UCN) and nad1, containing discontinuous repeats of a pentanucleotide motif and two 18-bp repeat units in both ends. To date, IGS2 is found only in genera Hycleus across all published Coleopteran mitogenomes. The duplication/random loss model and slipped-strand mispairing are proposed as evolutionary mechanisms for the two IGSs (IGS1, IGS2). The phylogenetic analyses using MrBayes, RAxML, and PhyloBayes methods based on nucleotide and amino acid datasets of 13 PCGs from all published mitogenomes of Tenebrionoids, consistently recover the monophylies of Meloidae and Tenebrionidae. Within Meloidae, the genus Lytta clusters with Epicauta rather than with Mylabris. Although data collected thus far could not resolve the phylogenetic relationships within Meloidae, this study will assist in future mapping of the Meloidae phylogeny.
Conclusions
This study presents mitogenomes of seven meloid beetles. New mitogenomes retain the genomic architecture of the Coleopteran ancestor, but contain two IGSs in the three studied Hycleus species. Comparative analyses of two IGSs suggest that their evolutionary mechanisms are duplication/random loss model and slipped-strand mispairing.
Keywords
Blister beetleMeloidaeMitochondrial genomesLarge intergenic spacerEvolutionary mechanismMolecular phylogeny
Background
The animal mitochondrial genome (mitogenome) is an informative model for phylogenetics, molecular evolution, and comparative genomic research, due to its simple genetic structure, maternal inheritance, and high evolutionary rate properties [1–3]. The mitogenome has been increasingly used to analyze the phylogeny and evolution of the highly diverse and rapidly radiating insects [4–8]. The typical mitogenome of metazoans is a circular molecule encoding a conserved set of 37 genes for 13 protein-coding genes (PCGs), two ribosomal RNA (rRNA) genes, and 22 transfer RNA (tRNA) genes, and comprising a non-coding control region [3]. The mitogenome commonly displays exceptional economy of organization evidenced by lacking introns, few intergenic spacers, incomplete stop codons, and even overlapping genes [9]. However, the extremely diverse Insecta also exhibits high diversity in their mitochondrial genomes, such as gene rearrangements and/or long non-coding regions (except the control region) in some lineages within Hymenoptera [10–14], Hemiptera [15–17], Dictyoptera [18, 19], Diptera [20], Orthoptera [21], Thysanoptera [22], Psocoptera [23], and Phthiraptera [24]. Within the order Coleoptera [25], most beetles retain the same gene content and gene organization as the hypothesized ancestral mitogenome for Insecta [26], while a few possess gene rearrangements of tRNAs [7, 27, 28] and PCGs [29] in their mitogenomes. For example, the mitogenome of the firefly, Pyrocoelia rufa contains a 1724-bp large intergenic spacer (IGS) composed of tandem repeat units [5]. Non-coding intergenic spacers were also found in the mitogenomes of other beetles (Trachypachus holmbergi, Priasilpha obscura, and Cyphon sp.) [30]. Although a recent study reported that Hycleus chodschenticus has a large intergenic spacer [31], very little is known about the rearrangement and large non-coding regions in Meloidae mitogenomes.
Meloidae is a medium sized family within Coleoptera Tenebrionoidea, containing more than 3000 species within approximately 125 genera [32]. Meloids are commonly referred to as blister beetles due to a defensive secretion, cantharidin. Cantharidin is an intoxicant that can be used for the removal of warts and may be effective in the treatment of primary liver cancer, leucocytopenia, chronic liver disease, neurodermatitis and other major illnesses [33, 34]. The medicinal properties of cantharidin, hypermetamorphosis development, and parasitoid habit of Meloidae species have been extensively researched [35, 36]. However, the mitogenomes of Meloidae species is less well researched. Two of the few studies of Meloidae mitogenomes found that Epicauta chinensis and Lytta caraganae retained the ancestral model of the insect mitogenome, without any gene rearrangement or long non-coding regions [31, 37]. Of the approximately 3000 species within Meloidae, only three complete mitogenomes (of Epicauta chinensis, Lytta caraganae, and Hycleus chodschenticus) have been described (excluding another without any description; Mylabris sp., JX412732.1). The lack of research considerably limits the genomic comparisons and molecular phylogenetic studies of Meloidae. Thus we believed there was an urgent need to explore the mitogenome evolution in the diverse family of Meloidae.
Consequently, we determined the mitogenomes of seven blister beetle species, representing four meloid genera. These species were E. gorhami, E. tibialis, L. caraganae, Mylabris aulica, H. phaleratus, H.marcipoli, and H. cichorii. We described the general features of the newly sequenced mitogenomes from the seven species and analyzed two IGSs in all Hycleus species to explore their evolutionary mechanisms. In addition, we attempted to assess the possibility of the IGS2 to be a molecular marker and indicators of phylogenetic relationships within Meloidea, based on mitogenomic datasets. The mitogenomes of the seven meloids will significantly add to the knowledge of Meloidae taxonomy, phylogeny, and evolution.
Discussion
General features
All seven mitochondrial genomic arrangements share the ancestral type for insects [26, 38], as is reported in the published meloid mitogenomes [31, 37]. The nucleotide composition of mitochondrial genomes for meloids also corresponds well to the A + T bias generally observed in insect mitogenomes.
All mitogenomes of the seven meloids have incomplete stop codons, which have been described in many other insect species [39, 40]. It has been demonstrated that incomplete stop codons can produce functional stop codons in polycistronic transcription cleavage and polyadenylation processes [9]. Remarkably, the cox3 genes of Lytta and Epicauta species possess the same incomplete stop codon, while Hycleus and Mylabris beetles utilize complete terminators (Additional files 1, 2, 3, 4, 5, 6 and 7: Tables S1–S7). The similar preference for the adoption of stop codons seems to suggest that the genus Lytta is more closely related to Epicauta than the two other genera, and this relationship was confirmed by phylogenetic results.
The evolutionary rates of all mitochondrial PCGs indicate that their evolution is based on purifying selection (Table 3), as is reported in other insects [41, 42]. However, the cytochrome oxidase subunits (cox1, cox2, and cox3) and cytochrome b (cob) have lower Ka/Ks ratios than ATPase subunits (atp8 and atp6) and NADH dehydrogenase subunits (nad1–6 and 4 L). The nucleotide diversity also shows cox and cob genes are obviously more conserved than atp and nad genes. This phenomenon indicates that the various functional genes in the mitochondria of meloids underwent different selection pressures during evolution. Furthermore, the cox1 has the slowest evolutionary rate, demonstrating that functional constraints are more powerful for this gene than positive selection.
The absence of a DHU arm of trnS1 commonly exists in many metazoan mitogenomes, including insects [30, 43, 44]. However, this tRNA (missing DHU arm) was often suggested by authors to be functional [45, 46]. Another unusual feature is the use of TCT as the trnS1 anticodon in meloids, although most arthropods adopt a GCT anticodon in trnS1. This exceptional trnS1 anticodon was also found in many other beetles [5, 30, 47].
Some mismatched pairs in stems of tRNAs (e.g., T-T in the DHU stem of trnQ and in anticodon stem of trnK; C-T in the TΨC stem of trnI; A-C in anticodon stem of trnL2 (UUR); A-G in acceptor stem of trnW), are common in insect mitogenomes and can be corrected through editing processes or may represent unusual pairings [44]. It was not possible to model the substitution pattern of the TΨC loop in trnH (Fig. 3) because of the high variation among orthologous sequences. The increasing variation usually accompanies more compensatory base changes in stems, resulting in the tRNA more or less not conserved (Additional file 9: Table S9).
The ends of rRNA genes of meloid mitogenomes were assumed to extend to the boundaries of flanking genes because it is impossible to accurately determine by DNA sequence alone [48]. Consequently, rrnL was assumed to fill up the blank between trnV and trnL1 (CUN) (Fig. 1), but the boundary between the rrnS and the putative control region was defined by the alignment with homologous sequences [49].
The control region in the insect mitogenome is equivalent to the control region of vertebrate mitogenomes, which contains the origin sites for transcription and replication [50, 51]. The six complete mitogenomes include a poly-T stretch (15 bp) that was suggested to function as a possible recognition site for the initiation of replication of the mitochondrial DNA N strand [50]. Like other Coleopteran mitogenomes, the control regions of meloids also exhibit the highest A + T content in the whole mitogenome. This region is unlikely to be more variable than protein-coding genes due to such high A + T content and consequently limits its usefulness as a molecular marker [52].
Intergenic spacers
All newly sequenced mitochondrial genomic arrangements share the ancestral type for insects without rearrangement, but possess large non-coding regions (except the control region) in some lineages. The intergenic spacers in the mitogenomes of E. tibialis, E. gorhami and L. caraganae are similar to those in E. chinensis mitogenome [37]. The total length of M. aulica's intergenic spacers is not significantly different from the former four meloids, but its genome does contain more intergenic spacers (Table 2). Unexpectedly, the whole lengths of intergenic spacers in the three Hycleus mitogenomes are much longer than those of other meloids. The most remarkable feature is the presence of two IGSs in the mitogenomes of three Hycleus species. A 494-bp long intergenic spacer was also reported in the recently published mitogenome of H. chodschenticus [31]. Consequently, the total lengths of known Hycleus mitogenomes are longer than those of other meloid mitogenomes, but predominantly due to the presence of IGSs rather than the lengths of genes or control regions.
The mitochondrial genome typically displays exceptional economy of organization, evidenced by lack of introns, few intergenic spacers, incomplete stop codons and even overlapping genes [9]. However, the large IGSs in mitochondrial genomes were observed in some Hymenopteran [11, 13], Hemipteran [15, 17] Dictyopteran [18] and Coleopteran [5, 30] insects. Previously reported IGSs contain tandem repeat units (in Pyrocoelia rufa and Evania appendigaster) [5, 11], or additional origin of replication [10] and similar to it [15]. The IGS in Reduviidae bugs have unidentified open reading frames encoding 103 or 104 amino acids but without blast similarity [15, 17]. In contrast, the two IGSs in Hycleus species have no significant similarity with other genes of their mitogenomes and lack open reading frames or tandem repeats. Nevertheless, the IGS2 of all studied Hycleus species contain discontinuous repeats of a 5 bp consensus motif (TACTA) (Fig. 5b). This motif was also found in many other Coleopteran insects [30], similar to the 7 bp motif 'ATACTAA' conserved in Lepidoptera [6] and the hexanucleotide motif 'THACWW' in Hymenoptera [11]. The pentanucleotide motif was suggested as the possible binding site of a transcription termination peptide (mtTERM), as its position signifies the end of the J strand coding region in the circular mitochondrial DNA [38]. However, we do not know the function of this discontinuous repeat.
The discontinuous repeats and the 18 bp long consensus sequence in both ends of IGS2 within all studied Hycleus species (Fig. 6a) suggest that the slipped-strand mispairing [53] may be the evolutionary mechanism of this IGS. According to this theory, mispairing involves dissociation of replicating DNA strands and then misaligned reassociation (Fig. 6b), following replication or repair lead to insertions of several repeat units. Formed tandem repeat experiences random loss and/or point mutation, only the repeat units in both ends are completely retained and the residues form the IGS2 (Fig. 6c). Although we are not absolutely certain about our assumption due to the highly divergent region, the fragmented repeat units in highly divergent region (Fig. 5b) and complete repeat units at both ends (Fig. 6a) suggest that the slipped-strand mispairing is the most convincing mechanism for IGS2.
The IGS between
trnW
and
trnC
was only previously reported in
Trachypachus holmbergi
[
30
], while no IGS (>30 bp) at this position has yet been found in the mitogenomes for Meloidae. Although
H. chodschenticus
has 3-bp intergenic spacer at the same position [
31
], it is too usual as many short intergenic spacers to be considered as IGS1. Therefore, the evolutionary mechanism of IGS1 in the three
Hycleus
species in present study is different from
H. chodschenticus
. The 9-bp consistent motif and the relatively high similarity among the three
Hycleus
species in the present study (Fig.
5
) suggest that they have the mutual mechanism of IGS1. The duplication/random loss model [
1
,
54
] may account for the IGS1. We speculate that tandem duplication of
trnW
-
trnC
-
trnY
is caused by some error in DNA replication, followed by random loss of partial duplicated genes, and then the residues form the IGS1 (Fig.
8
). This model was also proposed as the mechanism for rearrangements in some Hemipteran [
17
] and Mantodea mitogenomes [
19
], and the IGSs in
Blaptica dubia
[
18
]. It is possible that the duplication/random loss event of
Hycleus
beetles occurred relatively early and many nucleotides were deleted during the random loss period. Consequently, the residual IGS1 has low similarity with the original tRNAs, and the IGS1 is somewhat not conserved in
Hycleus
.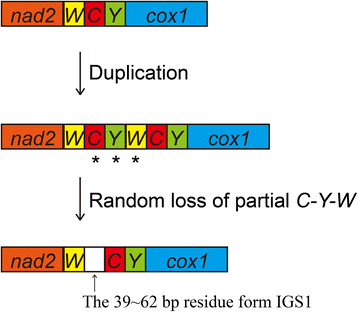 Similar to the three Hycleus species in the present study, H. chodschenticus also possesses the IGS between trnS2 and nad1 [31]. Although intergenic spacers with approximately 20 bp at this position are common in Coleopteran mitogenomes, no large intergenic spacers have been found within other Coleopteran lineages to date. Based on the current knowledge of IGS2 across Coleoptera, it is reasonable to assume that the emergence of IGS2 in Hycleus mitogenomes might be a special evolutionary mutation. It is difficult to identify the closely related genera Hycleus and Mylabris since they share very similar morphological characteristics. However, IGS2 might be a potential marker to distinguish Hycleus from its closely related and indistinguishable genera with respect to the sizeable intergenic spacer that exists in all studied Hycleus species but is absent in other genera,. Although we are unable to adequately confirm that IGS2 exists in all Hycleus species due to limited samples, it provides a new candidate for molecular identification of this genus. Variations in the quantity, location and sequence of intergenic spacers might also be a valuable marker for phylogenetic and evolutionary studies at lower taxonomic levels, if these details of more taxa were obtained in future.
Phylogeny
Phylogenetic studies indicated that different datasets and inference methods influence the tree topology of Coleoptera [31, 55]. Our phylogenetic results showed that tree topologies are sensitive to datasets rather than inference methods, since the different inference methods with the same datasets generated consistent tree topologies. The heterogeneous-site model in PhyloBayes was suggested as being more reliable for phylogenetic inferences within Coleoptera [31, 55]. Our Bayesian analyses under the heterogeneous-site model are unable to resolve phylogenetic relationships within Tenebrionoidea, but perhaps this is due to insufficient taxa. Although the nucleotide dataset of PCGs was proposed as better for phylogenetic analyses at superfamily level [31], we could not assess the quality of different datasets because some key lineages share the same tree topologies. However, nodal support values are sensitive to inference methods. For the same datasets, ML trees had significantly lower support values than BI trees, especially at several nodes that involved the family-level relationships of Aderidae, Ciidae, Scraptiidae (Fig. 7). This is consistent with previous phylogenetic studies using mitogenomes [14, 31, 37].
Phylogenetic relationships within Tenebrionoidea are ambiguous. The inter-family relationships are also uncertain, especially for Aderidae, Ciidae, Oedemerdae, and Prostomedae, which are respectively represented by only one taxon. However, all tree topologies well recover the monophyly of Tenebrionidae, Meloidae, and Mordellidae (Fig. 7, Additional file 10: Figure S1). Tenebrioninae and Diaperinae are never recovered as monophyletic groups, as is reported by Gunter et al. [56]. To date, no phylogeny has successfully resolved the interfamilial relationships between tenebrionoids, either by using morphological or molecular characteristics. The comprehensive phylogeny of Coleoptera [57, 58] and the largest molecular phylogeny of Tenebrionoidea [56] were unable to recover strong support or definitively infer the phylogenetic relationships within the superfamilies. In contrast to these phylogenetic studies based on several genes, our phylogenetic inferences may be hindered by lack of across taxon sampling rather than dataset validity.
The genus Lytta is the sister group to Epicauta rather than grouped with Mylabris within Meloidae (Fig. 7). The placement of Lytta and whether Lytta is more closely related to Mylabris or Epicauta could not be inferred from previous molecular phylogeny of the family Meloidae based on 16S rRNA and ITS2 [32]. We confirmed this relationship by multiple inference approaches based on both nucleotide and amino acid sequences of 13 mitochondrial PCGs. Considering the high diversity and rapid radiations of insects [59, 60], mitochondrial genomes could be a better approach to resolve intractable phylogenetic relationships due to its relatively rapid rate of mutation and purely maternal inheritance [3, 61]. Consequently, we believe our conclusion that the genus Lytta is more closely related to Epicauta than Mylabris or Hycleus is reliable because it is based on complete mitogenomes and the preference of stop codon usage.
The data collected thus far regarding meloid mitogenomes could not resolve the phylogenetic relationships within Meloidae. In fact, no phylogeny of Meloidae based on either morphological or molecular characteristics has been able to successfully resolve the relationships at genera and species levels. Taxon sampling is known to be one of the most significant determinants of accurate phylogenetic inferences, particularly in species rich lineages [62, 63]. Considering the diversity of the family Meloidae and the limitation of the present molecular information, more conclusive phylogenetic results will be achievable as bio-information becomes increasingly available. This study will assist with these more conclusive phylogenetic results and future studies on taxonomy, phylogeny and systematics of Meloidae insects.
Conclusions
Our study presents the mitochondrial genomes of seven meloid beetles. All complete mitogenomes of meloids retain the typical gene content and organization of the ancestor. The evolutionary rates of all PCGs in the studied Meloidae indicate that their evolution is according to purifying selection. The comparison of tRNA secondary structures exhibit diverse substitution patterns in Meloidae. Two large intergenic spacers exist in the three studied Hycleus mitogenomes, and the sequence and structure of the two IGSs contributed to our conclusion regarding their possible evolutionary mechanisms. The phylogenetic results inferred from mitochondrial genomes support that the genus Lytta is more closely related to Epicauta than to Mylabris. Although data collected thus far could not resolve the phylogenetic relationships within Meloidae, this study will assist in future mapping of the Meloidae phylogeny.
Abbreviations
atp8 and apt6 :

ATPase subunits 8 and 6
BI:

Bayesian Inference
Cob :

Cytochrome b
cox1-cox3 :

Cytochrome C oxidase subunit I-III
IGS:

Intergenic spacer
Mitogenome:

Mitochondrial genome
ML:

Maximum Likelyhood
nad1-nad6 and nad4L :

NADH dehydrogenase subunits 1–6 and 4 L
PCGs:

Protein-coding genes
rrnL :

large (16S) rRNA subunit
rrnS :

small (12S) rRNA subunit
RSCU:

Relatively synonymous codon usages
Declarations
Acknowledgments
We sincerely appreciate Zhao Pan (Hebei University) for helping to identify some samples and Megan Price (Sichuan University) for English language editing. The research was funded by the Science and technology project of Sichuan Province, 2015SZ0036 and the state standardization project of traditional Chinese medicine, ZYBZH-C-SC-53.
Funding
Science and technology project of Sichuan Province, 2015SZ0036.
State standardization project of traditional Chinese medicine, ZYBZH-C-SC-53.
Availability of data and materials
All the data supporting our findings is contained within the manuscript.
Authors' contributions
CD, XZ and BY conceived the experiments. CD, LZ and JM performed experiments. CD and CZ analyzed the data. CD and TL collected samples and wrote the paper. BY and XZ coordinated the manuscript writing. All authors read and approved the final manuscript.
Ethics approval and consent to participate
Not applicable.
Consent for publication
Not applicable.
Competing interests
The authors declare that they have no competing interests.
Publisher's Note
Springer Nature remains neutral with regard to jurisdictional claims in published maps and institutional affiliations.
Open AccessThis article is distributed under the terms of the Creative Commons Attribution 4.0 International License (http://creativecommons.org/licenses/by/4.0/), which permits unrestricted use, distribution, and reproduction in any medium, provided you give appropriate credit to the original author(s) and the source, provide a link to the Creative Commons license, and indicate if changes were made. The Creative Commons Public Domain Dedication waiver (http://creativecommons.org/publicdomain/zero/1.0/) applies to the data made available in this article, unless otherwise stated.
Authors' Affiliations
(1)
Key Laboratory of Bio-resources and Eco-environment (Ministry of Education), College of Life Sciences, Sichuan University, Chengdu, People's Republic of China
(2)
Sichuan Key Laboratory of Conservation Biology on Endangered Wildlife, College of Life Sciences, Sichuan University, Chengdu, People's Republic of China
(3)
Sichuan Key Laboratory of Medicinal American Cockroach, Chengdu, People's Republic of China
(4)
Nanchong Vocational and Technical College, Nanchong, People's Republic of China