Research article

Open Access
Molecular basis of African yam domestication: analyses of selection point to root development, starch biosynthesis, and photosynthesis related genes
Received: 4 April 2017
Accepted: 2 October 2017
Published: 12 October 2017
Abstract
Background
After cereals, root and tuber crops are the main source of starch in the human diet. Starch biosynthesis was certainly a significant target for selection during the domestication of these crops. But domestication of these root and tubers crops is also associated with gigantism of storage organs and changes of habitat.
Results
We studied here, the molecular basis of domestication in African yam, Dioscorea rotundata. The genomic diversity in the cultivated species is roughly 30% less important than its wild relatives. Two percent of all the genes studied showed evidences of selection. Two genes associated with the earliest stages of starch biosynthesis and storage, the sucrose synthase 4 and the sucrose-phosphate synthase 1 showed evidence of selection. An adventitious root development gene, a SCARECROW-LIKE gene was also selected during yam domestication. Significant selection for genes associated with photosynthesis and phototropism were associated with wild to cultivated change of habitat. If the wild species grow as vines in the shade of their tree tutors, cultivated yam grows in full light in open fields.
Conclusions
Major rewiring of aerial development and adaptation for efficient photosynthesis in full light characterized yam domestication.
Keywords
Domestication
Dioscorea spp.
Adaptation
Population genomics, selection
Root development
Starch biosynthesis
Plant development
Background
One of the major changes in human history was the emergence of agricultural societies [1]. About 13,000 years ago, farmers began to domesticated plants and animals for agriculture. Domestication was done by selecting plants and animals with suitable traits for farming like increased yield. As a result, the morphology of our cultivated plants was reshaped by human selection for a period certainly spanning thousands of years [2–4]. The domestication process offers an interesting glimpse of the broad adaptation process and of the genetic basis of morphological and physiological traits [5, 6]. It helps understand how a relatively lowly productive wild relative can be transformed into a high yielding cultivated variety. Insights into crop domestication have primarily come from cereals [5]. Root and tuber crops are also a major contributor of starch to the human diet. These crops have the particularity of very often being vegetatively propagated [7]. The domestication process increased their ability to store starch in their roots or tubers and other specialized storage organs as well as the size of these organs [7]. Today it is not clear if the knowledge we have of the process of domestication of cereal crops can be extrapolated to root and tuber crops. For example, selection on several genes responsible for starch biosynthesis has been documented in maize [8, 9]. So, one would expect that domestication also allows more efficient production and/or storage of starch in root and tuber crops. One would also expect that domestication reshaped the formation and development of roots as a support for efficient starch storage.
The most widely grown root and tuber crops in Africa are cassava and yam. The two main species of yam, Dioscorea spp., were domesticated independently, D. rotundata in Africa and D. alata in Asia. D. rotundata, the most widely cultivated yam species in Africa is a staple food for over 100 million people [10]. This species has two close wild relatives D. abyssinica and D. praehensilis [11–14]. The three species are diploid and have 20 chromosomes [2n = 40] [14–16]. The African cultivated yam and its closest wild relatives are compulsory out-crossers because they are dioecious. However, D. rotundata is preferentially propagated through vegetative multiplication [17]. Interestingly, the two wild species have distinct ecological distribution: D. abyssinica is found in the wooded savanna areas while D. praehensilis is found in tropical forested areas [18]. The diploid African yam is cultivated in both ecological areas, thereby allowing gene flow between cultivated and the two wild species [13]. Several key phenotypes differentiate cultivated varieties from their wild relatives. Cultivated yams are characterized by larger and less ramified roots than their wild relatives, and some cultivated varieties do not develop inflorescences [19]. Finally, the wild relatives of yam are vines which grow partly in the shade of their tutor tree, while cultivated yams grow in full sunlight. This change of habitat might be associated with major adaptation.
Our objective was to uncover the molecular basis of yam domestication. To find what genes and specific functions were selected during yam domestication, we sequenced the genome of wild and cultivated African yams. Using this dataset, we then scanned for selection signature to pinpoint genes associated with domestication.
Results
Diversity structuration supports the three major species
We generated 162 million 100-bp paired-end reads. The yam transcriptome size has been estimated to be approximately 64 Mb [24] and the genome size to be 550 Mb. We obtained an average mapping rate of ~ 12.6% of our genomic reads i.e. close to the expected 12.4% based on the relative transcriptome size compared to the whole genome (Additional file 2: Table S2). We identified a total of 308,840 SNPs. These SNPs were found in 23,136 contigs with a mean contig length of 1316 bp (ranging from 250 to 15,691). A low correlation was observed between the length of the contigs and the number of SNPs detected (r = 0.34, p < 0.001).
Analysis of the population structure using sNMF led to three major genetic groups (Additional file
2
: Figure S1), corresponding to the three species (Fig.
1
-a). We identified four individuals (A420, P599, A433 and P624) as interspecific hybrids. One individual (A3085) was certainly misclassified in the field: it was recorded as
D. abyssinica
in the field but was genetically close to the
D. praehensilis
group. The exact structuration was similarly found using the NgsAdmix approach, with only minor differences in the estimated proportion of admixture (Fig.
1
-b). As hybrids could bias the calculation of diversity; the differentiation tests; and Tajima's D statistics, we removed the four hybrids for further analysis. Departures for neutrality or extreme differentiation were consequently assessed on 26 individuals.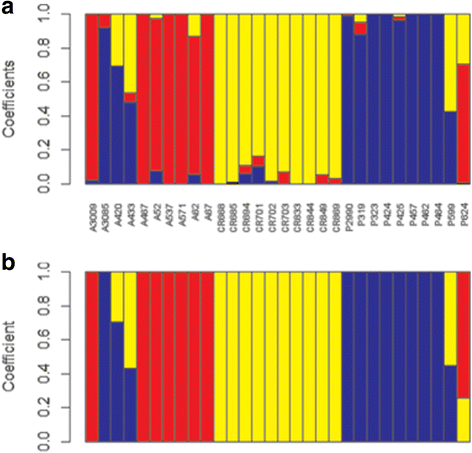 We compared nucleotide diversity π and the nucleotide polymorphism θ between the cultivated species and each of the wild species. First, the cultivated diversity π was 26% and 36% respectively lower than D. abyssinica and D. praehensilis (Additional file 2: Table S3 a and b). Secondly, the cultivated diversity θ was 28% and 44% lower than D. abyssinica and D. praehensilis respectively. Linkage disequilibrium (LD) computed between 400,760 pairs of SNP decreased rapidly at r 2 = 0.1 after 100 bp (Additional file 2: Figure S2).
The combination of selection tests identified a large set of candidate contigs
Contigs were searched for selection signatures using four different methods: Tajima's D, marked reduction in the diversity in the cultivated samples, differentiation between wild and cultivated species, and principal component analysis. Using the four methods, a total of 998 candidate contigs were identified (Additional file 2: Table S4), among which 81 were detected by at least two methods (Additional file 2: Figure S3).
(i) Tajima's D in the cultivated yam showed a skewed distribution to positive values (Fig.
2
-a), with a mean of 0.77. The distribution reflected an excess of contigs with low diversity (Fig.
2
-a). The distribution of Tajima's values in the two wild species is centered on zero and consequently reflects a more global equilibrium between SNP occurrence and their frequencies (Additional file
2
: Figure S4). Using a 1% threshold (Tajima D < −1.84), a total of 187 contigs were identified as potential candidates under selection in the cultivated sample.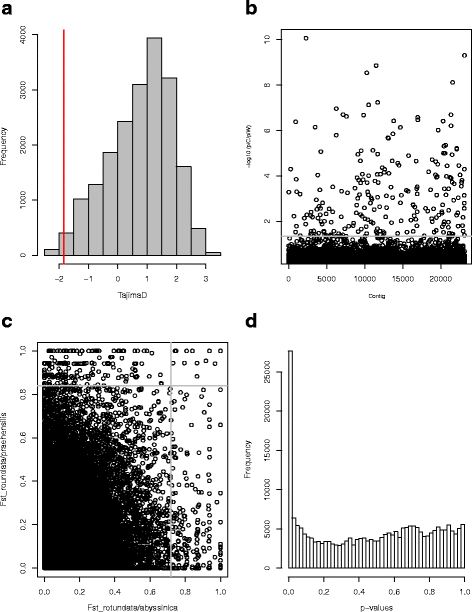 (ii) The reduction of nucleotide diversity and the nucleotide polymorphism were highly correlated (r = 0.997, p < 0.001, (Additional file 2: Figure S5). Consequently, we only used the reduction of nucleotide diversity (πc/πw) for further analysis. Using a threshold of 1% (−log10 (πc/πw) > 1.34), a total of 232 contigs were identified as having an extremely low diversity in the cultivated sample compared to their wild relatives, and were therefore considered as candidates. (Fig. 2-b).
(iii) The average differentiation between D. rotundata and D. praehensilis was higher than between D. rotundata and D. abyssinica, (FST = 0.21 and 0.16, respectively, p-value <0.001). Using a 1% threshold (FST > 0.73 and 0.84 for D. rotundata with D. praehensilis and D. abyssinica respectively), 422 contigs were identified with extremely high FST values with one or the other wild species. Among them, 12 showed extreme values with the two wild species simultaneously (Fig. 2-c).
(iv) Last, we used a SNP-based approach. The two first principal components were used to perform the genome scan for selection using Pcadapt V.2.2 (Additional file 2: Figure S6a). The Mahalanobis statistic distance fitted a normal distribution (Additional file 2: Figure S6b). The histogram of p-values showed an excess of small p-values, indicating the presence of outliers (Fig. 2d). Using a 5% threshold, we identified 2502 SNPs in 1602 candidate contigs with extremely low p-values. A total of 238 contigs that showed at least two SNPs putatively under selection were retained as candidates.
Root development, starch biosynthesis, phototropism and photosynthesis candidate genes were selected
We compared the candidate contigs with the available annotation of the yam transcriptome reference [
24
]. Thus, we retrieved some genes corresponding to putative targets for selection during yam domestication. In particular, among the genes annotated for the candidate genes, we identified five candidate contigs that were relevant in the light of yam domestication (Fig.
3
and Additional file
2
: Table S5). These five candidate contigs showed strong diversity loss in the cultivated group compared to the wild species (Additional file
2
: Figure S7). A candidate contig was a putative
SCARECROW-LIKE
gene involved in root development [
42
,
43
]
.
Two other genes were associated with the earliest stages of starch biosynthesis and storage i.e., genes coding for the sucrose synthase 4 [
44
] and the sucrose-phosphate synthase 1 [
45
]. We also identified two genes associated with growth and phototropism, respectively
: Ethylene Insensitive 4
genes
(EIN4)
[
46
] and
Phototropin 2
gene (
Phot2,
[
47
]. The 998 candidate contigs were significantly enriched for a total of 21 significant GO terms (Additional file
2
: Table S6). When we restricted our analysis to the 81 candidate contigs detected by at least two methods, we obtained nine significant GO terms (Additional file
2
: Table S7). The most significant GO terms were identical whether we considered all the candidate contigs or only the 81 candidate contigs. The set of GO terms found across these two enrichment tests was associated with dehydrogenase and oxidoreductase (
NADH DH
) activities (Fig.
4
).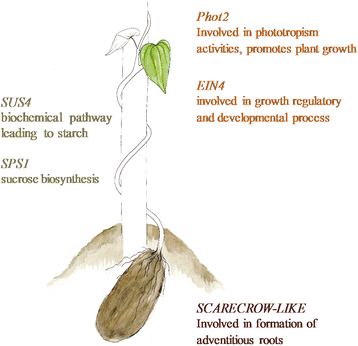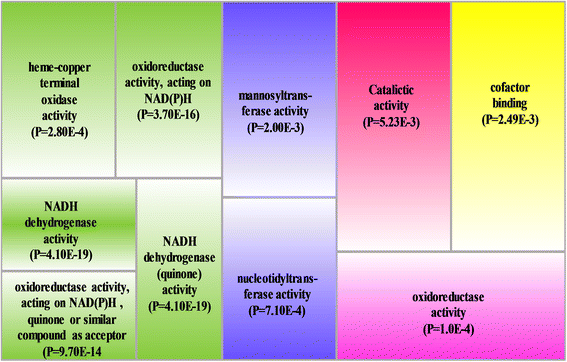 Conclusions
Selection in the early step of sugar biosynthesis is detected in yam, and previously detected in cereal. This result suggests that key step in starch biosynthesis were necessary both in cereal as well as in root and tuber crops. More interestingly, drastic changes in habitat associated with domestication is certainly retraced in selection in phototropism genes. Selection on dehydrogenase and oxidoreductase activities associated with NADPH DH complex genes, was certainly the consequence of adaptation to optimize photosynthesis in full light. If some convergence is observed at the molecular level, very specific adaptations were necessary for the domestication of African yam. Beyond domestication, this study highlight the molecular mechanism associated with changes from shade-tolerant plant to a full light environment.
Abbreviations
BWA:

Burrows-wheeler aligner
GATK:

Genome analysis tool kit
GeT:

Genome and transcriptome
LD:

Linkage disequilibrium
LDcorSV:

Linkage disequilibrium corrected by the structure and the relatedness
SOAP:

Short oligonucleotide analysis package
SPS:

Sucrose-phosphate synthase
SUS:

Sucrose synthase
Declarations
Acknowledgments
We thank the GeT-genotoul platform in Toulouse for DNA sequencing. Samples were previously obtained from a collaboration between Serge Tostain (IRD), Clément Agbangla (Université d'Abomey-Calavi, Cotonou, Benin), Ougbi Daïnou (Université d'Abomey-Calavi, Cotonou, Benin). We thank Marie Couderc and Cédric Mariac for advices during genomic bank preparation and sequencing. We thank Cécile Berthouly-Salazar and Philippe Cubry for their advices in carrying out data analysis.
Funding
This work was supported by a PhD grant to RA by the BID. This work was supported by the Agence Nationale de la Recherche with a grant to YV: ANR-13-BSV7–0017.
Availability of data and materials
Raw data (fastq) files are available from SRA (SRX3035965-SRX3035994). Code as a Additional file 1: Table S1.
Authors' contributions
RA, NS, HC, AD, GD, OF, KA, YV designed the study; NS generated the data; BR and OF contributed to analytic tools; RA performed the population genetic analyses; RA, NS, HC, AD, OF, KA, YV interpreted the results; ACT designed Fig. 3, RA, NS, KA and YV wrote the draft and the different authors contribute to its corrections. All authors read and approved the final manuscript.
Ethics approval and consent to participate
All samples were collected according to international rules. An agreement was signed between IRD and Université d'Abomey-Calavi (Benin) and sampling was performed together with local researchers. Plants were identified by Serge Tostain (yam specialist, IRD), Nora Scarcelli (yam specialist, IRD) and local yam farmers.
Consent for publication
Not applicable
Competing interests
The authors declare that they have no competing interests.
Publisher's Note
Springer Nature remains neutral with regard to jurisdictional claims in published maps and institutional affiliations.
Open AccessThis article is distributed under the terms of the Creative Commons Attribution 4.0 International License (http://creativecommons.org/licenses/by/4.0/), which permits unrestricted use, distribution, and reproduction in any medium, provided you give appropriate credit to the original author(s) and the source, provide a link to the Creative Commons license, and indicate if changes were made. The Creative Commons Public Domain Dedication waiver (http://creativecommons.org/publicdomain/zero/1.0/) applies to the data made available in this article, unless otherwise stated.
Authors' Affiliations
(1)
Institut de Recherche pour le Développement, Université de Montpellier, Unité Mixte de Recherche Diversité Adaptation et Développement des Plantes (UMR DIADE), Montpellier, France
(2)
Unité Mixte de Recherche Génétique Quantitative et Evolutive – Le Moulon, INRA – Univ. Paris-Sud – CNRS – AgroParisTech, Université Paris-Saclay, Gif-sur-Yvette, France
(3)
Faculté des Sciences et Techniques de Dassa, Laboratoire de Biotechnologie, Ressources Génétiques et Amélioration des Espèces Animales et Végétales (BIORAVE), Université d'Abomey, Dassa-Zoumè, Benin
(4)
Centre International de la Recherche Agronomique pour le Développement, UMR AGAP, Montpellier, France
(5)
Université Lyon 1, CNRS, UMR 5558, Laboratoire de Biométrie et Biologie Evolutive, Lyon, France
(6)
Université de Grenoble, Grenoble, France