Research article
Open Access
Time-course transcriptome analysis of human cellular reprogramming from multiple cell types reveals the drastic change occurs between the mid phase and the late phase
Received: 15 August 2017
Accepted: 15 December 2017
Published: 3 January 2018
Abstract
Background
Human induced pluripotent stem cells (hiPSCs) have been attempted for clinical application with diverse iPSCs sources derived from various cell types. This proposes that there would be a shared reprogramming route regardless of different starting cell types. However, the insights of reprogramming process are mostly restricted to only fibroblasts of both human and mouse. To understand molecular mechanisms of cellular reprogramming, the investigation of the conserved reprogramming routes from various cell types is needed. Particularly, the maturation, belonging to the mid phase of reprogramming, was reported as the main roadblock of reprogramming from human dermal fibroblasts to hiPSCs. Therefore, we investigated first whether the shared reprogramming routes exists across various human cell types and second whether the maturation is also a major blockage of reprogramming in various cell types.
Results
We selected 3615 genes with dynamic expressions during reprogramming from five human starting cell types by using time-course microarray dataset. Then, we analyzed transcriptomic variances, which were clustered into 3 distinct transcriptomic phases (early, mid and late phase); and greatest difference lied in the late phase. Moreover, functional annotation of gene clusters classified by gene expression patterns showed the mesenchymal-epithelial transition from day 0 to 3, transient upregulation of epidermis related genes from day 7 to 15, and upregulation of pluripotent genes from day 20, which were partially similar to the reprogramming process of mouse embryonic fibroblasts. We lastly illustrated variations of transcription factor activity at each time point of the reprogramming process and a major differential transition of transcriptome in between day 15 to 20 regardless of cell types. Therefore, the results implied that the maturation would be a major roadblock across multiple cell types in the human reprogramming process.
Conclusions
Human cellular reprogramming process could be traced into three different phases across various cell types. As the late phase exhibited the greatest dissimilarity, the maturation step could be suggested as the common major roadblock during human cellular reprogramming. To understand further molecular mechanisms of the maturation would enhance reprogramming efficiency by overcoming the roadblock during hiPSCs generation.
Keywords
Induced pluripotent stem cellCellular reprogrammingTime-course gene expressionTranscriptional factorTranscriptional factor regulatory network
Background
Human induced pluripotent stem cells (hiPSCs) have revolutionized not only stem cell research but also clinical medicine by advancing cell therapy, disease modeling, and drug discovery. However, the reprogramming process is still inefficient and establishment of high-quality hiPSCs is unreliable regardless of many developed reprogramming methods to increase efficiency and safety [1, 2]. Therefore, to elucidate underlying mechanisms of reprogramming procedure by unveiling its roadblock has important implication for the hiPSCs generation.
Previous studies conducted time-course gene expression analyses during reprogramming using mouse embryonic fibroblasts (MEFs) [3, 4]. These studies suggested the progression of reprogramming is broadly divided into three phases: initiation, maturation, and stabilization. Briefly, reprogramming is initiated with mesenchymal-to-epithelial transition (MET), one of the hallmark events of initiation. Next, the intermediate reprogramming cells obtain expressions of a subset of pluripotency genes by exogenous transgene-dependent manner for maturation. Finally, the reprogramming cells gain transgene-independent stem cell property through stable expression of pluripotent genes at stabilization [3–5]. Furthermore, a recent work illustrated reprogramming roadmaps of MEFs with higher resolution by using cell surface marker based subpopulation analysis. The results indicated that suppression of mesenchymal genes is followed by transient upregulation of epidermis related genes whose inactivation soon turns on pluripotency genes [6, 7].
However, the characteristics and the timing of hiPSCs reprogramming events have been reported to be different from mouse, although iPSCs can be generated by the induction of the same transcription factors [8]. For example, MET occurs later in human reprogramming process, which is when exogenous OSKM (OCT4, SOX2, KLF4, and c-MYC) becomes suppressed and endogenous OCT4 starts to appear [9]. In addition, the pluripotent states are referred differently for human and mouse iPSCs, 'primed' and 'naïve', respectively [10, 11]. Because the understanding of human cell reprogramming process is still limited compared to mice, to explore reprogramming process in human cells as comprehensively as in mouse cells is of the utmost importance.
Although the current insights of cellular reprogramming of hiPSCs were confined to fibroblasts, hiPSCs have been established from multiple somatic cell types including dermal fibroblasts [12, 13], adipose-derived stem cells [14–17], neural stem cells [18], hepatocytes [19], amniotic fluid-derived cells [20, 21], epithelial cells [22–24], melanocytes [25] and peripheral blood cells [26–28]. Notably, a recent research reported that all five OSKM-induced human somatic cell types exhibited transiently similar transcriptome profile which resembled a primitive streak [29]. These facts suggest that partially common pathway in hiPSCs reprogramming might exist across multiple cell types. Furthermore, a recent study indicated that the maturation, from day 7 to 15 upon OSKM transduction in human dermal fibroblasts (HDFs), is a major roadblock of reprogramming process [30]. Thus, we aimed to differentiate reprogramming process shared in various human cell types in order to evaluate whether maturation is a common roadblock in other cell types or not.
For the purpose, we extracted dynamically expressed genes in five different human somatic reprogramming cell types from time-course microarray dataset [29]. Next, we divided the genes into five clusters according to gene expression patterns and functionally characterized each cluster. Lastly, we inferred and snapshotted transcription factor (TF) activity during reprogramming process. The results obtained in this work suggested reprogramming was consistently driven through three phases, in all five-cell types including fibroblasts, adipose-derived stem cells, astrocytes, bronchial epithelial cells and prostate epithelial cells. Furthermore, the maturation can be proposed as the common roadblock of reprogramming in five cell types.
Results
Three distinct transcriptomic states exist during cellular reprogramming in various cell types
To analyze the relatedness of the cellular transcription profiles at each time point during reprogramming, we performed PCA, and hierarchical clustering from 3615 genes. By comparing extracted genes to all genes contained in the microarray probe, the reprogramming trajectory can be traced from the extracted genes through PCA (Fig. 2a, Additional file 3: Figure S1a). Gene filtering system successfully increased the contribution ratio of PC1 and PC2 from 26.07% and 11.87% to 40.53% and 17.48%, respectively (Fig. 2a, Additional file 3: Figure S1a), supporting the technical validation of gene extraction filtering methods.
According to the PCA and HCA results, the transcriptome during cellular reprogramming was broadly divided into three clusters based on their similarities: the early phase from day 0 to 3, the mid phase from day 7 to 15, and the late phase from day 20 to later (Fig. 2). Although HA d15 was clustered within the late phase, this is consistent with a previous report that human astrocytes can be induced into iPSCs with high-efficient manner [38].
Notably, the results indicated that all reprogramming cell types exhibited uniformly greater dissimilarities in between the mid to late phase than in between the early to mid phase (Fig. 2).
Unique gene expression patterns and functional annotations are conserved across different cell types during reprogramming
Next, to gain the functional insights of the gene expression dynamics during reprogramming, we clustered the dynamic patterns of gene expression into five groups and performed the functional annotations of gene enrichment and protein-protein interaction. The gene symbols in each cluster are listed in Additional file 4: Table S2.
The first cluster containing 816 genes had a higher expression in the early phase and remained suppressed throughout reprogramming process (Fig. 3a). These genes were mainly annotated as extracellular matrix organization, which could directly influence cell proliferation and differentiation [39]. Especially, the cluster included TGF-beta family members (TGFB1, TGFB1I1, TGFB2, TGFB3, TGFBI, TGFBR2, TGFBR3), and TGF-beta induced EMT markers (ZEB1, SNAI2, and TWIST2) (Additional file 4: Table S2). Evidently, these genes were reported as negative regulators of MET and downregulated by exogenous Sox2, Oct4, and c-Myc induction in MEFs reprogramming [40, 41]. Thus, these results suggest that the reprogramming cells from day 0 to 3 would prepare for MET, a prerequisite for reprogramming commencement, by inhibiting EMT pathways, which is one of the hallmarks of the initiation [3–5].
The second cluster genes had stable expression during the early and the mid phase but decreased patterns in the late phase (Fig. 3b). This cluster was annotated as immune response related genes, which can be caused by the effect of retroviral induction system for exogenous OSKM expression. Because OSKM transgenes were sustainably expressed by day 15 [29], and retroviral gene induction system is known to trigger innate immune response [42], OSKM retrovirus might attribute to upregulate immune system from early to mid phase of reprogramming. Notably, the suppression of the immune response by supplementation of either B18R interferon inhibitor or NFkB inhibition enhanced hiPSCs generation [43, 44], indicating the inverse correlation between immune system and reprogramming efficiency. Therefore, considering that interferon induced IFIT protein family was enriched in the early phase from the first gene cluster analysis (Fig. 3a), the innate immune related gene sets in the first and second clusters may have an inhibitory role of cellular reprogramming especially in the case of retrovirus induction system.
The gene expressions in the third cluster were transiently upregulated only in the mid phase, which were enriched by hemidesmosome and epidermal development related genes (Fig. 3c). This cluster included SFN and KRT6A, consistent with the previous report that epidermis related genes had a transient upregulation during the reprogramming of MEFs [6]. Given that the inhibition of these genes precedes the following activation of pluripotency genes at the late phase [6], the transitory expression of epidermis related genes could be implied as an important feature of the mid phase.
The genes in the fourth cluster had a sharp upregulation in the late phase of reprogramming, which were annotated as trans-synaptic signaling related genes (Fig. 3d). Interestingly, previous studies reported that neuronal stem cells (NSCs) can be reprogrammed by OCT4 single gene induction in both human and mouse because NSCs endogenously express Sox2, Klf4, and c-Myc [18, 45], indicating higher reprogramming efficiency of trans-synaptic enriched cell types. Considering that tissue-derived human neuronal progenitor cells were more closely related to ESCs/iPSCs compared with other tissue-derived cells (Additional file 5: Figure S2), it can be speculated that NSCs would share similar gene profiles to the late phase of human reprogramming cells.
The genes in the fifth cluster were gradually increased as the reprogramming progressed (Fig. 3e). They were highly annotated as cell cycle related genes, with especially dense protein-protein interactions and contained families of Cyclin (CCNA2, CCNB1, CCNB2, CCND2, CCNE1, CCNI2) and CDK (CDK1, CDK18, CDKN3) (Additional file 4: Table S2). This is in agreement with the previous study that hESCs/hiPSCs require high proliferation rate for the acquisition and maintenance of pluripotency and self-renewal [46]. The results may propose a possibility of positive selection during reprogramming, that is, a certain cell population which acquires high proliferating ability can survive in the early or/and mid phase, and thus would eventually become dominant in the late phase.
Because gene expression regulation is often linked with epigenetic alteration, we also investigated how the expression patterns of 3615 genes are coupled with epigenetic changes. To this end, we referred one published data of histone modification change during reprogramming in human fibroblasts by analyzing H3K79me2 and H3K27me3 as active and repressive marks of transcription, respectively [37]. We firstly examined 3 genes, SNAI2, TUBB3, and PRDM14, from different clusters with different expression patterns (Fig. 3, Additional file 2: Figure S3a), and as expected the changes of H3K79me2 and H3K27me3 in these loci during reprogramming tend to correlate with the expression patterns (Additional file 2: Figure S3a). Next, to determine the general modification patterns of H3K79me2 and H3K27me3 in each clustered gene during reprogramming, we counted the temporal changes of gene numbers with the histone marks in all 5 clusters (Additional file 2: Figure S3b). The number of active marked genes increases in cluster 1 and 2 but decreases in cluster 4 and 5, whereas the number of repressive marked genes increases in cluster 1 and 2 but decreases in cluster 4 and 5. Overall, these results suggest that our clustering based on gene expression change across the five types of cells can also reflect epigenetic changes, regardless of the different starting cells types and time points of the analysis.
TF influence drastically changes in between the mid phase and the late phase
Since the gene expression patterns were primarily regulated by TFs, we scored influences of TFs and reconstructed TF network. We extracted 71 TFs with major influence and displayed the influences by colors. The heatmap of TF influences clearly exhibited two distinct clusters. The pluripotency-related TFs such as NANOG, SALL4, endogenous POU5F1 and endogenous SOX2 were the positive influence in the late phase. On the other hand, tissue morphogenesis associated TFs such as EHF, MEF2C and FOXE1 had the positive influences in the early phase (Fig.
4a
). Next, we visualized the co-regulatory network of the 71 TFs for each time point of the reprogramming process. The time-course TF network illustrated that the positive influence TFs from day 0 and 15 had a sparse network compared to the negative influence TFs, whereas positive influence TFs from day 20 network was denser than negative influence TFs. This would reflect the heterogeneous cell status in different phases (Fig.
4b
). Furthermore, no co-regulatory networks were observed between positive influence TFs and negative influence TFs in all phases, and particularly between the mid phase and the late phase (Fig.
4b
). Therefore, these results suggested that the transition of TF influence occurred in between the mid phase and the late phase.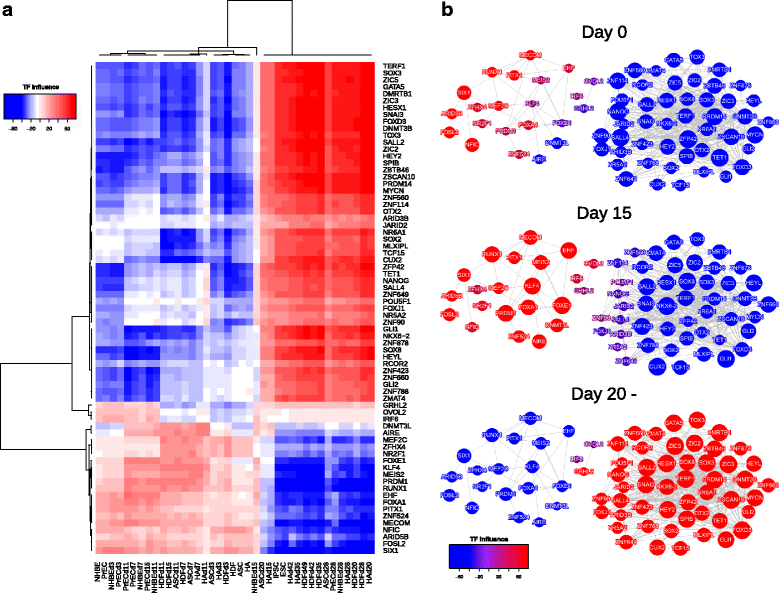 Conclusions
In summary, we illustrate that the reprogramming process was shared in five human somatic cell types by applying the genome-wide analyses of time-course microarray data. From the results of functional annotations of the gene expression patterns and reconstruction of transcription factor activity, we suggest the maturation could be the common roadblock of reprogramming into hiPSCs in various cell types. Identification of a reprogramming route shared in cell types would provide the keys to further investigate and understand the mechanisms of cellular reprogramming.
Abbreviations
ASC:

Adipose-derived stem cell
EMT:

Epithelial-mesenchymal transition
HA:

Human astrocyte
HCA:

Hierarchical cluster analysis
HDF:

Human dermal fibroblast
iPC:

Induced pluripotent stem cell
MEF:

Mouse embryonic fibroblast
MET:

Mesenchymal-epithelial transition
NHBE:

Normal human bronchial epithelial cell
NPC:

Neural progenitor cell
NSC:

Neural stem cell
PCA:

Principal component analysis
PrEC:

Prostate epithelial cell
TF:

Transcription factor
Declarations
Acknowledgements
We thank laboratory members at the Department of Anatomy and Embryology, University of Tsukuba. Particulary, Ms. Yunshin Jung for critical reading of the manuscript. The authors would like to thank Dr. Masafumi Muratani, Department of Genome Medicine Laboratory of Gene Regulation at the University of Tsukuba and Dr. Keisuke Kaji, MRC Centre for Regenerative Medicine at the University of Edinburgh for their scientific comments and discussion. AK is grateful for a financial support from the Ph.D. Program in Human Biology, School of Integrative and Global Majors (SIGMA), University of Tsukuba.
Funding
AK was financially supported from the Ph.D. Program in Human Biology, School of Integrative and Global Majors (SIGMA), University of Tsukuba. This work was supported by Grants-in-Aid for Scientific Research(S),JSPS KAKENHI Grant Number, 26221004.
Authors' contributions
AK designed the study, performed experiments and wrote the manuscript. AK and KN designed the analytical strategy. AK, KN and ST interpreted data. KN and ST completed the manuscript. ST supervised the work. All authors improved the manuscript and approved the final manuscript.
Ethics approval and consent to participate
Not applicable
Consent for publication
Not applicable
Competing interests
The authors declare that they have no competing interests.
Publisher's Note
Springer Nature remains neutral with regard to jurisdictional claims in published maps and institutional affiliations.
Open AccessThis article is distributed under the terms of the Creative Commons Attribution 4.0 International License (http://creativecommons.org/licenses/by/4.0/), which permits unrestricted use, distribution, and reproduction in any medium, provided you give appropriate credit to the original author(s) and the source, provide a link to the Creative Commons license, and indicate if changes were made. The Creative Commons Public Domain Dedication waiver (http://creativecommons.org/publicdomain/zero/1.0/) applies to the data made available in this article, unless otherwise stated.
Authors' Affiliations
(1)
Department of Anatomy and Embryology, Faculty of Medicine, University of Tsukuba, Tsukuba, Japan
(2)
Laboratory of Gene Regulation, Faculty of Medicine, University of Tsukuba, Tsukuba, Japan
(3)
Ph.D Program in Human Biology, School of Integrative and Global Majors, University of Tsukuba, Tsukuba, Japan