Research article
Open Access
RNAseq analysis of α-proteobacterium Gluconobacter oxydans 621H
Received: 24 September 2017
Accepted: 22 December 2017
Published: 6 January 2018
Abstract
Background
The acetic acid bacterium Gluconobacter oxydans 621H is characterized by its exceptional ability to incompletely oxidize a great variety of carbohydrates in the periplasm. The metabolism of this α-proteobacterium has been characterized to some extent, yet little is known about its transcriptomes and related data. In this study, we applied two different RNAseq approaches. Primary transcriptomes enriched for 5′-ends of transcripts were sequenced to detect transcription start sites, which allow subsequent analysis of promoter motifs, ribosome binding sites, and 5´-UTRs. Whole transcriptomes were sequenced to identify expressed genes and operon structures.
Results
Sequencing of primary transcriptomes of G. oxydans revealed 2449 TSSs, which were classified according to their genomic context followed by identification of promoter and ribosome binding site motifs, analysis of 5´-UTRs including validation of predicted cis-regulatory elements and correction of start codons. 1144 (41%) of all genes were found to be expressed monocistronically, whereas 1634 genes were organized in 571 operons. Together, TSSs and whole transcriptome data were also used to identify novel intergenic (18), intragenic (328), and antisense transcripts (313).
Conclusions
This study provides deep insights into the transcriptional landscapes of G. oxydans. The comprehensive transcriptome data, which we made publicly available, facilitate further analysis of promoters and other regulatory elements. This will support future approaches for rational strain development and targeted gene expression in G. oxydans. The corrections of start codons further improve the high quality genome reference and support future proteome analysis.
Keywords
TranscriptomeRNAseqTranscription start siteOperonsAntisense transcriptsGluconobacter oxydans
Background
The α-proteobacterium Gluconobacter oxydans 621H is a Gram-negative acetic acid bacterium, which is used for a broad range of industrial applications requiring regio- and stereoselective oxidations. This is due to the ability to incompletely oxidize a great variety of carbohydrates in the periplasm and the release of resulting products into the medium. Since the 1930s, it is especially used for the production of 2-keto-L-gulonic acid, a precursor for the vitamin C production [1–5]. Other biotransformation products are dihydroxyacetone, 6-amino-L-sorbose, xylonic acid, or 5-ketogluconate [2, 6–8]. The 2.9 Mb genome of G. oxydans consists of one circular chromosome and five plasmids [9]. Recently, MinION nanopore and Illumina read data revealed a novel 1420 bp transposon-flanked and ORF-containing sequence and in 73 annotated coding sequences about 91 nucleotide differences resulting in an improved high quality genome reference [10]. Among 2710 protein-coding sequences 31 membrane-bound dehydrogenases are annotated, which enable periplasmic oxidation [9, 10]. Genome sequencing and annotation analysis revealed that genes encoding 6-phosphofructokinase, succinate dehydrogenase, and succinyl-CoA synthetase are missing. Therefore, the Embden-Meyerhof-Parnas (EMP) pathway and the tricarboxylic acid (TCA) cycle are incomplete [9]. Both the restricted ability to oxidize carbohydrates in the cytoplasm and the high activity of dehydrogenases in the periplasm as well as subsequent release of products into the medium result in a low final biomass yield on complex media with sugar or sugar alcohols such as mannitol or glucose as carbon source [2, 11, 12]. This is unfavourable for industrial biotransformation processes, as it increases the costs for the initially required biomass production.
The unorthodox metabolism of G. oxydans was studied to some extent by using mutational analysis, metabolic flux analysis, and DNA microarray experiments [13–17]. These studies showed that the major part of the available glucose (90%) is already oxidized to gluconate in the periplasm [18]. Of the 10% glucose taken up by the cell, 9% is phosphorylated to glucose 6-phosphate and then predominantly metabolized via the pentose phosphate pathway (PPP), whereas 91% of the glucose is oxidized to gluconate by a soluble glucose dehydrogenase. Additionally, gluconate can be taken up by the cell. 70% of the gluconate in the cytoplasm is oxidized to 5-ketogluconate and 30% is phosphorylated to 6-phosphogluconate [13, 16]. Mutational analysis of the mannitol metabolism also favored the PPP as essential for the cytoplasmic fructose metabolism [15]. Along with the information obtained by analysis of respiratory mutants [14, 17] and genome comparisons between different G. oxydans strains [19], the results of the metabolic studies provided the basis for metabolic engineering of G. oxydans 621H with the aim to improve the biomass yield, e.g. by complementing the incomplete pathways [20, 21]. In contrast to metabolism, current knowledge on global gene expression and transcriptional regulation is very restricted for G. oxydans [13–15]. Similarly, the availability of characterized promoters, which can be used for further rational strain development and targeted gene expression, is limited [22–26].
Revealing the complexity of bacterial transcriptomes by next-generation sequencing (NGS) via RNAseq has become the most efficient method to get detailed insights on the RNA level, thereby also provided important information for metabolic engineering of industrially used microbes [27, 28]. Strand-specific RNAseq approaches can be used to detect novel transcripts including antisense transcripts [29–31]. Also, uniquely mapped sequencing reads connecting two neighboring genes enable the detection of operon structures. This can be advantageous for identification of genes with related functions [32–34]. Another important RNAseq method is the sequencing of primary transcriptomes by enrichment of native transcripts bearing a 5′-triphosphate group [28, 35]. Thereby, transcription start sites (TSSs) and respective promoter motifs, 5′-untranslated regions (UTRs), ribosome binding sites (RBS), leaderless transcripts, and cis-regulatory RNA elements such as riboswitches or RNA thermometers can be identified and analyzed [36–39].
In this study, we sequenced whole and primary transcriptomes of G. oxydans 621H under different conditions to obtain a broad range of expressed genes and TSSs. For the detection of TSSs, we used a protocol improved to distinguish between bona-fide TSSs and false positives due to inefficient digestion of non-primary transcripts. All sequencing data were used to analyze the operon and sub-operon structures, to detect new genes and antisense transcripts, to correct start codons, and to analyze further aspects.
Methods
Strain, media and cultivation conditions
In this study, G. oxydans wild type DSM 2343 (ATCC 621H) was used. G. oxydans was grown in complex medium (5 g L−1 yeast extract, 1 g L−1 KH2PO4, 1 g L−1 (NH4)2SO4, 2.5 g L−1 MgSO4 × 7 H2O, and 50 μg mL−1 cefoxitin as antibiotic) with 220 mM (4% w/v) mannitol or 220 mM (4% w/v) glucose. Precultures were grown overnight in 100 mL shaking flasks with 15 mL medium, while main cultures were grown in 500 mL baffled shaking flasks containing 100 mL medium (140 rpm, 30 °C). To obtain as many transcripts as possible, several RNA samples from different growth conditions were analyzed. Therefore, bacterial cells were cultivated under non-stress conditions with mannitol or glucose as carbon source and harvested after reaching the exponential phase (OD600 1.2–1.8), and under the following stress conditions: For oxygen limitation, the rotation of the shaker was stopped for 10 min. For heat shock, a fast temperature shift of the flask with medium from 30 °C to 50 °C was carried out in a water bath followed by cultivation at 50 °C for 15 min. For salt stress, cells were exposed to 0.25 M NaCl for 30 min. For oxidative stress, after preliminary tests a concentration of 0.025 M H2O2 was chosen as supplement and cells were further cultivated for 30 min. After stress exposure, 1 mL of culture broth was harvested by centrifugation (10,000 g; 30 s). A cell pellet was immediately shock-frozen in liquid nitrogen and stored at −20 °C until use for isolation of total RNA.
RNA isolation
Total RNA of G. oxydans 621H was isolated using TRIzol (Life Technologies). Frozen cell pellets were resuspended in 3 mL TRIzol reagent and 1 mL RNase-free water. The cell suspension was aliquoted to four 1.5 mL tubes and cells were disrupted by bead-beating in two cycles (2 × 30 s) using zirconia/silica beads (0.1 mm) and a Silamat device (Ivoclar Vivadent). Afterwards, 200 μL of chloroform were added to the supernatant and shaken vigorously for 15 s followed by centrifugation (12,000 g; 15 min). The supernatant was transferred to a new tube, treated with 0.5 mL isopropanol, incubated at RT for 10 min and centrifuged (12,000 g; 10 min). The RNA pellet was washed with 75% (v/v) ethanol, air-dried and resuspended in 50 μL of DEPC-treated water. The content of four tubes per sample were pooled and treated with 5 μL of DNase (Thermo Fisher Scientific) for 20 min (37 °C). For purification of RNA, one volume of phenol-chloroform-isoamyl alcohol (25:24:1; PCI) was added to the sample, shaken and transferred to a Phase Lock Gel™ tube (Eppendorf AG), which allows better phase separation. After centrifugation (12,000 g; 15 min), the supernatant was transferred to a new tube and treated with one volume of chloroform-isoamyl alcohol (24:1; CI) followed by centrifugation (12,000 g; 15 min). Precipitation was performed by adding 1/10 volume of sodium acetate (3 M; pH 5.2) and 3 volumes of ethanol (~99%) to the supernatant and incubation at −20 °C overnight. Afterwards, each sample was centrifuged (12,000 g; 20 min). The pellet was washed two times with 75% (v/v) ethanol, air-dried and then dissolved in 30 μL of RNase-free water. RNA concentrations in samples were determined using a Qubit (Thermo Fisher Scientific) and checked for quality on formaldehyde agarose gels.
Construction of whole and primary transcriptome cDNA libraries
For depletion of rRNA, 5 μg or 2 × 5 μg of total RNA was treated with the Ribo-Zero magnetic kit for Gram-negative bacteria (Illumina). Afterwards, precipitation with ethanol was performed following the manufacturer's instructions. For preparation of whole transcriptome libraries, we used the TruSeq stranded mRNA sample preparation kit (Illumina) according to the manufacturer's instructions, except that 5 μL of rRNA-depleted RNA was mixed with 13 μL of Fragment, Prime, Finish Mix and incubated at 94 °C for fragmentation and priming (4 min). For primary 5′-end-enriched cDNA libraries, rRNA-depleted RNA samples obtained from 2 × 5 μg of total RNA were used. The preparation protocol has been described previously in detail [28]. In the present study, the experimental workflow was modified to strongly reduce the number of false positive 5′-ends which are non-primary. Therefore, RNA samples were denatured (95 °C; 2 min) and immediately chilled on ice to destruct secondary structures. Then digestion with terminator 5′-phosphate-dependent exonuclease (TEN, Epicentre) was carried out at 30 °C (60 min) and at 42 °C (30 min). To flag non-digested non-primary transcripts still remaining, RNA samples were denatured (95 °C; 2 min) followed by ligation of RNA 5′-index adapter (1 μL; 60 μM) 5'-CCCUACACGACGCUCUUCCGAUCGAG-UACCCUAG (index in bold) to 5′-monophosphorylated ends (25 °C; 120 min and 37 °C; 30 min). Afterwards, the protocol was continued with RNA 5′-polyphosphatase (RPP) treatment (Epicentre) to convert true primary 5′-triphosphate ends to 5′-monophosphate ends as described [28]. Ligation of the 5′-adapter to the converted 5′-monophosphate ends was performed as described for the index adapter. Reverse transcription with a stem-loop DNA adapter and library amplification was performed as described previously [28]. Prior to sequencing, 5′-enriched cDNA libraries were purified and size-selected for approximately 100–1000 nt via gel electrophoresis.
Next-generation sequencing of cDNA libraries
Sequencing libraries were quantified via qPCR using the KAPA Library Quantification Kit for Illumina libraries (Peqlab) or with an Agilent 2100 Bioanalyzer (Agilent Technologies) using a High Sensitivity DNA kit (Agilent Technologies). Sequencing of normalized libraries (10 pM) was carried out on a MiSeq desktop sequencer (Illumina) according to the manufacturer's protocol. For the whole transcriptome libraries, paired-end reads with a length of 2 × 75 bases were generated. Primary transcriptome libraries were sequenced in single read mode with a read length of 35 or 75 bases.
Read processing, mapping, and determination of transcript abundances
Read processing and mapping was carried out with the CLC Genomics Workbench (Qiagen Aarhus A/S). Reads were trimmed by removing adapter sequences using the Trim Sequences tool and filtered for Phred quality scores <30 [40]. Reads from primary transcriptome libraries containing the barcode sequence TACCCTAG at their 5′-ends indicated a false positive TSS and were removed from the read pool. Remaining reads were mapped to the G. oxydans 621H reference sequence updated recently by genome sequencing using high-quality Illumina and long nanopore reads [10]. Non-specific matches were mapped randomly.
Abundance of transcripts were determined by mapping quality-filtered and adapter-trimmed reads (Trimmomatic v0.36) to the published reference genome of G. oxydans using bowtie2 v2.2.7 [41, 42]. Cufflinks and cuffnorm were used to quantify transcript levels [43].
Identification of transcription start sites (TSSs)
Detection of TSSs was done with libraries enriched for primary transcripts using ReadXplorer [44] with the following parameters: (i) Only single perfect mappings were considered. (ii) Minimum percent of coverage increase was set to 250% and minimum number of read starts to 20. (iii) A maximal distance of 600 nt upstream to the start codon was set to assign a TSS to the corresponding annotated ORF. (iv) A transcript was assumed leaderless, when its assigned TSS had a maximal distance of three nt to the start codon. (v) TSSs, which could not be assigned to an ORF, were classified as indicators for possible novel transcripts. All automatically detected TSSs were checked manually and TSSs without a clear read start increase and unusual drops or increase of read coverage were removed.
The TSSs identified by ReadXplorer were classified according to the following categories allowing the occurrence of some TSS in more than one category (Fig.
1a
): (a) TSSs assigned to an annotated ORF in sense orientation (sTSS). On the one hand, it includes TSSs with a downstream ORF within a range of 300 nt. On the other hand, it also includes TSSs, which lay within an ORF with a maximal distance of 200 nt downstream to the annotated start codon and which therefore could be used to correct the translation start codon position ((n)sTSS). The latter was checked by searching for a start codon in-frame to the annotated stop codon and by searching for a possible ribosome binding site (RBS) upstream of the possible start codon. Furthermore, it was verified, whether the mapping coverage of the whole transcriptome data matched the start of transcription as indicated by the corresponding TSSs. This was only possible at genomic positions where based on mappings no read-through from upstream genes occurs. (b) Putative TSS assigned to an annotated gene (pTSS). These are TSSs with a distance of more than 300 nt to the downstream gene. (c) Intragenic TSSs laying within an annotated ORF in sense orientation (iTSS). All iTSSs with a maximal distance of 300 nt to the end of the assigned gene, which were also classified as sTSSs, were removed from the iTSS category. Also, (n)sTSSs (see (a)) located downstream of an annotated start codon without an alternative downstream in-frame start codon were included into this group. (d) TSS located in antisense orientation to an ORF (asTSS). To identify antisense transcripts associated to asTSSs, the whole transcriptome data were used. For every position, a minimal coverage of 15 was required and it was checked whether the possible novel antisense transcript can be extended downstream for at least 20 nt until the coverage at a position drops below 15. If the possible novel transcript was longer than 500 nt and had a mean coverage of >40, the cut-off coverage for the start of the transcript was set to 80. (e) Intergenic TSS hitherto unassigned and potentially indicating novel RNA transcripts (nTSS). In these cases, we checked the whole transcriptome data for mappings which could represent associated novel transcripts. Only data were considered further where nTSS and whole transcriptome mappings indicated a novel transcript. Potential ORFs were searched using the
Find Open Reading Frames
tool (CLC Genomics Workbench) and results were checked manually. Suitable ORF sequences were used for a Blastx search to identify homologous proteins in the NCBI reference proteins database (refseq_protein) [
45
].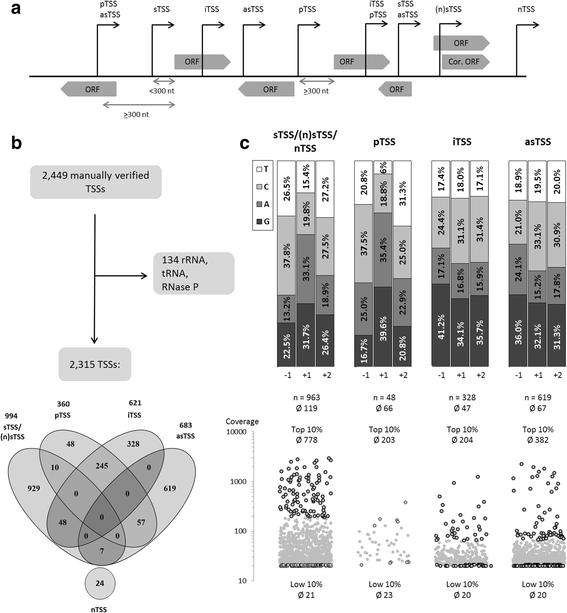 It was possible that more than one TSS was associated to a gene (sTSS, pTSS). In these cases, the TSS exhibiting the highest number of read starts was assigned as primary TSS, whereas all other valid TSSs were classified as secondary. For novel transcripts (iTSS, asTSS, nTSS), only primary TSSs were considered.
Identification of operons
For identification of polycistronic transcripts based on whole transcriptome data, ReadXplorer was used [44]. A minimal number of 10 spanning reads in sense orientation was required to combine neighboring genomic ORFs in the same transcript. Furthermore, TSS data were used to identify primary operons, with TSSs assigned to the first gene of an operon, and sub-operons, which are indicated by TSSs within primary operons.
Motif detection of promoter sequences
Promoter motifs were detected with the web-based tool Improbizer [46], which uses the expectation maximization (EM) algorithm. For each TSS, the 50 bases upstream were extracted and the −10 and −35 promoter motifs were searched within the sequences using default settings. The list of the 50 bp sequences used for this analysis was sorted according to the read counts starting with the highest coverage. Since we had no knowledge about consensus promoter motifs in G. oxydans, we used information about promoters already identified in other α-proteobacteria [47–50] to further analyze the Improbizer results with Excel (Microsoft). A maximal distance of 3 to 11 nt between the TSS and the −10 region was allowed, whereas the spacer length between the −10 and −35 regions was set to 16 to 23 nt.
Identification of ribosome binding sites (RBS)
For identification of RBSs, all 5´-UTRs with a minimal length of 20 nt were analyzed. First, the frequencies of purines (G and A) were compared with the frequencies of pyrimidines (T and C) for every nucleotide position within the 20 nt long sequence upstream of the translation start codon. Sequences with an accumulation of purines (>55%) were extracted. The extracted sequences were used to search for a conserved RBS motif with Improbizer [46]. Resulting data were visualized with Origin (OriginLab) and WebLogo [51].
Discussion
In the present RNAseq study, a broad range of TSSs and expressed transcripts were obtained for G. oxydans 621H by analyzing RNA from cells grown under several conditions. This provided an overview for the comprehensive characterization of transcription start sites, promoter motifs, novel transcripts, and transcriptional organization of genes in G. oxydans using the recently improved genome sequence as reference [9, 10]. For the identification of TSSs, we used an improved protocol based on a method described earlier [28]. Thereby, the number of false positive TSSs could be drastically reduced. Still, a manual inspection of automatically detected TSSs is necessary. Finally, the TSS data obtained represented the basis for the identification and analysis of promoter motifs, 5´-UTRs, RBSs, novel transcripts and operons, which were identified using whole transcriptome data.
Conclusion
In this study, we provided a comprehensive RNAseq analysis of the acetic acid bacterium G. oxydans 621H using an improved RNAseq method. We identified more than 2000 TSSs and classified them according to their genomic context. The data obtained allowed identification and analysis of promoter motifs, RBSs, 5´-UTRs and novel transcripts. Also, we were able to describe operon structures. Due to their exceptional metabolism and capabilities for oxidative biotransformations, acetic acid bacteria are of interest both for fundamental studies and for biotechnological applications. The transcriptome data obtained here opens up new possibilities for basic understanding and Gluconobacter strain development.
Abbrevations
EMP:

Embden-Meyerhof-Parnas
PPP:

pentose phosphate pathway
RBS:

ribosome binding site
TCA:

tricarboxylic acid
TSS:

transcription start site
UTR:

untranslated region
Declarations
Acknowledgements
We thank Ilka Maria Axmann for helpful discussion.
Funding
The scientific activities of the Bioeconomy Science Center were financially supported by the Ministry of Innovation, Science and Research within the framework of the NRW Strategieprojekt BioSC (No. 313/323–400-002 13). The funding organization did not influence the design of the study and collection, analysis, and interpretation of data, and writing the manuscript.
Availability of data and materials
The RNAseq data are publicly available in the European Nucleotide Archive under accession number PRJEB18739 or via the web portal www.gluconobacterfactory.de, the latter one also providing access to additional files including the updated genome reference with the revised start codons.
Authors' contributions
AK carried out the experimental work, performed the substantial part of the data analysis, and wrote a draft of the manuscript. TB and JK developed the improved RNAseq protocol. AV estimated transcript abundances and included the results in JBrowse. AV and BU made the RNAseq data publicly available. AK, MB and TP improved the draft of the manuscript. AK, TB, JK, BU, MB, and TP finally revised the draft of the manuscript. TP coordinated the study, was involved in data analysis and finalized the manuscript. All authors read and approved the manuscript.
Ethics approval and consent to participate
Not applicable
Consent for publication
Not applicable
Competing interests
The authors declare that they have no competing interests.
Publisher's Note
Springer Nature remains neutral with regard to jurisdictional claims in published maps and institutional affiliations.
Open AccessThis article is distributed under the terms of the Creative Commons Attribution 4.0 International License (http://creativecommons.org/licenses/by/4.0/), which permits unrestricted use, distribution, and reproduction in any medium, provided you give appropriate credit to the original author(s) and the source, provide a link to the Creative Commons license, and indicate if changes were made. The Creative Commons Public Domain Dedication waiver (http://creativecommons.org/publicdomain/zero/1.0/) applies to the data made available in this article, unless otherwise stated.
Authors' Affiliations
(1)
IBG-1: Biotechnology, Institute of Bio- and Geosciences, Forschungszentrum Jülich GmbH, Jülich, Germany
(2)
The Bioeconomy Science Center (BioSC), c/o Forschungszentrum Jülich GmbH, Jülich, Germany
(3)
Center for Biotechnology (CeBiTec), Universität Bielefeld, Bielefeld, Germany
(4)
Institute for Biology-Microbiology, Freie Universität Berlin, Berlin, Germany
(5)
IBMG: Institute for Biology I, RWTH Aachen University, Aachen, Germany
(6)
IBG-2: Plant Sciences, Forschungszentrum Jülich GmbH, Jülich, Germany