Research article

Open Access
Transcriptome analysis of response to Plasmodiophora brassicae infection in the Arabidopsis shoot and root
Received: 13 June 2017
Accepted: 29 December 2017
Published: 5 January 2018
Abstract
Background
Clubroot is an important disease caused by the obligate parasite Plasmodiophora brassicae that infects the Brassicaceae. As a soil-borne pathogen, P. brassicae induces the generation of abnormal tissue in the root, resulting in the formation of galls. Root infection negatively affects the uptake of water and nutrients in host plants, severely reducing their growth and productivity. Many studies have emphasized the molecular and physiological effects of the clubroot disease on root tissues. The aim of the present study is to better understand the effect of P. brassicae on the transcriptome of both shoot and root tissues of Arabidopsis thaliana.
Results
Transcriptome profiling using RNA-seq was performed on both shoot and root tissues at 17, 20 and 24 days post inoculation (dpi) of A. thaliana, a model plant host for P. brassicae. The number of differentially expressed genes (DEGs) between infected and uninfected samples was larger in shoot than in root. In both shoot and root, more genes were differentially regulated at 24 dpi than the two earlier time points. Genes that were highly regulated in response to infection in both shoot and root primarily were involved in the metabolism of cell wall compounds, lipids, and shikimate pathway metabolites. Among hormone-related pathways, several jasmonic acid biosynthesis genes were upregulated in both shoot and root tissue. Genes encoding enzymes involved in cell wall modification, biosynthesis of sucrose and starch, and several classes of transcription factors were generally differently regulated in shoot and root.
Conclusions
These results highlight the similarities and differences in the transcriptomic response of above- and below-ground tissues of the model host Arabidopsis following P. brassicae infection. The main transcriptomic changes in root metabolism during clubroot disease progression were identified. An overview of DEGs in the shoot underlined the physiological changes in above-ground tissues following pathogen establishment and disease progression. This study provides insights into host tissue-specific molecular responses to clubroot development and may have applications in the development of clubroot markers for more effective breeding strategies.
Keywords
Arabidopsis thaliana ClubrootHost-pathogen interaction Plasmodiophora brassicae RNA-seqRootShootTranscriptomic profile
Background
Clubroot, caused by the soil-borne obligate plant pathogen Plasmodiophora brassicae, is a serious disease of Brassica crops, such as the important oilseed canola, resulting in decreased yields in Canada and worldwide [1]. The disease significantly affects canola seed quality by reducing oil content and seed weight [2]. P. brassicae is classified as a protist belonging to the subgroup Rhizaria [3]. The life cycle of the pathogen is comprised of a primary phase when resting spores in the soil germinate and penetrate a host root hair in the form of zoospores as soon as an appropriate host plant is available. During the second phase of the life cycle, secondary plasmodia form in the root cortex leading to the production of visible galls. The subsequent formation of root galls results in reduced uptake of water and nutrients by the plant, wilting, reduced plant growth, and a reduced seed set [4]. Mature secondary plasmodia eventually form resting spores that are released into the soil, where they are long-lived and resistant to severe environmental conditions, making it impossible to prevent the disease by chemical treatments or crop rotation [5]. Therefore breeding, together with resistant crop varieties, will be the most efficient tools to control clubroot disease compared to other agricultural control strategies [6]. An understanding of the molecular basis of the host response to pathogen infection will guide the development of these new tools.
A previous proteomic study of Arabidopsis root and hypocotyls revealed that P. brassicae infection altered the abundance of 12% of proteins, mainly related to cell defence, differentiation, and general metabolism when compared to uninfected samples [7]. In Brassica napus, significant changes in several proteins involved in hormone metabolism, cell wall metabolism, and detoxification were observed in root during clubroot establishment [8]. A number of genomic studies have attempted to identify the host defence response during P. brassicae infection and clubroot progression. More than 1000 differentially expressed genes (DEGs) were reported in clubroot-infected Arabidopsis root compared with control root [9]. The DEGs included genes for growth and cell cycle control, as well as starch, lipid, sugar, and flavonoid metabolism [9]. Microarray analysis of gene expression during the primary phase of the P. brassicae lifecycle in Arabidopsis root showed that the expression of several genes related to signal transduction, primary and secondary metabolisms, and cell wall modification was altered [10]. It was suggested that during early pathogen establishment, salicylic acid (SA) and ethylene (ET) biosynthesis genes were downregulated and jasmonic acid (JA) biosynthesis genes were upregulated [10]. Susceptibility or resistance to P. brassicae infection and subsequent clubroot establishment are thought to be a result of the host's ability to regulate primary metabolism, transcription factor activities (TFs), defence responses, and cell division [11]. WRKY-type TFs were found to be upregulated by pathogen infection while other TF families DEGs were downregulated [11]. Microarray analysis of Arabidopsis root transcriptional changes during distinct developmental stages of P. brassicae revealed the upregulation of auxin, cytokinin and brassinosteroid metabolism and signaling genes [12]. The clubroot resistance gene, Rcr1, has been functionally characterised in Brassica rapa, and in plants carrying Rcr1 the biosynthesis of JA, ET, and indole-containing compounds, defensive callose deposition, and expression of TFs were upregulated by infection [13]. Differentially expressed TF families primarily included WRKY, MYB, BHLH, AP2/ERF and ET-responsive families [13]. Between resistant and susceptible B. rapa lines, genes associated with Ca2+ influx, hormone signaling, TFs, cell wall modification, cell division and expansion was differentially regulated [14]. Similarly, several genes encoding NBS-LRR proteins and chitinases, and genes involved in SA, and Ca2+ signaling pathways, biosynthesis of cell wall components and glucosinolates were upregulated in root tissue of clubroot-resistant wild cabbage when compared to clubroot-susceptible broccoli following P. brassicae infection [15]. Transcriptome analysis of Arabidopsis infected root at 1 and 2 days after inoculation showed that early stage of infection regulates the expression of several flavonoid, lignin, auxin, cytokinin and receptor-kinase genes [16].
Genome analyses of P. brassicae has identified an absence of genes encoding sulfur and nitrogen uptake proteins as well as the synthesis of 'several' metabolites such as histidine, tryptophan and thiamine suggesting, that P. brassicae relies on the host for these metabolites [5, 17]. Furthermore, the small size of the P. brassicae genome, compared to other obligate biotrophic pathogens [17], suggests that it depends on the host plant for carbon sources for its growth. The pathogen induces the upregulation of host auxin (indole-3-acetic acid, IAA), JA, and cytokinin (CK) pathways, and downregulation of the SA pathway during early infection [5, 17].
Previous studies on P. brassicae infection have focused on clubroot development or pathogen life cycle in the host root. We are not aware of any studies that have compared the impact of P. brassicae infection on the above- and below-ground transcriptomic responses of infected plants. In this study, we describe the transcriptomic changes in the shoot and root of Arabidopsis during clubroot disease establishment and progression. Our results provide new insight into the whole-plant molecular response to P. brassicae infection and clubroot progression as well as providing above ground indicators/markers for below-ground infection.
Discussion
As a biotrophic pathogen, P. brassicae has likely evolved several strategies to avoid host recognition and subsequent cell death to establish an intracellular parasitism within living host cells, enabling it to extract/absorb nutrients from its host and to direct cell proliferation of host root tissues to produce a nutrient-sink gall habitat. There is currently limited resistance germplasm in the Brassicaceae, so exploring and understanding the genomics of disease progression in this host plant will contribute to the development of a clubroot resistance breeding strategy for canola.
Our research provides a broad-spectrum study of the Arabidopsis transcriptomic response to P. brassicae inoculation, in above- and below-ground tissues of the host plant. As expected, we observed more DEGs at later stages of the disease establishment, with the largest transcriptomic changes occurring in the 24 dpi samples of both shoot and root. Although the root is the infected organ, the number of DEGs and the fold change in the DEGs, across all three time points sampled was higher in the shoot (Fig. 2b-e), suggesting that metabolic and cellular processes of the shoot are in fact more affected by clubroot disease progression than those of the infected root. A higher number of DEGs in the shoot is probably a result, in some part, of a general stress response to the disease, as shown by the down-regulation of photosynthesis and light reaction genes (Figs. 4a and 5a). Whereas, gene expression in diseased roots would predominantly be a specific response to the pathogen attack. Few studies have analyzed the shoot response to root pathogen attack. However, a similar down-regulation of genes involved in photosynthesis, together with an up-regulation of pathogen protection and oxidative stress genes, has been reported in shoots in response to inoculation of roots with rhizobacterium [46]. Although spatially separated, the above- and below-ground tissues of plants do interact with each other and our results suggest that future studies are needed to address this interaction in response to root pathogens.
The identification and functional classification of highly DEGs showed that the expression of many of these genes was co-regulated or oppositely regulated in shoot and root. As expected, in the shoot, DEGs involved in photosynthesis were down-regulated after root inoculation with P. brassicae and subsequent clubroot progression (Fig. 4a). Such a down-regulation has previously been reported for genes involved in photosynthesis, biosynthesis of chlorophyll and the small subunit of rubisco in response to pathogen attacks [47, 48]. Furthermore, several genes involved in the degradation of starch and triacylglycerols (lipid storage molecules) and the Calvin cycle were also down-regulated in the shoot (Fig. 4a). Following decreased water and nutrient uptake by the host plant, the general down-regulation of these genes in the shoot of infected plants is predictable. A decrease in starch and soluble carbohydrates in the leaves of Arabidopsis, five weeks after infection with P. brassicae, has previously been reported [49]. These findings were compatible with a reduced rate of photosynthesis in Arabidopsis leaves [49]. Contrary to these decreases, tryptophan (shikimate pathway metabolite) biosynthesis genes were highly induced in infected shoot, especially at 24 dpi (Additional file 3). Increased levels of tryptophan-derived metabolites (e.g., camalexin and indol glucosinolates) have been reported in a number of plant species in response to various pathogen infections/disease progression [50, 51]. Increased transcript levels for CHALCONE SYNTHASE (CHS) were also found in the shoot at 20 and 24 dpi (Additional file 3). Under stress conditions, chalcone compounds produced through the shikimate pathway, serve as antioxidants and antimicrobials (phytoalexins) [52].
Infected Arabidopsis plants exhibited impaired growth and induced senescence, particularly at 20 and 24 dpi (Additional file 2: Figure S1). Over this time period, the genes encoding cell wall structural proteins were mainly down-regulated in infected shoot (Fig. 6a). In addition, expression of many cell wall modification and degradation genes were turned off in the shoot over the 17, 20 and 24 dpi time points (Fig. 6b-c). ET signaling genes were induced in shoot following inoculation, peaking at 24 dpi (Fig. 7e). Depending on the pathogen and the host plant, ET signaling can play different roles during plant disease [53]. One of the main suggested functions for ET in response to non-necrotrophic pathogens is induction of programmed cell death [53].
In infected root, expression of starch and sucrose biosynthesis and glycolysis pathway genes was mainly up-regulated (Additional file 3). An increase in various sugars and starch has been previously reported in P. brassicae infected Arabidopsis roots [38, 49], whereas a suppression of invertase expression in transgenic plants resulted in enhanced tolerance to P. brassicae [39]. The current results indicate an increased availability of carbon sources at the infection sites as a way to resource the metabolic activities of the pathogen as well as the increased cell division of the host plant, resulting in galls at these sites. Furthermore, DEGs involved in lipid biosynthesis and elongation were up-regulated at 17 and 20 dpi in root. The higher abundance of these genes might be a response for the pathogen lipid demand. An up-regulation of lipid transfer genes was found in infected Arabidopsis roots when galls and resting spores were present, suggesting the formation of a lipid reserve [9]. This is consistent with our observation of abundant lipid droplets in the pathogen cytoplasm (Fig. 1d-f). Increased expression of phospholipases in infected root, mainly at 24 dpi (Fig. 4b), may be attributed to their roles in the synthesis of JA, oxylipins and other important plant defense signaling molecules [54]. However, since phospholipases hydrolyze phospholipids, an increased expression may indicate an increased level of catabolization of phospholipids by the host plant.
A group of cell wall modification proteins, including expansins, xyloglucan endotransglucosylase/hydrolases (XTHs) and endo-β-1, 4-glucanases (EGases) facilitate cell wall expansion and function in regulating the plasticity and rheology of the cell wall [55]. The up-regulation of cell wall modification genes in the root is likely linked to cell wall loosening and cell expansion in infected root (Fig. 6b). However, several DEGs encoding cell wall degradation enzymes were strongly down-regulated in infected root at 24 dpi (Fig. 6c). These results suggest that P. brassicae-induced regulation of cell wall modification proteins is involved in an alteration of cell wall structure during infection. Moreover, in root, an up-regulation of SAUR genes that are an early auxin-responsive gene family, (Fig. 7f) is consistent with the suggestion that IAA induces cell division and elongation during gall formation in P. brassicae-infected Arabidopsis [7]. An involvement of auxin in the host - P. brassicae interaction has been previously reviewed by Ludwig-Müller [56].
In both 24 dpi shoot and root, the expression of several genes in major branches of the shikimate pathway was up-regulated (Additional file 2). At 17 dpi, genes involved in the biosynthesis of sinapate esters through the phenylpropanoid branch of the shikimate pathway were up-regulated in both tissues (Additional file 2: Figure S5). Both a higher level of transcription of shikimate pathway genes, together with an increased production of the pathway's metabolites in plants, has previously been reported in response to pathogenic attacks [57]. In P. brassicae infected roots, an accumulation of phenylpropanoid pathway compounds [16, 58] or a higher expression of related genes [9, 14–16, 59] has been reported. Our results indicate that shikimate pathway metabolites have important roles in both root and shoot responses in infected host plants; however, further work is needed to assess if the upregulation of specific secondary metabolite genes in the shoot is an active response to the pathogen infection or an indirect negative effect of the disease on the shoot.
Transcriptome levels for genes in the JA biosynthesis pathway were elevated at all three time points in shoot and at 24 dpi in root (Fig. 7a). However, several genes involved in the JA response pathway were strongly down-regulated in root at 24 dpi, perhaps by the pathogen (Fig. 7b), indicating that the transcript regulation of JA response genes might be manipulated by the pathogen. It has previously been suggested that P. brassicae is able to manipulate a number of hormone pathways and can alter hormone homeostasis in the host plant to its benefit [5, 17] On the other hand, JA response genes may be down-regulated once the pathogen is established and having successfully disarmed the plant immune response by 24 dpi. An enhanced JA level was reported, in Chinese cabbage roots, three to five weeks after infection with P. brassicae [60]. High levels of jasmonate-related compounds was also reported in Arabidopsis ecotype Col-0 roots, 21 days after inoculation with P. brassicae [61]. In addition, during secondary infection by P. brassicae, the JA pathway was induced in susceptible Arabidopsis Col-0 but not in the partially resistant ecotype, Bur-0 [62]. Our results suggest that the JA pathway is involved in clubroot disease during P. brassicae secondary infection.
A number of DEGs in the ABA response pathway were up-regulated in both shoot and root at 24 dpi. The level of ABA has been reported to increase in P. brassicae infected B. rapa during gall formation [63]. Moreover, up-regulation of ABA response and signaling genes during late time points after P. brassicae infection has been reported [9, 10]. Up-regulation of ABA response genes might be a response to abiotic stress conditions in infected tissues that are subsequently under water and nutrient stress. However, it has also been proposed that ABA plays a role in the induction of plant defense response genes and JA-induced defense genes [64].
Members of the TF families, MYB, bHLH and AP2/EREBP, were highly up- or down-regulated in both shoot and root (Table 1). In Arabidopsis, the functions of MYB TFs are very diverse, including anthocyanin and flavonol biosynthesis, terminal differentiation and cell cycle regulation [65]. Similarly, members of the bHLH family play various roles in the regulation of ABA and gibberellin signalling pathways, stomata development and root development in Arabidopsis [65]. The comparison of expression profiles of TFs, in shoot and root tissues, highlighted the major differences in response of each tissue to the infection. As shown in Table 1, only a few TFs were commonly up- or down-regulated in both infected shoot and root.
Conclusions
Our data indicate that Arabidopsis has a complex transcriptomic response to
P. brassicae
infection, and in general, the plant response to pathogen infection of the root is different between shoot and root. Based on these results, we propose a simplified model of the major molecular changes in shoot and root in response to
P. brassicae
infection and clubroot disease progression (Fig.
8
). In the root, there is a general induction of genes related to cell wall modification, starch/sucrose biosynthesis and transport to provide energy. In contrast, in the shoot, and possibly as a result of the impairment of nutrient and water uptake, we see a down-regulation of photosynthesis, chlorophyll synthesis, starch/sucrose biosynthesis and an inhibition of synthesis of proteins and enzymes involved in cell wall formation and modification. As a result, the leaves show symptoms of stress such as reduced growth and necrosis. However, the shoot and root also respond to the pathogen in a number of common ways, such as an induction of JA biosynthesis, ABA response and the production of shikimate pathway metabolites. Overall, our results describe an unprecedented expression dataset describing the shoot and root response of Arabidopsis to
P. brassicae
infection and clubroot disease.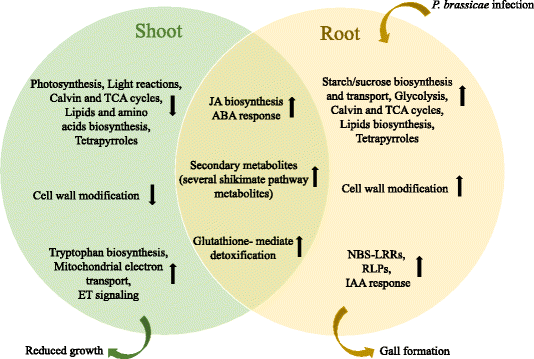 Abbreviations
ABA:

Abscisic acid
AGPs:

Arabinogalactan-proteins
CK:

Cytokinin
DEGs:

Differentially expressed genes
DI:

Disease index
dpi:

Days post inoculation
ET:

Ethylene
EXP:

Expansin
FA:

Fatty acid
FPKM:

Fragments per kilobase of transcript per million mapped reads
GO:

Gene ontology
GS-GOGAT:

Glutamine synthetase-Glutamine oxoglutarate aminotransferase
IAA:

Indole-3-acetic acid
JA:

Jasmonic acid
M:

Million
NBS-LRR:

Nucleotide-binding site-leucine-rich repeat
PB:

Phosphate buffer
PCA:

Principle component analysis
qPCR:

Quantitative PCR
RLKs:

Receptor-like kinases
RLPs:

Receptor-like proteins
SA:

Salicylic acid
SAUR:

Small auxin upregulated RNA
TAIR:

The Arabidopsis information resource
TCA:

Tricarboxylic acid
TEM:

Transmission electron microscopy
TF:

Transcription factor
VLCFAs:

Very long chain fatty acids
Declarations
Acknowledgements
The authors thank Marlynn Mierrau for assistance with photography.
Funding
This work was supported by the Saskatchewan Agriculture Development Fund (SADF) and the Saskatchewan Canola Development Commission (SaskCanola) with grants to PCBS and YW. The funders had no role in the design of the study, data collection, analysis, or in manuscript preparation.
Availability of data and materials
The datasets generated and/or analysed during the current study are publicly available at NCBI – SRA (www.ncbi.nlm.nih.gov/sra) accession: SRP068919.
Authors' contributions
Experimental concept and design: YW and PCBS. Research experimentation: SI and NN. Bioinformatics analysis: BT, MW and AJK. TEM analysis: JT. Analysis of all results: SI, CDT, YW and PCBS. Manuscript writing and figures: SI, CDT, YW and PCBS. All authors read and aproved the final manuscript.
Ethics approval and consent to participate
The current research did not involve field studies or collection of seeds. Arabidopsis thaliana is a a model organism that is commonly used in plant biology and genetics studies worldwide. Experimental research on plants in this study complied with University of Saskatchewan guidelines.
Consent of publication
Not applicable.
Competing interests
The authors declare that they have no competing interests.
Publisher's Note
Springer Nature remains neutral with regard to jurisdictional claims in published maps and institutional affiliations.
Open AccessThis article is distributed under the terms of the Creative Commons Attribution 4.0 International License (http://creativecommons.org/licenses/by/4.0/), which permits unrestricted use, distribution, and reproduction in any medium, provided you give appropriate credit to the original author(s) and the source, provide a link to the Creative Commons license, and indicate if changes were made. The Creative Commons Public Domain Dedication waiver (http://creativecommons.org/publicdomain/zero/1.0/) applies to the data made available in this article, unless otherwise stated.
Authors' Affiliations
(1)
Department of Biology, University of Saskatchewan, Saskatoon, Canada
(2)
Department of Computer Science, University of Saskatchewan, Saskatoon, Canada