Research article
Open Access
Gene expression profiling of intestinal regeneration in the sea cucumber
Received: 23 January 2009
Accepted: 08 June 2009
Published: 08 June 2009
Abstract
Background
Among deuterostomes, the regenerative potential is maximally expressed in echinoderms, animals that can quickly replace most injured organs. In particular, sea cucumbers are excellent models for studying organ regeneration since they regenerate their digestive tract after evisceration. However, echinoderms have been sidelined in modern regeneration studies partially because of the lack of genome-wide profiling approaches afforded by modern genomic tools.
For the last decade, our laboratory has been using the sea cucumber Holothuria glaberrima to dissect the cellular and molecular events that allow for such amazing regenerative processes. We have already established an EST database obtained from cDNA libraries of normal and regenerating intestine at two different regeneration stages. This database now has over 7000 sequences.
Results
In the present work we used a custom-made microchip from Agilent with 60-mer probes for these ESTs, to determine the gene expression profile during intestinal regeneration. Here we compared the expression profile of animals at three different intestinal regeneration stages (3-, 7- and 14-days post evisceration) against the profile from normal (uneviscerated) intestines. The number of differentially expressed probes ranged from 70% at p < 0.05 to 39% at p < 0.001. Clustering analyses show specific profiles of expression for early (first week) and late (second week) regeneration stages. We used semiquantitative reverse transcriptase polymerase chain reaction (RT-PCR) to validate the expression profile of fifteen microarray detected differentially expressed genes which resulted in over 86% concordance between both techniques. Most of the differentially expressed ESTs showed no clear similarity to sequences in the databases and might represent novel genes associated with regeneration. However, other ESTs were similar to genes known to be involved in regeneration-related processes, wound healing, cell proliferation, differentiation, morphological plasticity, cell survival, stress response, immune challenge, and neoplastic transformation. Among those that have been validated, cytoskeletal genes, such as actins, and developmental genes, such as Wnt and Hox genes, show interesting expression profiles during regeneration.
Conclusion
Our findings set the base for future studies into the molecular basis of intestinal regeneration. Moreover, it advances the use of echinoderms in regenerative biology, animals that because of their amazing properties and their key evolutionary position, might provide important clues to the genetic basis of regenerative processes.
Keywords
Reverse Transcriptase Polymerase Chain ReactionRegenerative CapacityMicroarray ResultRegeneration StageDevelopmental Gene
Background
All living organisms exhibit, to some extent, regenerative properties that allow them to deal with environmental events, physical trauma or diseases. Regenerative capacities have been studied in terms of stem cell recruitment, cell dedifferentiation, proliferation and migration, provision of specific regulatory/trophic factors, and expression or re-expression of the developmental program in adult animals [1]. However, the molecular/genetic basis of regeneration remains obscure.
Central to regeneration studies is the choice of the model organism, since metazoan species can show large variability in their regenerative capacities. In general, the ability to replace complex body parts decreases as one moves from the basal to the more highly derived taxa. However, even within the same phylum, not all animals are able to regenerate body parts, and not all tissues within a body can be equally repaired [2, 3]. One problem in elucidating the molecular basis of regeneration has been that organisms with high regenerative capacities do not lend themselves easily to traditional experimental genetics. Only recently has progress been made to make possible the use of some of these model systems to dissect the genetic basis of regeneration [4]. Among these, invertebrate systems such as Hydra and planaria, and vertebrates, such as ascidians and amphibian urodeles, have gained particular attention. Nonetheless, regeneration research remains underpopulated, and there are whole phyla of organisms, showing very interesting regenerative behaviors where little molecular research has been performed [5]
Among deuterostomes, the regenerative potential is maximally expressed in echinoderms, animals that can quickly replace most injured organs. In particular, sea cucumbers (holothurians) are excellent models for studying organ regeneration since they can regenerate many of their organs and appendages. Our laboratory has been using an echinoderm, Holothuria glaberrima as a model organism for the last decade to dissect the process of how the digestive tract regenerates once it is eliminated by auto-evisceration. We have shown that following evisceration the new intestine regenerates from the free end of the remaining mesentery [6]. Initially, the mesenterial tip thickens forming a continuous rod-like structure that extends from the esophagus to the cloaca. During the second regeneration week, luminal epithelial cells from the esophagus and from the cloaca migrate into this tube, forming the mucosal layer and giving rise to the intestinal lumen. We have performed extensive studies at the cellular level showing the involvement of cell division, dedifferentiation, and migration in the regeneration of the intestine [6–11] as well as of events associated with the remodeling of the extracellular matrix [12].
We have also used the sea cucumber to explore the role of the genes that allow for such extraordinary regenerative processes [13]. Our approach has been to focus on target genes that have been associated with regenerative processes or identified in the regenerating tissues [14, 15]. Similar gene by gene approaches have been used to study regeneration processes in other echinoderms, particularly in brittle stars and crinoids [16–20]. However, the regenerative capacities of the echinoderms have yet to be explored systematically using a large number of molecular tools [21]. In fact, one of the reasons that echinoderms have been sidelined in modern regeneration studies is the lack of genome-wide profiling approaches afforded by modern genomics [21]
We have now overcome this problem by determining the profile of gene activity during intestinal regeneration in H. glaberrima using microarray technology. For this, microarray slides were made using over 7000 ESTs that we previously identified from normal and regenerating intestine cDNA libraries [13]. Here we compare the gene expression profile of animals at 3, 7 and 14 days of regeneration, following the evisceration process typical of these organisms. Results show a large number of differentially expressed genes associated with intestinal regeneration. Some of these genes are homologues to metazoan genes associated with regenerative processes while many others might be novel sequences with little or no similarities to sequences in the databanks. To explore our results, we have focused on those sequences that are differentially expressed during early intestinal regeneration and that are associated with events previously shown to occur at the cellular level, namely developmental processes, cytoskeletal transformations and extracellular matrix remodeling. Our results make available the first overview of gene expression patterns in the regenerating intestine. More importantly, our results provide the basis for molecular studies aimed at exploring the molecular basis of regeneration in a group of animals that because of their remarkable properties and their key evolutionary position will provide important clues to the genetic basis of regenerative processes.
Results
Technical Analyses
Technical analysis showed that the microarrays performed as expected. First, the intensities of the 536 internal controls of the Agilent array perfectly matched the expected ones as shown in the regression model [see additional file 1]. Second, no significant variation was observed between raw data and normalized MA plots [Additional file 2], which means that there was no significant dye bias. Third, dye swap results showed extremely high similarity in their labeling pattern [additional file 3]. Since the dye swaps were made with different animal samples (biological dye-swaps), this implies that not only did dyes produced similar results, but that results from animals at the same regeneration stage were equivalent. Fourth, analyses of genes spotted in duplicate within the same array (technical replicates) showed almost identical fold changes, evidencing the strong reproducibility of our data.
Discussion
We have now shown by using microarray technology that a large number of genes, represented by EST sequences, are differentially expressed during sea cucumber intestinal regeneration. Nonetheless, microarray results are not fool-proof and must be validated by other methods. An indirect way of validating our results is to compare this microarray data to previous work from our laboratory showing individual gene expression patterns. Two examples of these are the expression of serum amyloid A (SAA) [14] and of ependymin [15], both of which have been well studied in the laboratory using a range of molecular techniques. SAA was shown by Northern blot analysis to be over-expressed during regeneration, with a peak during the second week[14]. Our microarray results also show SAA over-expression during intestinal regeneration, although the expression peak somewhat differs, occurring during the first week. This difference might be due to the fact that SAA is also associated with the immune status of the animals [26] therefore this status might differ between the animals used in the present experiments from those used for the Northern experiments performed years ago. On the other hand, the expression of ependymin, a gene associated with regeneration and plasticity, was previously shown to increase during intestinal regeneration [15]. These results were obtained with the highly accurate technique of quantitative Real Time PCR, showing a peak in expression at 7-dpe and no change at 3- or 14-dpe. These results are closely reproduced in our microarray analyses which show significant differences between 7-dpe animals and uneviscerated, but no differences at 3- or 14-dpe.
The comparison of RT-PCR results and microarray data obtained for fifteen selected ESTs provides a direct corroboration of their differential expression during intestinal regeneration. These results show that 11/15 of the sequences behave essentially the same whether measured by microarray or RT-PCR. Moreover, even the statistical significance of the result is within the same ballpark figure. The differences between RT-PCR and microarray results of the four remaining sequences (Hox 12, actins 1, 2 and 3), is mainly due to the RT-PCR results not being statistically significant, although in some cases they follow the same trend. It is interesting that these sequences are among the ones known to have closely related sequences in the genome (multiple actin genes and Hox genes), thus suggesting that the lack of correlation at some stages might be due to primers hybridizing with other sequences and increasing the background noise, making the RT-PCR results less sensitive than the microarray.
Conclusion
Despite the apparent simplicity of the echinoderms, here we show that the organ regeneration is a complex process that involves the up-regulation and down-regulation of thousands of genes. Consistent with previous findings, these genes have been reported as involved in regeneration, development, ECM rearrangement, cytoskeleton reorganization and wound healing such as Wnt-9, BMP-1, Hox12, Tubulin, Tens-R, MMPs and gelsolin respectively. Moreover, a large number of unknown genes were also found to be differentially expressed at different stages of regeneration and might represent novel genes. Finally, here we show that intestine regeneration in the sea cucumber is a novel and important model for studies to identify and characterize the molecular basis of regenerative processes.
Methods
Microchip preparation
We have used the Agilent platform to design, perform and analyze custom-made H. glaberrima arrays. For this we used the "eArray" server from Agilent to design 60-mer probes that were synthesized on the microarray. A design with 15744 spots on each array and 8 arrays per slide was selected. All sequences from the cDNA libraries of normal and regenerating intestines were represented at least twice. Thus, 14352 (91.2%) probes were from 6287 clean sequences from H. glaberrima. We also spotted other sequences. These sequences represented genes associated to development, regeneration, proliferation, wound healing and growth. This pool included 150 probes from the sea cucumber Apostichopus japonicus (reported by Zheng et al. 2006), 8 from other holothurians that could be found in the NCBI database and 658 from the sea urchin S. purputatus (whose genome was recently sequenced [82]). Finally, 40 probes were from vertebrate organisms including mice, zebrafish and axolotl. Technical controls were 536 (3.4%).
Animals and treatments
Adult sea cucumbers (10~12 cm long) were collected from the north-eastern rocky shores of Puerto Rico. Animals were eviscerated at day 0, by intra-coelomic injection of 0.35 M KCl. They were left undisturbed in the aquaria to allow regeneration for 3, 7 and 14 days. At each time-point, animals were anesthetized by immersion in ice-cold sea water for 45 min. A dorsal incision was made to completely expose the internal cavity and allow the dissection of the intestinal primordium (3-, 7- or 14-dpe). After dissection, the regenerating intestines were placed in RNAlater® (Applied biosystems/Ambion, Austin TX) solution for RNA extraction. Uneviscerated (normal) animals were used as controls. One group was injected once with 1 mg lipopolysaccharides (LPS) diluted in 0.5 mL filtered sea water as reported by [85]. Intestines of the LPS treated animals were dissected 48 hrs after injection.
RNA Extraction
RNA was extracted using a combination of the [86] method using Tri-reagent® (N.93289, Sigma, St Louis, MO) and the RNAeasy mini kit from Quiagen (Valencia, CA) The concentration and integrity of RNA were determined using the NanoDrop-1000 Spectrophotometer (NanoDrop Technologies, Rockland, DE) and the 2100 Bioanalyzer (Agilent) with an RNA 6000 Nano LabChip® Kit at the Functional Genomics Research center (FGRc -UPR, Puerto Rico).
Synthesis and labeling of cRNA
RNA samples were amplified and labeled using the Low Input Fluorescent Linear Amplification kit (Agilent). Briefly, cDNA was first synthesized combining 300 ng of RNA with T7 promoter primers, 5× First Strand Buffer, 0.1 M DTT, 10 mM dNTP mix, MMLV RT and RNaseOUT. This reaction mix was incubated at 40°C for 2 h. Then, cRNA synthesis and dye incorporation were performed as follows: cDNA of the first reaction was combined with cyanine-3-CTP (Cy3, 10 mM) or cyanine 5-CTP (Cy5,10 mM) and the Transcription Master Mix (4× transcription buffer, 0.1 M DTT, NTP mix, 50% PEG, RNAseOUT, inorganic pyrophosphase and T7 RNA polymerase) at 40°C for 2 h. The fluorescently labeled cRNA products were purified using RNeasy mini spin columns (QIAGEN), subsequently analyzed for yield and dye incorporation using the NanoDrop, and finally stored at -80°C until needed. Only samples that presented a concentration of more than 8 pmol/mg (measurement representing efficiency of dye incorporation) were used for hybridization as recommended by the manufacturer.
Hybridization & Scanning
Cy3 and Cy5-labeled cRNAs were combined, fragmented, and hybridized to an 8 × 15K 60-mer oligo microarray (Agilent) for 17.5 h at 60°C with continuing rotation at 4 rpm. After hybridization, slide arrays were subjected to two successive washes (wash solution 1: 6× SSPE, 0.005% N-Lauroylsarcosine, and wash solution 2: 0.06× SSPE, 0.005% N-Lauroylsarcosine) and dried with the Stabilization and Drying Solution (Agilent). Arrays were immediately scanned in a G250B Microarray Scanner (Agilent) to obtain fluorescence intensities and Cy5/Cy3 ratios for each gene on the array (see below). Scanning parameters were used as recommended by the manufacturer. The resolution settings for scanning were 5 μm using minimum (10%) and maximum (100%) Photo Multiplier Tube detection sensitivities.
Microarray Experimental Design
The experimental design consisted of comparisons between Normal (non-eviscerated) intestinal tissues and 3-, 7-, and 14-dpe regenerating intestines. To determine differences in gene expression between regenerating stages we also compared directly 3- vs. 7-dpe and 7- vs. 14-dpe (Figure 8). Comparisons were also made between the intestinal tissues of normal and immune activated animals (injected LPS). There were only 48 genes differentially expressed between normal and LPS-immune activated intestines and these genes will be discussed elsewhere. (F. Ramirez-Gomez et al. in prep.) These genes were subtracted from the regeneration profile to ensure that genes associated with the regeneration phenomenon were not differentially expressed due any possible immune activation (e.g., because of bacterial invasion during the evisceration process).
Technically, for each comparison, the microarray experiment was done twice, one using different biological samples, each consisting of a sample pool from 3 animals. Of the two biological replicates one was always performed as a dye-swap in order to correct any dye bias.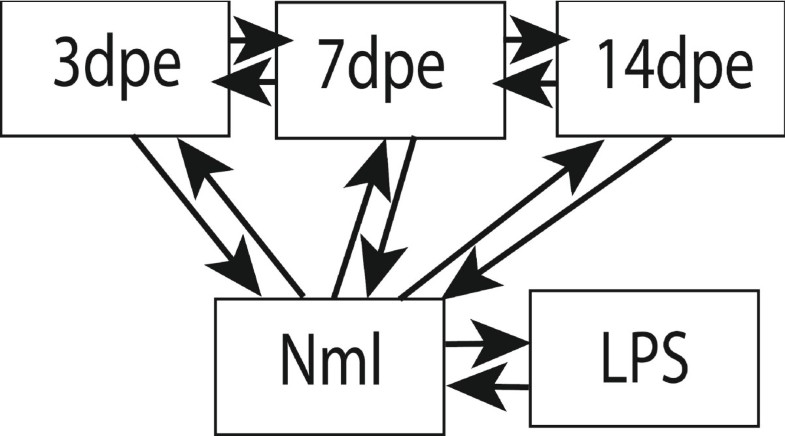 Microarray data analysis
Microarray data was extracted with Agilent's Feature Extraction software (version 5.1) and analyzed using the Limma package of Bioconductor. The data discussed in this publication have been deposited in NCBI's Gene Expression Omnibus [87] and are accessible through GEO Series accession number GSE16182 http://www.ncbi.nlm.nih.gov/geo/query/acc.cgi?acc=GSE16182. The analysis of the microarray data consisted of the following steps: 1) within-array and between-array normalizations; 2) fitting the data to a linear model; and 3) computing differential gene expression. For normalization purposes [88] MA-plots were generated representing the (R, G) data (R = red for Cy5 and G = green for Cy3), in which the log ratio of R versus G (M value = log2 R/G) was plotted against the overall intensity of each spot (A value = log2 (R + G)/2. Within-array normalization was first applied and M-values were normalized within each array using the Global Loess Normalization method. Aquantile normalization was then applied to the A-values as a method for between-array normalization, to assure that the intensities and log-ratios had similar distributions across arrays. To estimate the average M-value for each gene and assess differential gene expression, a simple linear model was fit to the data, and M-value averages and standard deviations for each gene were obtained. To find genes with significant expression changes between groups, empirical Bayes statistics were applied to the data by moderating the standard errors of the estimated M-values. P-values were obtained from the moderated t-statistic and corrected for multiple testing with the [89] method. The null hypothesis, that there is no differential expression of genes between regeneration stages compared with normal tissues, was rejected for p-values lower than 0.05. Thus, the change in expression is given by the fold change while the believability of the change is given by the odds. Alternative to this method, the GenePix Pro 6.0.1.26 and Acuity 4.0.0.60 software (from Molecular Devices, Sunnyvale CA) was also used to analyze gene expression values (log ratios) and perform clustering analyses. Methods used to visualize the expression profiles included hierarchical [90] and non-hierarchical clustering such as Self-Organizing Maps (SOM, [91]).
Gene expression analysis
The differential expression of the genes of interest was semi-quantitatively determined by gene-specific relative RT-PCR. Primers were designed for optimal performance using the Primer3 and Net primer web-servers [see additional file 4 for the list of primer sequences]. All primers were synthesized by AlphaDNA (Montreal, Canada). PCRs were performed in the Mastercycler ep (Eppendorf, Westbury, NY) using the Promega's Taq-Polimerase kit (Madison, USA). Cycling conditions for the amplified products were as follow: 94°C × 1 min, 55°C (± 3°C) × 1 min, 72°C × 1 min; all performed for 35~40 cycles. Optical densities of the PCR products were measured using Photoshop (Adobe). Values were extracted for background and then normalized against NADH-dehydrogenase unit 5 (NADH, 241 bp). Each stage of regeneration was analyzed with at least an N = 7, each sample represented the intestine of one individual. Statistical test of mean comparison was carried in R http://cran.r-project.org under the null hypothesis that there is no differential expression between different stages of regeneration and normal tissues. Significance of the paired t-test was assumed at p < 0.05.
List of abbreviations
cDNA :

complementary DNA
EST :

Expressed sequence tag
Dpe :

Days post evisceration
RT-PCR :

reverse transcriptase polymerase chain reaction
LPS :

lipopolysaccharides
MMP :

Matrix metalloproteases
GO :

Gene Ontology
ORF :

Open Reading Frame
UTR :

Untranslated region
mRNA :

Messenger RNA
SLS :

spindle like structure
ECM :

Extra-Cellular Matrix.
Declarations
Acknowledgements
This work was supported by NIH (1SC1GM084770-01), NSF (IBN-0110692) and NIH- (S06GM08102). We also acknowledge partial support from NIH INBRE (P20RR16470), DEGI-PBDT (doctoral dissertation fellowship to F. Ramírez-Gómez and E. Suarez-Castillo), the Sequencing and Genotyping facility of the UPR and the University of Puerto Rico.
Authors' Affiliations
(1)
Department of Biology, University of Puerto Rico, Rio Piedras, San Juan, USA
(2)
Department of Molecular, Cellular and Developmental Biology, Yale University, New Haven, USA
(3)
School of Science and Technology, Universidad del Este- SUAGM, Carolina, USA
(4)
HPCf, High Performance Computing facility, University of Puerto Rico, San Juan, USA
Copyright
© Ortiz-Pineda et al; licensee BioMed Central Ltd. 2009
This article is published under license to BioMed Central Ltd. This is an Open Access article distributed under the terms of the Creative Commons Attribution License (http://creativecommons.org/licenses/by/2.0), which permits unrestricted use, distribution, and reproduction in any medium, provided the original work is properly cited.