Research article
Open Access
Genomic evidence for non-random endemic populations of decaying exons from mammalian genes
Received: 16 February 2009
Accepted: 13 July 2009
Published: 13 July 2009
Abstract
Background
Functional diversification of genes in mammalian genomes is engendered by a number of processes, e.g., gene duplication and alternative splicing. Gene duplication is classically discussed as leading to neofunctionalization (generation of new functions), subfunctionalization (generation of a varied function), or pseudogenization (loss of the gene and its function).
Results
Here, we focus on the process of pseudogenization, but specifically for individual exons from genes. It is at present unclear to what extent pseudogenization of individual exon duplications affects gene evolution, i.e., is it a random phenomenon, or is it associated with specific types of genes and encoded proteins, and positions in gene structures? We gathered genomic evidence for pseudogenic exons (ΨEs, i.e., exons disabled by frameshifts and premature stop codons), to examine for significant trends in their distribution across four mammalian genomes (specifically human, cow, mouse and rat). Across these four genomes, we observed a consistent population of ΨEs, associated with 0.4–1.0% of genes. These ΨE populations exhibit codon substitution patterns that are typical of an endemic population of decaying sequences. In human, ΨEs have significant over-representation for functional categories related to 'ion binding' and 'nucleic-acid binding', compared to duplicated exons in general. Also, ΨEs tend to be associated with some protein domains that are abundant generally, e.g., Zinc-finger and immunoglobulin protein domains, but not others, e.g., EGF-like domains. Positionally, ΨEs are also significantly associated with the 5' end of genes, but despite this, individual stop codons are positioned so that there is significant avoidance of potential targeting to nonsense-mediated decay. In human, ΨEs are often associated with alternative splicing (in 22 out of 284 genes with ΨEs in their milieu), and can have different parts of their sequence differentially spliced in alternative transcripts. Some unusual cases of ΨEs embedded within 5' and 3' non-coding exons are observed.
Conclusion
Our results indicate the types of genes that harbour ΨEs, and demonstrate that ΨEs have non-random distribution within gene structures. These ΨEs may function in gene regulation through generation of transcribed pseudogenes, or regulatory alternate transcripts.
Keywords
Gene OntologyAlternative SplicePremature Stop CodonEndemic PopulationGenomic Evidence
Background
Natural selection acts on phenotypes arising from a vast range of genomic variations: chromosomal and segmental duplications, local duplications, and smaller insertions, deletions and nucleotide substitutions. Local duplication arises not only for whole genes or multiples of genes, but also for pieces of genes and for individual exons.
A pseudogene (ΨG), in the case of protein-coding genes, is a copy of a gene that has symptoms of protein-coding deficiency [1–6]. Symptoms of protein-coding deficiency include: (i) coding-sequence disablements (frame-shifts and premature stop codons); (ii) neutral codon substitution patterns (that yield values of Ka/Ks, the ratio of non-synonymous to synonymous codon substitutions of ~1.0); (iii) protein domain truncations [2]; (iv) mutation of deeply-conserved residue positions essential for protein function or structural integrity [1]. Processed pseudogenes are made by reverse transcription and re-integration into the genome, and have been extensively studied elsewhere [1–6]. Non-processed pseudogenes can arise after local or segmental gene duplication, and subsequent loss of protein-coding ability through mutation. A similar situation can arise within an individual gene structure: one or more exons can become duplicated within the vicinity of a gene. Such partial gene duplications may then lose coding ability, becoming pseudogenic exons (ΨEs), in a similar way.
Here, we have gathered genomic evidence for the distribution of pseudogenic exons (ΨEs) in the chromosomal milieu of annotated genes of four mammals with high-coverage genome assemblies and extensive transcriptional validation (human, cow, mouse and rat). Such ΨEs can have a functional role. For example, recently it has been described that ΨEs with stop codons that are alternatively spliced can target messenger RNAs to nonsense-mediated decay (NMD), in a way that causes changes in expression levels for other transcripts from the gene [7]. In our analysis, we define ΨEs specifically using coding-sequence disruptions (i.e., frameshifts and premature stop codons). We find a non-random distribution of ΨEs in each mammalian genome, associated with certain subtypes of genes and positions within genes.
Results and discussion
A pipeline was derived to detect
pseudogenic exons
(ΨEs) in the immediate chromosomal
milieu
of genes (Figure
1
; see
Methods
for details). A ΨE is defined as an exon copy whose coding ability is compromised by a frameshift or a premature stop codon. Such frameshifts and stop codons are the most obvious indicators of coding-sequence decay. The designated
parent exon
for a ΨE is the most similar exon in the surrounding annotated gene structure. In addition, we annotated duplicated exons (DEs) in the transcripts from each gene, as described in
Methods
.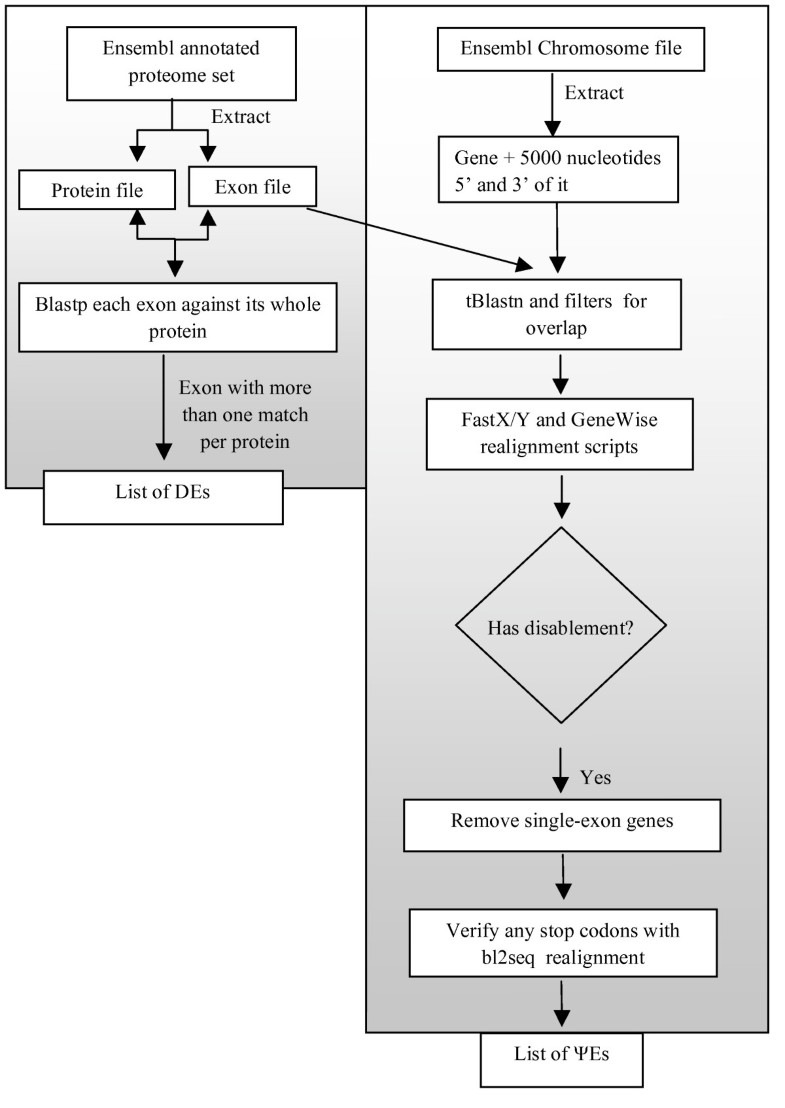 We focused on four mammalian genome assemblies with high (>7X) coverage (human, cow, mouse and rat), to analyze the extent of the occurrence of ΨEs. We examined for significant trends in the distribution of ΨEs for a variety of properties. In particular, we focussed on assessing the peculiarities of the ΨEs in comparison to the general population of duplicated exons. We analyzed the following: (i) divergence from designated parent exons; (ii) association with protein families; (iii) association with Gene Ontology functional categories; (iv) position of ΨEs with respect to the intron-exon structure of the gene; (v) participation in alternative splicing, and (vi) coding-sequence selection pressures, as judged by Ka/Ks values.
Table
1
summarizes the distribution of ΨEs. Strikingly, ΨEs occur at a consistent level across all of the mammalian genomes studied. The annotation pipeline identified between ~300 to ~600 cases of ΨEs per genome. These ΨEs occur for 0.4–1.0% of genes, with a frequency of 1.3–2.0 ΨEs per gene. In addition, we determined ~4000–7000 duplicated exons (DEs) within the annotated genes of each of the four studied mammals (Table
1
). A substantial fraction (~12–22%) of the ΨEs are located on the strand opposite to the putative parent gene (Table
1
), indicating some sort of inversion process in their generation.
Table 1
Summary of the annotations
| Feature | Homo sapiens† | Mus musculus† | Rattus norvegicus† | Bos taurus† |
| --- | --- | --- | --- | --- |
| DE | 6717 (1341) | 4645 (1079) | 4052 (993) | 4389 (982) |
| ΨE | 377 (284) | 270 (209) | 364 (218) | 581 (298) |
|    - 5' half | 263 | 178 | 88 | 431 |
|    - 3' half | 114 | 92 | 276 | 155 |
|    - Opposite strand | 13% | 12.2% | 21.5% | 14.31% |
|    Number of ΨEs that would lead to NMD targeting | 55 | 48 | 138 | 194 |
|    - Orthologs and the Gene Order test | ------- | 36/67* (53.7%) | 39/62* (62.9%) | 45/75* (60%) |
Conclusion
We gathered genomic evidence to assess for non-random distribution of pseudogenic exons (ΨEs) in four mammalian genomes. We observed endemic populations of decaying exons consistently across genomes, arising for up to ~1% of genes. These ΨEs were defined using coding-sequence disablements (frameshifts and premature stop codons). Of course, other pseudogenic exons may exist (such as those arising from initial disablement of splicing signals); however, such pseudogenic exons would be likely to acquire coding-sequence disablements rapidly, soon after their initial disablement.
The pseudogenic exons (ΨEs) are longer than duplicated exons in general, are associated with genes encoding specific protein domain families, such as zinc-finger-containing proteins, and are noticeably lacking for genes containing domains that are otherwise abundant, such as EGF-like domains. The ΨEs also demonstrate species-specific over-representation of GO functional categories relative to duplicated exons in general; for example, in human, GO functional categories for 'ion-binding' and 'nucleic acid binding' are significantly over-represented, compared to duplicated exons generally. The ΨE populations indicate the sorts of genes that have undergone exon decay in recent mammalian evolution (recent enough, and in large enough amounts, for them not to be deleted from the genomic DNA). We find statistical evidence for selection pressure on avoidance of stop codon placements in ΨEs that would lead to nonsense-mediate decay. In addition, we find some interesting positionings of ΨEs in gene structures, such as embedding in UTRs, or partial alternative splicing. The ΨE populations are a potential resource for the formation of transcribed pseudogenes, which can function in the regulation of homologous genes through formation of small, interfering RNAs [18, 19, 30]. They may also be involved in alternative transcripts that have a regulatory function [7]. The annotated ΨEs that we have analysed will be a fertile source for study using large-scale micro-array expression techniques for these two potential regulatory functions. Also, the ΨE data sets will be useful for further gene evolution study in mammals. The data are available from the authors at http://biology.mcgill.ca/faculty/harrison/.
Declarations
Acknowledgements
This research was supported by grants from the National Science and Engineering Research Council of Canada, and from McGill University.
Authors' Affiliations
(1)
Department of Biology, Stewart Biology Building, McGill University, Montreal, Canada
Copyright
© Morais and Harrison; licensee BioMed Central Ltd. 2009
This article is published under license to BioMed Central Ltd. This is an Open Access article distributed under the terms of the Creative Commons Attribution License (http://creativecommons.org/licenses/by/2.0), which permits unrestricted use, distribution, and reproduction in any medium, provided the original work is properly cited.