Research article

Open Access
Parallel expression evolution of oxidative stress-related genes in fiber from wild and domesticated diploid and polyploid cotton (Gossypium)
Received: 2 February 2009
Accepted: 17 August 2009
Published: 17 August 2009
Abstract
Background
Reactive oxygen species (ROS) play a prominent role in signal transduction and cellular homeostasis in plants. However, imbalances between generation and elimination of ROS can give rise to oxidative stress in growing cells. Because ROS are important to cell growth, ROS modulation could be responsive to natural or human-mediated selection pressure in plants. To study the evolution of oxidative stress related genes in a single plant cell, we conducted comparative expression profiling analyses of the elongated seed trichomes ("fibers") of cotton (Gossypium), using a phylogenetic approach.
Results
We measured expression changes during diploid progenitor species divergence, allopolyploid formation and parallel domestication of diploid and allopolyploid species, using a microarray platform that interrogates 42,429 unigenes. The distribution of differentially expressed genes in progenitor diploid species revealed significant up-regulation of ROS scavenging and potential signaling processes in domesticated G. arboreum. Similarly, in two independently domesticated allopolyploid species (G. barbadense and G. hirsutum) antioxidant genes were substantially up-regulated in comparison to antecedent wild forms. In contrast, analyses of three wild allopolyploid species indicate that genomic merger and ancient allopolyploid formation had no significant influences on regulation of ROS related genes. Remarkably, many of the ROS-related processes diagnosed as possible targets of selection were shared among diploid and allopolyploid cultigens, but involved different sets of antioxidant genes.
Conclusion
Our data suggests that parallel human selection for enhanced fiber growth in several geographically widely dispersed species of domesticated cotton resulted in similar and overlapping metabolic transformations of the manner in which cellular redox levels have become modulated.
Keywords
Reactive Oxygen Species
Reactive Oxygen Species Level
Cotton Fiber
Reactive Oxygen Species Scavenge
Fiber Development
Background
Reactive oxygen species (ROS), including singlet oxygen, superoxide anions, hydrogen peroxide (H2O2), and hydroxyl radicals, are generated by oxidative reactions and other metabolic processes in cells and could have deleterious effects on growth and survival [1–4]. Naturally, cells have evolved mechanisms to scavenge excess ROS to prevent cellular damage, including up-regulation of antioxidant defense mechanisms [5–8]. In addition to the necessity of controlling excess potentially damaging ROS, eukaryotes have harnessed ROS as signaling molecules for a diverse array of regulatory processes, including responses to abiotic and biotic stresses, regulation of growth and development, and control of programmed cell death [2–5, 9–11]. Because of their important roles as signaling molecules, as well as their toxicity at higher levels, ROS concentrations are finely tuned and developmentally regulated by a complex gene network (at least 152 genes in Arabidopsis; [2]), which collectively control and modulate ROS metabolism [2, 5].
Recently, several ROS-related signal transduction and sensing components have been identified, including kinases, calcium channel proteins and redox-sensitive transcription factors [12–17]. The role of ROS has also been studied in cell wall biosynthesis, where ROS have been shown to be involved in lignin biosynthesis, cross-linking reactions between cell wall components, and loosening of cell walls in growing tissues [18–22]. ROS have been proposed to be involved in regulating cell growth in root hairs and pollen tubes, for example, via NADPH oxidases that control development by generating ROS and regulate cell expansion through the activation of calcium channels [23]. The role of Ca2+ flux in ROS signaling is also well-characterized and involves calcium binding proteins, such as calmodulin and NADPH oxidases [24, 25]. Stimulation of a Ca2+ influx into the cytoplasm through NADPH oxidase-derived ROS, and in turn, activation of NADPH oxidase to produce ROS also establish a positive feedback regulation maintaining growth in expanding root hair cells [26]. However, exogenous application of H2O2 attenuated the rate of root hair growth with a prolonged rise in Ca2+ after inhibition of growth [27]. ROS may also alter cell-wall properties and participate in their metabolism, as shown in vivo in radish seeds and maize roots [19, 28]. In young cotton "fibers", which are single-celled epidermal trichomes, H2O2 appears to be important for the differentiation of the cellulose-rich secondary cell wall, and H2O2levels are finely regulated [20, 29]. Additionally, exogenous H2O2 levels are regulated by redox status-related antioxidant enzymes including Cu/Zn-superoxide dismutase (CSD) that localizes to secondary cell walls of developing cotton fibers and is involved in cell wall growth [22]. Redox levels in cotton fiber cells are important for stability of cellulose synthases, necessary for cellulose biosynthesis during fiber elongation and secondary wall formation [30].
Since ROS levels are important to cell growth, the possibility exists that ROS modulation has been responsive to selection pressure. The genus
Gossypium
is an excellent model for studying the evolution of ROS modulation because cotton fiber represents a highly derived modification of epidermal seed trichomes. These trichomes have the experimental advantage of being single-celled and readily detached for
in vitro
studies of gene expression or for other purposes. From an evolutionary standpoint, trichome length, color and form vary considerably among the ~50 mostly wild species in the genus [
31
,
32
], thus providing a natural system in which to investigate the evolutionary relationships between cell growth and ROS modulation. Finally,
Gossypium
includes both diploids and allopolyploids, of which four species (two diploid and two allopolyploid) were independently domesticated for use as feed and fiber crops [
32
] (Figure
1
). This evolutionary context, and especially the multiple, parallel replicated "experiments" of domestication over the past ~7000 years, provide a unique opportunity to explore the connections between cell growth, natural and human-mediated selection, and ROS modulation.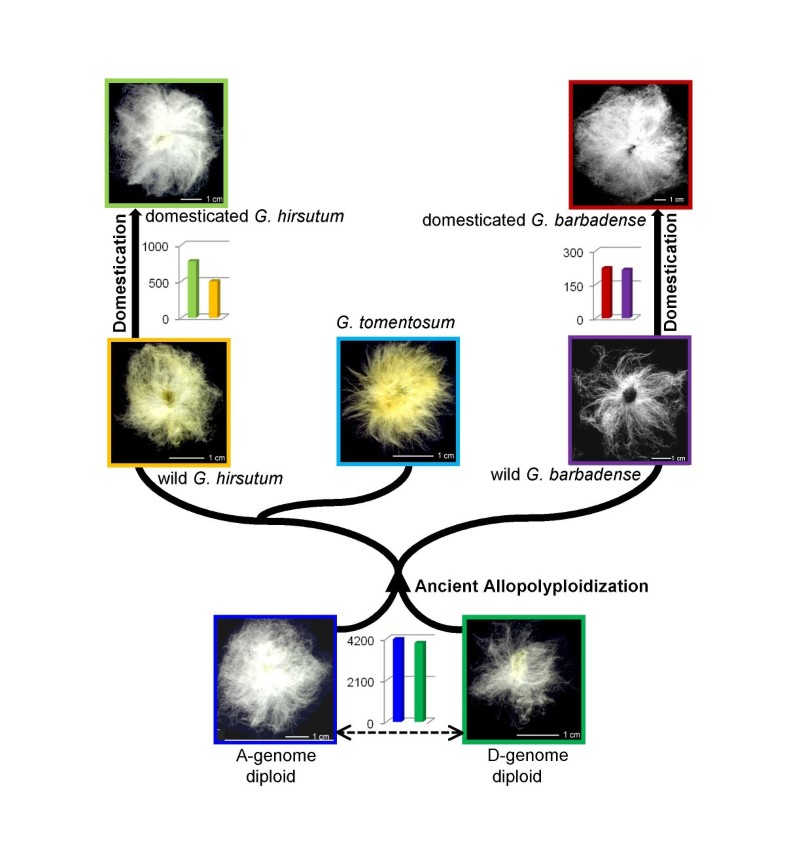 Initial insight into these relationships has emerged from recent comparative gene expression profiling experiments. In a comparison between a short-fibered, wild diploid species (G. longicalyx) and a domesticated diploid cotton (G. herbaceum), Hovav et al. [33] showed that during fiber development several stress responsive genes were up-regulated in the wild species, whereas ROS scavenging and signaling genes were comparatively over-expressed at the same developmental stages in the domesticated species. Analogous results were obtained in another microarray comparison in cotton, this time between wild and domesticated forms of the allopolyploid species G. barbadense. In this latter study, a greater number of antioxidant and ROS signaling genes were up-regulated in the domesticated accession early in fiber development, whereas at the same developmental stages genes associated with ROS production were over-expressed in the wild accession [34].
Here we build upon these earlier observations with new analyses and experiments to explore the expression of ROS-related genes during various evolutionary stages encompassing several orders of magnitude of differences in time, including ~5–10 millions of years of diploid species divergence, the diversification of wild allopolyploid species over the past 1–2 million years, and two parallel domestications of allopolyploid species approximately 5000 years ago [35, 36]. We use high-resolution microarray methodology [37] to comparatively study gene expression for ~42,000 genes in diploid and allotetraploid cotton species at an early stage of fiber development. By restricting our attention to ROS-related processes, we hoped to shed light on how ROS gene expression may have been altered in this single cell type during diploid divergence and natural allopolyploid formation, and by human selection pressure associated with repeated domestication.
Conclusion
The present study implicates an oxidative stress responsive gene network as being involved in the evolution of elongated epidermal seed trichomes, providing the foundation for later human domestication of an important crop plant. We provide clues here into ROS related genes that may have been selected by humans, starting with initial domestication of wild perennial thousands of years ago, through the development of modern elite lines. Notably, the majority of up-regulated ROS-related processes are diagnosed as having become enhanced during domestication, at both the diploid and polyploid levels, as opposed to being a result of allopolyploid formation per se. This suggestion that expression evolution of oxidative stress related genes was primarily concomitant with domestication is bolstered by the remarkable observation that independent parallel domestication events, taking place in different hemispheres thousands of years ago under aboriginal human selection pressure, led to parallel recruitment of ROS scavenging and signaling genes in one diploid and two different polyploid species. Although this is true at the level of biological process, or perhaps metabolism, it is clear that the genesis of these similarities is only partially congruent at the genetic level. That is, different sets of antioxidant genes are up-regulated in the domesticates. This repeated metabolic transformation accompanying domestication would appear to be without precedent. An exciting prospect for future work will be to dissect this physiological parallelism into its responsible constituent genes, and to learn the mutational basis of their altered regulation or function. Notwithstanding our ignorance of the specific function of most of the genes implicated as important in this study, a generality emerges that the avoidance or delay of stress-like processes in domesticated species may play a large role in the enhance elongation of fibers in cultivated compared to wild forms, in conjunction with an increased ability to modulate cellular redox balance in the growing cell. It would be interesting to explore whether similar trends in the evolution of ROS gene expression accompanied the domestication of other crops and for other traits, for example tolerance to stressed environmental conditions or to enhanced growth of other organs.
Declarations
Acknowledgements
We thank Guanjing Hu and Luhua Song for their help in protein isolation and western blotting. This project was supported by the United States National Science Foundation Plant Genome Program, by IOS-0743954, and a fellowship from the Department of Biotechnology, Government of India to BC. RM would like to thank ISF grant 214/08, as well as EU FP7 – MARIE CURIE 447.
Authors' Affiliations
(1)
Department of Ecology, Evolution and Organismal Biology, Iowa State University, Ames, USA
(2)
School of Biotechnology, Gautam Budhha University, Greater Noida, India
(3)
Department of Biochemistry and Molecular Biology, MS200, University of Nevada, Reno, USA
(4)
Department of Plant Sciences, Hebrew University of Jerusalem, Givat Ram, Jerusalem, Israel
Copyright
© Chaudhary et al; licensee BioMed Central Ltd. 2009
This article is published under license to BioMed Central Ltd. This is an Open Access article distributed under the terms of the Creative Commons Attribution License (http://creativecommons.org/licenses/by/2.0), which permits unrestricted use, distribution, and reproduction in any medium, provided the original work is properly cited.