Research article

Open Access
An integrated genetic linkage map for silkworms with three parental combinations and its application to the mapping of single genes and QTL
Received: 19 March 2009
Accepted: 21 August 2009
Published: 21 August 2009
Abstract
Background
Bombyx mori, the domesticated silkworm, is a well-studied model insect with great economic and scientific significance. Although more than 400 mutations have been described in silkworms, most have not been identified, especially those affecting economically-important traits. Simple sequence repeats (SSRs) are effective and economical tools for mapping traits and genetic improvement. The current SSR linkage map is of low density and contains few polymorphisms. The purpose of this work was to develop a dense and informative linkage map that would assist in the preliminary mapping and dissection of quantitative trait loci (QTL) in a variety of silkworm strains.
Results
Through an analysis of > 50,000 genotypes across new mapping populations, we constructed two new linkage maps covering 27 assigned chromosomes and merged the data with previously reported data sets. The integrated consensus map contains 692 unique SSR sites, improving the density from 6.3 cM in the previous map to 4.8 cM. We also developed 497 confirmed neighboring markers for corresponding low-polymorphism sites, with 244 having polymorphisms. Large-scale statistics on the SSR type were suggestive of highly efficient markers, based upon which we searched 16,462 available genomic scaffolds for SSR loci. With the newly constructed map, we mapped single-gene traits, the QTL of filaments, and a number of ribosomal protein genes.
Conclusion
The integrated map produced in this study is a highly efficient genetic tool for the high-throughput mapping of single genes and QTL. Compared to previous maps, the current map offers a greater number of markers and polymorphisms; thus, it may be used as a resource for marker-assisted breeding.
Keywords
Quantitative Trait Locus
Ribosomal Protein Gene
Pupal Weight
Putative Quantitative Trait Locus
Epistatic Quantitative Trait Locus
Background
Silk fibers are derived from the cocoon of the silkworm Bombyx mori, which was domesticated over the past 5,000 years from the wild progenitor Bombyx mandarina. Cocoon quality is very important because it can influence the yield of sericulture and determines whether a silkworm line can be used in silk production. Through the efforts of silkworm breeders over several thousands of years, many silkworm strains have been collected and conserved. Moreover, the different properties of these conserved silkworm strains, such as filament length, cocoon weight, cocoon shell weight, cocoon shell ratio, and cocoon color, have distinctive applications. Until now, crossbreeding was the only method of enriching loci that control cocoon quality to enhance the yield from a silkworm cocoon. Modern techniques involving gene cloning and marker-assisted breeding are now widely considered to be the most effective way of improving silk properties.
Genetic linkage map is an essential tool for mapping traits of interest and are used in positional cloning and marker-assisted breeding. Some genetic maps for the silkworm have been reported, including various genetic markers such as restriction fragment length polymorphisms (RFLPs; [1, 2]), random amplified polymorphic DNA (RAPD; [3, 4]), amplified fragment length polymorphisms (AFLPs; [5]), simple sequence repeats (SSRs; [6, 7]), and single nucleotide polymorphisms (SNPs; [8, 9]). SSRs (also called microsatellites) are generally accepted to be ideal markers because of their sound transferability, high reproducibility, and co-dominant inheritance. SSR markers are especially suitable for high-throughput genotyping, allowing rapid analysis of hereditary monogenetic traits and quantitative trait loci (QTL). Once SSR markers were established, polymorphisms could be detected merely by visualizing PCR products on an agarose gel, and these markers are still important for the meiotic analysis of livestock and agricultural species [10–15].
In our previous SSR linkage map [7], the 518 robust markers reported accounted for only 20% of all identified SSRs. The number of polymorphisms was low due to reliance on parental combinations between Dazao and C108 and to the minimal number of polymorphisms that occur between silkworm strains. Because the genetic distance between markers can be as large as 6.3 cM, fine mapping and gene cloning remain difficult.
A general approach for increasing the marker density in genetic linkage maps involves the identification of more markers and the integration of several linkage maps. Xia et al. [16] constructed an integrated, high-density linkage map of soybean using RFLPs, SSRs, sequence-tagged sites (STSs), and AFLP markers. Similarly, Vezzulli et al. [17] constructed an integrated map of grapevine using SSR and SNP markers. In many cases, the maps from different parental populations and even species have been integrated [18–20].
The choice of using the parental population of Dazao and C108 was based mainly on its internationally consistent use in silkworm genetic research. However, neither strain is applied widely for economic production of silk-related products. In China, more than 70% of silkworm breeders use the Jingsong strain for practical applications. Jingsong has properties that are advantageous for silk production, such as an average filament length of 1,200–1,500 m. In contrast, L10, which has poor silk-producing properties, possesses high stress resistance. Additional matings between strains of different origins may increase the mapping efficiency of markers due to the increased potential for genetic diversity.
Herein, we report an improved method for constructing silkworm SSR genetic maps with more informative loci based on new mapping populations (Figure
1
). Using this approach, we localized QTL for whole cocoon weight, cocoon shell weight, cocoon shell ratio, and pupal weight. This work underpins the further cloning of genes that control properties advantageous to silk production and will be utilized further to identify molecular markers to assist in the breeding of productive silkworm lines.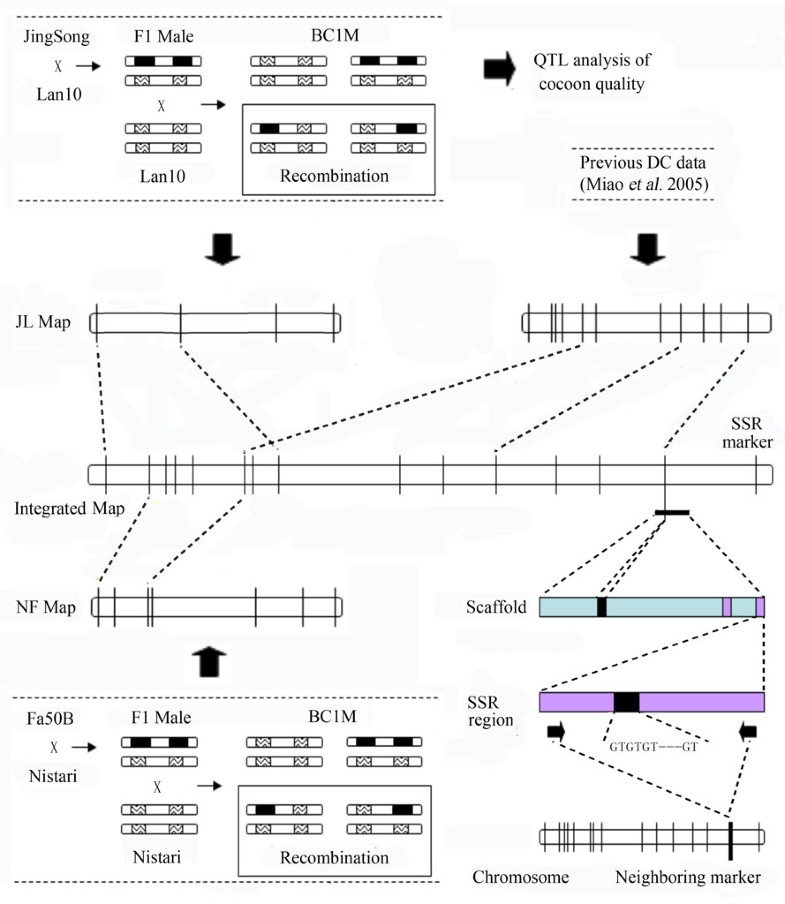 Conclusion
The integrated linkage map described here has a greater number of sites and more than one optional marker for most sites, and is more efficient for a range of applications. In combination with recent silkworm genomic data [31], the fine mapping and positional cloning of interesting traits will be realized more easily. The identification of target genes will in turn facilitate detailed research of insect innate immunity, metamorphosis, hormone metabolism, and the genetic improvement of economical strains with high stress resistance.
Abbreviations
SSR:

simple sequence repeats
QTL:

quantitative trait loci
CAPS:

cleaved amplified polymorphic sequences
CW:

whole cocoon weight
CSW:

cocoon shell weight
CSR:

cocoon shell ratio
PW:

pupal weight.
Declarations
Acknowledgements
We thank Drs. Yuanming Zhang and Hongxuan Lin for their help with our QTL mapping analysis. We also thank Drs. Ze Zhang and Hui Xiang, Zuguang Gu, Haokui Zhou, Xue Zhou, Jianshe Zhang, and Yubing Wang for their technical assistance. This work was supported by the National Basic Research Program of China (2005CB121000), the National High-Tech R&D Program (2006AA10A119), and a grant from the National Science Foundation of China (30825007).
Authors' Affiliations
(1)
Institute of Plant Physiology and Ecology, Shanghai Institutes for Biological Sciences, Chinese Academy of Sciences, Shanghai, PR China
(2)
Sericultural Research Institute, Chinese Academy of Agriculture Sciences, Zhenjiang, PR China
(3)
Biological Sciences Department, University of Rhode Island, Kingston, USA
Copyright
© Zhan et al; licensee BioMed Central Ltd. 2009
This article is published under license to BioMed Central Ltd. This is an Open Access article distributed under the terms of the Creative Commons Attribution License (http://creativecommons.org/licenses/by/2.0), which permits unrestricted use, distribution, and reproduction in any medium, provided the original work is properly cited.