Research article

Open Access
Assessing the genomic evidence for conserved transcribed pseudogenes under selection
Received: 11 March 2009
Accepted: 15 September 2009
Published: 15 September 2009
Abstract
Background
Transcribed pseudogenes are copies of protein-coding genes that have accumulated indicators of coding-sequence decay (such as frameshifts and premature stop codons), but nonetheless remain transcribed. Recent experimental evidence indicates that transcribed pseudogenes may regulate the expression of homologous genes, through antisense interference, or generation of small interfering RNAs (siRNAs). Here, we assessed the genomic evidence for such transcribed pseudogenes of potential functional importance, in the human genome. The most obvious indicators of such functional importance are significant evidence of conservation and selection pressure.
Results
A variety of pseudogene annotations from multiple sources were pooled and filtered to obtain a subset of sequences that have significant mid-sequence disablements (frameshifts and premature stop codons), and that have clear evidence of full-length mRNA transcription. We found 1750 such transcribed pseudogene annotations (TPAs) in the human genome (corresponding to ~11.5% of human pseudogene annotations). We checked for syntenic conservation of TPAs in other mammals (rhesus monkey, mouse, rat, dog and cow). About half of the human TPAs are conserved in rhesus monkey, but strikingly, very few in mouse (~3%). The TPAs conserved in rhesus monkey show evidence of selection pressure (relative to surrounding intergenic DNA) on: (i) their GC content, and (ii) their rate of nucleotide substitution. This is in spite of distributions of Ka/Ks (ratios of non-synonymous to synonymous substitution rates), congruent with a lack of protein-coding ability. Furthermore, we have identified 68 human TPAs that are syntenically conserved in at least two other mammals. Interestingly, we observe three TPA sequences conserved in dog that have intermediate character (i.e., evidence of both protein-coding ability and pseudogenicity), and discuss the implications of this.
Conclusion
Through evolutionary analysis, we have identified candidate sequences for functional human transcribed pseudogenes, and have pinpointed 68 strong candidates for further investigation as potentially functional transcribed pseudogenes across multiple mammal species.
Keywords
Rhesus MonkeyPremature Stop CodonSynonymous Substitution RateSignificant Selection PressureAntisense Homology
Background
Pseudogenes (derived from protein-coding genes) are gene copies that show signs diagnostic of protein-coding deficiency. Such signs commonly include premature stop codons and coding-sequence frameshifts, or neutral codon substitution patterns [1, 2]. Pseudogenes can arise in two chief ways: (i) from retrotransposition, i.e., reverse transcription of a cellular messenger RNA, followed by reintegration into the genomic DNA [3–5], or (ii) from decay of genes that originated (however long ago) from duplication [1, 6]. These genomic entities have generally been believed to be non-functional. Historically, there were some early individual reports of transcribed pseudogenes in the scientific literature [2, 7, 8]. Examples included: human leukocyte interferon (LeIFN) pseudogene [9], glyceraldehyde-3-phosphate dehydrogenase pseudogene [10], glucocerebrosidase pseudogene [11], steroid 21-hydrolase pseudogene [7], glutamine synthetase pseudogene [12], tumor repressor ΨPTEN [13].
More recently, genome-wide screens have detected transcription evidence for many retropseudogenes (>200) in humans [14–17]. In mouse oocytes, transcribed pseudogenes have been shown to play a significant role in the generation of small interfering RNAs (siRNAs) [18, 19], which regulate the expression of homologous genes.
Collectively, these reports indicate that an unknown cohort of human transcribed pseudogenes could be potentially functional in regulation of gene transcription. A key indicator of such function is significant conservation in other mammalian genomes. Svensson et al. [20] have explored conservation of apparent pseudogenes in three mammals (human, chimpanzee and mouse). Their analysis revealed 30 cases of transcribed pseudogenes that are preserved in mouse. Here, we analyze the distribution of transcribed pseudogene annotations (TPAs) in the human and mouse genomes, examine their conservation in an expanded panel of mammals (rhesus monkey, mouse, rat, dog and cow), and assess evidence for significant selection pressures. TPAs that are conserved in rhesus monkey show evidence of significant selection pressure, despite also displaying codon substitution patterns characteristic of non-protein-coding sequences. Also, we have discovered a short-list of 68 putative human transcribed pseudogenes that are syntenically conserved in at least two other mammals from our panel. These sequences represent a strong subset of candidates for further investigation as functional transcribed pseudogenes.
Conclusion
In this study, we identified hundreds of cases of putative transcribed pseudogene annotations (TPAs), in the human genome. Importantly, we detected evidence for selection pressure on these transcribed elements. These findings therefore draw wider attention towards the potential functionality of these genomic elements. In addition, we found that 68 human TPAs are conserved in at least 2 other studied mammals. These human TPAs have ancient origins dating back >120 million years ago, as evidenced by their conservation patterns across distantly related mammals. These pseudogenes represent novel genomic elements of potential functional relevance.
We have shown that human TPAs that are syntenically conserved in rhesus monkey generally behave like non-protein-coding sequences, despite significant selection pressure on them, relative to the surrounding genomic DNA. Examination of Ka/Ks values for TPAs that are conserved in more divergent species (mouse and dog), indicated that some TPAs might actually be protein-coding. However, we cannot rule out other reasons for these low Ka/Ks values. For example, it is possible that some of these sequences had phases of protein-coding ability at some evolutionary stage. Also, it is possible that there is an imprint of purifying selection on these sequences because of selection pressure to form small interfering RNAs with homologous protein-coding genes. Ultimately, these questions can only be answered by detailed experimental characterization of these molecules; our analysis here provides a rich data source for prioritizing likely candidates of functional importance as transcribed pseudogenes.
Methods
1. Collection of data
Complete genome sequences of mammals were obtained from http://www.ensembl.org (Ensembl release 47 for human genome; Ensembl release 48 for other mammals, namely, rhesus monkey, mouse, rat, cow and dog). Pseudogene annotations for both processed and nonprocessed categories, were obtained from [http://www.pseudogene.org; [37, 38]] and for VEGA pseudogenes from http://vega.sanger.ac.uk/, for disrupted mRNAs (dmRNAs) from Harrison and Yu [16] and for other transcribed processed pseudogenes from Harrison et al. [14]. The Blastx program [39] was used to determine the parent protein coding genes for VEGA pseudogenes (using E-value < 1e-09 as significance threshold), whereas for other datasets the annotations were readily available at the respective websites mentioned above.
2. Screening for putative transcribed pseudogenes
Transcription data for human and mouse were taken from RefSeq database [
40
], Unigene database at the NCBI
http://www.ncbi.nlm.nih.gov
, H-InvDB database
http://www.h-invitational.jp/
and Fantom3 database
http://fantom3.gsc.riken.jp/
. To identify putative transcribed pseudogenes, individual transcript sequences were mapped onto the respective genomes using GMAP software [
41
] with match criteria of >99% sequence identity and >99% sequence coverage. Transcript sequences that mapped to pseudogenes were aligned to parent protein sequences of respective pseudogenes to identify disablements such as frame shift or premature stop codon using the 'GeneWise' program (Wise2 - version 2.1.20 package downloaded from the European Bioinformatics Institute,
http://www.ebi.ac.uk/Tools/Wise2/index.html
) [
42
]. The disablement positions in pseudogenes and transcript sequences were then used as 'anchors' to confirm the transcription of pseudogenes as in previous analyses [
14
,
15
,
43
]. Additional data file (file 1) contains the list of transcribed human pseudogenes. For a schematic representation of the annotation pipeline, see Figure.
7
.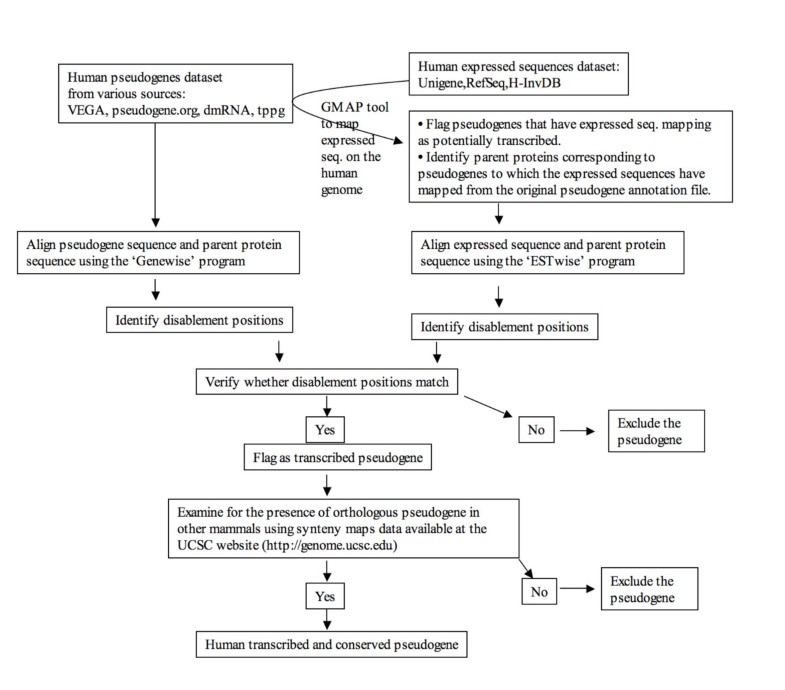 3. Identification of orthologous pseudogenes in various sequenced mammalian genomes
Orthologous counterparts to a human pseudogene are detected by the presence of a homologous sequence at the syntenic position in the other mammalian genome. Based on this criterion, a search was carried out within 100 kb nucleotides distance of the exact syntenic coordinate (because genes can shuffle locally) in the target mammal as indicated in the synteny maps, to locate the orthologous pseudogenes. 'GeneWise' tool [42] was used, to align the above-obtained genomic DNA sequence and the human parental protein sequence, and to detect disablements in the alignment. The following mammals were included in the analysis: monkey, mouse, rat, cow and dog. The pair wise synteny map data for the various mammals were obtained from http://genome.ucsc.edu/.
4. Analysis for pseudogene sequence conservation
Flanking sequences 5' and 3' of human pseudogenes were individually obtained, of length equal to the length of the human pseudogene, and were each globally aligned using 'needle' module of EMBOSS package http://www.ebi.ac.uk to the corresponding flanking region sequences (10000 nucleotides 5' and 3') of monkey in a sliding window of size also equal to the length of human pseudogene. The window in which best identity score was obtained was considered as the most optimum alignment between the flanking regions, representing syntenic regions. The Wilcoxon signed rank test was used for assessing the statistical significance of the difference between the degrees of homology calculated between two orthologous pseudogenes and that between the respective (orthologous) flanking regions. Cases with pair wise sequence identities <40% were excluded.
5. Analysis of lengths and GC percentage of pseudogenes and their flanking regions
For sequence length and GC percentage calculations, only the exonic segments of pseudogenes were considered. One thousand nucleotides upstream and downstream of a pseudogenes were considered as flanking regions. GC content is calculated as the sum of guanine and cytosine nucleotides divided by the total number of nucleotides represented in terms of percentage.
6. Ka/Ks ratio calculations
'PAL2NAL' [44] was used to construct codon alignments between protein sequences (conceptual amino acid translation sequences in the case of pseudogenes) and corresponding DNA sequences, separately, for orthologous pseudogenes and parental protein coding genes. 'PAML 4' package [45] was used to calculate Ka/Ks ratios. Orthologs of human parental protein coding genes were identified using a similar approach as that for pseudogene orthologs discussed above, and also obtained from Ensembl database.
We derived a simulation protocol to calculate Ka/Ks values for evolution without coding-sequence selection pressures. This simulation protocol is as follows: (i) the nucleotide distance (Dnt) between a sequence and its ortholog was calculated, using the program DNADIST [46]; (ii) for each sequence, samples of 500 simulated sequences were generated, by randomly mutating the human sequence until the Dnt value was reached; (iii) Ka/Ks was calculated using PAML [45], for each simulated sequence compared to the original human sequence; (iv) those original human sequences that have Ka/Ks values < 95% of simulated Ka/Ks values were labeled as potentially under significant purifying selection. For these simulations, all Ka/Ks calculations are performed on the longest ORF in the sequence.
We also analysed simulated distributions of Ka/Ks for populations of sequences mutating without coding-sequence selection pressures, starting from the human TPA sequences. These were derived simply by merging the simulated distributions of Ka/Ks for each individual TPA.
7. Annotation of disrupted protein domains
Protein domains were assigned to the TPAs, using protein structure domain sequences downloaded from the ASTRALSCOP database http://astral.berkeley.edu, as described previously [4]. Protein domains sequences were aligned to the TPA nucleotide sequences to assess for disablement by a frameshift or premature stop codon at least 15 amino acids from the end of the aligned subsequence. Disablements were required to be detected both by blast/bl2seq and by the TFASTX program [4, 39].
8. Antisense homology
Transcribed human pseudogenes were aligned to full-length annotated human cDNA to examine for any antisense homology by using the sequence-searching program BlastN from the BLAST package (E-value < 1e-10).
9. small RNA (siRNA) mapping
siRNAs have been previously determined in the mouse genome [18, 19]. Using this data we mapped the siRNA sequences onto the mouse genome using GMAP software [41], and checked how many of these overlap with the annotations of transcribed mouse pseudogenes.
10. Phylogenetic analysis
Ortholog sequences to the human transcribed ADP-ribose pyrophosphatase pseudogene (urn:lsid:pseudogene.org:9606.Pseudogene:4346; see Table 1), were obtained from the various studied mammals and were aligned using the online ClustalW tool http://www.ebi.ac.uk/clustalw/. The most conserved segment representing 257-396 positions of the human pseudogene was considered for the phylogenetic analysis. Phylogenetic tree was constructed using 'PHYLIP' software [46]. The tree was evaluated statistically using 1000 bootstrap iterations and was visualized using the 'NJplot' tool [47].
Declarations
Acknowledgements
A.N.K. and P.M.H. would like to thank the funding support from the National Science and Engineering Research Council of Canada (NSERC), and from Les Fonds Québécois de la Recherche sur la Nature et les Technologies (FQRNT).
Authors' Affiliations
(1)
Department of Biology, McGill University, Stewart Biology Building, Montreal, Canada
Copyright
© Khachane and Harrison; licensee BioMed Central Ltd. 2009
This article is published under license to BioMed Central Ltd. This is an Open Access article distributed under the terms of the Creative Commons Attribution License (http://creativecommons.org/licenses/by/2.0), which permits unrestricted use, distribution, and reproduction in any medium, provided the original work is properly cited.