Research article

Open Access
Genome-scale comparison and constraint-based metabolic reconstruction of the facultative anaerobic Fe(III)-reducer Rhodoferax ferrireducens
Received: 14 May 2009
Accepted: 22 September 2009
Published: 22 September 2009
Abstract
Background
Rhodoferax ferrireducens is a metabolically versatile, Fe(III)-reducing, subsurface microorganism that is likely to play an important role in the carbon and metal cycles in the subsurface. It also has the unique ability to convert sugars to electricity, oxidizing the sugars to carbon dioxide with quantitative electron transfer to graphite electrodes in microbial fuel cells. In order to expand our limited knowledge about R. ferrireducens, the complete genome sequence of this organism was further annotated and then the physiology of R. ferrireducens was investigated with a constraint-based, genome-scale in silico metabolic model and laboratory studies.
Results
The iterative modeling and experimental approach unveiled exciting, previously unknown physiological features, including an expanded range of substrates that support growth, such as cellobiose and citrate, and provided additional insights into important features such as the stoichiometry of the electron transport chain and the ability to grow via fumarate dismutation. Further analysis explained why R. ferrireducens is unable to grow via photosynthesis or fermentation of sugars like other members of this genus and uncovered novel genes for benzoate metabolism. The genome also revealed that R. ferrireducens is well-adapted for growth in the subsurface because it appears to be capable of dealing with a number of environmental insults, including heavy metals, aromatic compounds, nutrient limitation and oxidative stress.
Conclusion
This study demonstrates that combining genome-scale modeling with the annotation of a new genome sequence can guide experimental studies and accelerate the understanding of the physiology of under-studied yet environmentally relevant microorganisms.
Keywords
Fumarate
Microbial Fuel Cell
Metabolic Model
Cluster Regularly Interspaced Short Palindromic Repeat
Geobacter Species
Background
Rhodoferax ferrireducens is of interest because of its potentially important role in carbon and metal cycling in soils and sediments and its novel ability to convert sugars into electricity [1]. R. ferrireducens, which was isolated from subsurface sediments in Oyster Bay, VA, is a facultative anaerobic microorganism in the Comamonadaceae family of the Betaproteobacteria [2]. It is one of the few known facultative microorganisms that can grow anaerobically by oxidizing organic compounds to carbon dioxide with Fe(III) serving as the electron acceptor. This property, as well as its ability to grow at the low temperatures found in many subsurface environments, suggests that it could contribute to the oxidation of organic matter coupled to the reduction of Fe(III) in many soils and sediments. Microorganisms closely related to R. ferrireducens have been detected in a number of subsurface environments [3–7]. The novel ability of R. ferrireducens to oxidize sugars to carbon dioxide with quantitative electron transfer to electrodes in microbial fuel cells is of interest because of the possibility of using sugars as a renewable energy source for power production [1, 8, 9].
R. ferrireducens has a number of important physiological characteristics that distinguishes it from other members of the genus Rhodoferax. For example, it appears to be unable to grow phototrophically [2], a previous hallmark feature of the genus [10, 11]. Furthermore, unlike other Rhodoferax species, R. ferrireducens cannot grow anaerobically via fructose fermentation. No other Rhodoferax species have been shown to grow via anaerobic respiration, whereas R. ferrireducens can grow by oxidizing a wide variety of organic electron donors, such as acetate, lactate, propionate, pyruvate, succinate, malate and benzoate, with Fe(III) serving as the electron acceptor [2]. In addition to Fe(III), R. ferrireducens can utilize Mn(IV) oxide, fumarate, and nitrate as electron acceptors to support anaerobic growth [2].
The production of linear polyesters in the form of polyhydroxyalkanoates (PHAs) [2] is an interesting characteristic of R. ferrireducens with important biotechnological implications. PHAs are typically synthesized in bacteria from sugars or lipids and have industrial interest due to their properties as thermoplastics and elastomers [12].
In order to further elucidate the physiology of R. ferrireducens, the publicly available genome sequence http://www.jcvi.org/cms/research/projects/cmr was annotated in more detail and a genome-scale metabolic model was reconstructed using the constraint-based modeling approach [13–15]. Constraint-based modeling couples stoichiometric reconstructions of all known metabolic reactions in the organism with a set of constraints on the fluxes of each of these reactions in the system. This approach unveiled a variety of previously unknown physiological features of R. ferrireducens that contributed to a better understanding of its potential role in subsurface environments and converting organic compounds to electricity.
Results and Discussion
General features of the genome
The
Rhodoferax ferrireducens
genome as sequenced and assembled by the Joint Genome Institute (JGI) [
16
] consists of a circular chromosome of 4,712,337 base pairs (bp) and a plasmid with 257,447 bp. Manual curation of this sequence predicted a total of 4451
c
o
d
ing
s
equences (CDSs) from the chromosome and 319 CDSs from the plasmid (Figure
1
, Table
1
). Of the chromosomally located CDSs, BLAST searches matched 3,830 to a database of Proteobacterial proteins, by selecting for alignments with a 70% length requirement, 35% identity and an e-value less than 1 e
-5
. Analysis of the best BLAST match for each CDS against the database of Proteobacterial proteins established the taxonomic breakdown as follows:
Betaproteobacteria
(3,253 genes),
Gammaproteobacteria
(258),
Alphaproteobacteria
(185),
Delta/Epsilonproteobacteria
(121), and unclassified
Proteobacteria
(13). Beyond examining best BLAST matches, the "BLAST Curves" analysis was also employed. BLAST Curves (Figure
2
) visually display the number of genes in each percent identity bin, and each color-coded curve corresponds to matches to a particular genome in the BLAST database. By comparing the profiles of all the curves in the graph, relative rankings of completely sequenced Proteobacterial genomes in the BLAST database can be elucidated for
R. ferrireducens
. For example, a curve having a profile with a peak on the right side of the graph, which indicates high percent identity matches to
R. ferrireducens
, is ranked higher than a curve displaying a peak on the left side of the graph. An important note concerning BLAST Curves is that a database genome with a lower absolute number of matches can have a more significant ranking if it has a high percent identity profile compared to another genome with a higher absolute number of low percent identity matches. As shown in Figure
2
, the genomes in the BLAST database, which are most closely related to
R. ferrireducens
, are
Polaromonas
sp. JS666 and
Polaromonas napthtalenivorans
CJ2 species with 2508 and 2417 matches respectively [
17
–
20
]. The next several closely ranked organisms include
Acidovorax
sp. JS42 and
Acidovorax avenae
subsp citrulli AAC00-1 (both with 2203 matches),
Delftia acidovorans
SPH-1 (2308 matches), and
Verminephrobacter eiseniae
EF01-2 (2029 matches). Compared to these examples of
Comamonadaceae
, the unclassified Burkholderiales,
Methylibium petroleiphylum
PM1 (2116 matches) and
Ralstonia eutropha
H16 (2303 matches) have a lower profile in the BLAST Curves output.
R. ferrireducens
is also a better match to the
Gammaproteobacterium Escherichia coli
K12 (1259 matches) than to the
Deltaproteobacteria Geobacter metallireducens
GS 15 and
G. sulfurreducens
PCA (825 and 811 matches, respectively).
Table 1
General features of the R. ferrireducens genome.
| | Chromosome | Plasmid |
| --- | --- | --- |
| Size (bp) | 4,712,337 | 257,447 |
| G+C percentage | 59.9 | 54.4 |
| Predicted CDSs | 4,451 | 319 |
| Average size of CDS (bp) | 959 | 714 |
| Percentage coding | 91.4 | 89.6 |
| Number of rRNA operons (16S-23S-5S) | 2 | 0 |
| Number of tRNAs | 44 | 1 |
| Number of CRISPR loci | 1 | 1 |
| Number of conserved hypothetical proteins | 669 (14%) | 33 (10.3%) |
| Number of hypothetical proteins | 656 (13.8%) | 226 (70.8%) |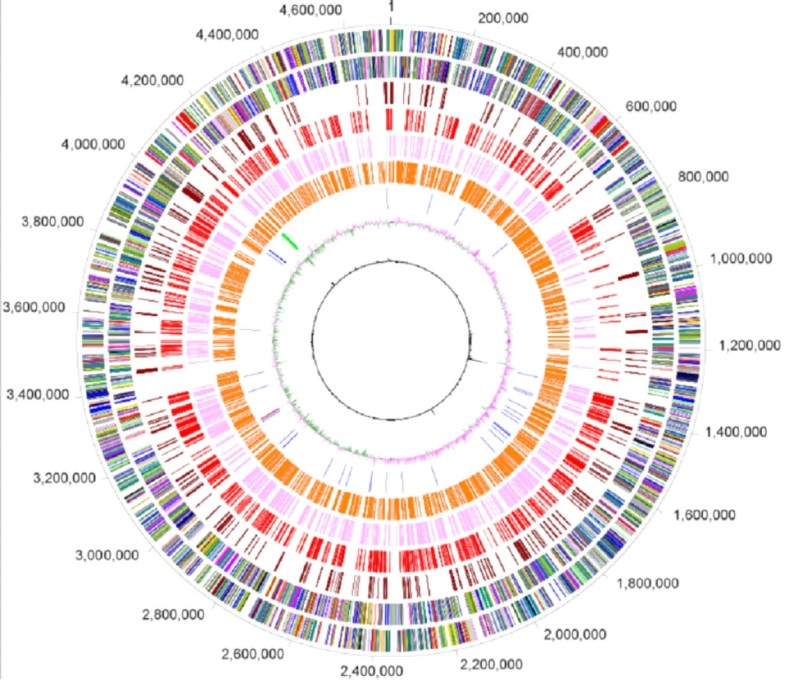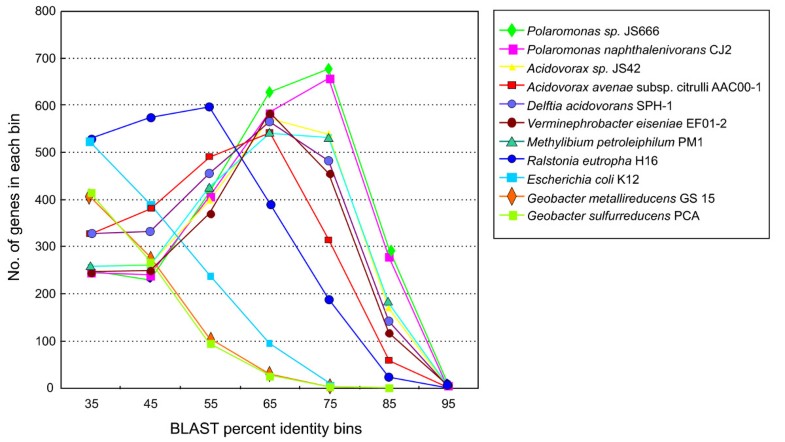 Of the 319 predicted CDSs in the plasmid, BLAST searches matched only 69 to a database of Proteobacterial proteins, using the same criteria used for the chromosome (see above). These include possible conjugation proteins, 3 integrases separated by large spans of hypothetical proteins, a helicase, a DNA methylase, a gene for DNA repair protein RadA, a copy of polymerase DnaN (different from the chromosome copy), at least 6 CRISPR cas genes, a DNA ligase, a thymidine kinase, 3 secretion proteins, 2 sensor histidine kinases, and possible type 4 pilin proteins. An unusual finding was a copy of a tRNA-Ile, which is different in sequence from the identical copies in the chromosome but shares the same anticodon.
In silico constraint-based modeling as a tool to gain new insights into the physiology of R. ferrireducens
Conclusion
This study demonstrates how genome-scale metabolic modeling, coupled with enhanced genome annotation and laboratory studies, can accelerate the study of the physiology of environmentally relevant, but understudied microorganisms. In relatively short order the understanding of metabolism of
R. ferrireducens
has advanced from a description of growth characteristics [
1
,
2
] to a detailed understanding of metabolism (Figure
10
) and the ability to predict the growth and metabolism of
R. ferrireducens
under a diversity of environmental conditions. The genome-scale metabolic model of
R. ferrireducens
is expected to be a useful tool for studying the role of this microorganism in soils and sediments and its interactions with other microorganisms, such as
Geobacter
species, that share some physiological characteristics. Furthermore, the genome-scale metabolic model of
R. ferrireducens
is likely to be a powerful tool for optimizing potential applications of
R. ferrireducens
such as the bioremediation of contaminants, the production of polymers, and the conversion of organic compounds to electricity.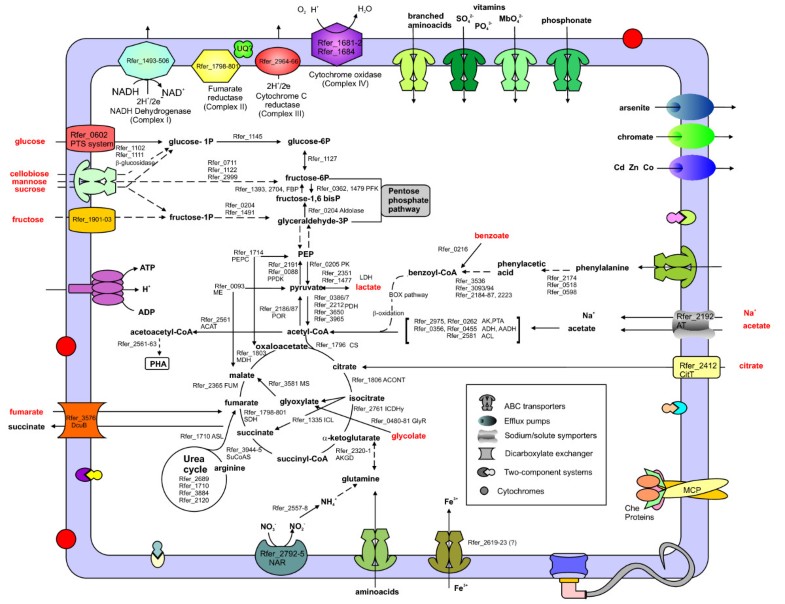 List of Abbreviations
AADH:

acetaldehyde dehydrogenase
ACAT:

acetyl-CoA acetyltransferase
ACKr:

acetate kinase
ACL:

acetate-CoA ligase
ACONT:

aconitase
ADH:

aldehyde dehydrogenase
AKGD:

2-oxoglutarate dehydrogenase
ASL:

argininosuccinate lyase
AT:

acetate transporter
CITL:

citrate lyase
CS:

citrate synthase
FBP:

fructose-1,6-bisphosphate phosphatase
FUM:

fumarase
gdw:

grams of dry weight
GlyR:

glycolate reductase
ICDHy:

isocitrate dehydrogenase
ICL:

isocitrate lyase
IDH:

isocitrate dehydrogenase
LDH:

lactate dehydrogenase
MDH:

malate dehydrogenase
ME2:

malic enzyme (NADP)
MS:

malate synthase
NAR:

nitrate reductase
NTA:

nitriloacetic acid
PDH:

pyruvate dehydrogenase
PEPC:

phosphoenolpyruvate carboxylase
PFK:

phosphofructokinase
PK:

pyruvate kinase
POR:

pyruvate oxidoreductase complex
PPDK:

pyruvate phosphate dikinase
PTAr:

phosphotransacetylase
SCS:

succinyl-CoA synthetase
SDH:

succinate dehydrogenase
SUCOAS:

succinyl-CoA synthetase
SUCD1:

succinate dehydrogenase.
Declarations
Acknowledgements
This research was supported by the Office of Science (BER), U. S. Department of Energy, Cooperative Agreement No. DE-FC02-02ER63446.
We thank the Department of Energy Joint Genome Institute for completing and making publicly available the genome sequence and automated annotation that was used as the starting material for further analyses presented in this manuscript.
Authors' Affiliations
(1)
Department of Microbiology, 203N Morrill Science Center IVN, University of Massachusetts Amherst, Amherst, USA
(2)
Genomatica Inc, San Diego, USA
(3)
University of Toronto, Toronto, Canada
(4)
J Craig Venter Institute, Rockville, USA
(5)
Institute for Genome Sciences, University of Maryland School of Medicine, Baltimore, USA
Copyright
© Risso et al; licensee BioMed Central Ltd. 2009
This article is published under license to BioMed Central Ltd. This is an Open Access article distributed under the terms of the Creative Commons Attribution License (http://creativecommons.org/licenses/by/2.0), which permits unrestricted use, distribution, and reproduction in any medium, provided the original work is properly cited.