Research article

Open Access
Transcriptional profiling of an Fd-GOGAT1/GLU1 mutant in Arabidopsis thaliana reveals a multiple stress response and extensive reprogramming of the transcriptome
Received: 26 October 2009
Accepted: 22 March 2010
Published: 22 March 2010
Abstract
Background
Glutamate plays a central position in the synthesis of a variety of organic molecules in plants and is synthesised from nitrate through a series of enzymatic reactions. Glutamate synthases catalyse the last step in this pathway and two types are present in plants: NADH- or ferredoxin-dependent. Here we report a genome wide microarray analysis of the transcriptional reprogramming that occurs in leaves and roots of the A. thaliana mutant glu1-2 knocked-down in the expression of Fd-GOGAT1 (GLU1; At5g04140), one of the two genes of A. thaliana encoding ferredoxin-dependent glutamate synthase.
Results
Transcriptional profiling of glu1-2 revealed extensive changes with the expression of more than 5500 genes significantly affected in leaves and nearly 700 in roots. Both genes involved in glutamate biosynthesis and transformation are affected, leading to changes in amino acid compositions as revealed by NMR metabolome analysis. An elevated glutamine level in the glu1-2 mutant was the most prominent of these changes. An unbiased analysis of the gene expression datasets allowed us to identify the pathways that constitute the secondary response of an FdGOGAT1/GLU1 knock-down. Among the most significantly affected pathways, photosynthesis, photorespiratory cycle and chlorophyll biosynthesis show an overall downregulation in glu1-2 leaves. This is in accordance with their slight chlorotic phenotype. Another characteristic of the glu1-2 transcriptional profile is the activation of multiple stress responses, mimicking cold, heat, drought and oxidative stress. The change in expression of genes involved in flavonoid biosynthesis is also revealed. The expression of a substantial number of genes encoding stress-related transcription factors, cytochrome P450 monooxygenases, glutathione S-transferases and UDP-glycosyltransferases is affected in the glu1-2 mutant. This may indicate an induction of the detoxification of secondary metabolites in the mutant.
Conclusions
Analysis of the glu1-2 transcriptome reveals extensive changes in gene expression profiles revealing the importance of Fd-GOGAT1, and indirectly the central role of glutamate, in plant development. Besides the effect on genes involved in glutamate synthesis and transformation, the glu1-2 mutant transcriptome was characterised by an extensive secondary response including the downregulation of photosynthesis-related pathways and the induction of genes and pathways involved in the plant response to a multitude of stresses.
Keywords
GlutamateFlavonoid BiosynthesisShikimate PathwaySuccinic SemialdehydeMultiple Stress Response
Background
Nitrogen is an important nutrient for plants and a limiting factor in plant development. It is mainly in the form of nitrate through nitrate transporters that nitrogen is taken up by plants. Nitrate is first reduced to nitrite and subsequently to ammonium through the action of nitrate reductase (EC 1.7.1.1) and nitrite reductase (EC 1.7.7.1), respectively. Glutamine synthetase (EC 6.3.2.1) catalyses the incorporation of this ammonium into glutamate and thereby producing glutamine. Subsequently, glutamate synthase transfers the amide amino group of glutamine to 2-oxoglutarate, yielding two molecules of glutamate. Production of glutamate is a key point in the synthesis of a variety of organic molecules, such as nucleic acids, amino acids and secondary metabolites (for review: [
1
]; Figure
1
).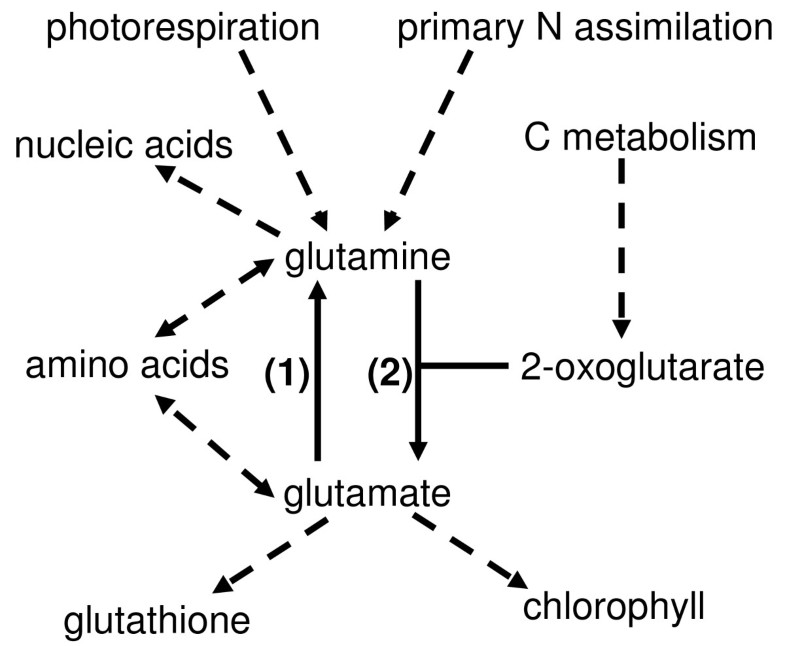 Besides the function in primary nitrogen assimilation, the GS/GOGAT pathway plays a central role in the reassimilation of ammonium produced by photorespiration (for review: [2]). Photorespiration is a photosynthesis-related pathway where O2 is taken up and CO2 is released due to the oxygenation of ribulose-1,5-biphosphate (RuBP) catalysed by RuBP carboxylase/oxygenase [3].
Plants possess two forms of glutamate synthase, which are both localized in plastids. One uses NADH as electron donor and is commonly called NADH-GOGAT (EC 1.4.1.14; GOGAT for "glutamine oxoglutarate aminotransferase"). The other one uses ferredoxin as electron donor and is called Fd-GOGAT (EC 1.4.7.1)(for review: [4]). In Arabidopsis thaliana, NADH-GOGAT is encoded by a single gene (At5g53460) whereas Fd-GOGAT is encoded by two genes, previously called GLU1 (Fd-GOGAT1, At5g04140) and GLU2 (Fd-GOGAT2, At2g41220)[5]. The two genes encoding Fd-GOGAT in A. thaliana show contrasting patterns of expression, with Fd-GOGAT1 expression being highest in leaves, whereas Fd-GOGAT2 is mostly expressed in roots [5, 6]. Total glutamate synthase activity in A. thaliana is to a very large extent due to ferredoxin-dependent glutamate synthase, Fd-GOGAT1 contributing most [5, 7]. Fd-GOGAT1 and Fd-GOGAT2 expression is also regulated differently: light causes a dramatic increase in Fd-GOGAT1 whereas Fd-GOGAT2 expression is not or only slightly affected. Similarly, Fd-GOGAT1 but not Fd-GOGAT2 expression is induced by sucrose [5]. Both Fd-GOGATs are localized to plastids but a mitochondrial localisation of Fd-GOGAT1 has also recently been shown [8].
Plants deficient in Fd-GOGAT activity have been described in A. thaliana, under several names (gluS[9], gltS[7], gls[5], glu1[8]), and in other species such as barley and tobacco [10, 11]. A chlorotic phenotype and a lethal phenotype under photorespiratory conditions, which indicate the importance of glutamate synthase in the respiratory pathway, are characteristic for Fd-GOGAT mutants [5, 9].
The aim of the study was to characterise the transcriptional reprogramming that occurs in an A. thaliana mutant named glu1-2, knocked-down in the expression of Fd-GOGAT1 (GLU1; At5g04140) and to relate this to metabolic and phenotypic changes observed for this mutant.
We report here the genome wide transcriptional analysis by microarray and the metabolic profiling by NMR spectroscopy of in vitro grown glu1-2 mutant plantlets. These analyses identified substantial reprogramming of several pathways and processes in the mutant. These include primary and secondary nitrogen assimilation, leading to changes in the levels of certain amino acid, and photosynthesis related processes. The mutant was also affected in flavonoid biosynthesis and exhibited extensive transcriptional changes indicating the induction of multiple stress responses.
Conclusions
Knocking down the expression of the gene Fd-GOGAT1 coding for one of the two ferredoxin-dependent glutamate synthases, which catalyse the ultimate step in the biosynthesis of glutamate, and a key enzyme in the assimilation of inorganic nitrogen, has marked effects on the transcriptome of the plant as evidenced by our microarray analysis of the glu1-2 mutant. Even more so as the assayed plants were grown in vitro on 1x MS media supplemented with 3% sucrose, and nitrogen supply should not be limiting either under these conditions. Hence, the transcriptional profiling should be viewed under the angle that the growth conditions that were used in the present study do not constitute the most severe conditions possible for the glu1-2 mutant. This is also indicated by the fact that the glu1-2 mutant described here develops more slowly than wild-type plants when grown on soil, but does eventually complete its life cycle (data not shown). The Fd-GOGAT1 deficient A. thaliana mutants described previously display a lethal phenotype [5, 7, 9]. It should however be noted that the growth conditions for the glu1-2 mutant used here, did not prevent plants from showing a chlorotic phenotype, although less severe than in previously published studies.
As Fd-GOGAT1 expression is much higher in leaves than in roots of A. thaliana at the steady state ([5]; Additional file 1), the effects were expectedly of a larger scale in the leaves than in the roots, both in regard to the number of affected genes and the levels of regulation. The level of downregulation of Fd-GOGAT1 itself in the glu1-2 mutant is also much more pronounced in leaves than in roots.
Although an effect can be seen on the expression levels of genes involved in primary nitrogen assimilation, glutamate metabolism and related pathways, the number of such genes affected and the scale of changes are more moderate than we expected. This may be explained by the fact that the defect in primary nitrogen assimilation exhibited by Fd-GOGAT mutants are specific to conditions when photorespiration is suppressed [5], which is not the case under the experimental conditions chosen here. Upregulation of Fd-GOGAT 2 and NADH-GOGAT may also compensate to some extent for the loss of Fd-GOGAT1. Metabolic profiling confirmed the expected increase in glutamine levels in the glu1-2 mutant but revealed also changes in the levels of other amino acids.
Photosynthesis and related pathways are overall downregulated, which is consistent with the chlorotic phenotype of the glu1-2 mutant and the reduced amount of total chlorophyll measured in gls mutants [5]. The flavonoid biosynthesis was also revealed as being affected, although a more detailed analysis of the affected genes did not reveal major changes in expression levels, except for genes involved in the production of flavonoid glycosides.
The most pronounced effect at the transcriptomic level could however be seen on genes that are responsive to abiotic stresses and stimuli. Genes that had been described before as being responsive to cold, heat and drought could be identified as being upregulated in the glu1-2 mutant, mostly in leaves. Especially striking is the way that oxidative stress response genes and genes involved in detoxification of secondary metabolites are affected in the glu1-2 mutant.
Fd-GOGAT plays an important role in the photorespiratory cycle by participating in the reassimilation of released ammonia. Deregulation of photorespiration in the glu1-2 mutant may lead to a reduced elimination of excess excitation energy, and hence an imbalance in the redox status. In addition NH4+ that accumulates due to the lack of reassimilation through the GS/GOGAT cycle may be perceived by the plant as a toxic compound, triggering a global stress response.
Methods
Plant material
The A. thaliana T-DNA insertion line SALK_019917 for Fd-GOGAT1 (At5g04140) was identified in the SALK T-DNA insertion mutant collection [121], seeds were obtained from the European Arabidopsis Stock Centre NASC [122] and homozygous mutant plants (called glu1-2) were obtained. The T-DNA insertion was checked by PCR amplification using a T-DNA primer and a Fd-GOGAT1 specific primer, and subsequent sequencing of the amplicon. A. thaliana ecotype Col-0 was used as wild-type control in all described assays.
Plant growth conditions
Wild-type Col-0 and mutant glu1-2 seeds were surface sterilised and sown on solid in vitro cultivation medium consisting of 1x Murashige and Skoog basal salt mixture, 3% sucrose, 0.75% phytoagar (w/v), pH5.7. This medium contains 1650 mg ammonium nitrate/L. Seeds were stratified for 3 days at 4°C before being transferred to a controlled growth chamber under a 16 hour photoperiod (light intensity: 75 μmol.m-2.sec-1) at 21-23°C.
Microarray analysis
For microarray experiments of wild-type and glu1-2 mutant plants, four biological replicates of each were processed simultaneously through the following procedure. Leaves and roots of 18 day old in vitro grown plantlets were harvested separately and immediately flash-frozen in liquid N2. Harvesting of tissue was performed two hours after onset of the 16 hour light period. The harvested tissue was stored at -80°C until further processing. Total RNA was extracted from plant tissue (300 mg roots, 500 mg leaves) using the RNeasy Plant Midi kit (Qiagen, Hilden, Germany) following the supplier's instructions. RNasin (Promega, Madison, USA) was added to the RNA to the final concentration of 1 U/μl. RNA quality was assessed by standard denaturing agarose gel electrophoresis and RNA concentration was measured with a NanoDrop ND-1000 (Nanodrop, Delaware, USA). To prepare the samples for microarray experiments the "GeneChip Expression Analysis" procedure of Affymetrix (Santa Clara, USA) was followed. Briefly, 10 μg total RNA was processed through a one-cycle cDNA synthesis procedure, the resulting double-stranded cDNA was cleaned up and submitted to the synthesis of biotin-labelled cRNA. This biotin-labelled cRNA was then cleaned up, quantified and fragmented before being hybridized to Affymetrix GeneChip Arabidopsis ATH1 genome arrays. After 16 hours of hybridization the arrays were processed through the washing and staining procedures, before being scanned and analysed. Microarray data files have been deposited in the Gene Expression Omnibus (GEO accession number: GSE20493).
Statistical analysis of microarray data
The microarray data were preprocessed using the Robust Multichip Average (RMA) package [123] as implemented in R [124]. The data were normalized using quantile normalization, and expression measures were produced by fitting the RMA robust linear model. Differentially regulated genes were identified using moderated t-tests discussed in [125] and implemented in the Limma package for R. To adjust for the large number of hypothesis tests made, the q-value [126] associated with each p-value was also calculated. The q-value for a gene is the expected proportion of false positives one will get when calling that gene significant. For a gene to be considered significantly differentially expressed in this experiment its q-value was required to be lower than 0.01. In effect, this means controlling the false discovery rate (FDR) [127] in the experiment at a 0.01 level.
Genome annotation
Genome annotation as given in the tables originates from Affymetrix (Santa Clara, USA). This was supplemented/updated by information provided by The Arabidopsis Information Service (TAIR; [128]) and the Salk Institute Genomic Analysis Laboratory (SIGnAL; [121]).
Biochemical pathways were assessed according to published data (see referred articles at the respective places in the text) and information provided by the AraCyc database [129], the Kyoto Encyclopedia of Genes and Genomes (KEGG; [130]) and the Expert Protein Analysis System (ExPASy; [131]).
Classification into GO terms were taken over from the software in question (e.g. GOstat, MapMan) but AmiGO [132] and the GO annotation at TAIR [128] were used for more extensive searches.
NMR spectroscopy of total metabolites and principal component analysis (PCA)
Total metabolites were extracted from freeze-dried plant material according to Liang et al. [133] with some modifications. Fresh plant material (0.5 g) was freeze-dried and extracted with 1.5 ml mixture of KH2PO4 buffer (90 mM, pH 6.0) in D2O containing 0.05% TSP (trimethylsilyl propionic acid sodium salt, w/v) and methanol-d4 (1:1). The extract was vortexed for 30s, centrifuged at 4500 rpm for 10 min and filtered through glass wool. Five hundred microliters of the supernatant were taken for NMR spectroscopy analysis.
NMR spectroscopy was performed at 25°C on a Bruker DRX 600 spectrometer (Bruker, Rheinstetten, Germany) resonating at 600.13 MHz fitted with a 5 mm BBO probe. The frequency lock was done on MeOD. 1D 1H-NMR spectra were recorded with presaturation of the residual water resonance in the interscan delay using a standard Bruker pulse sequence (zgpr). A 90° excitation pulse was used to record 256 FID's with a spectral width of 8389 Hz averaged into 32 k data points with an acquisition time of 3.91 s. The interscan delay was 3 s. 1H, 1H-COSY NMR spectra with the same spectral width as the 1D spectra were recorded with 2048x512 data points in the F2xF1 directions. Presaturation of the residual water resonance was done in the interscan delay using a standard Bruker pulse sequence (cosyqfpr). 16 FID's were recorded for each increment in the F1 direction. A square sine bell window function was applied in both directions and zero filling in the F1 direction was applied to give the processed spectrum a resolution of 2048x2048 data points.
The NMR spectra were exported from TOPSPIN and imported into R [124] where the datasets were compiled. SpecAlign [134] was used for peak alignment of the spectra. Principal Component Analysis (PCA) was performed in R using the pls library of Mevik et al[135]. The loading plots from the analyses were used to identify the resonances that were different between the groups.
Declarations
Acknowledgements
This work was funded by grants from the Norwegian Research Council (NFR). We would like to thank Torfinn Sparstad and Marianne Nymark for excellent technical assistance.
Authors' Affiliations
(1)
Department of Biology, Norwegian University of Science and Technology (NTNU), Trondheim, Norway
(2)
SINTEF Fisheries and Aquaculture, Trondheim, Norway
(3)
Scandpower AS, Trondheim, Norway
(4)
Department of Cancer Research and Molecular Medicine, Norwegian University of Science and Technology (NTNU), Trondheim, Norway
Copyright
© Kissen et al; licensee BioMed Central Ltd. 2010
This article is published under license to BioMed Central Ltd. This is an Open Access article distributed under the terms of the Creative Commons Attribution License (http://creativecommons.org/licenses/by/2.0), which permits unrestricted use, distribution, and reproduction in any medium, provided the original work is properly cited.