Research article

Open Access
A predicted physicochemically distinct sub-proteome associated with the intracellular organelle of the anammox bacterium Kuenenia stuttgartiensis
Received: 29 January 2010
Accepted: 12 May 2010
Published: 12 May 2010
Abstract
Background
Anaerobic ammonium-oxidizing (anammox) bacteria perform a key step in global nitrogen cycling. These bacteria make use of an organelle to oxidize ammonia anaerobically to nitrogen (N2) and so contribute ~50% of the nitrogen in the atmosphere. It is currently unknown which proteins constitute the organellar proteome and how anammox bacteria are able to specifically target organellar and cell-envelope proteins to their correct final destinations. Experimental approaches are complicated by the absence of pure cultures and genetic accessibility. However, the genome of the anammox bacterium Candidatus "Kuenenia stuttgartiensis" has recently been sequenced. Here, we make use of these genome data to predict the organellar sub-proteome and address the molecular basis of protein sorting in anammox bacteria.
Results
Two training sets representing organellar (30 proteins) and cell envelope (59 proteins) proteins were constructed based on previous experimental evidence and comparative genomics. Random forest (RF) classifiers trained on these two sets could differentiate between organellar and cell envelope proteins with ~89% accuracy using 400 features consisting of frequencies of two adjacent amino acid combinations. A physicochemically distinct organellar sub-proteome containing 562 proteins was predicted with the best RF classifier. This set included almost all catabolic and respiratory factors encoded in the genome. Apparently, the cytoplasmic membrane performs no catabolic functions. We predict that the Tat-translocation system is located exclusively in the organellar membrane, whereas the Sec-translocation system is located on both the organellar and cytoplasmic membranes. Canonical signal peptides were predicted and validated experimentally, but a specific (N- or C-terminal) signal that could be used for protein targeting to the organelle remained elusive.
Conclusions
A physicochemically distinct organellar sub-proteome was predicted from the genome of the anammox bacterium K. stuttgartiensis. This result provides strong in silico support for the existing experimental evidence for the existence of an organelle in this bacterium, and is an important step forward in unravelling a geochemically relevant case of cytoplasmic differentiation in bacteria. The predicted dual location of the Sec-translocation system and the apparent absence of a specific N- or C-terminal signal in the organellar proteins suggests that additional chaperones may be necessary that act on an as-yet unknown property of the targeted proteins.
Keywords
Signal Peptide
Random Forest
Cell Envelope
Anammox Bacterium
Random Forest Model
Background
Anaerobic ammonium-oxidizing (anammox) bacteria convert ammonium and nitrite into nitrogen and are major players in the biogeochemical nitrogen cycle [1–4]. They comprise a monophyletic taxon within the Planctomycetes phylum. Like other Planctomycetes, they possess an unusual cellular architecture with a diderm cell envelope and a compartmentalized cytoplasm [5, 6]. More specifically, the cells of anammox bacteria contain a single organelle-like intracytoplasmic compartment bounded by a single bilayer membrane. This compartment is known as the anammoxosome, and was proposed to be the site at which the anammox reaction takes place [7]. This reaction is thought to be performed mainly by cytochrome c enzymes [8]. Within anammox cells, such enzymes have been shown to be present exclusively inside the anammoxosome [9, 10].
If indeed the anammoxosome is a separate compartment in which a distinct and substantial part of the proteome is localized, this would present a situation unique to bacteria. In a thorough electron tomographical study it was reported that, unlike for example the magnetosomes of magnetotactic bacteria [11] and the chlorosomes of green photosynthetic bacteria [12], the anammoxosome has no detectable membrane links with the cell envelope during its biogenesis [13]. Furthermore, anammoxosomes divide separately from the cell envelope during cell division [14].
This leads to two questions regarding the cell biology of anammox bacteria: Firstly, which proteins are targeted to the anammoxosome besides the cytochrome c enzymes? Secondly, by what mechanism are these proteins specifically targeted to the anammoxosome?
One possible answer to the second question is that anammoxosomal proteins might contain specific sorting signals such as targeting motifs, domains or signal peptides [15–19]. For example, in Salmonella, several effectors were reported to contain multifunctional motifs or domains that are responsible for translocation and localization of the effector traits [20]. Moreover, some cases have recently been discovered in which modulation of Sec-signal peptide sequences result in different protein localizations [21, 22]. Most strikingly, in cyanobacteria, signal peptides from proteins targeted to the thylakoid differ from signal peptides of proteins targeted to the cell envelope [23–25].
Progress in the experimental investigation of the cell biology of anammox bacteria is slow because these bacteria grow exceptionally slowly (with a doubling time of two weeks), and are not available in pure culture. However, the genome of the anammox bacterium Candidatus "Kuenenia stuttgartiensis" was recently assembled from a community genome [8].
Using these genome sequence data, it might be possible to answer the first question. Interestingly, it has been shown experimentally that the anammoxosome may be more acidic than both the cytoplasm and the cell envelope [26]. We reasoned that such a physicochemical difference could be reflected in the amino acid composition of the anammoxosomal sub-proteome [27], and that this difference could be used to predict this sub-proteome in silico. Therefore, a Random forest (RF) classifier was trained on two sets of anammoxosomal (set A) and cell-envelope (set P) protein sequences, constructed based on existing experimental evidence and comparative genomics. The best RF classifier was successful at predicting the targeting of proteins to the anammoxosome. This approach was complemented by the analysis of the encoded protein translocation machinery. Finally, the predicted signal peptides of the two sub-proteomes were analyzed and compared to unravel the molecular basis of protein sorting in anammox bacteria.
Discussion
The anammoxosome of anammox bacteria is one of the best documented cases of organellar biogenesis in Bacteria; electron tomography has shown that this bacterial organelle divides separately from the cytoplasmic membrane, and is not connected to this membrane during a complete cell cycle [14]. Cytochrome c proteins were detected exclusively inside the anammoxosome [10] and an intracytoplasmic pH gradient was shown to exist [28]. Because experimental investigation of anammox bacteria appeared to be difficult and the genome of K. stuttgartiensis has been sequenced recently, an in silico analysis was therefore obviously the next step forwards in unravelling this interesting biological phenomenon.
In the present study a Random forest classifier was trained with two sets of protein sequences. The best RF classifier predicted an organellar sub-proteome of 562 proteins that was internally consistent and made functional sense. The best classifier used two-adjacent-amino-acids combination frequency as the input. According to their grand average of hydropathy (GRAVY) [
61
] and aliphatic index [
62
], the anammoxosomal proteins tend to be more hydropathic and more aliphatic (Figure
5
). This could be a consequence of the different physico-chemical characteristics (e.g. different pH [
26
]) inside the anammoxosome. As computing power is likely to increase, the accuracy of the RF classifier may be improved in follow-up studies, e.g. by using combinations of more than 2 amino acids.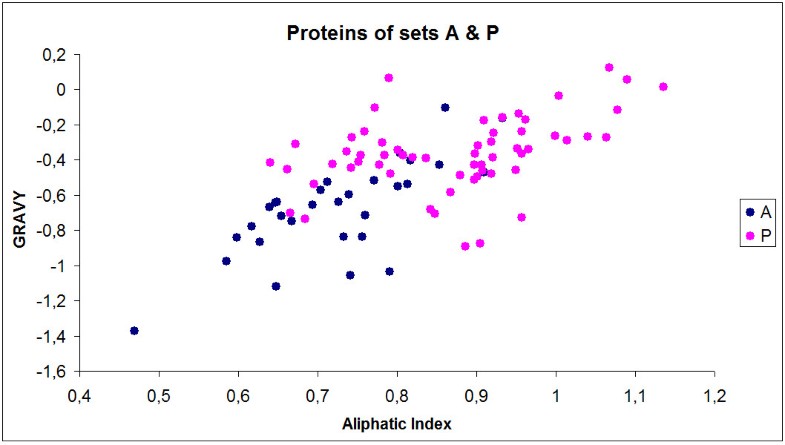 The anammoxosomal training set consisted only of amino acid sequences of cytochrome c proteins. It is possible that the classification was biased by the uniqueness of the protein types in this set. However, the cytochrome c protein family is only defined by the presence of a conserved CXXCH heme-binding motif (which we excluded from the RF input data) in an alpha-helical domain. Yet the remainder of the amino acid sequences were vastly variable, some polypeptides even containing regions with different folds or domains [63, 64]. In fact, motif searches showed that no conserved sequence patterns could be found in set A except for the heme-binding motif, and the pairwise sequence identities of proteins in this set were all below 80%, with only 11 of them above 50%.
For the prediction of translocated proteins, a combination of 15 existing signal peptide prediction algorithms was used. These 15 signal peptide predictors reported immensely different predictions (Figure 2) on the presence or absence of a signal peptide in K. stuttgartiensis proteins. Considering the fact that the Gram-negative predictors were mainly trained with sequences from Proteobacteria, which are only very distantly related to anammox bacteria, it is highly unlikely that the reported accuracies of these predictors of 91-95% [65–68] can be valid for Kuenenia proteins. Moreover, among all employed algorithms, the SignalP-HMM algorithm trained on eukaryotes showed the highest true-positive rate by predicting signal peptides in 68 out of 69 of the proteins in set A. This indicates that anammox signal peptides are more similar to those of eukaryotes than to those of Gram-negative or Gram-positive model bacteria.
Analysis of the encoded protein translocation machinery provided some clues as to how this bacterium targets translocated proteins to their proper destination. Because this machinery is non-redundant, an additional layer of chaperoning would be required to achieve specificity. Moreover, because no sorting signal was apparent at the N- or C-termini of the proteins, such chaperones could act on the physicochemical characteristics observed in the amino acid sequence. Alternatively, the signal may act at the level of the messenger RNA that could determine the fate of the protein even before translation starts.
In case of the Sec translocase, some subunits (SecE, SecG and YidC) were predicted to be anammoxosomal, while some others (SecY, SecA, SecDF,YajC) were not. According to the presence of the seemingly canonical Sec-signal peptides on both cell-envelope-targeted proteins and anammoxosome-targeted proteins, it is likely that the Sec translocase has a dual localization on both the anammoxosomal and the periplasmic membranes. However, recent studies have also shown that under certain conditions Sec-system exported proteins could as well be translocated by the Tat-system [69, 70], and therefore we cannot exclude the possibility that the Tat system translocates more than just the predicted twin-arginine-motif-carrying substrates.
An alternative hypothesis for anammoxosomal targeting could be primary translocation to the periplasm through the Sec pathway and secondary retro-translocation to the anammoxosome (or vice versa) through vesicles. However, it must be noted that the application of 3D electron microscopy (tomography) did not reveal any such vesicles in growing or dividing cells [13].
In order to further elucidate the anammox protein targeting problem, more experiments, such as immunolocalization of the Tat- and Sec-translocase subunits and quantitative proteomics approaches [71, 72], comparing protein concentration levels in purified anammox cells and solutions enriched in anammoxosomes (a purification method which has been described earlier [60]), are required. The present study provides a clear hypothesis to future experiments: in anammox bacteria, catabolism and respiration are strictly organellar, leaving only transport functions for the cytoplasmic membrane.
Conclusions
The anammoxosome of anammox bacteria is one of the best documented cases of organellar biogenesis in bacteria. Experiments have shown that several key enzymes catalyzing the anammox reaction are present exclusively inside the anammoxosome. The present study makes use of physicochemical characteristics of predicted protein sequences to predict a 90% accurate sub-proteome that constitutes this bacterial organelle. Meanwhile, the mechanism of protein sorting remained largely elusive.
The predicted sub-proteome has been deposited into a freely accessible Microsoft-Excel database (Additional file 2).
List of Abbreviations
HMM:

hidden Markov model
AA:

amino acid
RF:

random forest
SP:

signal peptide
TM:

transmembrane
TMH:

transmembrane helix
ORF:

open reading frame
OOB:

out-of-bag error estimate.
Declarations
Acknowledgements
M Zhou is funded by the BioRange programme of the Netherlands Bioinformatics Centre (NBIC), which is supported by a BSIK grant through the Netherlands Genomics Initiative (NGI). We thank L. van Niftrik, B. Dutilh, H. op den Camp, and A. Pol for stimulating discussions. B. Kartal and K. van de Pas Schoonen are acknowledged for maintaining the anammox enrichment cultures, for performing the protein extraction for proteomics and providing unpublished proteome data. M. Strous is supported by a VIDI grant from NWO. Preliminary genome data of Candidatus "Scalindua marina" were kindly provided by M. Jetten and M. Kuypers.
Authors' Affiliations
(1)
Department of Microbiology, Radboud University Nijmegen, Nijmegen, the Netherlands
(2)
Centre for Molecular and Biomolecular Informatics, Radboud University Nijmegen Medical Centre, Nijmegen, the Netherlands
(3)
NIZO food research, Ede, the Netherlands
(4)
Nijmegen Proteomics Facility, Laboratory of Pediatrics & Neurology, Radboud University Nijmegen Medical Centre, Nijmegen, the Netherlands
(5)
TI Food and Nutrition, Kluyver Centre for Genomics of Industrial Fermentation, Wageningen, the Netherlands
(6)
MPI for Marine Microbiology, Celsiusstr. 1, Bremen, Germany
(7)
CeBiTec, University of Bielefeld, Bielefeld, Germany
(8)
Department of Microbial Physiology and Groningen Bioinformatics Centre, Groningen Biomolecular Sciences and Biotechnology Institute, University of Groningen, Haren, the Netherlands
Copyright
© Medema et al; licensee BioMed Central Ltd. 2010
This article is published under license to BioMed Central Ltd. This is an Open Access article distributed under the terms of the Creative Commons Attribution License (http://creativecommons.org/licenses/by/2.0), which permits unrestricted use, distribution, and reproduction in any medium, provided the original work is properly cited.