Research article

Open Access
The hidden duplication past of the plant pathogen Phytophthora and its consequences for infection
Received: 4 February 2010
Accepted: 3 June 2010
Published: 3 June 2010
Abstract
Background
Oomycetes of the genus Phytophthora are pathogens that infect a wide range of plant species. For dicot hosts such as tomato, potato and soybean, Phytophthora is even the most important pathogen. Previous analyses of Phytophthora genomes uncovered many genes, large gene families and large genome sizes that can partially be explained by significant repeat expansion patterns.
Results
Analysis of the complete genomes of three different Phytophthora species, using a newly developed approach, unveiled a large number of small duplicated blocks, mainly consisting of two or three consecutive genes. Further analysis of these duplicated genes and comparison with the known gene and genome duplication history of ten other eukaryotes including parasites, algae, plants, fungi, vertebrates and invertebrates, suggests that the ancestor of P. infestans, P. sojae and P. ramorum most likely underwent a whole genome duplication (WGD). Genes that have survived in duplicate are mainly genes that are known to be preferentially retained following WGDs, but also genes important for pathogenicity and infection of the different hosts seem to have been retained in excess. As a result, the WGD might have contributed to the evolutionary and pathogenic success of Phytophthora.
Conclusions
The fact that we find many small blocks of duplicated genes indicates that the genomes of Phytophthora species have been heavily rearranged following the WGD. Most likely, the high repeat content in these genomes have played an important role in this rearrangement process. As a consequence, the paucity of retained larger duplicated blocks has greatly complicated previous attempts to detect remnants of a large-scale duplication event in Phytophthora. However, as we show here, our newly developed strategy to identify very small duplicated blocks might be a useful approach to uncover ancient polyploidy events, in particular for heavily rearranged genomes.
Keywords
Gene Ontology
Gene Pair
Duplication Event
Segmental Duplication
Whole Genome Duplication
Background
Oomycetes or water molds form a diverse group of eukaryotic micro-organisms that have originally been classified as Fungi because of their similarity in growth morphology, propagation through spores and weaponry to infect host organisms [1]. Furthermore, they occupy similar ecological niches and share many cell wall degrading enzymes to weaken host tissues [2, 3]. However, biochemical and molecular data have shown that oomycetes have little affinity with "true" fungi but are instead more closely related to heterokont algae and diatoms [4, 5], belonging to the assemblage chromalveolates, which also include organisms such as ciliates, apicomplexans and dinoflagellates [6, 7]. Also in contrast to fungi, oomycetes are diploid organisms that lack a free haploid life stage.
Members of the genus Phytophthora cause devastating diseases on a wide range of plants, and are the most important pathogens of dicots. For instance, Phytophthora infestans, responsible for severe damage in the food production worldwide by infecting tomato and potato [8], was the infective agent of the so-called potato blight that caused the Irish famine between 1845 and 1849, during which approximately one million people died and another million emigrated [9, 10]. Another species, P. sojae, causes root and stem rot in soybean resulting in huge annual production losses [11].
So far, three Phytophthora species have been fully sequenced and annotated, namely P. sojae, P. ramorum and P. infestans. Breakouts of the 'sudden oak death' disease caused by P. ramorum led to the first Phytophthora genome project. Since there were no close relatives sequenced yet, a second genome, the one of Phytophthora sojae, was sequenced simultaneously. P. sojae and P. ramorum have a genome size of 95 Mb and 65 Mb, respectively [12]. P. infestans, of which the genome sequence has been determined recently as well, has an estimated genome size of 240 Mb [13]. In comparison to other plant pathogens, the Phytophthora genomes are quite large. Bacterial genomes are often smaller than 10 Mb and fungal genomes rarely exceed 40 Mb [14]. The larger size of the P. sojae genome compared to P. ramorum is not only because of the higher number of predicted genes (16.988 and 14.451, respectively [13]) but also because of larger intergenic regions and different retrotransposon expansion patterns [12, 15]. In P. infestans, which has 17.797 predicted genes [13], the intergenic regions are even larger than in P. sojae and the number of different types of transposons is overwhelming [13, 16–18]. The P. infestans genome is by far the largest chromalveolate genome sequenced and Haas and colleagues (2009) have shown that its expansion results from a proliferation of repetitive DNA accounting for ~74% of the genome [13]. Comparison of the three Phytophthora genomes also revealed an unusual genome organization; i.e. regions with conserved gene order, high gene density and lower repeat content are separated by regions with non-conserved gene order, low gene density and high repeat content [13].
In a previous study, we observed that Phytophthora species have many more genes than most other chromalveolate species for which the complete genome sequence has been determined [19]. Also the average gene family size is larger than for the other chromalveolates, except for the ciliates Paramecium tetraurelia, which has undergone three whole genome duplication events [20] and Tetrahymena thermophila, which has undergone an extensive number of tandem duplications [21]. Furthermore, in particular genes important for the interaction with their hosts, such as genes encoding cell wall degrading enzymes, often seem to have been duplicated in Phytophthora species [19, 22]. Here, we have tried to unravel the duplication past of the three Phytophthora species and conclude that many of the duplicated genes are likely the result of a shared ancient large-scale or even whole genome duplication event.
Discussion
All three Phytophthora genomes contain many more small duplicated blocks than would be expected by chance alone. Furthermore, when we compare the number of duplicated blocks with those of organisms that have most probably not undergone large scale duplication events (e.g. Drosophila melanogaster or Phaeodactylum tricornutum), the difference is obvious (see Figure 3 and Table 1). Moreover, we also observed a clear difference with organisms that did undergo some segmental duplications, but no WGD. For example, Plasmodium falciparum, the causative agent of severe human malaria, carries multiple segmental duplications in the otherwise highly variable subtelomeres of its chromosomes [37]. However, the number of 2HOM and 3HOM blocks detected is still much smaller than in Phytophthora. Also in K. lactis, a yeast species that has not undergone a WGD, but for which eight segmental duplications have been documented, on top of some segmental duplications at the subtelomeres [39], the number of detected small duplicated blocks is much less than in Phytophthora [38]. On the other hand, the number of 2HOM blocks in C. elegans, which has undergone a few segmental duplications [36], is higher than in P. ramorum, but still considerably lower than in P. infestans and P. sojae. The number of 3HOM blocks on the other hand is higher than in P. ramorum and P. sojae but still lower than in P. infestans. However, it should be noted that the large number of 2HOM and 3HOM blocks in C. elegans is mainly due to a few larger segmental duplications involving between 10 and 26 genes [36]. It is also important to note that the duplicated blocks in all three Phytophthora species are spread over more than 60 percent of the number of scaffolds and we did not observe a bias to certain scaffolds, only a correlation between the size of the scaffold and the number of duplicated blocks, something we would expect for a WGD event. On the other hand, in C. elegans, 70% of the segmental duplications are intrachromosomal [36].
Because the number of blocks is directly correlated with, among other things, (i) the number of genes, (ii) the extent of genome rearrangements, and (iii) the quality of the genome assembly, we have to take these issues into account. For example, as stated before, the number of blocks in the paleopolyploid S. cerevisiae was lower than expected. However, this is explained by the fact that, compared to the other genomes used in this study, yeast has much fewer genes. On top of that, S. cerevisiae has undergone many rearrangements [28, 38, 60]. Figure 3B shows the percentage of 2HOM blocks for the different genomes analyzed, taking into account the number of blocks that theoretically can be found if the whole genome would have been duplicated and there would have been no genome rearrangements (translocation, loss, ...). In practice, if a complete chromosome (or scaffold in our case) with x genes has been duplicated, we would expect to find (x-1) 2HOM and (x-2) 3HOM blocks, provided none of the duplicated genes would have been translocated or lost nor other genes inserted. By dividing the number of identified blocks by the number of possible blocks, we obtain the relative number of duplicated blocks for all genomes (see Figure 3B and Table 1). Regarding 2HOM blocks, all genomes that have not undergone a large-scale duplication event, have values below 0.5%. The same is true for Plasmodium falciparum and Kluyveromyces lactis, which have only undergone some segmental duplications. For the other species, except S. cerevisiae, which are known to have undergone at least one genome duplication, the percentages are all > 1.5%, including P. infestans (2.17%) and P. sojae (1.91%). P. ramorum is just < 1.5% (1.47%), but there are no non-duplicated or segmentally duplicated genomes with a value larger than 1%. It should also be noted that, when taking the number of genes into account, the difference in the number of 2HOM blocks between S. cerevisiae and the non-duplicated organisms becomes larger. Also the percentage of blocks in all three Phytophthora species is now greater than in C. elegans. Moreover, the relative number of blocks in H. sapiens is smaller than in P. infestans and P. sojae, and similar to P. ramorum. Both Tetraodon and Arabidopsis still have the highest relative number of blocks.
For the 3HOM blocks, the difference between organisms that have undergone large-scale duplications and those that have not is even more pronounced (also see Table 1). For all non-duplicated genomes, the percentages are below 0.05%. When we consider the other genomes, the relative number of 3HOM blocks in P. infestans is the highest. For P. sojae and P. ramorum however, the percentages are lower than for Arabidopsis and Tetraodon, similar to S. cerevisiae, H. sapiens and C. elegans, and higher than for the other reference organisms.
It is important to realize that the genomes of all three
Phytophthora
's still consist of scaffolds, whereas most other genomes discussed here have already been assembled into chromosomes. If the majority of scaffolds are rather small, it is obvious that it is much harder to detect large duplicated regions than for genomes that are well assembled (e.g.
Arabidopsis
, human,
Tetraodon
,
Drosophila
, ...). Therefore, we considered the distribution of scaffold sizes (i.e. number of genes on an annotated scaffold) in the different
Phytophthora
species and compared them with the diatom
Phaeodactylum tricornutum
, a genome that is also not yet assembled into chromosomes (see Figure
5
). For every size bin, we counted the percentage of genes of the corresponding genome located on a scaffold of that size. In
P. ramorum
(blue histogram), we observed that the percentage of genes lying on a small scaffold (i.e. between 1 and 25 genes) is greater than for the other genomes. Also when we consider the cumulative percentage (blue line), we see that all genes (i.e. 100%) are found on scaffolds with a size smaller than 400 genes, whereas in
Phaeodactylum
we have scaffolds with more than 900 genes and in
P. infestans
with more than 1000 genes. The situation in
P. sojae
is similar to that of
P. ramorum
, although slightly better. In
Phaeodactylum
, the number of genes on small scaffolds is the lowest. Therefore because in
Phaeodactylum
the average scaffold sizes are larger, it should be easier to detect larger duplicated blocks. The fact that we could hardly find any duplicated blocks in
Phaeodactylum tricornutum
(Table
1
and Additional file
8
), whereas we do find many in
P. infestans
and a considerable number in
P. ramorum
and
P. sojae
again provides support for
Phytophthora
species having undergone a large-scale or even entire genome duplication event. In addition, since the number of blocks found in the three species is linearly correlated with the assembly quality, it is likely that in
P. ramorum
and
P. sojae
the duplication signal would be more similar to
P. infestans
after improving the genome assembly.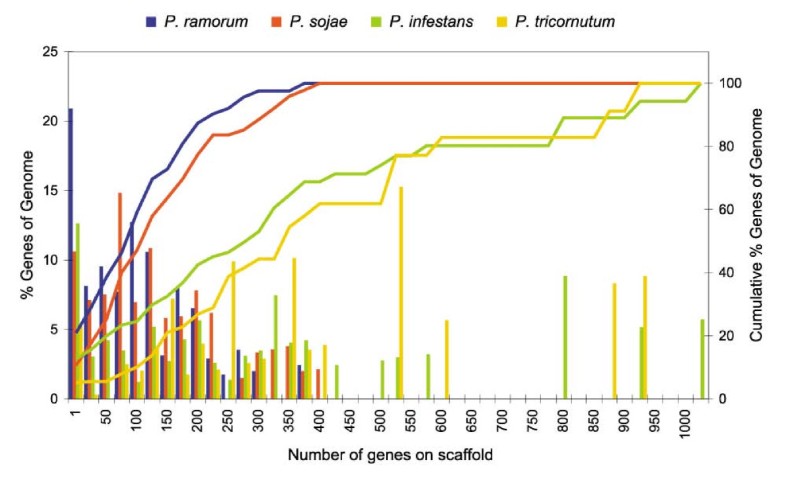 Conclusion
Analyses of the Phytophthora genomes seem to suggest that these organisms have undergone a large-scale gene duplication or WGD in their evolutionary past. Likely, this event has been shared by all three Phytophthora species, P. infestans, P. ramorum, and P. sojae and thus occurred before their speciation. Although we cannot exclude that the many small duplicated blocks have been created through many independent small block duplications, we do consider this less likely. First, when we calculate the age of the duplicated blocks a large fraction seems to have originated at the same time and they seem to be very old. If the many small blocks observed in the different Phytophthora genomes would have been created by a continuous mode of segmental duplications, we would expect to see an exponential decrease when plotting the age of the duplicated blocks against their frequency (i.e., many young blocks, few old ones), which is not what we observe [23, 51]. It could still be that a majority of segmental duplications occurred in a short time interval in the common ancestor of all three Phytophthora species, but this scenario is certainly much less parsimonious than a single WGD. Furthermore, the specific enrichment of regulatory genes in the duplicated blocks provides additional support for a WGD, rather than many smaller segmental duplication events, after which where we would expect strong selection against retention of such genes [50–53, 61–64].
Second, polyploids have already been identified within several species of Phytophthora [65–69] and other oomycetes [70] providing additional support that P. infestans could indeed be an ancient polyploid (with a now diploidized genome). The findings of Sansome (1977) suggested that P. infestans may exist in nature in the tetraploid condition and that this tetraploid might be better adapted, for instance to cooler conditions [65]. The author also claimed that the discovery of many pathogenic races of P. infestans [71] may be related to polyploidy in P. infestans [65]. The fact that we also find many genes related to pathogenesis in our set of retained duplicates might actually confirm this hypothesis.
Therefore, we conclude that Phytophthora is most likely an ancient polyploid. The fact that many small blocks are found suggests that its genome has been heavily rearranged following the duplication event. Furthermore, the observation that the Phytophthora genomes have a high repeat content, and that the gene order conservation between the genomes drops when the repeat content increases [13], further suggests that those repeats have played an important role in the rearrangement process. Haas and colleagues (2009) also suggested that the high rate of transposon activity must have occurred more recently [13], supporting our hypothesis that the WGD event has preceded the rearrangement processes. As a consequence, after tens of millions of years of evolution, and in particular for fast evolving genomes of pathogens, the paucity of a considerable number of retained homologous gene pairs in close proximity makes it almost impossible to detect statistically significant collinear regions. This might explain why no evidence has been found previously for WGD or large-scale segmental duplications in the Phytophthora species [12, 13]. However, our newly developed strategy to look for large numbers of small duplicated blocks and compare these with genomes of other organisms for which the duplication past is better known, might still unveil ancient polyploidy events.
Methods
Construction of the datasets and defining homologs
The predicted protein sequences of three Phytophthora species, namely Phytophthora sojae (JGI, v1.1), Phytophthora ramorum (JGI, v1.1) and Phytophthora infestans (v1, http://www.broad.mit.edu/annotation/genome/phytophthora_infestans/) were downloaded, as well as the predicted protein sets of Phaeodactylum tricornutum (JGI, v1.0), Plasmodium falciparum (Plasmodb), Arabidopsis thaliana (TIGR, Release 5), Kluyveromyces lactis (NCBI), Saccharomyces cerevisiae http://www.yeastgenome.org, Anopheles gambiae (Ensembl, Release 52), Caenorhabditis elegans (Ensembl, Release 31.140), Drosophila melanogaster (Ensembl, Release 31.3e), Homo sapiens (Ensembl, Release 35) and Tetraodon nigroviridis (Ensembl, Release 53).
If alternative splice variants were detected for one gene, only the longest transcript was used. Also transposon-like genes were removed based on homology with known transposons retrieved from the EMBL Nucleotide Sequence Bank http://www.ebi.ac.uk/embl/ and the Swiss-Prot Protein KnowledgeBase http://www.expasy.ch/sprot/. To identify homologous genes, a similarity search was performed for every genome (BLASTP [72]; E-value cutoff E-10). Next, gene families were built with MCLBLASTLINE (Inflation Factor of 2.0; http://micans.org/mcl/, [73, 74].
Dating of paralogous and orthologous gene pairs
The fraction of synonymous substitutions per synonymous site (KS) is used to estimate the time of duplication or speciation between two paralogous resp. orthologous sequences. All pairwise alignments of the paralogous or orthologous nucleotide sequences belonging to a gene family were made by using CLUSTALW [75]. Gaps and adjacent divergent positions in the alignments were removed. KS estimates were obtained with the CODEML program [76] of the PAML package [77]. Calculations were repeated ten times to avoid incorrect KS estimations because of suboptimal local maxima. To exclude gene pairs that can be the result of redundancy instead of duplication, only gene pairs with a KS estimate higher than 0.1 were considered for further evaluation.
Detection of (large) duplicated regions (> 2 genes)
Duplicated regions in the Phytophthora and reference genomes were identified with the i-ADHoRe software [24]. Homologous gene pairs, defined by MCLBLASTLINE, served as an input for the i-ADHoRe algorithm. Gene pairs of gene families with more than 100 members were omitted from the analysis. The following parameters were used: gap size of 10 genes; cluster gap of 20 genes; P-value of 0,001; Q-value of 0.9 and a minimum of three homologs to define a duplicated block.
Detection of tandem genes and small duplicated blocks (< 4 genes)
Based on the MCLBLASTLINE-output, the order of proteins on a scaffold was converted into an order of gene families A, B, C, ..., while keeping track of the original protein IDs (see Figure 1, Panel A). Scaffolds with fewer than 6 genes were omitted from further analyses. To define all existing gene family pairs that occur next to each other in the genome, a window size of two was used to scan every scaffold. Tandem gene family pairs were excluded. Thus, in a string of, for example, A-B-C-C-B-A we define AB (BA is remapped to AB) and BC (CB is remapped to BC) as gene family pairs. CC is a tandem-pair so this pair was discarded for the block analysis and analyzed separately. With the gene pairs identified this way, we again scan every scaffold to count how many times this gene pair was found. The search is also done with a window size of 1 but when a pair is found, we move with a window size of two for the next search step only, to prevent that we would count AB two times in the example ABACD (remember that BA is remapped to AB). Therefore, when we detect AB, we jump one window further to take AC as the next pair instead of BA. When a pair is found more than once, we call it a block with two homologs (or 2HOM block). Finally, for all gene pairs that are detected more than once, a unique block ID is defined. In a post-processing step, duplicated blocks where at least one of the homologous gene pairs is a member of a large gene family (> 100 genes) were omitted from the analysis. Also duplicated blocks where one of the gene pairs has a KS estimate lower than 0.1 were removed to reduce the effect of redundancy. The gene IDs and coordinates of the gene pairs located in 2HOM blocks can be found in Additional file 8.
A similar strategy was applied to detect blocks with three homologous genes or 3HOM Blocks (Figure 1, Panel B). So ABC, ABB...BBBC and CBA are all remapped to ABC. However, BAC is not remapped to ABC. Also note that 2HOM blocks mean that there must be at least two successive homologs, so in the set of 3HOM blocks, the 2HOM blocks are also included. The gene IDs and coordinates of the gene pairs located in 3HOM blocks can be found in Additional file 9.
Validation of small duplicated blocks
To examine if the number of blocks that we observe is different from what we would expect by chance only, we ran 1000 simulations for every genome. In brief, in every genome the tandem duplicates were remapped to the first gene and the gene families with more than 100 genes were removed. Next, every genome was shuffled 1000 times and each time the number of detected 2HOM and 3HOM blocks was counted. If the number of detected blocks is greater in the real data than in random data, we can conclude that the number of blocks found is significantly higher than we could expect by chance only.
Conservation of gene orientation
For all 2HOM blocks, we compared the order of gene orientation between both homologous segments. If the gene orientation and gene order were conserved between both homologous segments (see Figure 1, Panel C) then we concluded that the orientation is conserved. If the gene order is inverted together with the orientation (see Figure 1, Panel D), then we also conclude that the orientation in this block is conserved. In all other cases, we consider the orientation as not conserved. The same analysis was done on all randomized (shuffled) genomes created for the block detection strategy.
GO annotation and GO enrichment
The proteins of all Phytophthora genomes were annotated using Gene Ontology (GO) [78]. In a first step, all genes were annotated for protein function using InterProScan [79]. Next, the resulting InterPro annotation was converted into GO annotation. Proteins mapped to a particular GO category were also explicitly included into all parental categories. All GO categories were also mapped into the GO Slim categories. The statistical significance of functional GO Slim enrichment was evaluated by using the hypergeometric distribution, whereas multiple hypotheses testing was done by using FDR [80].
Declarations
Acknowledgements
The authors would like to thank Jonathan Gordon, Grigoris Amoutzias, Steven Maere and Klaas Vandepoele for helpful discussions. C.M. is indebted to the Institute for the Promotion of Innovation by Science and Technology in Flanders for a predoctoral fellowship. This work was supported by the Belgian Federal Science Policy Office: IUAP P6/25 (BioMaGNet). The funders had no role in study design, data collection and analysis, decision to publish, or preparation of the manuscript.
Authors' Affiliations
(1)
Department of Plant Systems Biology, VIB, Ghent, Belgium
(2)
Bioinformatics and Evolutionary Genomics, Department of Molecular Genetics, Technologiepark 927, Ghent University, Ghent, Belgium
Copyright
© Martens and Van de Peer; licensee BioMed Central Ltd. 2010
This article is published under license to BioMed Central Ltd. This is an Open Access article distributed under the terms of the Creative Commons Attribution License (http://creativecommons.org/licenses/by/2.0), which permits unrestricted use, distribution, and reproduction in any medium, provided the original work is properly cited.