Research article

Open Access
Alternative splicing is frequent during early embryonic development in mouse
Received: 20 January 2010
Accepted: 23 June 2010
Published: 23 June 2010
Abstract
Background
Alternative splicing is known to increase the complexity of mammalian transcriptomes since nearly all mammalian genes express multiple pre-mRNA isoforms. However, our knowledge of the extent and function of alternative splicing in early embryonic development is based mainly on a few isolated examples. High throughput technologies now allow us to study genome-wide alternative splicing during mouse development.
Results
A genome-wide analysis of alternative isoform expression in embryonic day 8.5, 9.5 and 11.5 mouse embryos and placenta was carried out using a splicing-sensitive exon microarray. We show that alternative splicing and isoform expression is frequent across developmental stages and tissues, and is comparable in frequency to the variation in whole-transcript expression. The genes that are alternatively spliced across our samples are disproportionately involved in important developmental processes. Finally, we find that a number of RNA binding proteins, including putative splicing factors, are differentially expressed and spliced across our samples suggesting that such proteins may be involved in regulating tissue and temporal variation in isoform expression. Using an example of a well characterized splicing factor, Fox2, we demonstrate that changes in Fox2 expression levels can be used to predict changes in inclusion levels of alternative exons that are flanked by Fox2 binding sites.
Conclusions
We propose that alternative splicing is an important developmental regulatory mechanism. We further propose that gene expression should routinely be monitored at both the whole transcript and the isoform level in developmental studies
Keywords
Alternative SpliceSplice FactorAlternative Splice EventAlternative ExonCassette Exon
Background
Developmental processes require precise spatial and temporal regulation of gene expression. Accordingly, developmental biologists have always been at the forefront of gene expression analysis, and recombinant DNA techniques such as transgenic and knockout models have greatly contributed to elucidation of developmental pathways and networks. Traditionally, these studies have focused on transcription factors and repressors that regulate the timing and strength of transcription. Recently, new regulatory mechanisms have emerged, such as post-transcriptional regulation by microRNAs and co-transcriptional regulation by alternative pre-mRNA splicing.
Alternative splicing is a pre-mRNA maturation process that consists of the removal or inclusion of certain alternative exons to produce different transcripts from one genomic locus [1, 2]. Alternative splicing is now known to be prevalent in advanced eukaryotes. In humans, recent reports show that more than 98% of multi-exonic pre-mRNAs are alternatively spliced [3, 4]. The mouse genome has been sequenced and, similarly to that of humans, a surprisingly low number of less than 30,000 genes have been identified [5, 6]. It has been widely hypothesized that the great complexity of higher eukaryotic organisms stems from processes such as alternative splicing [7, 8]. The distinct proteins translated from identical pre-mRNAs produced by this process can have different, even antagonistic activities. Thus, alternative splicing can play a major role in the activity of various important cellular mechanisms, such as cell differentiation, cell migration, cell growth and apoptosis. This wide range of cellular processes is required during mammalian embryogenesis to generate a viable organism from a single cell.
Several studies have suggested the importance of alternative splicing during development. In C. elegans, it was shown that 18% of the 352 verified alternative exons showed a larger than fourfold change in alternative splicing during its development from embryo to adult, including larval stages [9]. In humans, mice, chickens and Xenopus, a well-known example is provided by the fibroblast growth factor 8 (FGF8), which can produce many different isoforms [10]. Two of these, FGF8A and FGF8B, which differ by only eleven amino acids, have been shown to have different activities during development [11–14].
It has recently been shown that the levels of certain splicing factors, MBNL and CELF, are regulated and vary several-fold during pre- and postnatal heart development [15]. This variation in CELF and MBNL expression levels affects the splicing modulation of a large quantity of other alternative splicing events, suggesting the existence of a regulatory cascade at the splicing level. Some of the most interesting examples of alternative splicing and its regulation by splicing factors have been carried out in neural tissues. As neuronal precursor cells differentiate into neurons, there is a switch from the ubiquitous PTB to the highly similar, but neuron-specific, neural PTB (nPTB) [16]. As these two proteins modulate alternative splicing of specific subsets of pre-mRNAs, there is an associated switch of a large number of mRNA isoforms.
Since splicing factors may regulate alternative splicing of many different pre-mRNAs [17, 18], knocking out known splicing factors in mice generally has profound effects on embryo or young pup viability. The majority of germ-line loss of function mutations in splicing factors result in embryonic arrest early in development, before embryonic day (E) 7.5, e.g. Ptb [19], SC35 [20, 21], Asf2/Sf2 [22] and SRp20 [23]. In two cases, Ptb and SRp20, homozygous mutant embryos arrest at the morula stage [19, 23]. Prfp3 mutant embryos also exhibit embryonic arrest, although it is not clear if these embryos die early or late in embryogenesis [24]. Germ-line loss of function mutations in splicing factors are also associated with organ specific abnormalities. For example, most SRp38 knockout embryos die before E15.5 with multiple cardiac defects [25], whereas a small number of mutant mice are born only to die soon after birth [22]. Mbnl1 and Mbnl2 are required in the skeletal muscle and eye [26, 27], and Nova1 is required in motor neurons [20]. These studies indicate that there are stage-specific and tissue-specific requirements for splicing factors.
Although there have been a number of indications of the importance of alternative splicing in development, past studies have been limited largely to individual experiments focused on known candidate genes. In recent years, technological advances have paved the way to genome-wide analyses of mRNA processing, and have enabled hypothesis-free approaches. In this study, we take advantage of a splicing-sensitive exon microarray to investigate genome-wide variation in alternative splicing during development of the mouse embryo and its associated placenta. We focus on early developmental stages, E8.5-E11.5, in order to capture the isoform differences occurring during organogenesis. In mouse embryos, organogenesis begins at E8.5 and is mostly completed by E11.5 when most organs of the foetus can be recognized. The placenta is one of the first organs to form and function in the developing foetus. During organogenesis the precursors of the adult organs undergo a series of morphogenetic movements and differentiation events which have been shown to be controlled by changes in gene expression. We postulate that alternative splicing provides an additional mechanism for increasing the repertoire of transcripts from a limited number of developmentally relevant genes and confers additional specificity to individual developing tissues. Our results show that alternative splicing is frequent during organogenesis, and that different tissues (i.e. the placenta and embryo) as well as different developmental stages express specific gene isoforms. We confirm some previously described splicing events but also report numerous new time- and tissue-specific alternative isoforms. In addition, we find that the mRNA expression levels of some known splicing factors are modulated during organogenesis, suggesting that changes in expression levels of splicing factors may be responsible for alternative isoform expression.
Results
We studied the variation in gene expression at the transcript isoform level in two "tissues" - embryonic and placenta - across three developmental stages: E8.5, E9.5, and E11.5. Unfortunately, we were not able to obtain sufficient amount of RNA from the chorion, the precursor of the placental tissue, at E8.5 and had to omit that sample from the analysis. For the remaining samples, 5 biological replicates were obtained for each tissue/stage, and the RNA from each replicate was hybridized to one Affymetrix GeneChip
®
Mouse Exon 1.0 ST microarray. This array contains probes targeted to individual known and predicted exons, and allows monitoring of expression level at a sub-exon resolution. The replicate nature of the data allowed us to carry out analyses of variance (ANOVA) to detect differences in expression levels across time points and tissues. To investigate variations at the whole-transcript level, we performed the analysis using the summarized expression estimates of entire transcripts. For detection of differences in splicing and isoform expression, the expression levels of each individual probe set (roughly corresponding to an exon) were normalized by dividing by the expression level of the corresponding gene. The latter method will be referred to as the splicing index analysis. These two approaches allowed us to differentiate the cases where all, or most of the exons, within a gene have variable expression levels from the cases where only some of the exons within a transcript behave differently from the remaining exons, indicating alternative splicing or related isoform changes. This also allowed us to detect changes such as alternative transcription start sites or alternative polyadenylation sites which can also affect the N- or C-terminus of proteins (Figure
1
).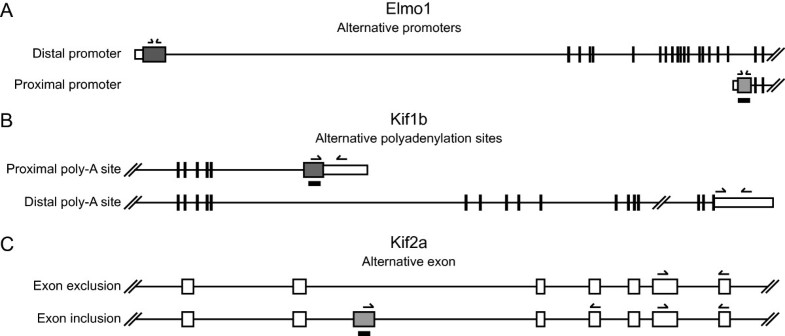 Discussion
Alternative splicing is frequent during early embryonic development
Alternative splicing is becoming a widely studied process that can increase the transcriptome complexity using a finite set of genes. However, little is known on the regulation of alternative splicing during development, where time and tissue specific regulation of protein levels is fundamental for cell differentiation, apoptosis and migration, all key regulators of organogenesis. In this work, we show that splicing is extensively regulated during organogenesis. We compile a list of 5,500 genes that indicate transcript isoform differences between our two tissues of interest - embryonic and placental - or across three developmental stages, E8.5, E9.5 and E11.5. According to a 5% FDR cutoff, we estimate that 9% of all exons are differentially alternatively spliced between the placenta and the embryo, and 2% of exons are differentially alternatively spliced across the three developmental stages. With 5 biological replicates each, and 6 distinct tissue/stage samples, our study has considerable statistical power to detect alternatively spliced transcripts. Our analysis also allows us to compare the fraction of genes that show isoform level changes with genes that are differentially expressed at the whole transcript level. Although we find that the number of differentially expressed genes is larger than differentially spliced, the numbers are of similar orders of magnitude (Figure 3). Interestingly, there is a large overlap between these subsets, and we show that genes with very significant levels of differential expression have a much higher than expected chance of being alternatively spliced.
It is also worth noting that because of the high statistical power of the study, our number of differentially expressed candidates is ten times higher than what was previously demonstrated by a genome-wide expression analysis of placentas and embryos at E12.5, which found only 6.5% of statistically significant differences in gene expression [39]. This could be explained in part by the advances in microarray analyses - i.e. the use of whole-transcript arrays - and the profiling of two placental stages allowing us to target a larger number of developmental events. However, it should be noted that the observed trends in expression are highly concordant between these two studies; most of the genes that had been shown to be highly expressed in placentas in the earlier study displayed the same high expression profile in our analysis.
Although we cannot rule out that a fraction of the genome-wide alternative splicing candidates may represent false positive results, our validation of 17 candidates presented here, as well as the 80% success in validation of previous experiments [40] suggests that false positives should not significantly affect our qualitative conclusions. It is difficult to estimate false negative rates in these types of studies. Although they are likely to be non-negligible, the limited power of the approach would render our estimates of the true frequency of alternative splicing conservative. We expect that this study exposes only the tip of the iceberg, and that a clearer picture will emerge as the whole-genome technologies mature. In the meantime, we provide a user-friendly database of our results in the additional material online (Additional file 1 Table S1).
Implications for regulation of developmental pathways
In the current paradigm, regulation of developmental pathways is accomplished mainly at the level of transcription, and is mediated by changes in expression of certain key genes. For example, one of the earliest events in embryonic development is the separation of the inner cell mass - which forms the embryo proper - from the trophectoderm lineage. This event is regulated by interaction between three transcription factors: Cdx2, Nanog, and Oct4. This transcriptional regulation is essential for turning on numerous other genes that will drive differentiation of the embryo and its associated placenta. Incidentally, Oct4 is known to express multiple alternatively spliced isoforms with distinct expression patterns and possibly distinct functions [41]. In another well-known example, left-right asymmetry is governed by the Nodal molecular cascade. At E7.5 Nodal is turned on at the node, leading to auto regulation of its own expression in the left lateral plate, and turning on the expression of Lefty and Pitx2 genes. These three key players form the basis of a pathway containing numerous genes that control the specification of left versus right. Like Oct4, Pitx2, (one of our candidates, see Additional file 1 Table S1), expresses several isoforms with distinct transcriptional activities [42], and only one of those isoforms, Pitx2c, is required for left right asymmetry [43].
As the above examples demonstrate, many developmental pathways include alternative isoforms of key genes. Our own analysis presented here also indicates that a large proportion of developmentally regulated genes express alternative isoforms. The correct temporal and spatial expression of those isoforms is most likely regulated by specific splicing factors. Hence, we propose that in addition to canonical developmental pathways regulated by transcription factors, there exists a parallel, and yet highly overlapping, set of pathways regulated by splicing factors. A single splicing factor may affect the splicing of numerous exons in a large number of genes [18, 44, 45]. Thus, changes in expression levels of splicing factors can have profound downstream effects. Moreover, many splicing factors are themselves involved in self-regulatory feedback loops and express multiple isoforms [46, 47]. Our analysis indicates differential embryonic expression of a number of RNA binding proteins and putative splicing factors. One of the particularly interesting examples is Fox2 (RBM9 or Fxh), a factor whose expression and promoter usage are both variable across the three developmental stages (Figure 7B). We find that Fox2 expression increases nearly 2 fold between days 8.5 and 11.5 in the embryo, but not in the placenta. We also show that this increase in Fox2 levels has a significant and predictable effect on the alternative splicing of cassette exons which contain putative binding sites within 100 nt in the neighbouring introns (Figure 7D). Furthermore, the use of the proximal promoter, which gives rise to an mRNA encoding a shorter N-terminus, increases between those stages (Figure 7C). Thus, not only is the overall amount of Fox2 product, but also the ratio of distinct isoforms, variable across early embryonic development.
Recently Fox2 has been found to be highly expressed in another developmentally relevant system, pluripotent cell lines, along with other pluripotency markers such as Oct4 and Nanog. Fox2 has been shown to regulate the splicing of numerous alternative exons in human embryonic stem cells, and to be necessary for maintaining viability of the cells. Moreover, Fox2 pre-mRNA contains active binding sites for its own protein, indicating a degree of autoregulation. Finally, many Fox2 targets are in turn splicing regulators, suggesting the existence of more extensive splicing networks [38]. The properties of such networks have been recently investigated in detail across a number of tissues and species [48].
Future directions
Our study, along with a few recent publications [38, 48–50] demonstrates that alternative splicing is a frequent event and is likely to have a significant role in development. With the promising results presented here, the future step will be to improve detection rates by using additional developmental stages, and a finer resolution of embryonic tissues. Indeed, the use of whole embryo mRNAs does not permit discovery of small-scale tissue-specific alternative splicing, which is likely to be extremely significant to tissue differentiation. Finally, most of our knowledge pertaining to genome-wide variation in alternative splicing has been acquired thanks to recent developments in microarray technologies, using either exon or splice-junction microarrays. Even more recent advances in high throughput sequencing will soon make it feasible to carry out whole-genome expression and isoform profiling experiments using mRNA sequencing. This approach allows digital monitoring of expression by counting the number of reads that map to mRNA segments of interest and comparing them across samples. These fragments may be genes, individual exons, or specific splice junctions. mRNA sequencing also allows the discovery of novel, as of yet unannotated, isoforms and transcripts. Preliminary studies carried out on a limited number of tissues and with limited sequencing coverage, [3, 4] have already significantly enlarged our catalogue of alternatively spliced genes. With the rapidly increasing throughput, along with dropping costs and accessibility of sequencing, these technologies will soon allow us to routinely view gene expression at the sub exon level resolution and to decipher the role of splicing regulation in development and other systems.
Conclusions
In this study, we have demonstrated that changes in alternative splicing are frequent during early mouse development between tissues and stages. Indeed, the numbers of differentially spliced genes are similar to those of differentially expressed genes. In these two categories, there is an overrepresentation of genes that have been implicated in development. In addition, many RNA-binding proteins are differentially spliced and/or expressed at the mRNA level. We can see a direct correlation between expression of Fox2, a known splicing factor, and the alternative splicing of cassette exons containing binding sites for this protein in the neighbouring introns. Thus, our results suggest that the effects of alternative mRNA isoforms should now be systematically verified in developmental gene studies.
Abbreviations
DABG:

Detection Above BackGround
DAS:

Differentially Alternatively Spliced
E:

Embryonic day
FDR:

False Discovery Rate
MPS:

Meta Probe Set
PCA:

Principal Component Analysis
PS:

Probe Set
RBP:

RNA-Binding Protein
Declarations
Acknowledgements
We would like to thank Kevin Lam, Vonda Koka, Kevin Ha and Tony Kwan for their useful advice. This work was supported by funding from FQRNT (LJM), CIHR and Genome Canada/Genome Quebec (JM). LAJM is a member of the Research Institute of the McGill University Health Centre, which is supported in part by the FRSQ.
Authors' Affiliations
(1)
Department of Human Genetics, McGill University, Montreal, Canada
(2)
Genome Québec Innovation Centre, Montreal, Canada
(3)
Department of Pediatrics, Montreal Children's Hospital, Montreal, Canada
Copyright
© Revil et al; licensee BioMed Central Ltd. 2010
This article is published under license to BioMed Central Ltd. This is an Open Access article distributed under the terms of the Creative Commons Attribution License (http://creativecommons.org/licenses/by/2.0), which permits unrestricted use, distribution, and reproduction in any medium, provided the original work is properly cited.