Research article

Open Access
Comparative genomics of four closely related Clostridium perfringens bacteriophages reveals variable evolution among core genes with therapeutic potential
Received: 21 January 2011
Accepted: 1 June 2011
Published: 1 June 2011
Abstract
Background
Because biotechnological uses of bacteriophage gene products as alternatives to conventional antibiotics will require a thorough understanding of their genomic context, we sequenced and analyzed the genomes of four closely related phages isolated from Clostridium perfringens, an important agricultural and human pathogen.
Results
Phage whole-genome tetra-nucleotide signatures and proteomic tree topologies correlated closely with host phylogeny. Comparisons of our phage genomes to 26 others revealed three shared COGs; of particular interest within this core genome was an endolysin (PF01520, an N-acetylmuramoyl-L-alanine amidase) and a holin (PF04531). Comparative analyses of the evolutionary history and genomic context of these common phage proteins revealed two important results: 1) strongly significant host-specific sequence variation within the endolysin, and 2) a protein domain architecture apparently unique to our phage genomes in which the endolysin is located upstream of its associated holin. Endolysin sequences from our phages were one of two very distinct genotypes distinguished by variability within the putative enzymatically-active domain. The shared or core genome was comprised of genes with multiple sequence types belonging to five pfam families, and genes belonging to 12 pfam families, including the holin genes, which were nearly identical.
Conclusions
Significant genomic diversity exists even among closely-related bacteriophages. Holins and endolysins represent conserved functions across divergent phage genomes and, as we demonstrate here, endolysins can have significant variability and host-specificity even among closely-related genomes. Endolysins in our phage genomes may be subject to different selective pressures than the rest of the genome. These findings may have important implications for potential biotechnological applications of phage gene products.
Keywords
Core GenomeDomain ArchitecturePhage GenomeEndolysinPfam Family
Background
Concerns over the spread of antibiotic resistances among bacteria have led to a ban on antimicrobial additives to animal feeds in the European Union (EU) [1, 2]. Since its enactment in 2006, the EU-wide ban on the use of antibiotics in animal feed (Regulation 1831/2003/EC) has stimulated a renewed interest in bacteriophage biology and the use of phages and/or phage gene products as alternative antibacterial agents [3, 4]. Prior to the discovery and widespread use of antibiotics, bacterial infections were commonly treated by administering bacteriophages which were marketed and sold commercially for human use up until the 1940's. Bacteriophages continue to be sold in the Russian Federation and Eastern Europe as treatments for bacterial infections [5].
Recently our laboratory reported the genomic and molecular biological characteristics of two phages isolated from poultry intestinal material and poultry processing drainage water by screening for virulent Clostridium perfringens bacteriophages [6, 7] and demonstrated efficacy of the lytic proteins encoded by the bacteriophage endolysins as a C. perfringens antimicrobial [8]. These phages belonged to the Siphoviridae, a family within the tailed phages. The tailed bacteriophages belong to the order Caudovirales, have icosohedral heads, contain a linear, double-stranded DNA genome that can vary from 17 to 500 kb, and represent ca. 95% of all the bacteriophages examined by electron microscope [9]. Caudovirales are further divided into three families based on tail morphology: phages with contractile tails are placed in the Myoviridae, those with short tails are members of the Podoviridae, and phages with a long non-contractile tail belong to the Siphoviridae[10, 11].
Clostridium perfringens is a Gram-positive, spore forming, anaerobic bacterium that is the 2nd leading bacterial cause of foodborne illness in the U.S., accounting for 10% of foodborne illnesses [12]. C. perfringens can cause food poisoning, gas gangrene (clostridial myonecrosis), enteritis necroticans, and non-foodborne gastrointestinal infections in humans and is a veterinary pathogen causing enteric diseases in both domestic and wild animals [13, 14]. C. perfringens is considered the cause of necrotic enteritis among chickens, and although this does not generally present a threat to humans, it could potentially become a far greater problem for the poultry industry and consumers if antibiotics are withdrawn from animal feeds [13, 14].
Bacteriophages have evolved a wide variety of anti-microbial compounds that can control C. perfringens and other pathogens and are of potential biotechnological importance. To realize this potential, it is essential to have a blueprint of the genomic machinery underlying phage-mediated bacterial lysis. Here we report the results of comparative analyses based on genome sequences of four newly isolated C. perfringens phages and focus on the genomic context and evolution of the phage endolysin genes.
Results and Discussion
To first determine the whole-genome relatedness of phages ΦCP9O, ΦCP13O, ΦCP26F, and ΦCP34O to each other and to other Clostridial phages, we used two approaches: correlations of tetra-nucleotide frequencies and clustering of predicted proteins based on sequence similarities. The results of both methods were consistent with each other and demonstrated close genomic relationships among our phages, more distant relationships to other Clostridial phages, and consistent correlations between phage and host phylogenies. Our phages were generally quite closely related - both techniques showed that the genomes of ΦCP34O and ΦCP13O were most closely related to each other and formed a distinct group from ΦCP26F and ΦCP9O (Figure
1
). All four genomes were similar to the genome of ΦCP39O, previously published by our research group [
6
], and belonged to a larger clade (Figure
1B
,
1C
) containing ΦCPV1, a
C. perfringens
phage isolated in Russia [
7
]. Genomic comparisons of our phages to two other
C. perfringens
phage genomes (ΦSM101 and Φ3626), three
C. difficile
-infective phages (ΦC2, ΦCD27, and ΦCD119), and one
C. botulinum
-infective phage (ΦC-St) showed phage phylogeny closely associated with host phylogeny (Figure
1B
,
1C
). Our results of nearly identical topologies between tetra-nucleotide and proteomic trees is consistent with previous uses of tetra-nucleotide distributions as genomic signatures [
15
,
16
] and to infer co-evolution between virus and host [
17
].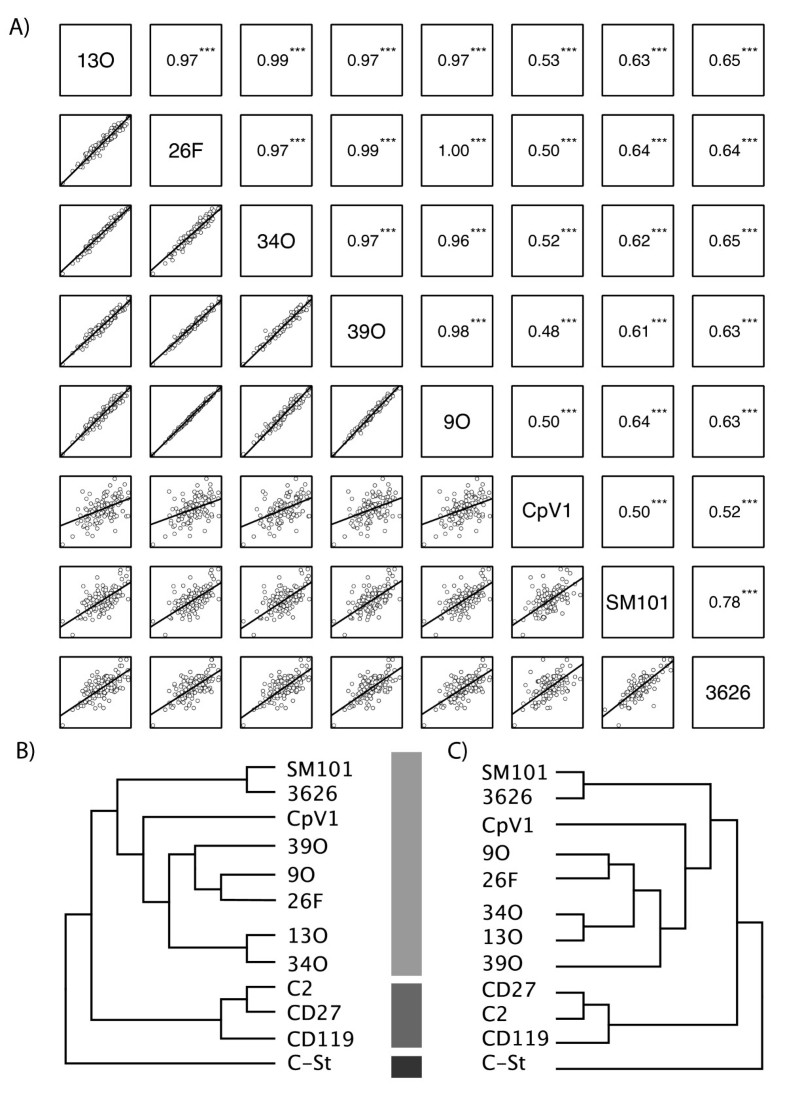 Conclusions
Comparisons of genome sequences from four newly isolated C. perfringens phages and related sequences previously published has provided new insights into genomic conservation and variability. Sequence and structural variability of the endolysin EAD may have important implications for the potential to target specific strains of pathogenic bacteria. Sequence and structural conservation of the CBD suggests the potential to tailor specificity for detection and differentiation of target cell populations, extending previous work [29]. Holins and endolysins represent conserved functions across divergent phage genomes and, as we demonstrate here, endolysins can have significant variability and host-specificity even among closely-related genomes. Endolysins in our phage genomes may be subject to different selective pressures than the rest of the genome, with important implications for potential biotechnological applications of these phages and their gene products.
Declarations
Acknowledgements
This work was supported by ARS-USDA project number 6612-32000-046 Interventions and Methodologies to Reduce Human Food-Borne Bacterial Pathogens in Chickens and project number 6612-32000-055 Molecular Characterization and Gastrointestinal Tract Ecology of Commensal Human Food-Borne Bacterial Pathogens in the Chicken. We thank Johnna Garrish for technical assistance and Susan Brooks for assistance with manuscript preparation.
Authors' Affiliations
(1)
Poultry Microbiological Research Unit, Richard B. Russell Agricultural Research Center, Agricultural Research Service, USDA, Athens, USA
(2)
Department of Infectious Diseases & Center for Tropical and Emerging Global Diseases, University of Georgia, Athens, USA
(3)
State Research Center for Applied Microbiology & Biotechnology, Obolensk, Russian Federation
(4)
Danisco, Inc., Waukesha, USA
Copyright
© Oakley et al; licensee BioMed Central Ltd. 2011
This article is published under license to BioMed Central Ltd. This is an Open Access article distributed under the terms of the Creative Commons Attribution License (http://creativecommons.org/licenses/by/2.0), which permits unrestricted use, distribution, and reproduction in any medium, provided the original work is properly cited.