Research article
Open Access
Analysis of human meiotic recombination events with a parent-sibling tracing approach
Received: 9 December 2010
Accepted: 26 August 2011
Published: 26 August 2011
Abstract
Background
Meiotic recombination ensures that each child inherits distinct genetic materials from each parent, but the distribution of crossovers along meiotic chromosomes remains difficult to identify. In this study, we developed a parent-sibling tracing (PST) approach from previously reported methods to identify meiotic crossover sites of GEO GSE6754 data set. This approach requires only the single nucleotide polymorphism (SNP) data of the pedigrees of both parents and at least two of children.
Results
Compared to other SNP-based algorithms (identity by descent or pediSNP), fewer uninformative SNPs were derived with the use of PST. Analysis of a GEO GSE6754 data set containing 2,145 maternal and paternal meiotic events revealed that the pattern and distribution of paternal and maternal recombination sites vary along the chromosomes. Lower crossover rates near the centromeres were more prominent in males than in females. Based on analysis of repetitive sequences, we also showed that recombination hotspots are positively correlated with SINE/MIR repetitive elements and negatively correlated with LINE/L1 elements. The number of meiotic recombination events was positively correlated with the number of shorter tandem repeat sequences.
Conclusions
The advantages of the PST approach include the ability to use only two-generation pedigrees with two siblings and the ability to perform gender-specific analyses of repetitive elements and tandem repeat sequences while including fewer uninformative SNP regions in the results.
Keywords
Repetitive ElementSingle Nucleotide Polymorphism MarkerMeiotic RecombinationRecombination SiteTandem Repeat Sequence
Background
Meiotic recombination is important for generating genetic diversity. Meiotic recombination occurs between homologous chromosomes during chiasmata formation, a process that is required for normal chromosomal segregation during meiosis. While variation in recombination rates is a ubiquitous feature of the human genome [1], the mechanisms governing the distribution of crossovers along meiotic chromosomes remain largely unclear, with the exception of the recent discovery that Prdm9 is involved in the activation of mammalian recombination hotspots [2–5]. Sex-specific effects [6–8] on regional meiotic recombination have been described. Recombination rates are approximately 1.7-fold higher in female meiosis than in male meiosis. In addition, crossover rates in males are 5-fold lower near centromeres but 10-fold higher near telomeres compared with those in females [9]. These differences could be related to sex-specific patterns of initiation of synapses between homologs. For example, synaptonemal complex lengths are shorter in males than in females [10], and synapses appear preferentially in subtelomeric regions in males [11].
Meiotic recombination events can be measured directly or indirectly [12]. Physical crossovers between homologous chromosomes, indicating meiotic recombination events, can be directly observed at specific time points during spermatogenesis [13]. Alternatively, crossovers may be analyzed directly in cytogenetic analysis by labeling meiosis-related proteins, such as MLH1 [14]. Despite the unequivocal value of direct analysis, these techniques are labor-intensive and precision is limited. Therefore, most analyses of human recombination currently rely on indirect approaches such as genetic linkage analysis of human pedigrees. This involves tracking the inheritance of alleles at multiple polymorphic markers (short tandem repeat polymorphisms, STRP; or single nucleotide polymorphisms, SNP) along the chromosomes across generations [15–17].
Molecular markers in individuals with known pedigrees can be traced to an ancestral identity using either the identity by descent (IBD) method [
12
] or the identity by state (IBS) method [
18
]. Two alleles at a particular locus in the progeny are assumed to be identical if they are derived from an identical locus in a common ancestor. The IBD method requires knowledge of the genotypes of three generations to determine if the DNA segments are identical by descent from each generation. In the IBD method, shared results between each child and his/her paternal and maternal grandparents are analyzed separately. A paternal recombination event is detected when the IBD sharing "switches" from one paternal grandparent to the other. This application can be applied in the same manner for the maternal side. For instance, meiotic events can be switched between 2 SNP sites (Figure
1A
and Additional File
1A
). Therefore, application of the IBD method requires the pedigrees of three generations [
12
]. The IBS method was used to detect meiotic recombination sites between individuals by analyzing allele sharing between siblings [
18
]. Recently, Ting et al. also proposed another method for identifying meiotic recombination patterns based on two-generation pedigrees (pediSNP) [
19
]. In the pediSNP method, genotypes of two children are analyzed and compared with the genotype of one parent [
19
].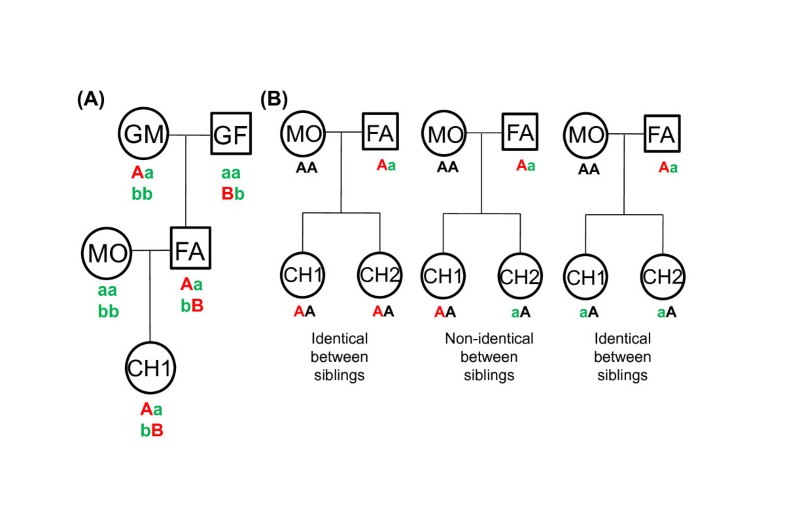 Based on the distribution of SNPs in both parents and multiple siblings, meiotic cross sites in human chromosomes can be identified. This method was first proposed by Coop et al. in 2008 to trace the "informative markers" transmitted by the father to each offspring [6]. They defined the "informative markers" as SNPs that are heterozygous in the father and homozygous in the mother. In 2009, Chowdhury et al. used two datasets, namely, the Autism Genetic Research Exchange (AGRE) and the Framingham Heart Study (FHS), to characterize the variation in recombination phenotypes [20]. They analyzed sex differences and recombination jungles across the human genome, and described the gene loci associated with recombination phenotypes [20].
In this study, we have used a parent-sibling tracing (PST) approach, which was derived from two previous reports [6, 20], to analyze the Genomic Medicine Research Core Laboratory, Taiwan (GMRCL) dataset of Affymetrix SNP6.0 arrays which consists of 900 K SNP markers and the GSE6754 dataset from Gene Expression Omnibus (GEO) [21], which consists of 853 families. Our analyses of this dataset of 2,145 meioses resulted in a 1-Mb-resolution recombination map. In addition, we were able to characterize the relationships between recombination sites and repetitive elements as well as the relationships between recombination sites and tandem repeats sequences.
Discussion
In this study, we use a PST approach to analyze the sites of meiotic recombination in two-generation pedigrees. We first tested it on a GMRCL dataset of the Affymetrix SNP 6.0 array consisting of 900 K SNP markers, followed by a 10 K GSE6754 dataset. In the GSE6754 dataset, which was previously used for mapping autism risk loci, most data are based on two-generation pedigrees (1,168 families) as this dataset contains only 29 three-generation pedigrees. Although the PST approach requires only pedigrees of two generations, it requires information from at least two siblings. The use of SNPs as genetic markers to identify recombination sites can often result in the inclusion of uninformative regions. However, the size of uninformative regions that result from the PST approach is significantly lower than that seen from the use of the IBD method (Table 1).
We next assessed whether crossovers may alter the DNA sequence by causing de novo mutations at sites of recombination. Given that the uninformative regions of PST were relatively small, eight recombination events were identified with sizes of less than 2 kb. Notably, we did not identify any sequence variation at these recombination points (data not shown). This observation needs further validation by sequencing more datasets.
The average number of recombination events observed with the PST approach was similar to the findings of other studies. The distribution of recombination events showed a mean value of 23.8 in paternal origin and 39.5 in maternal origin. Chowdhury et al reported the genome-wide recombination events in paternal origin ranged from 25.9 to 27.3 while in maternal origin ranged from 38.4 to 47.2 [20]. Another study by Cheung et al demonstrated that the mean numbers of recombination events were 24.0 in male meiosis and 38.4 in female meiosis [15].
In an indirect pedigree analysis using SNPs as genetic markers, Cheung et al [15] reported that several recombination events appeared to occur nearer to the telomeres. Using the PST approach, we analyzed the distance between the recombination site and the centromere for each gender separately (Table 3). In male meiosis, most of the crossovers are located in the q arms, and the number of recombination events increased significantly when moving from centromeres to telomeres. Interestingly, we observed fewer recombination events in the p arms of female chromosomes, resulting in the male-to-female ratio of 1.67 (Table 2). In women, only chromosomes 1q and 6q showed a significant, positive correlation between the number of recombination sites and distance from the centromere (Table 3).
To determine the extensive sequence-context variation in recombination hotspots, Myers et al. constructed a fine-scale map of recombination rates and hotspots across the human genome based on genotypes of 1.6 million SNPs in three sample populations, including 24 European Americans, 23 African Americans, and 24 Han Chinese [27]. The authors reported an increase of recombination hotspots in the regions surrounding coding genes, though these were preferentially located outside the transcribed regions. The analysis of the relationships between recombination hotspots and repeat elements indicated that L2 and THE1B are unusually high in hotspots, whereas L1 elements are low [27]. In this study, we identified a similar pattern of frequent hotspots in L2 as opposed to the low number of hotspots in L1 elements (Table 4). Of note, results showed that the majority of the hotspots in both paternal and maternal meioses were similar.
Conclusion
Human chromosomes are characterized by prominent differences in the pattern and rate of meiotic recombination events. Significant inter-individual and gender differences also exist. The major advantages of the PST approach include the use of two-generation pedigrees with two or more siblings, fewer uninformative SNP regions, and the ability to perform gender-specific analyses of recombination hotspots (using databases derived from high density arrays such as Affymetrix SNP6.0) and repetitive elements. An accurate determination of meiotic crossovers using this approach may prove useful to explore the biology of human chromosomes.
Abbreviations
PST:

parent-sibling tracing
IBD:

identity by descent
IBS:

identity by state
STRP:

simple tandem repeat polymorphisms
SNP:

single nucleotide polymorphisms.
Declarations
Acknowledgements
This study was supported by grants: NSC 97-2320-B-130-001-MY2 (to YS Lee), NSC 98-3112-B-001-027 from the National Research Program for Genomic Medicine (to YS Lee and CH Chen); DOH99-TD-C-111-006 (to A Chao and TH Wang) and DOH99-TD-I-111-TM013 (to TH Wang) from the Department of Health, Taiwan; and CMRPG340463 (to TH Wang) from the Chang Gung Medical Foundation. The authors wish to thank Dr. Chi-Nue Tsai (Chang Gung University) and Dr. Shih-Tien T. Wang of Children's Hospital of Wisconsin, Milwaukee, for helpful discussion.
Authors' Affiliations
(1)
Department of Biotechnology, Ming Chuan University, Tao-Yuan, Taiwan
(2)
Genomic Medicine Research Core Laboratory (GMRCL), Chang Gung Memorial Hospital, Tao-Yuan, Taiwan
(3)
Department of Obstetrics and Gynecology, Lin-Kou Medical Center, Chang Gung Memorial Hospital and Chang Gung University, Tao-Yuan, Taiwan
(4)
Institute of Statistical Science, Academia Sinica, Taipei, Taiwan
(5)
Department of Obstetrics and Gynecology, White Memorial Medical Center, Los Angeles, USA
Copyright
© Lee et al; licensee BioMed Central Ltd. 2011
This article is published under license to BioMed Central Ltd. This is an Open Access article distributed under the terms of the Creative Commons Attribution License (http://creativecommons.org/licenses/by/2.0), which permits unrestricted use, distribution, and reproduction in any medium, provided the original work is properly cited.