Research article
Open Access
Meta-analysis and genome-wide interpretation of genetic susceptibility to drug addiction
Received: 31 March 2011
Accepted: 15 October 2011
Published: 15 October 2011
Abstract
Background
Classical genetic studies provide strong evidence for heritable contributions to susceptibility to developing dependence on addictive substances. Candidate gene and genome-wide association studies (GWAS) have sought genes, chromosomal regions and allelic variants likely to contribute to susceptibility to drug addiction.
Results
Here, we performed a meta-analysis of addiction candidate gene association studies and GWAS to investigate possible functional mechanisms associated with addiction susceptibility. From meta-data retrieved from 212 publications on candidate gene association studies and 5 GWAS reports, we linked a total of 843 haplotypes to addiction susceptibility. We mapped the SNPs in these haplotypes to functional and regulatory elements in the genome and estimated the magnitude of the contributions of different molecular mechanisms to their effects on addiction susceptibility. In addition to SNPs in coding regions, these data suggest that haplotypes in gene regulatory regions may also contribute to addiction susceptibility. When we compared the lists of genes identified by association studies and those identified by molecular biological studies of drug-regulated genes, we observed significantly higher participation in the same gene interaction networks than expected by chance, despite little overlap between the two gene lists.
Conclusions
These results appear to offer new insights into the genetic factors underlying drug addiction.
Keywords
Transcription Factor Binding SiteGenetic Association StudyMolecular Biological StudyCandidate Gene Association StudyGene Interaction Network
Background
Twin and other classical genetic studies indicate that drug addiction is a complex brain disorder with strong genetic contributions [1, 2]. Genetic association studies, including candidate gene studies and genome-wide association studies (GWAS), can provide insights into the genetic background of this neurobiological and behavioral disorder. Using these approaches, more than 800 publications during the past three decades have reported genomic loci and/or specific genetic variants that have been associated with susceptibility to drug addiction. It has been difficult to draw general inferences from these studies, however, because genetic association studies generated results that were sometimes inconsistent, many of these studies were modestly powered (especially when polygenic genetic architectures are considered), genomic controls are infrequent, and biases can be detected in a number of analytic strategies. In this context, meta-analysis of genetic association studies may be particularly useful, especially when the underlying genetic architecture for the disorder is relatively straightforward [3–6]. In addition, although different addictive drugs have disparate pharmacological effects, there are also similarities after acute and chronic exposure such as acute rewarding and negative emotional symptoms upon drug withdrawal [7]. It would thus be interesting to elucidate the potential 'common' genetic backgrounds underlying those shared addictive actions, which might further help the development of effective treatments for a wide range of addictive disorders [7, 8]. However, to date there have only been limited meta-analyses on drug addiction, mostly focused on candidate genes, and none on GWAS.
Although the number of genetic variations identified has increased rapidly, the understanding of how genetic variations contribute to disease susceptibility has lagged behind. Earlier studies mainly focused on nonsynonymous SNPs [9, 10]. More recent studies have attempted to explain functional mechanisms of action of haplotypes that contain SNP and other regulatory variants [11–17]. A number of haplotypes defined by specific SNPs have been found to alter gene expression by modifying transcription factor binding sites [11], microRNA binding sites [12–15] and alternative splicing [16]. Others regulate signaling pathways [17]. However to date there have been only modest genome-scale efforts to study the molecular mechanisms of addiction-associated genetic variants. The relative contributions of different molecular mechanisms remain largely unknown.
Previous work has been spotty in seeking or reporting overlap between the genes identified by genetic association studies and genes identified by other molecular biologic approaches, such as animal models, cDNA microarrays and proteomics [18–20]. Our prior systematic assembly of data obtained by these "other" approaches [21] allows us to seek such overlaps in a systematic fashion.
Discussion
In this study, we collected genetic association studies published in the field of drug addiction for meta-analyses. The power of such meta-analyses is linked to the relatively simple model of the underlying genetic architecture that they presuppose: that SNP genotype results from different samples with differences in genetic background will provide association with drug addiction with the same phase. The significant convergence that such analyses provide herein does support roles for genetic variants with these properties in some aspects of individual differences in susceptibility to dependence. However, recent analyses also provide evidence for roles in addiction susceptibility for more "recent" variants raised after population divergences, which are less likely to be identified by such meta-analytic procedures. Besides the 'common' genetic background identified, it is also interesting to evaluate susceptible variants for different addictive drugs. However, currently the number of available allelic contrast tests data was too limited to perform such an analysis. In the future we will continue to integrate new data toward a better understanding of drug addiction. In addition, recent re-sequencing efforts using next-generation deep sequencing technology support larger effects for at least some rarer variants in both Mendelian [36–40] and complex diseases [41, 42], which would also be missed by the current analyses. Nevertheless, the interesting findings from these meta-analyses is complementary to recently published gene-based approach that was used to analyze primary GWAS data in ways that allow for substantial allelic and locus heterogeneities [25–27]. This study also provided an opportunity to study the relationship between addiction susceptible genes identified by traditional genetic association studies and rare addiction causal variants linked by "common disease, rare variants" approaches, when more genomic re-sequencing efforts become available [43–45].
Over 800 candidate gene association studies have been published in this field, but only 212 (24%) of these reports met our inclusion criteria. Some papers published 20 years ago were missing raw genotype and allelic distribution data and had inconsistent use of genetic markers. In addition, since the number of available allelic contrast tests was limited, we combined all data regardless of the types of addictive drugs and the racial/ethnic composition of the group studied. The heterogeneity of the datasets was high: even after our comprehensive meta-analysis, the results were still Grades B and C, according to the criteria of the Human Genome Epidemiology Network (HuGENet) (Table 1). Protocols such as those proposed by HuGENet [24] could standardize data collection and reporting and allow for improved meta-analyses in the future.
Compared to candidate gene association studies, GWAS provide hypothesis-free, genome-wide view of possible genetic susceptibility factors underlying drug addiction [25–31]. When we compare the addiction susceptible genetic variants linked by candidate gene association studies and GWAS, we found that the GWA arrays included probes for three polymorphisms showing significant summary odds ratio of the addiction susceptibility (rs6265, rs1799971 and rs4680). Among these polymorphisms, only rs1799971 show some suggestive significance in methamphetamine abusers of Japanese (p-Value = 0.0465) [26]. Consistent with meta-analyses in Alzheimer disease, schizophrenia, major depressive disorder and Parkinson disease [3–6], it seems some important candidate genes have received inordinate attention in candidate-gene based association study, while the GWA studies with hypothesis-free design might not support many a prior hypothesis. On the other hand, GWAS provide more opportunities for traditional candidate-gene based association study to improve the experimental designs by avoiding potential biases from subjectively selection of candidate genes in the beginning of the study.
We were able to tentatively link 124 of the identified susceptibility variations to potential functional mechanisms (Additional file 4). We expanded the genetics tag SNPs using haplotype data to detect the most likely nearly functional SNPs and genes. Besides fitting with the conventional idea that SNPs in coding regions may play important roles in disease susceptibility, the analyses presented here suggest that regulatory SNPs may also play important roles in addiction susceptibility. It will be interesting to study why and how natural selection shaped these cis-regulatory factors that potentially modulate addiction susceptibility.
To explain the modest overlap between genetic association findings and other molecular biology findings at the gene level, we identified abundant evidence for interactions between the sets of genes identified in these two ways. Thus, at the level of network analysis, there was good consistency between the genetic and molecular biologic results. This new insight should continue to motivate communication between geneticists and molecular biologists as they study addiction from different perspectives.
Conclusions
In this study, we report the first comprehensive meta-analysis of genetic association studies in drug addiction. We curated and integrated 212 candidate gene association studies and 5 GWAS. 843 vulnerable haplotypes were identified. We estimated the magnitude of the contributions of different molecular mechanisms to the effects of addiction susceptibility in one of the first 'post-GWAS' global attempts. We further found that at the levels of gene interaction networks, there was in fact good consistency between the genes identified by association studies and those identified by molecular biological studies of drug-regulated genes.
We have made all new data and knowledge publicly available by updating the KARG database [21]. Our study thus provides a 'dynamic' approach. We hope that this approach, as it stands, will provide a basis for meta-analyses of GWAS results of other diseases under the simple genetic architectures postulated herein, as well as a basis for consideration of meta-analytic approaches to more complex architectures in which the focus might be on genes in which variants that display differing frequencies in individuals with different genetic backgrounds are likely to be located. Such analyses could conceivably integrate both the idea of more population-specific variants with the rare variants that are being identified in disease and control samples through re-sequencing efforts.
Methods
Figure
1
shows the overall pipeline of our meta-analyses of addiction-associated genetic variations, genome-wide analysis of the molecular mechanisms of implicated SNPs, and the pathways and gene interaction networks that might involve these genetic factors.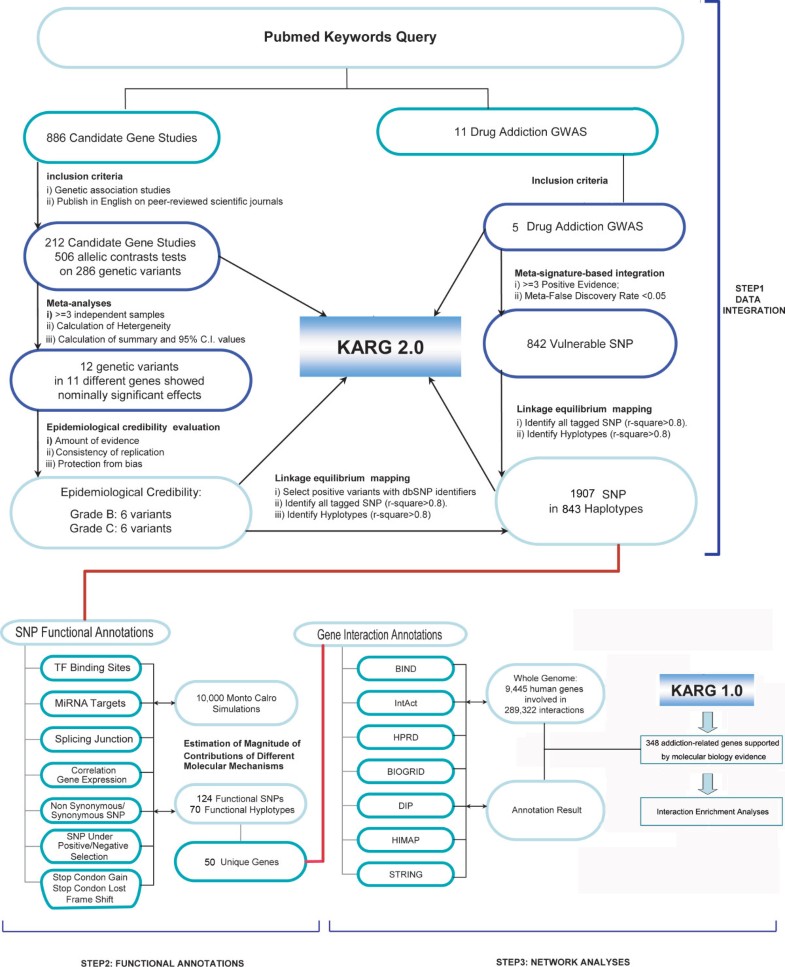 Declarations
Acknowledgements and Funding
We thank Dr. Antonio M. Persico at University Campus, Ms. Xiao-Mo Li at Peking University and Dr. Yong Zhang at the University of Chicago for insightful suggestions. All five pooling-based GWAS datasets used in the meta-analyses came from the Molecular Neurobiology Branch, NIH-IRP (NIDA) led by Dr. George Uhl. We acknowledge support to CYL from the National Basic Research Program of China [2011CB518000], The National Natural Science Foundation of China [31171269] and a scholarship in NIH IRP (NIDA), and support to LW from China National High-tech 863 Programs [2007AA02Z165] and 973 Programs [2007CB946904] and a Merck scholarship.
Authors' Affiliations
(1)
Laboratory of Bioinformatics and Genomic Medicine, Institute of Molecular Medicine, Peking University, Beijing, China
(2)
Center for Bioinformatics, National Laboratory of Protein Engineering and Plant Genetic Engineering, College of Life Sciences, Peking University, Beijing, China
(3)
Department of Neurology, the Johns Hopkins School of Medicine, Baltimore, USA
(4)
Molecular Neurobiology Branch, NIH-IRP (NIDA), USA
Copyright
© Li et al; licensee BioMed Central Ltd. 2011
This article is published under license to BioMed Central Ltd. This is an Open Access article distributed under the terms of the Creative Commons Attribution License (http://creativecommons.org/licenses/by/2.0), which permits unrestricted use, distribution, and reproduction in any medium, provided the original work is properly cited.