Synergistic use of plant-prokaryote comparative genomics for functional annotations
BMC Genomics
2011
12(Suppl 1):S2
Abstract
Background
Identifying functions for all gene products in all sequenced organisms is a central challenge of the post-genomic era. However, at least 30-50% of the proteins encoded by any given genome are of unknown or vaguely known function, and a large number are wrongly annotated. Many of these 'unknown' proteins are common to prokaryotes and plants. We set out to predict and experimentally test the functions of such proteins. Our approach to functional prediction integrates comparative genomics based mainly on microbial genomes with functional genomic data from model microorganisms and post-genomic data from plants. This approach bridges the gap between automated homology-based annotations and the classical gene discovery efforts of experimentalists, and is more powerful than purely computational approaches to identifying gene-function associations.
Results
Among Arabidopsis genes, we focused on those (2,325 in total) that (i) are unique or belong to families with no more than three members, (ii) occur in prokaryotes, and (iii) have unknown or poorly known functions. Computer-assisted selection of promising targets for deeper analysis was based on homology-independent characteristics associated in the SEED database with the prokaryotic members of each family. In-depth comparative genomic analysis was performed for 360 top candidate families. From this pool, 78 families were connected to general areas of metabolism and, of these families, specific functional predictions were made for 41. Twenty-one predicted functions have been experimentally tested or are currently under investigation by our group in at least one prokaryotic organism (nine of them have been validated, four invalidated, and eight are in progress). Ten additional predictions have been independently validated by other groups. Discovering the function of very widespread but hitherto enigmatic proteins such as the YrdC or YgfZ families illustrates the power of our approach.
Conclusions
Our approach correctly predicted functions for 19 uncharacterized protein families from plants and prokaryotes; none of these functions had previously been correctly predicted by computational methods. The resulting annotations could be propagated with confidence to over six thousand homologous proteins encoded in over 900 bacterial, archaeal, and eukaryotic genomes currently available in public databases.
Keywords
Gene FamilyArabidopsis GeneFunctional PredictionEvidence CodeFunctional Genomic Data
Background
Accurate characterization of as many genes as possible is a central challenge of the post-genomic era and an essential precondition for progress in systems biology [1]. But this characterization is very far from completion. By various estimates, at least 30-50% of the genes of any given organism are of unknown function [2], incorrectly annotated [3, 4], or have only a generic annotation such as 'ATPase' [5]. This problem is particularly acute for eukaryotic genomes, which are in general less well annotated than prokaryotic ones [6, 7].
Moreover, with more than 6,000 genomes now (August 2010) in the pipeline, 1,354 of them eukaryotic (http://www.genomesonline.org), the numbers of unknown genes continue to increase [8] and annotation errors continue to increase even faster [9]. For some gene families up to 60% of the annotations are wrong [9]. Without specific functional annotation efforts, present and future genome information will become ever more corrupt and hard to analyze, and will thus be greatly underexploited.
The first step in linking gene to function is to define what constitutes a function, and this is not trivial. Full definition of a protein's function requires a combination of two features or 'dimensions': (i) a molecular function (e.g. an enzymatic activity) and (ii) a functional context (e.g. a pathway) comprising other proteins involved in the same process. Currently most annotations in public archives convey only molecular functions, mainly assigned by homology. However, when an enzymatic activity has been annotated in this way, it may well be wrong if other genes of the same pathway are not in the genome [10]. To decide whether a protein has a truly known function, it is therefore essential to take into account both the molecular and functional context dimensions. Most automated annotation platforms use only the molecular function, but when metabolic reconstruction (i.e. pathway context) is included in the annotation process this greatly improves annotation quality [11–13].
We and others have previously emphasized the power of cross-kingdom comparative genomics approaches to link gene and function [
8
,
14
]. This strategy was applied in the work presented here to families of unknown function shared by
Arabidopsis thaliana
and prokaryotes. Using the series of sieves summarized in Fig.
1
, we combined comparative genomic and experimental validation approaches to discover the function of 'unknowns'. Throughout this work, our primary comparative genomics platform was the SEED database and its tools [
10
]; the SEED is publicly available at
http://www.theseed.org/Papers/20101120/
.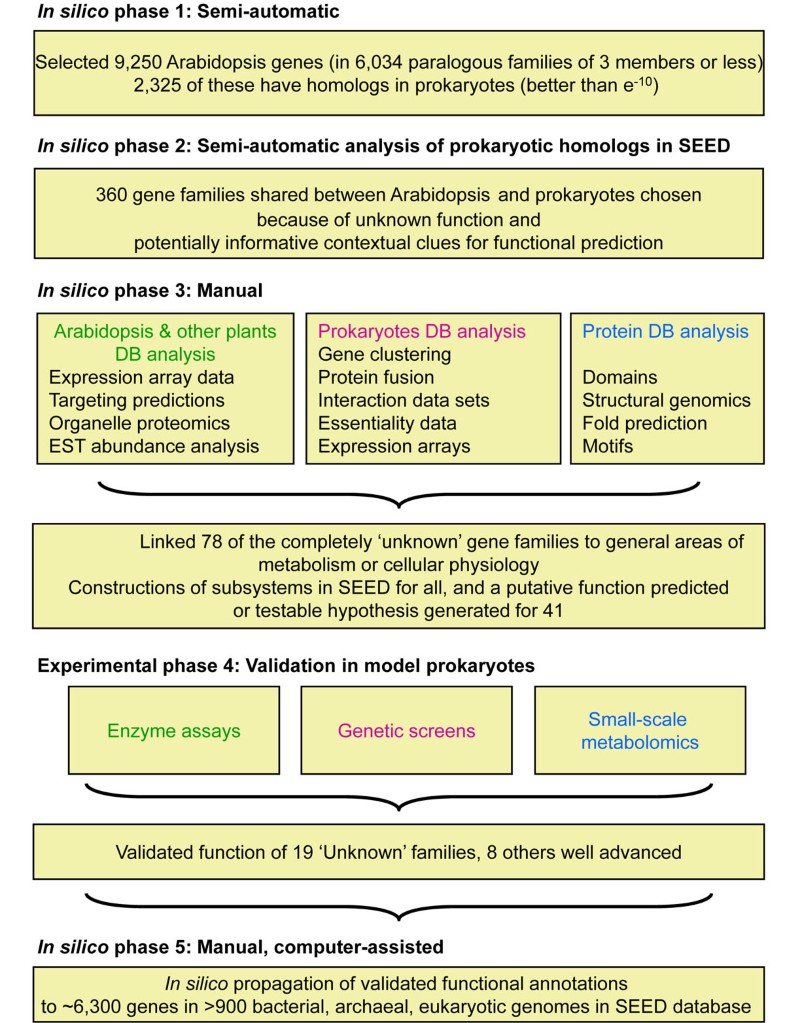 Conclusions
The analysis presented here shows that combining comparative genomics with expert intellectual input enabled correct functional annotation of 19 gene families by only a few researchers, in a short time (three years), and at a moderate cost (<$1M). This number of successful functional predictions is roughly comparable to the number made through the entire structural genomics effort [63], involving many more people, a much longer period, and far greater expense. The cost-effectiveness of our approach is thus perhaps its most striking feature.
Our analysis also underscores the imperative of combining molecular function and biological context to annotate function as shown in the COG3643 example. Homology and even in vitro assays would have labeled this family – correctly, but incompletely and misleadingly – as a formiminotransferase. Only by interpreting phylogenetic distribution data with biochemical insight and then applying complementation tests was this family correctly annotated as an alternative to 5-formyltetrahydrofolate cycloligase to metabolize 5-formyltetrahydrofolate. It is noteworthy that in this and most of our other successful predictions, there is a strong bias towards the authors' areas of expertise – from which the obvious inference is that other experts would, equally easily, have been able to predict additional sets of functions. For this reason we have built subsystems in the public SEED database for 78 families and made available the raw comparative genomic data for all gene families shared between Arabidopsis and prokaryotes (Additional file 1A, 1B, and 1C) so that other experts can bring their insight to our analysis in order to make and test their own predictions.
Finally, the only plant genomes available when this effort started were Arabidopsis, rice, and poplar, and rich post-genomic resources were available only for Arabidopsis. We accordingly focused our work on gene families common to Arabidopsis and prokaryotes. However, now that other plant genomes are pouring in (some 20 are available already and many more are in the pipeline) it is clear that almost all of the families we investigated have orthologs in other plants, making our work of immediate value in annotating other plant genomes. Furthermore, the rapid growth of microarray databases and other post-genomic resources for plants besides Arabidopsis (e.g. [64–66]) is providing many sources of association evidence to reinforce the approach that we have pioneered here.
Methods
Bioinformatics
The SEED genomic database and software suite [10], publicly available at http://theseed.uchicago.edu/ (see http://TheSEED.org for access to data relating to the SEED Project) was the main comparative genomics platform of this study. This database hosts all validated and proposed functional predictions developed in the course of this study for 78 genes families analysed in this study.
The SEED organizes genomic data in the form of subsystems (typically metabolic pathways or structural complexes) covering all organisms rather than on an organism-by-organism basis. Subsystems are developed and maintained by experts to capture the current status of knowledge of specific biological processes in model, well characterized organisms and to project this knowledge to other species via comparative genomics and metabolic reconstruction techniques [10]. Each subsystem includes a set of functionally related protein families (jointly encoding a specific pathway, process, or structural complex) across all available genomes (874 bacterial, 58 archaeal, and 29 eukaryotic complete and nearly complete genomic sequences as of July 2010). In SEED large homology-based protein families are broken into isofunctional subfamilies ('functional roles') based on genome context, functional context, phyletic profiling, shared regulatory sites, and other homology-independent clues. Association of each functional role with the corresponding subsystem(s) provides rich two-dimensional functional/phylogenetic context for each subfamily, leading to far more accurate annotations than the usual approach of annotating the genes within a single organism. Furthermore, the subsystem spreadsheet is used in SEED as a framework for integration of various types of functional data organized as gene attributes (e.g. gene clustering on a chromosome, expression array data, gene essentiality, etc.) and organism attributes (oxygen requirement, motility, pathogenicity, etc), which provide valuable non-homology based clues for functional predictions for uncharacterized genes.
All Subsystems created in this study, as well as over 1300 resident subsystems in SEED encoding all aspects of microbial physiology and metabolism are available on the public SEED server at http://theseed.uchicago.edu/FIG/SubsysEditor.cgi. They are regularly updated to accommodate newly sequenced bacterial genomes as well as novel experimental data and other relevant data as they become available.
Phylogenetic occurrence profiles were analysed using the Signature Genes tool on the NMPDR server (http://www.nmpdr.org/FIG/wiki/view.cgi/FIG/SigGenes). This tool identifies gene families that are common to a selected group of genomes, or those that differentiate one group of genomes from another. Annotations for paralog families were made using physical clustering when possible or by building phylogenetic trees using the ClustalW tool [67, 68] integrated in SEED or deriving specific motifs.
We also used the bioinformatic tools and resources at NCBI (http://www.ncbi.nlm.nih.gov) and KEGG (http://www.genome.jp/kegg) [69], BRENDA (http://www.brenda-enzymes.info/) [70], PHYRE (Protein Homology/analogY Recognition E ngine http://www.sbg.bio.ic.ac.uk/phyre/) [71], the Pfam database (http://pfam.sanger.ac.uk) [72], and specialized genomic resources and collections of functional genomic data for Arabidopsis, yeast, and various bacterial species, including: TAIR (The Arabidopsis Information Resource http://www.arabidopsis.org/) [21]; SGD (Saccharomyces Genome Database http://www.yeastgenome.org) [22]; MicrobesOnline (http://www.microbesonline.org/) [73]; EcoGene (http://ecogene.org/) [74]; EcoCyc (Encyclopedia of E. coli genes and metabolism (http://biocyc.org/ECOLI/) [75]; Cyanobase (http://genome.kazusa.or.jp/cyanobase) [76]; Pseudomonas genome database (http://www.pseudomonas.com/) [77]; and Rhodobase (http://rhodobase.org/index.php). Collections of Arabidopsis global expression and proteomics data with on-line tools for visualization and analysis: ATTED (http://www.atted.bio.titech.ac.jp/) [78]; Golm Transcriptome database (http://csbdb.mpimp-golm.mpg.de/csbdb/dbxp/ath/ath_xpmgq.html, [31–33]); PED, Plant Gene Expression Database (http://bioinfo.ucr.edu/projects/Unknowns/external/express.html); Genevestigator (https://www.genevestigator.com) [31–33]; PPDB, The Plant Proteome Data Base (http://ppdb.tc.cornell.edu/) [79]; PDB, The Protein Data Base (http://www.rcsb.org/pdb/home/home.do) [80].
Experimental validations
Methods for the three experimental validation vignettes described above are already, or soon will be, described in the authors' publications.
Declarations
Acknowledgements
This work was supported by the U.S. Department of Energy (grant no. DE–FG02–07ER64498) to V de C-L and ADH and by an endowment from the C.V. Griffin, Sr. Foundation to ADH. MB is a recipient of a postdoctoral fellowship from Human Frontier Scientific Program (HFSP). We thank Brian Haas for help and advice in identifying Arabidopsis gene families having three or fewer members, and Skip Fournier and Wayne Decatur for rRNA analysis in yeast.
This article has been published as part of BMC Genomics Volume 12 Supplement 1, 2011: Validation methods for functional genome annotation. The full contents of the supplement are available online at http://www.biomedcentral.com/1471-2164/12?issue=S1.
Authors' Affiliations
(1)
Fellowship for Interpretation of Genomes, Burr Ridge, USA
(2)
Department of Microbiology and Cell Science, University of Florida, Gainesville, USA
(3)
Department of Horticultural Sciences, University of Florida, Gainesville, USA
(4)
Computation Institute, University of Chicago, Chicago, USA
Copyright
© Gerdes et al; licensee BioMed Central Ltd. 2011
This article is published under license to BioMed Central Ltd. This is an open access article distributed under the terms of the Creative Commons Attribution License (http://creativecommons.org/licenses/by/2.0), which permits unrestricted use, distribution, and reproduction in any medium, provided the original work is properly cited.