Functional characterization of protein domains common to animal viruses and mouse
BMC Genomics
2011
12(Suppl 3):S21
Published: 30 November 2011
Abstract
Background
Many viruses contain genes that originate from their hosts. Some of these acquired genes give viruses the ability to interfere with host immune responses by various mechanisms. Genes of host origin that appear commonly in viruses code for proteins that span a wide range of functions, from kinases and phosphotases, to cytokines and their receptors, to ubiquitin ligases and proteases. While many important cases of such lateral gene transfer in viruses have been documented, there has yet to be a genome-wide survey of viral-encoded genes acquired from animal hosts.
Results
Here we carry out such a survey in order to gain insight into the host immune system. We made the results available in the form of a web-based tool that allows viral-centered or host-centered queries to be performed (http://imm.ifrec.osaka-u.ac.jp/musvirus/). We examine the relationship between acquired genes and immune function, and compare host-virus homology with gene expression data in stimulated dendritic cells and T-cells. We found that genes whose expression changes significantly during the innate antiviral immune response had more homologs in animal virus than genes whose expression did not change or genes involved in the adaptive immune response.
Conclusions
Statistics gathered from the MusVirus database support earlier reports of gene transfer from host to virus and indicate that viruses are more likely to acquire genes involved in innate antiviral immune responses than those involved in acquired immune responses.
Keywords
Viral ProteinNewcastle Disease VirusMouse HomologAnimal VirusMouse Protein
Background
Some viruses that infect vertebrates are able to acquire genes from their hosts[1, 2]. Host organisms, in turn, have developed intricate mechanisms such as the innate and adaptive immune responses to defend themselves against viruses and other pathogens. Acquired genes that increase the chances of survival within the hosts, can thus give us a unique view of the host's immune system. To understand the defense systems of vertebrates against viruses, comprehensive knowledge of relationships between viral and mouse proteins is necessary. Here, we select mouse (Mus musculus) as a model vertebrate organism, since genetic techniques are well established for mice, and they have many genes orthologous to genes in humans. We considered the overlap between entries in the conserved domain database, and homologous domains in mouse and in a wide range of viral proteins. The result of this comprehensive comparison was compiled as the MusVirus database (DB).
In order to characterize the functions of acquired domains on a biological level, we mapped each mouse entry to DNA microarray probe identifiers, allowing sets of differentially expressed genes to be uploaded to MusVirus. Here, we examined the number of viral homologs to genes differentially expressed in dendritic cells following stimulation of innate immune response pathways. For comparison we examine genes whose expression levels remained unchanged upon such stimulation, as well as genes differentially expressed upon stimulation of T cell receptors in T cells. Together, these results indicated that genes involved in innate immune response pathways were more likely to be acquired by viruses than genes involved in adaptive immune response pathways or genes whose expression levels do not change significantly upon stimulation.
Results and discussion
As described in the Methods section, the Web interface to MusVirus enables text-based keyword searches, browsing by viral taxonomy, and batch upload of microarray identifiers (Figure
1
). Below, we review the results of such searches focusing in functional characterization of mouse-virus homologs.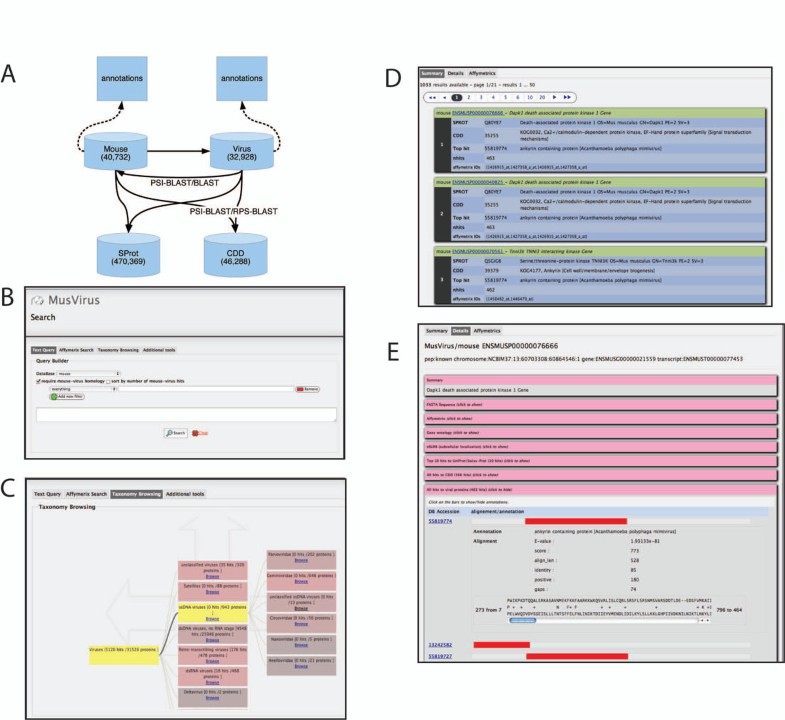 Overview of homologs between mouse and viral proteins
As a result of PSI-BLAST searches of mouse proteins against viral proteins, 15,127 out of 40,732 (37.1%) of mouse proteins were found to have at least one viral homolog. Among these, 1,414 proteins had more than 100 viral homologs. Mouse proteins with many viral homologs were often annotated as kinases and/or ankyrin repeats. Dapk1 (death-associated protein kinase 1, Ensembl ID: ENSMUSP00000076666), a positive mediator of interferon-induced apoptosis, had the largest number (463) of viral homologs. PSI-BLAST searches of viral proteins against mouse proteins detected 5,321 out of 32,928 (16.2%) proteins from 1,190 viral species having at least one mouse homolog (1,053 had more than 100 mouse homologs). Protein-tyrosine kinase of Y73 sarcoma virus, which causes cellular transformation leading to tumor formation [
3
], had the largest number (1,381) of mouse homologs. Although the fraction of viral proteins having mouse homologs is smaller than that of mouse proteins having viral homologs, the distributions of the number of homologs (Figure
2
) suggest that viral proteins tend to be similar to a large number of mouse proteins if they do have mouse homologs. These results are summarized in Additional file
1
.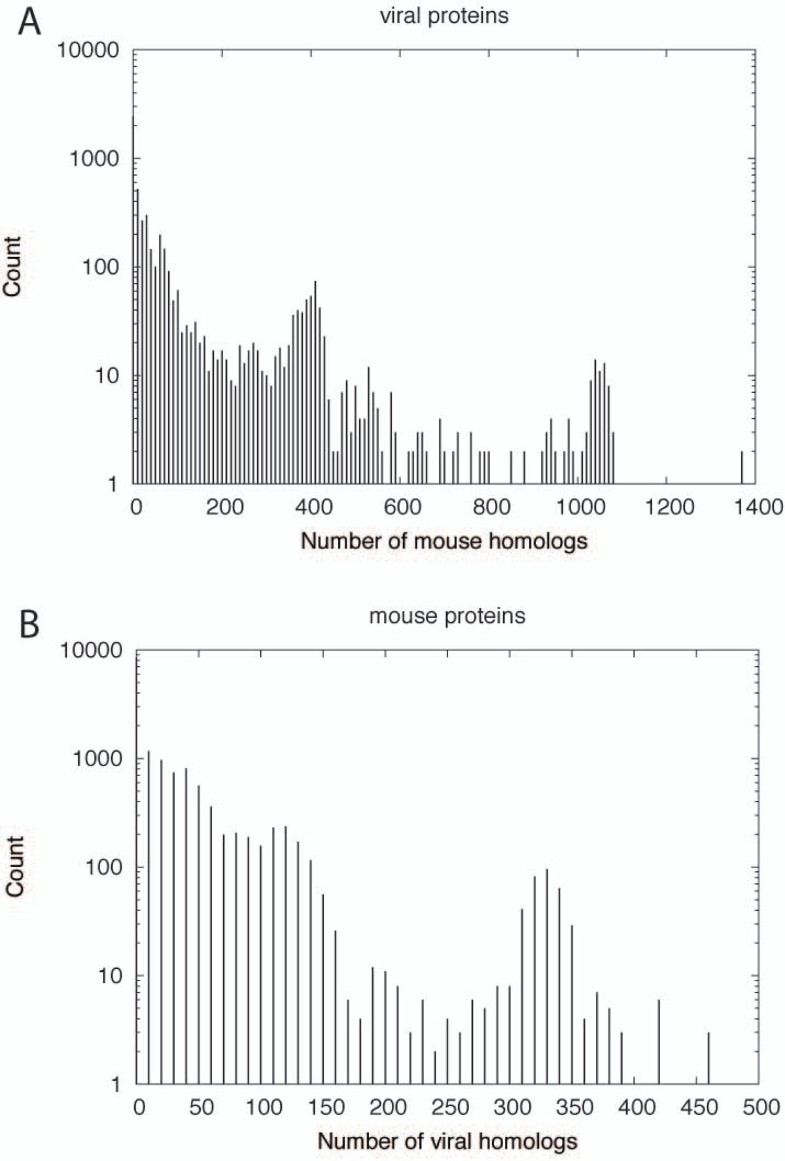 Shared conserved domains
After identifying homologs between mouse and viral proteins, we next asked if the similarities between homologs based on whole-sequence similarities are biased to some specific domains. To further analyze the structure of homolog similarities, we performed PSI-BLAST searches of both mouse and viral proteins against the CDD database and identified shared conserved domains. 7,222 CDD domains (out of 46,288 in total) were shared between at least one pair of mouse and viral proteins. The most frequently shared CDD domain was integrin-linked kinase (KOG0195), which has been linked to mammary tumor progression [4] and was found in 1,247 and 495 mouse and viral proteins, respectively. Out of 20 most frequently shared CDD domains, nine were kinases and eight contained ankyrin repeats. 366 CDD domains matched to more than 1,000 mouse proteins, and 86 % of these were kinases. To systematically identify the characteristics of shared conserved domains, we compared the frequencies of the words in annotations between shared CDDs and non-shared CDDs (a "non-shared CDD" is a CDD that matches either a mouse or a viral protein but not both). The words most well-representing the shared CDDs were related to serine/threonine kinases ("STKs") and protein tyrosine kinases ("PTK," "PTKs," "PTKc") followed by GT1 family of glycosyltransferases ("GT1") and the CCX motif involved in various Rab subfamilies ("CCX").
Mouse-specific viruses
Among the 24 mouse-infecting viruses, 60 proteins from 13 species had at least one mouse homolog. As listed in Table
1
, among the 13 species, murid herpesvirus 4 (MuHV-4) had the largest number (12) of mouse homologs, followed by Moloney murine leukemia virus and Friend murine leukemia virus. There were 8 retroviruses most of which had mouse homologs related to retrotransposon-like gene products.
Table 1
Distribution of mouse homologs across mouse infecting viruses
| Species | Virus type | Number of homologs1 | Total number of proteins2 | Number of mouse homologs3 |
| --- | --- | --- | --- | --- |
| Murid herpesvirus 4 | dsDNA | 12 | 74 | 83 |
| Moloney murine leukemia virus | retro | 8 | 14 | 22 |
| Friend murine leukemia virus | retro | 6 | 10 | 14 |
| Mouse mammary tumor virus | retro | 5 | 14 | 8 |
| Moloney murine sarcoma virus | retro | 4 | 6 | 2057 |
| Murid herpesvirus 2 | dsDNA | 4 | 8 | 1828 |
| Abelson murine leukemia virus | retro | 4 | 27 | 31 |
| Murine hepatitis virus strain A59 | ssRNA | 4 | 27 | 9 |
| Murine hepatitis virus strain JHM | ssRNA | 4 | 167 | 112 |
| Murine osteosarcoma virus | retro | 3 | 5 | 28 |
| Murid herpesvirus 1 | dsDNA | 2 | 2 | 5 |
| Murine type C retrovirus | retro | 2 | 3 | 9 |
| Rauscher murine leukemia virus | retro | 2 | 161 | 41 |
We present a summary of results for MuHV-4 in Table
2
. On the one hand, some proteins such as the large tegument protein matched mouse proteins at relatively low-complexity regions. Although there may be biological meaning of these matches, their interpretation requires careful examination. On the other hand, proteins such as membrane protein G74 (homologous to chemokine receptors) and complement control proteins (homologous to the mouse equivalent) are known to interfere with the mouse immune system [
5
,
6
]. Other proteins such as tegument serine/threonine protein kinase [
7
], cyclin and E3 ubiquitin ligase MIR1 may be used to hijack the mouse signal transduction system, as discussed below.
Table 2
Murid herpesvirus 4 proteins with mouse homologs.
| Protein ID1 | Protein name | Number of mouse homologs |
| --- | --- | --- |
| 9629556 | complement control protein | 41 |
| 9629601 | E3 ubiquitin ligase MIR1 | 17 |
| 9629628 | cyclin | 7 |
| 9629613 | uracil-DNA glycosylase | 3 |
| 9629560 | DNA polymerase catalytic subunit | 3 |
| 9629631 | protein G75B | 2 |
| 9629630 | tegument protein G75C | 2 |
| 9629622 | ribonucleotide reductase subunit 2 | 2 |
| 9629632 | protein G75A | 2 |
| 9629577 | tegument serine/threonine protein kinase | 2 |
| 9629596 | membrane protein G74 | 1 |
| 9629623 | ribonucleotide reductase large | 1 |
Genes induced by innate immune responses abundant in MusVirus DB
As discussed above, MusVirus contains proteins with various biochemical annotations. We next asked whether MusVirus hits are related by their biological functions as well. Since database annotations of biological function are less complete than those of biochemical functions, we grouped proteins by their corresponding gene expression levels in stimulated immune cells. Specifically, we examined expression levels of genes induced in the innate immune and adaptive immune responses. Animal hosts provoke pleiotropic immune responses to limit viral dissemination when infected with viruses. In the course of the response, many genes are induced, not only as mediators of antiviral signaling such as type I IFN genes and proinflammatory cytokines, but also cell-intrinsic effectors such as GTPase Mx1, RNase Isg20, the SAM domain protein viperin, and the zinc finger protein ZAP1 [8]. As shown above, and discussed elsewhere, viruses have many proteins homologous to such host factors. It is highly likely that such viral proteins mimic antiviral effectors induced in host cells upon viral infection.
To test this hypothesis, microarray data from mouse GM-CSF-induced dendritic cells stimulated with the Toll-like receptor 4 (TLR4) ligand lipopolysaccharide (LPS), the TLR2 ligand Pam3CSK4 (PAM), or Newcastle disease virus (NDV) were analyzed. Probes whose expression levels changed 3 fold or more, and 1.5 fold or less, were denoted "3-fold" and "1.5-fold" sets, respectively. The 3-fold set represented a set of genes induced or suppressed after stimulation, and thus directly or indirectly involved in innate immunity. In contrast, the 1.5-fold-set represents genes whose expression levels do not change upon stimulation. By using observed gene expression levels in this way we avoided the errors associated with incomplete functional annotations that would compromise statistics derived from database queries.
Each set corresponded to a list of affymetrix identifiers, which could be directly uploaded to MusVirus. A utility script was prepared that converted the resulting output to a table that could easily be imported into 3rd party software.
We first computed the numbers of MusVirus hits for each gene in each set. As shown in Table 3, the 3-fold sets of LPS and NDV stimulation had significantly higher mean numbers of viral homologs than the corresponding 1.5-fold sets, whereas the 3-fold set of PAM stimulation had only marginal difference. Virus and LPS but not PAM induce an IRF-dependent antiviral signaling pathway [9]. Thus this result suggests that genes induced or reduced by antiviral signaling are preferentially mimicked by viruses.
This result next prompted us to ask if viruses are more likely to contain genes involved in the innate antiviral response rather than the adaptive immune response. To address this question microarray data from T cells stimulated via T cell receptors were examined. Two sets, 3-fold and 1.5-fold, were prepared as above, and checked for the numbers of hits in MusVirus. We found that the mean value of the T cell 3-fold set and that of the T cell 1.5-fold set were statistically comparable, indicating that viruses preferentially mimic genes involved in innate but not acquired immune response. When we examined the conserved domains present in the NDV 3-fold set that has 1 or more viral hits, we found that most (18%) belonged to the kinase family, consistent with the overview above. Other families consisted of proteins involved in ubiquitination (6%), transcription factors (5%), proteases (4%), helicases (3%) and phosphatases (2%).
Table 3
Mean numbers of hits in MusVirus of each gene sets.
| Data set | 3-fold | 1.5-fold | p value |
| --- | --- | --- | --- |
| NDV | 6.66 | 4.42 | 1.79 x 10-3 |
| LPS | 6.06 | 4.42 | 3.23 x 10-4 |
| PAM | 5.48 | 4.46 | 5.15 x 10-2 |
| T cell | 5.01 | 4.45 | 1.50 x 10-1 |
Using MusVirus to search for proteins with known biochemical function
In this section we demonstrate how to search for proteins using keywords that map to specific biochemical functions. For the following we used mode-2 (low-complexity filtering turned on), as described in the Methods "Sequence Comparison" subsection. We focused on several functional classes of proteins that are known to affect host immune response. These included kinases, cytokines and their receptors, as well as proteins involved in ubiquitination.
Conclusions
Collectively, MusVirus captures the preference of viruses to mimic proteins involved in acute antiviral immune responses presumably because viruses take advantage of these proteins to suppress host immune system for survival and dissemination. We believe that this database will benefit research in both immunology and virology by providing a vehicle for functional insights on various genes.
Declarations
Acknowledgements
The authors thank R.J. Milewski and R. Amphlett for helping prototype the MusVirus web interface in the early stages of the project.
This article has been published as part of BMC Genomics Volume 12 Supplement 3, 2011: Tenth International Conference on Bioinformatics – First ISCB Asia Joint Conference 2011 (InCoB/ISCB-Asia 2011): Computational Biology. The full contents of the supplement are available online at http://www.biomedcentral.com/1471-2164/12?issue=S3.
Authors' Affiliations
(1)
Institute for Protein Research, Osaka University, Suita, Osaka, Japan
(2)
Laboratory of Host Defense, WPI Immunology Frontier Research Center (IFReC), Osaka University, Suita, Osaka, Japan
(3)
Laboratory of Systems Immunology, WPI Immunology Frontier Research Center (IFReC), Osaka University, Suita, Osaka, Japan
Copyright
© Kinjo et al; licensee BioMed Central Ltd. 2011
This article is published under license to BioMed Central Ltd. This is an open access article distributed under the terms of the Creative Commons Attribution License (http://creativecommons.org/licenses/by/2.0), which permits unrestricted use, distribution, and reproduction in any medium, provided the original work is properly cited.