Research article

Open Access
Deciphering neo-sex and B chromosome evolution by the draft genome of Drosophila albomicans
Received: 25 October 2011
Accepted: 22 March 2012
Published: 22 March 2012
Abstract
Background
Drosophila albomicans is a unique model organism for studying both sex chromosome and B chromosome evolution. A pair of its autosomes comprising roughly 40% of the whole genome has fused to the ancient X and Y chromosomes only about 0.12 million years ago, thereby creating the youngest and most gene-rich neo-sex system reported to date. This species also possesses recently derived B chromosomes that show non-Mendelian inheritance and significantly influence fertility.
Methods
We sequenced male flies with B chromosomes at 124.5-fold genome coverage using next-generation sequencing. To characterize neo-Y specific changes and B chromosome sequences, we also sequenced inbred female flies derived from the same strain but without B's at 28.5-fold.
Results
We assembled a female genome and placed 53% of the sequence and 85% of the annotated proteins into specific chromosomes, by comparison with the 12 Drosophila genomes. Despite its very recent origin, the non-recombining neo-Y chromosome shows various signs of degeneration, including a significant enrichment of non-functional genes compared to the neo-X, and an excess of tandem duplications relative to other chromosomes. We also characterized a B-chromosome linked scaffold that contains an actively transcribed unit and shows sequence similarity to the subcentromeric regions of both the ancient X and the neo-X chromosome.
Conclusions
Our results provide novel insights into the very early stages of sex chromosome evolution and B chromosome origination, and suggest an unprecedented connection between the births of these two systems in D. albomicans.
Keywords
Drosophila albomicans neo-sex chromosomeB chromosome
Background
Sex chromosomes have originated independently from a pair of autosomes in a variety of species [1, 2]. A striking feature shared by different systems is a degenerate, gene-poor Y/W chromosome lacking meiotic recombination. For example, the human Y chromosome only contains 78 unique protein-coding genes compared to over 1000 genes present on the X [3]. This raises the fundamental yet unresolved question of how and why the Y chromosome is degenerating after recombination is inhibited with its former homolog, the X. The Y chromosomes of most species, however, are too ancient to address this question, since only few traces of their evolutionary origin or of the processes that drove their degeneration remain (for instance, the human Y is ~170 million years old [4]). An alternative solution is to study sex chromosomes (or autosomes behaving exactly like sex chromosomes, such as 'neo-sex' chromosomes) of very recent origin [2, 5, 6].
Drosophila albomicans
(Figure
1A
, Additional File
1
) has an extremely young neo-sex chromosome system created by the fusion of a pair of autosomes (the third chromosome, which itself is derived from the fusion of two autosomal arms, Muller's element C and D [
7
,
8
]; Figure
1B
, Additional File
1
) to the ancient sex chromosomes [
7
,
9
]. This karyotype resembles the formation of the human sex chromosomes, which were also created by a sex chromosome-autosome fusion [
10
]. Since male flies have achiasmate meiosis [
11
], the Y-linked autosome (the so called 'neo-Y') cannot recombine with its homolog and thus evolves like a 'true' Y. Similarly, the X-linked autosome (the 'neo-X') co-segregates with the 'true' X, and spends more time in females than males. The species' closest relative,
D. nasuta
(Additional File
1
), lacks this fusion and diverged from
D. albomicans
only about 0.12 million years (MY) ago [
7
,
9
], therefore setting an upper limit to the age of the neo-sex chromosome pair. Compared to similar systems in other
Drosophila
species [
12
,
13
], the neo-sex chromosome of
D. albomicans
is the youngest reported to date and comprises almost 40% of the genome. Nearly five thousand active, newly sex-linked protein-coding genes can be used to decipher the very early evolution of sex chromosomes, and should allow us to identify signatures of selective forces of sex chromosome differentiation that have long been eroded on well-studied ancient sex chromosomes [
2
].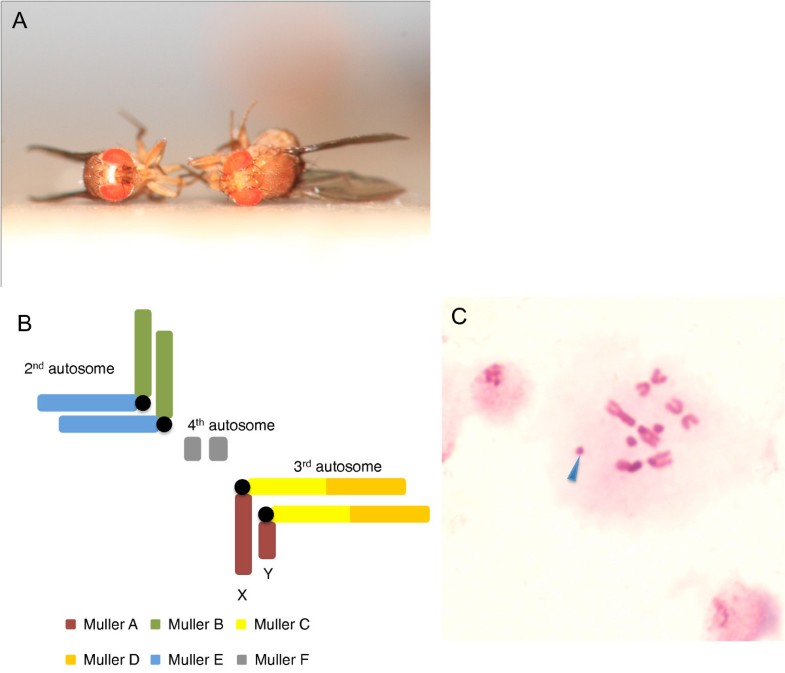 D. albomicans also contains recently-derived B chromosomes affecting its fertility which are absent from D. nasuta, thereby providing a rare opportunity to study the origin and functional significance of these bizarre chromosomes (Figure 1C and Additional File 2). B chromosomes are dispensable chromosomal elements exhibiting non-Mendelian inheritance and have been widely reported in over 1800 animal and plant taxa, but still remain an evolutionary mystery ever since their first discovery over a century ago [14]. It has been hypothesized that B chromosomes have contributed to the origin of the Drosophila Y chromosome [15]. Recent studies show that, in some species, B chromosomes play an important role at sex determination or accounting for antibiotic resistance and pathogenicity [16, 17]. These results are in contrast to the classic view of B chromosomes as 'selfish-elements' consisting mostly of heterochromatic sequences and few functional genes. Interestingly, D. albomicans strains with 1-2 B's produce significantly more offspring than those with either no or more than two Bs [18]. Additionally, the frequency of B chromosomes in natural populations of D. albomicans shows a clear south to north geographic cline [19]. These observations suggest that some form of selection is involved in maintaining B chromosomes within the population [14, 18].
Given the potential of D. albomicans to provide insights into these long-standing biological conundrums, we sequenced the whole genome of D. albomicans using Illumina's massively parallel sequencing technology. A lack of available genomes for any species in the D. immigrans group, to which D. albomicans belongs, makes a genome assembly based on reference-guided re-sequencing unfeasible. We therefore carried out a strategy combining both de novo assembly of short reads and chromosomal mapping based on a multi-species comparisons. The analysis of the resulting genome sequence allows us to address several questions including: How and to what extent has the D. albomicans neo-Y diverged from the neo-X within only 0.12 MY? Does the neo-Y show any signs of degeneration after such a short time scale? How did the B chromosomes originate, and can we identify any functional sequences? Finally, we explore the possibility of a direct link between the origination of the neo-sex chromosomes and B chromosomes, since both systems are absent from all species closely related to D. albomicans [7].
Conclusions
We provide a draft genome sequence and evolutionary analyses of D. albomicans, a species that contains extremely young neo-sex chromosomes and B chromosomes, to address questions on the origination and evolution of these chromosomal systems. Genomic comparison between males and females reveals that the neo-Y chromosome has already begun to accumulate an excess of deleterious mutations, including nonsense mutations that presumably caused some genes to become non-functional. We also found that the neo-Y chromosome harbors an excess of tandem duplications. Comparative analysis also identified a B-linked sequence that is homologous to regions of both the neo-X and ancient X chromosome. This result is consistent with the idea that B chromosomes originated from the standard chromosomes as a product of the sex chromosome - autosome fusion. Functional characterization of the transcribing unit located on the B chromosome and future studies of other B-linked genes should help to explain the fertility effects of these dispensable chromosomal elements in D. albomicans.
Declarations
Acknowledgements
We thank Tsai Tai-hua for helpful comments on the manuscript. Xin Li took photos of Drosophila albomicans. This work was supported by a CAS key grant (KSCX2-YW-N-060), two National Natural Science Foundation of China (NSFC) key grants (No. 30430400 and 30930056), a 973 Program (No. 2007CB815700), a CAS-Max Planck Society Fellowship, and the 100 Talent Program of CAS to W.W; and a National Natural Science Foundation of China (30725008), a Chinese 863 program (2006AA10A121), a Danish Platform for Integrative Biology, the Ole Rømer grant from the Danish Natural Science Research Council, NIH grants (R01GM076007 and R01GM093182) and a Packard Fellowship to D.B.; and the Solexa project (272-07-0196) to J.W.
Accession Numbers
Short pair-end reads from this study have been deposited in the NCBI Sequence Read Archive (SRA) under the accession number SRA009775 and BioProject ID PRJNA81745.
Authors' Affiliations
(1)
CAS-Max Planck Junior Research Group, State Key Laboratory of Genetic Resources and Evolution, Kunming Institute of Zoology, Chinese Academy of Sciences, Kunming, China
(2)
Department of Integrative Biology, University of California, Berkeley, USA
(3)
Beijing Genomics Institute-Shenzhen, Shenzhen, China
(4)
Department of Biology, Stanford University, Palo Alto, USA
Copyright
© Zhou et al; licensee BioMed Central Ltd. 2012
This article is published under license to BioMed Central Ltd. This is an Open Access article distributed under the terms of the Creative Commons Attribution License (http://creativecommons.org/licenses/by/2.0), which permits unrestricted use, distribution, and reproduction in any medium, provided the original work is properly cited.