Research article

Open Access
Complete genome sequence, lifestyle, and multi-drug resistance of the human pathogen Corynebacterium resistens DSM 45100 isolated from blood samples of a leukemia patient
Received: 30 September 2011
Accepted: 23 April 2012
Published: 23 April 2012
Abstract
Background
Corynebacterium resistens was initially recovered from human infections and recognized as a new coryneform species that is highly resistant to antimicrobial agents. Bacteremia associated with this organism in immunocompromised patients was rapidly fatal as standard minocycline therapies failed. C. resistens DSM 45100 was isolated from a blood culture of samples taken from a patient with acute myelocytic leukemia. The complete genome sequence of C. resistens DSM 45100 was determined by pyrosequencing to identify genes contributing to multi-drug resistance, virulence, and the lipophilic lifestyle of this newly described human pathogen.
Results
The genome of C. resistens DSM 45100 consists of a circular chromosome of 2,601,311 bp in size and the 28,312-bp plasmid pJA144188. Metabolic analysis showed that the genome of C. resistens DSM 45100 lacks genes for typical sugar uptake systems, anaplerotic functions, and a fatty acid synthase, explaining the strict lipophilic lifestyle of this species. The genome encodes a broad spectrum of enzymes ensuring the availability of exogenous fatty acids for growth, including predicted virulence factors that probably contribute to fatty acid metabolism by damaging host tissue. C. resistens DSM 45100 is able to use external L-histidine as a combined carbon and nitrogen source, presumably as a result of adaptation to the hitherto unknown habitat on the human skin. Plasmid pJA144188 harbors several genes contributing to antibiotic resistance of C. resistens DSM 45100, including a tetracycline resistance region of the Tet W type known from Lactobacillus reuteri and Streptococcus suis. The tet(W) gene of pJA144188 was cloned in Corynebacterium glutamicum and was shown to confer high levels of resistance to tetracycline, doxycycline, and minocycline in vitro.
Conclusions
The detected gene repertoire of C. resistens DSM 45100 provides insights into the lipophilic lifestyle and virulence functions of this newly recognized pathogen. Plasmid pJA144188 revealed a modular architecture of gene regions that contribute to the multi-drug resistance of C. resistens DSM 45100. The tet(W) gene encoding a ribosomal protection protein is reported here for the first time in corynebacteria. Cloning of the tet(W) gene mediated resistance to second generation tetracyclines in C. glutamicum, indicating that it might be responsible for the failure of minocycline therapies in patients with C. resistens bacteremia.
Keywords
Minocycline
Gene Cassette
Anhydrotetracycline
Genus Corynebacterium
Ribosomal Protection Protein
Background
The genus Corynebacterium belongs to the taxonomic class Actinobacteria and represents a diverse group of Gram-positive bacteria with a DNA of high G + C content, whose members were recognized in a large variety of habitats [1]. The most prominent species of the genus Corynebacterium is the human pathogen Corynebacterium diphtheriae, which is the etiological agent of the acute, communicable disease diphtheria [2]. With the exception of C. diphtheriae, the pathogenicity of other corynebacterial species from clinical sources has been underestimated for a long time, as they were often regarded as skin contaminants in human infections [3]. The improved taxonomic recognition of corynebacteria in clinical specimens and the increasing number of case reports associating non-diphtherial species with infections in humans and also in animals has changed this view during the last decade [4, 5]. In particular, the common skin colonizers Corynebacterium urealyticum and Corynebacterium jeikeium, which both belong to a separate branch in the phylogenetic tree of the genus Corynebacterium [6], were frequently associated with infections in immunocompromised patients. C. urealyticum is primarily recovered from hospitalized elderly individuals and can cause urinary tract infections [7], whereas C. jeikeium is associated with a variety of nosocomial infections, for instance with endocarditis after cardiac surgery and with bacteremia in hematological patients [8, 9]. The majority of clinical isolates assigned to these species displayed a remarkable multi-drug resistance in such a way that only glycopeptide antibiotics remain universally active against these pathogens [10, 11]. The development of multi-drug resistance in corynebacteria is probably enhanced by the selective pressure occurring in the hospital setting and has tremendous consequences for the successful treatment of human infections, especially in elderly individuals and in immunocompromised patients [12, 13].
In 2005, a new multi-drug resistant corynebacterium was isolated from human infections in Japan and named Corynebacterium resistens [14]. Five strains of this bacterium were recovered from blood samples, bronchial aspirates, and abscess specimens and characterized by measuring their susceptibilities to antimicrobial agents. Four strains were obtained from inpatients and revealed high levels of resistance to macrolides, aminoglycosides, tetracyclines, quinolones, and β-lactams, whereas the fifth isolate was recovered from an outpatient and shown to be susceptible to imipenem and minocycline. The glycopeptides vancomycin and teicoplanin remained universally active against the five isolates. Although the administration of vancomycin is generally regarded as the first choice to eradicate multi-drug resistant corynebacteria, the use of this glycopeptide antibiotic is restricted to methicillin-resistant Staphylococcus aureus (MRSA) in Japan. Minocycline, a second generation tetracycline [15], was administered instead, but this antimicrobial therapy failed and probably contributed to the subsequent death of a patient from sepsis [14].
Experimental data from a polyphasic taxonomic approach revealed that the five clinical isolates were genetically identical and repesent a new subline within the genus Corynebacterium, with the multi-drug resistant species C. urealyticum and C. jeikeium as phylogenetic neighbors [14]. The type strain of this new corynebacterial species is C. resistens DSM 45100 (originally referred to as SICGH 158) that was isolated from a positive blood culture of samples taken from a patient with acute myelocytic leukemia [14]. In this study, we present the complete genome sequence and bioinformatic analysis of C. resistens DSM 45100 providing detailed insights into the lipophilic lifestyle and the virulence factors of this strain. During the sequencing project we recognized that C. resistens DSM 45100 harbors a plasmid that we named pJA144188. The DNA sequences of the chromosome and pJA144188 revealed the molecular mechanisms leading to the extensive antibiotic resistance of C. resistens DSM 45100. We detected the tet(W) gene to cause resistance to minocycline and verified its functioning in corynebacteria by expressing the resistance determinant in the susceptible host strain Corynebacterium glutamicum ATCC 13032.
Conclusions
In this study, we describe the complete genome sequence and annotation of the multi-drug resistant clinical isolate
C. resistens
DSM 45100. The sequence analysis revealed comprehensive insights into the metabolic features, virulence functions, and mechanisms for antibiotic resistance of this human pathogen. The integration of these data provides for the first time a detailed view on the deduced lifestyle of
C. resistens
(Figure
6
). The strict lipophilic lifestyle of this species is obviously caused by the absence of genes for fatty acid synthesis, sugar uptake, and anaplerotic functions. Therefore, gene loss is the dominant evolutionary mechanism in shaping the metabolic features of
C. resistens
, which are most probably related to the natural habitat.
C. resistens
might colonize of the inguinal or perineal regions of the human body, as these sites of the skin provide elevated amounts of fatty acid substrates for growth by natural secretions that contribute to the formation of hydrolipid films. Moreover, the utilization of L-histidine as a nitrogen or carbon source by enzymes encoded by the
hut
genes suggests that
C. resistens
lives in close proximity to the human genital tract, since the presence of the
hut
pathway is predominantly associated with corynebacteria causing urogenital tract infections. The strict lipophilic lifestyle of
C. resistens
is also linked with enzymatic functions of several predicted virulence factors, which probably ensure the availability of external fatty acids for growth by causing damage to membranes of host cells. Accordingly, the predicted repertoire of candidate virulence factors might explain the low pathogenic potential of
C. resistens
.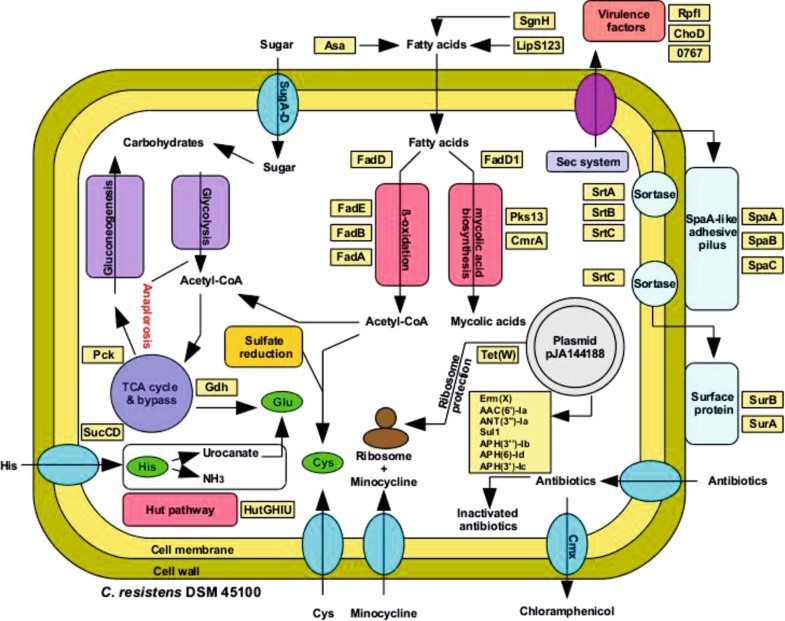 The extensive multi-drug resistance of C. resistens DSM 45100 is apparently caused by distinct features of chromosomal genes and the presence of plasmid pJA144188. The sequence annotation of pJA144188 provided detailed insights into the gene composition and the modular genetic organization of this plasmid, thereby revealing that horizontal gene transfer represents a key factor in the development of multi-drug resistance in C. resistens. A similar set of antibiotic resistance genes is present in other multi-drug resistant corynebacteria, such as C. striatum, C. urealyticum, and C. jeikeium. This collection includes the erm(X) and cmx genes, as well as aphA1-IAB and the strA-strB tandem gene pair [24, 25, 115]. The tet(W) gene of pJA144188 encodes a ribosomal protection protein that confers resistance to first and second generation tetracyclines, including the clinically relevant tetracycline derivative minocycline. The presence of the tet(W) gene on pJA144188 has tremendous impact on the treatment of human infections associated with C. resistens, as the cross-resistance profile of the Tet(W) protein can contribute to the failure of minocycline therapies in (immunocompromised) patients.
Declarations
Acknowledgements
ET and JES acknowledge the receipt of scholarships that are embedded into the Cluster Industrial Biotechnology and financed by Bielefeld University and the Ministry of Innovation, Science, Research and Technology of North Rhine-Westphalia. JB thanks the genomic transfer program (grant 0315599B) of the BMBF. The valuable contribution of the CeBiTec sequencing team (A. Albersmeier, R. Szczepanowski) to this genome project is greatly acknowledged. The authors thank the sequencing team from IIT GmbH (Bielefeld) for the help during the gap closure process and F. Soriano from the Fundación Jiménez Díaz (Madrid) for valuable comments on the physiological role of the hut gene cluster in corynebacteria. We acknowledge support of the publication fee by Deutsche Forschungsgemeinschaft and the Open Access Publication Funds of Bielefeld University.
Authors' Affiliations
(1)
Institut für Genomforschung und Systembiologie, Centrum für Biotechnologie, Universität Bielefeld, Bielefeld, Germany
(2)
Bioinformatics Resource Facility, Centrum für Biotechnologie, Universität Bielefeld, Bielefeld, Germany
(3)
CLIB Graduate Cluster Industrial Biotechnology, Centrum für Biotechnologie, Universität Bielefeld, Bielefeld, Germany
Copyright
© Schröder et al; licensee BioMed Central Ltd. 2012
This article is published under license to BioMed Central Ltd. This is an Open Access article distributed under the terms of the Creative Commons Attribution License (http://creativecommons.org/licenses/by/2.0), which permits unrestricted use, distribution, and reproduction in any medium, provided the original work is properly cited.