Research article

Open Access
The Physalis peruviana leaf transcriptome: assembly, annotation and gene model prediction
Received: 23 November 2011
Accepted: 25 April 2012
Published: 25 April 2012
Abstract
Background
Physalis peruviana commonly known as Cape gooseberry is a member of the Solanaceae family that has an increasing popularity due to its nutritional and medicinal values. A broad range of genomic tools is available for other Solanaceae, including tomato and potato. However, limited genomic resources are currently available for Cape gooseberry.
Results
We report the generation of a total of 652,614 P. peruviana Expressed Sequence Tags (ESTs), using 454 GS FLX Titanium technology. ESTs, with an average length of 371 bp, were obtained from a normalized leaf cDNA library prepared using a Colombian commercial variety. De novo assembling was performed to generate a collection of 24,014 isotigs and 110,921 singletons, with an average length of 1,638 bp and 354 bp, respectively. Functional annotation was performed using NCBI's BLAST tools and Blast2GO, which identified putative functions for 21,191 assembled sequences, including gene families involved in all the major biological processes and molecular functions as well as defense response and amino acid metabolism pathways. Gene model predictions in P. peruviana were obtained by using the genomes of Solanum lycopersicum (tomato) and Solanum tuberosum (potato). We predict 9,436 P. peruviana sequences with multiple-exon models and conserved intron positions with respect to the potato and tomato genomes. Additionally, to study species diversity we developed 5,971 SSR markers from assembled ESTs.
Conclusions
We present the first comprehensive analysis of the Physalis peruviana leaf transcriptome, which will provide valuable resources for development of genetic tools in the species. Assembled transcripts with gene models could serve as potential candidates for marker discovery with a variety of applications including: functional diversity, conservation and improvement to increase productivity and fruit quality. P. peruviana was estimated to be phylogenetically branched out before the divergence of five other Solanaceae family members, S. lycopersicum, S. tuberosum, Capsicum spp, S. melongena and Petunia spp.
Keywords
P. peruviana
Solanaceae
ESTs
Functional annotation
Gene model
Phylogenetics
Background
Physalis peruviana, also known as Cape gooseberry is a tropical fruit from the Solanaceae family, which includes many agriculturally important crops including potato, tomato, pepper, eggplant and tobacco [1]. The Cape gooseberry fruit contains high levels of vitamin A, C and B-complex, as well as compounds of anti-inflammatory and antioxidant properties [2]. Supercritical carbon dioxide extracts of P. peruviana leaves were shown to induce cell cycle arrest and apoptosis in human lung cancer H661 cells [3]. Recently, 4β-Hydroxywithanolide (4βHWE) isolated from P. peruviana aerial parts (stems and leaves) was demonstrated to be a potential DNA-damaging and chemotherapeutic agent against lung cancer [4]. In Colombia, this fruit has become promissory with high demand in European markets, mainly due to its unique taste, attractive color and shape as well as its potential health value. P. peruviana is a source of health related compounds found in the fruit and other parts of the plant including leaves and steams. Despite its nutritional and medical importance, current absence of P. peruviana genetic and genomic resources makes in-depth molecular studies on the plant difficult. Until this study, there were only a few partial P. peruviana gene sequences in public databases, mainly as a result of phylogenetic studies in the Solanaceae family [5, 6]. Therefore, there is a pressing need for efforts to obtain global genetic and genomic information from the Cape gooseberry, P. peruviana.
Advances in next generation sequencing (NGS) technology over the past few years have made it possible to rapidly perform de novo transcriptome and even genome assembly for non-model organisms with no or little prior genomic data available [7] . However, polyploidy and the large size of many plant genomes, which is predominantly due to amplification of repetitive elements or sometimes partial genome duplication [8], pose challenges to de novo whole genome assembly of plants. As such, EST sequencing, which avoids non-coding and repetitive DNA components, is a cost-effective and commonly used strategy to analyze the transcribed portion of a genome. Availability of ESTs represent a valuable resource for research as they provide comprehensive information regarding the transcriptome facilitating gene discovery and genome annotation and aiding in the determination of phylogenetic relationships [9]. An increasing number of successful studies have been published describing EST sequencing and de novo transcriptome assembly for large-scale gene discovery [9–18].
Here we describe the sequencing and assembly of the first
P. peruviana
leaf transcriptome from its cDNA-derived ESTs using the 454 GS-FLX Titanium technology, as well as
in silico
functional annotation and gene model prediction of the assembled transcriptome. The overall workflow of the project is represented in Figure
1
. This first transcriptome draft will provide valuable resources for the development of molecular genetic tools that can be used in agronomic trait related marker discoveries, in addition to studies that aim to solve phytosanitary, fruit quality and production problems.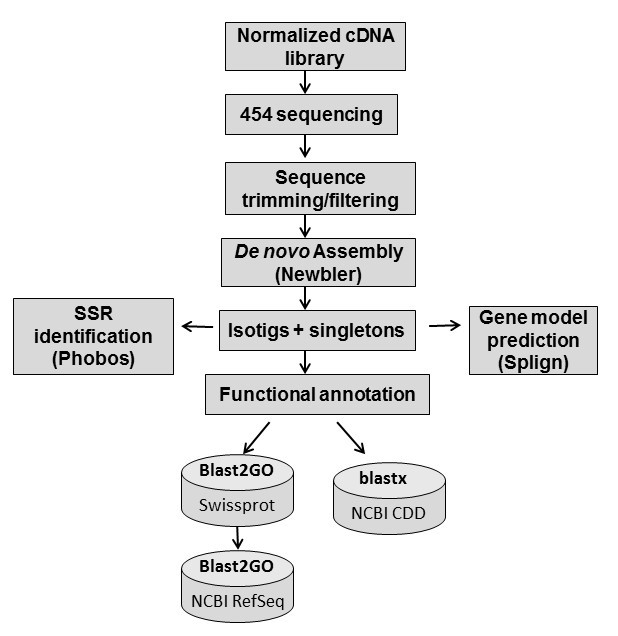 Conclusions
This report constitutes the first genomic resource for the Physalis genus providing a large collection of assembled and functionally annotated cDNAs. The Physalis genus is part of the Solanaceae family, whose members are important sources of food, spice and medicine. However, genomic data for other members of the Physalis genus is limited. Therefore, this resource will enhance comparative studies within the family and the transcriptome will serve as a starting point for gene discovery in Physalis and for future annotations of the Physalis peruviana genome sequence. A number of the genes identified in this study provide candidates for resistance genes against viruses, fungal or bacterial pathogens. Additionally, this study is a potentially invaluable resource for mapping and marker-assisted breeding in Physalis peruviana and closely related species like Physalis philadelphica, commonly known as tomatillo, which are food staples in Central American countries.
Misc
Gina A. Garzón-Martínez and Z. Iris Zhu contributed equally to this work.
Declarations
Acknowledgments
Support for this research was provided by a grant from the Colombian Ministry of Agriculture Contract Nos. 054/08072-2008 L4787-3281 to Luz Stella Barrero and 054/08190-2008 L7922-3322 to Victor Manuel Núñez Zarantes. Gina Garzón-Martínez was supported by a Colciencias "Joven Investigador" Fellowship during 2010. Leonardo Mariño-Ramírez expresses his deepest gratitude to his friend and colleague Dr. Alba Marina Cotes Prado for all the advice and support she gave him to conduct this project. This research was supported in part by the Intramural Research Program of the National Institutes of Health, National Library of Medicine, and National Center for Biotechnology Information.
Authors' Affiliations
(1)
Plant Molecular Genetics Laboratory, Center of Biotechnology and Bioindustry (CBB), Colombian Corporation for Agricultural Research (CORPOICA), Bogota, Colombia
(2)
Computational Biology Branch, National Center for Biotechnology Information, National Library of Medicine, National Institutes of Health, United States of America, Bethesda, USA
(3)
PanAmerican Bioinformatics Institute, Santa Marta, Colombia
Copyright
© Garzón-Martínez et al; licensee BioMed Central Ltd. 2012
This article is published under license to BioMed Central Ltd. This is an Open Access article distributed under the terms of the Creative Commons Attribution License (http://creativecommons.org/licenses/by/2.0), which permits unrestricted use, distribution, and reproduction in any medium, provided the original work is properly cited.