Research article
Open Access
Transcriptome analysis reveals novel patterning and pigmentation genes underlying Heliconius butterfly wing pattern variation
Received: 5 March 2012
Accepted: 14 June 2012
Published: 29 June 2012
Abstract
Background
Heliconius butterfly wing pattern diversity offers a unique opportunity to investigate how natural genetic variation can drive the evolution of complex adaptive phenotypes. Positional cloning and candidate gene studies have identified a handful of regulatory and pigmentation genes implicated in Heliconius wing pattern variation, but little is known about the greater developmental networks within which these genes interact to pattern a wing. Here we took a large-scale transcriptomic approach to identify the network of genes involved in Heliconius wing pattern development and variation. This included applying over 140 transcriptome microarrays to assay gene expression in dissected wing pattern elements across a range of developmental stages and wing pattern morphs of Heliconius erato.
Results
We identified a number of putative early prepattern genes with color-pattern related expression domains. We also identified 51 genes differentially expressed in association with natural color pattern variation. Of these, the previously identified color pattern "switch gene" optix was recovered as the first transcript to show color-specific differential expression. Most differentially expressed genes were transcribed late in pupal development and have roles in cuticle formation or pigment synthesis. These include previously undescribed transporter genes associated with ommochrome pigmentation. Furthermore, we observed upregulation of melanin-repressing genes such as ebony and Dat1 in non-melanic patterns.
Conclusions
This study identifies many new genes implicated in butterfly wing pattern development and provides a glimpse into the number and types of genes affected by variation in genes that drive color pattern evolution.
Keywords
Heliconius AdaptationPigmentationOmmochromeMelaninGenomicsEvo-devo
Background
Recent advances in genomics have catalyzed the discovery of genes underlying adaptive phenotypic variation in non-model organisms [1–3]. These discoveries have yielded important insights into the genetic basis of phenotypic evolution, from understanding how genetic interactions and gene architecture may bias and constrain evolution [e.g., [4–9]] to how cooption and modification of gene networks may underlie novel phenotypes [e.g., [10–12]]. Phenotypic adaptation frequently occurs through variation at genes that potentially regulate a large number of downstream genes [8]. In non-model systems, little is known about the downstream elements these genes effect, making it difficult to surmise why such genes are selected to drive variation. Genome and transcriptome forward approaches facilitate discovery of multiple components of these gene networks, from the genes regulating these "switch" genes, to the cascading sets of genetic changes that follow from such genes of major effect.
Here we initiate investigation into the gene networks underlying the development and variation of adaptive wing patterns in Heliconius butterflies. This genus has long been a popular system for studying the genetics underlying phenotypic diversification [13–15]. Heliconius exhibits extensive wing color pattern variation across its ~40 constituent species. In almost all cases this diversity is driven by Müllerian mimicry, which allows local populations of noxious species to enhance their ability to deter predators through shared warning coloration. The species Heliconius erato and Heliconius melpomene are particularly remarkable in their intraspecific color pattern variation, as they converge on over 20 mimetic wing patterns in various regions of the neotropics [16–18]. These phenotype-rich and highly convergent species provide an opportunity to study how complex variation in developmental patterning networks can arise within species and diversify under natural selection.
Significant progress has recently been made in understanding the genetic basis of color pattern diversity in
Heliconius
. Genetic mapping has shown that much of the color pattern variation across the genus is attributable to natural variation at only three loci of major effect [
19
–
21
]. In
H. erato
and
H. melpomene
, these three genomic intervals control several distinct color patterns, including the red color pattern elements (variation in the red forewing patches and hindwing rays), the presence of a yellow hindwing bar, and variation in complex black patterns on the forewing (Figure
1
) [
17
,
22
–
25
]. These loci ultimately regulate scale-level differences in pigmentation, turning on the tryptophan-ommochrome pathway to impart red (ommochromes) and yellow (3-OH-kynurenine) coloration, and the melanin pathway for black coloration [
26
].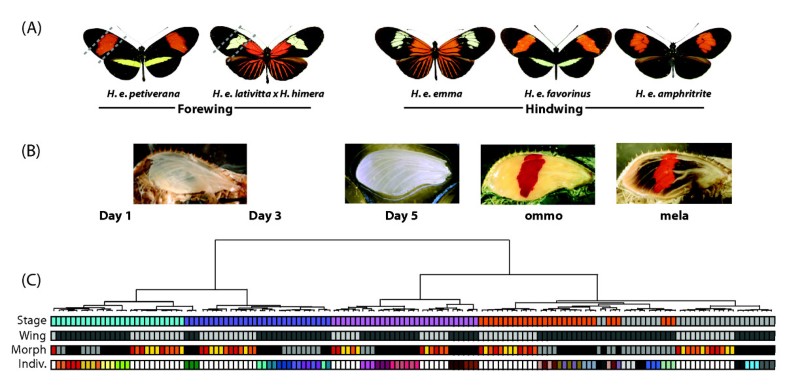 Of the three major color pattern loci, most is known about the one that controls red color patterns. At this locus, the gene controlling red pattern variation has been identified as a homeobox transcription factor called optix[27]. The patterning role of optix is particularly well illustrated by how its spatial expression patterns foreshadow the future location of red color patterns across diverse Heliconius species. This differential expression, coupled with a lack of amino acid variation in the optix protein, indicates that red pattern variation is a result of cis- regulatory variation between optix alleles [18, 27]. optix is best known for its role in eye development [28], leading to the suggestion that optix may be turning on gene networks leading to the eye-associated ommochrome pigments in the wings [12, 27]. One of the main challenges we now face for understanding the evolution of Heliconius wing patterns is to uncover how changes in optix cis-regulatory elements (CREs) produce such a wide array of complex red color patterns within and between Heliconius species. It is unknown what developmental prepatterns drive optix expression, how allelic variation in optix CREs responds to these prepatterns, or what downstream genes optix regulates to control pigmentation.
In this study, we take a transcriptomic approach to begin to piece together the gene networks that act upstream and downstream of optix. We undertook a large series of microarray experiments to analyze transcription across multiple wing tissues, developmental stages, and color patterns morphs of H. erato. Our analysis targeted two main classes of genes: 1) upstream regulatory genes that may be spatially regulating optix expression, and 2) genes differentially activated downstream of optix to play a role in the differentiation of pigment-bearing scale cells. To determine candidates for upstream regulators of optix, we looked for transcripts expressed differently across proximal to distal sections of the forewing prior to optix expression. Because optix is a transcription factor that responds to pre-existing positional information, it can be inferred that a butterfly from any given race should express the full repertoire of regulatory positional information to produce any of the optix-related wing patterns. Thus, there must be a common, conserved regulatory prepattern that different cis-regulatory alleles of optix interpret in different ways. Since this prepattern should be the same across all H. erato races, screening for genes differentially expressed between color pattern morphs would not be useful for identifying transcripts for prepatterning genes. Given this, we sought to look for transcripts whose expression was consistently associated with proximal, medial, and distal wing sections dissected along color pattern boundaries. Conversely, to assess how optix regulates downstream gene expression to specify scale phenotypes we looked for transcripts with differential expression among differently colored wing pattern elements of both the forewing and hindwing. Our results provide several strong candidates for regulators of optix and reveal a number of structural and pigmentation genes correlated with specific color pattern elements. These data allow us to begin to understand the function of optix in terms of a wider network of patterning and pigmentation genes and bring us closer to understanding the developmental genetic architecture of color pattern evolution in Heliconius.
Discussion
Since Carroll et al. [48] described the first gene expression patterns associated with butterfly wing pattern development, researchers have used the candidate gene approach to identify over a dozen developmental genes associated with eyespot and stripe pattern development in various butterfly species [49–56]. Additional studies focusing on ommochrome and melanin candidate genes [57–61] increased the total of number of wing-pattern related genes to around 20 and provided some insight into the identity of potential downstream genes involved in pattern realization. The recent positional cloning of the optix color pattern gene [27] demonstrates the potential of forward genetics for identifying further genes. In this study we sought to accelerate gene discovery by moving beyond the candidate gene paradigm. Our work is the first large-scale expression assay for butterfly wing pattern genes. We have identified over 200 genes associated with color patterning, including several potential regulators of optix and a host of structural and pigmentation genes that have expression patterns that are correlated with adaptive color pattern variation in natural populations. These new data allow us to begin to understand the structure of the broader network of patterning and pigmentation genes in Heliconius and bring us closer to understanding the developmental genetic architecture of color pattern evolution.
Conclusions
Our relatively conservative analyses have identified a number of new genes associated with the development and variation of specific Heliconius wing pattern elements. In addition to independently recovering previously known wing patterning genes, we also identified a large number of novel associations that would likely never have been found by using a traditional gene-by-gene candidate approach. Beyond presenting a substantial roster of novel wing patterning genes, our study also provides a unique network-level glimpse into the genetic architecture of intraspecific phenotypic variation. There is speculation regarding the nature of so-called adaptive hotspot genes like optix that disproportionately drive phenotypic evolution across species [85]. Functional evolution of hotspot genes is expected to consist largely of cis-regulatory changes because they allow a highly context-specific fine-tuning of pleiotropic effects. The scale of pleiotropy encountered in natural cases of adaptive regulatory variation has rarely been assessed. We now have some insight into the number and types of elements that respond to adaptive allelic variation at the optix locus. This study has yielded many promising wing pattern candidate genes, has revised our understanding of prepatterning and pigment regulation in Heliconius, and set an important foundation for understanding the genetic interactions that regulate the remarkable wing pattern diversity seen in butterflies.
Declarations
Acknowledgments
We wish to thank the Ministerio del Ambiente in Ecuador and the Intendencia Forestal y de Fauna Silvestre Instituto Nacional de Recurso Naturales in Peru for permission to collect butterflies. A special thanks goes to Ana Maria Quiles and to at the Smithsonian Tropical Research Institute for help rearing larvae and maintaining the Heliconius insectaries in Puerto Rico and Panama respectively. We would like to thank Eric Stone for advice on the manuscript and Arnaud Martin for advice on candidate genes and providing images. This project is funded by a Ruth L. Kirschstein National Research Service Award F32 GM889942 (HMH), a NASA grant (NNX10AM80H and NNX07AO30A) to RP, and NSF grants IBN-0344705 (WOM, HFN), DEB-0844244 (WOM, RDR), DEB-0715096 (WOM, RDR), and IOS-1052541 (RDR, WOM, RP).
Authors' Affiliations
(1)
Department of Genetics, North Carolina State University, Raleigh, USA
(2)
Department of Biology, Pennsylvania State University, University Park, USA
(3)
Department of Ecology and Evolutionary Biology, University of California, Irvine, USA
(4)
Department of Biology and Center for Applied Tropical Ecology and Conservation, University of Puerto Rico, Rio Piedras, San Juan, Puerto Rico
(5)
CSIRO Ecosystem Sciences, Canberra, Australia
(6)
Functional Genomics Core, Beckman Research Institute, City of Hope, Duarte, USA
(7)
Department of Biology, Duke University, Durham, USA
(8)
Smithsonian Tropical Research Institute, Panama City, Panama
(9)
Department of Ecology and Evolutionary Biology, Cornell University, Ithaca, USA
Copyright
© Hines et al.; licensee BioMed Central Ltd. 2012
This article is published under license to BioMed Central Ltd. This is an Open Access article distributed under the terms of the Creative Commons Attribution License (http://creativecommons.org/licenses/by/2.0), which permits unrestricted use, distribution, and reproduction in any medium, provided the original work is properly cited.