Research article

Open Access
Dissection of two soybean QTL conferring partial resistance to Phytophthora sojae through sequence and gene expression analysis
Received: 7 April 2012
Accepted: 14 August 2012
Published: 28 August 2012
Abstract
Background
Phytophthora sojae is the primary pathogen of soybeans that are grown on poorly drained soils. Race-specific resistance to P. sojae in soybean is gene-for-gene, although in many areas of the US and worldwide there are populations that have adapted to the most commonly deployed resistance to P. sojae ( Rps) genes. Hence, this system has received increased attention towards identifying mechanisms and molecular markers associated with partial resistance to this pathogen. Several quantitative trait loci (QTL) have been identified in the soybean cultivar 'Conrad' that contributes to the expression of partial resistance to multiple P. sojae isolates.
Results
In this study, two of the Conrad QTL on chromosome 19 were dissected through sequence and expression analysis of genes in both resistant (Conrad) and susceptible ('Sloan') genotypes. There were 1025 single nucleotide polymorphisms (SNPs) in 87 of 153 genes sequenced from Conrad and Sloan. There were 304 SNPs in 54 genes sequenced from Conrad compared to those from both Sloan and Williams 82, of which 11 genes had SNPs unique to Conrad. Eleven of 19 genes in these regions analyzed with qRT-PCR had significant differences in fold change of transcript abundance in response to infection with P. sojae in lines with QTL haplotype from the resistant parent compared to those with the susceptible parent haplotype. From these, 8 of the 11 genes had SNPs in the upstream, untranslated region, exon, intron, and/or downstream region. These 11 candidate genes encode proteins potentially involved in signal transduction, hormone-mediated pathways, plant cell structural modification, ubiquitination, and basal resistance.
Conclusions
These findings may indicate a complex defense network with multiple mechanisms underlying these two soybean QTL conferring resistance to P. sojae. SNP markers derived from these candidate genes can contribute to fine mapping of QTL and marker assisted breeding for resistance to P. sojae.
Keywords
QTL
Gene expression
Sequencing
SNP
Soybean
P. sojae
qRT-PCR
Background
Phytophthora sojae Kaufm. and Gerd. is a yield limiting soil borne pathogen of soybean ( Glycine max L. Merr.). This disease is most prevalent for soybean grown in poorly drained soils, and symptoms include pre- and post-emergence damping-off, root and stem rot, yellowing and wilting of lower leaves of the plants [1, 2]. P. sojae is characterized as a hemi-biotrophic pathogen. P. sojae haustoria are produced during the early intracellular biotrophic stage and as the pathogen colonizes root tissues. At later stages of infection, light tan to brown symptoms develop leading to necrosis and cell death. Resistance to P. sojae in soybean is conferred by both single, dominant genes, known as Rps genes, that confer resistance to specific pathotypes (races) and partial resistance which is inherited as quantitative trait loci (QTL) [1, 2]. In both types of resistance, zoospores move to the roots where they encyst, germinate, and penetrate within the first six hours after inoculation (hai) [3–5]. In Rps mediated resistance, the hyphae from avirulent P. sojae strains were only found in the first three cell layers. In partial resistance, hyphae colonized deeper into the cells of the root cortex. At 48 hai, hyphae were found in the same layers of root cells for soybean genotypes that are highly susceptible or had high levels of partial resistance [4]. The visible haustoria observed at 48 hai, and disease symptoms at 72 hai, suggested that the biotrophic stage of P. sojae occurred within the first 48 hai and the necrotrophic stage may begin approximately 72 hai in both partial resistant and susceptible soybean genotypes [4].
A total of 19 QTL have been identified in soybean genotypes resistant to P. sojae, of which 15 were mapped from eight separate populations from the resistant cultivar 'Conrad' [6–13]. Of these 15 QTLs, six mapped to chromosome (Chr.) 2 (formerly M olecular L inkage G roup D1b; MLG D1b), five mapped to Chr. 13 (MLG F), two mapped to Chr. 18 (MLG G), and the remaining two mapped to Chr. 19 (MLG L) [6–8, 10–12]. Interestingly, the QTL on Chr. 2 and 13 were not consistently detected with multiple isolates or the different field assays from these studies [7, 8]. Individual QTL that respond differentially to specific isolates of a pathogen and environmental conditions have also been identified in several other host-pathosystems [14–17]. In order to breed for a broad-spectrum durable host resistance, the selected QTL must be able to confer resistance to multiple isolates of a pathogen, act stably under different environment conditions, explain a large percentage of the phenotypic variation (major-effect QTL), and be confirmed in different mapping populations [15]. In an earlier study, one of the QTL on Chr. 18 and two of the QTL on Chr. 19 responded similarly following inoculation to three isolates of P. sojae and with two different disease assay methods [11]. These three QTL also explained a significant proportion of phenotypic variation that contributed to reduced levels of root rot and lesion size. Additionally, RILs with the resistant haplotypes at these QTL had significantly higher yield than RILs with the susceptible haplotypes in field tests. These attributes make these QTL strong potential targets for breeding of broad-spectrum resistance in soybean against P. sojae.
To improve the efficiency of incorporating these QTL into cultivar development, identifying the key genes controlling these QTL and characterizing their functions is key [
15
]. These genes are not only the best markers for efficient breeding, but they are also important in understanding the mechanisms that contribute to the expression of partial resistance which still remained largely unknown. In the soybean-
P. sojae
interaction, few studies have explored the molecular mechanisms that contribute to the expression of partial resistance in Conrad to
P. sojae
. Pathogenesis-related (PR) protein PR1a, PR2, basic peroxidase and matrix metalloproteinase transcript levels were reported to be higher in Conrad compared to OX 20–8 (highly susceptible) 3 days after inoculation (dai) [
18
]. Two studies reported that preformed suberin, a component of basal resistance, was higher in whole roots of Conrad compared to those of the susceptible line OX760-6 [
5
,
19
]. This was proposed to contribute to a 2–3 h delay in
P. sojae
penetration through the epidermis of Conrad compared to the susceptible line. Whole-genome transcription profiling of eight soybean genotypes with differential levels of partial resistance to
P. sojae
, were analyzed using soybean Affymetrix® gene chips [
10
,
20
–
22
]. The eight soybean genotypes were examined at 3 and 5 dai, and ~25,000 genes had statistically significant responses to infection, with little difference in transcript levels between these two sampling time points [
20
,
22
]. The infection response of four soybean genotypes, including Conrad and a susceptible cultivar Sloan, was also analyzed in a time course assay at several locations surrounding lesion development with the Affymetrix® gene chips [
10
,
21
]. Approximately 20,000 genes (53.4%) had significant changes in transcript abundance in Conrad and Sloan compared to mock inoculated controls in response to
P. sojae
infection, and the majority of changes occurred at 2, 3, and 5 dai [
10
]. Under the two QTL on Chr. 19, 76.0% of the genes had significant infection response in Conrad or Sloan from this microarray analysis [
10
] (Figure
1
). Interestingly, most of the annotated functions of the genes from these regions have been reported to be involved in host defense to plant pathogens. None of the genes in this region have an
R
gene-like motif based on the Williams 82 reference genome [
23
].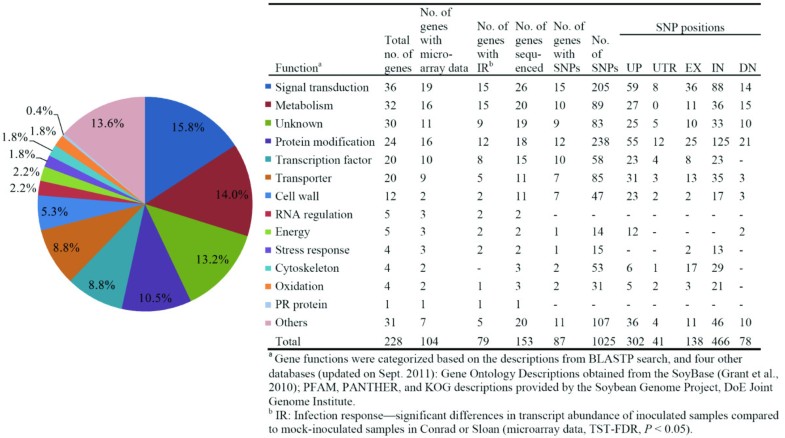 To date, only three genes have been cloned from disease resistance QTL in plants and they each encode proteins with diverse functions [24–28], which is in accordance with the multiple hypotheses for mechanisms underlying QTL in effectively limiting pathogen colonization [16]. These three genes all had sequence variation between the resistance and susceptible alleles [25–27]. In this study, our hypotheses were that i) a complex network of defense-pathways is underlying each soybean QTL conferring resistance to P. sojae; ii) sequence of the genes under a QTL between resistant and susceptible genotypes are different in regions that will affect gene expression; and iii) sequence analysis will expedite the identification of potential candidate genes in soybean conferring resistance to P. sojae.
The two QTL on Chr. 19 responded similarly across different phenotypic assays and isolates of P. sojae, and a large number of defense genes associated with these QTL had significant changes in transcript abundance in response to P. sojae infection. Thus, they are prime candidates to explore the variation in gene sequence and expression patterns between the resistant and susceptible genotypes. Therefore, our objectives were to: i) confirm the QTL in an advanced and larger F6:8 Conrad × Sloan population (246 RILs); ii) examine the sequence variation of the genes underlying these QTL between Conrad and Sloan; iii) analyze the expression patterns of candidate genes representing different defense mechanisms underlying these QTL following infection by P. sojae. This research will not only address an expedited means to identify candidate genes in soybean conferring resistance to P. sojae, but also provide more polymorphic markers for further fine mapping of the QTL regions.
Conclusions
It is usually difficult to demonstrate the effect of each individual gene underlying a QTL on partial resistance due to the large number of genes with minor and additive effects on the phenotypes [78]. In this study, we utilized sequence and expression analysis to efficiently identify candidate genes underlying the soybean QTL conferring resistance to P. sojae. Two QTL were dissected by sequence and gene expression analysis between the resistant and susceptible genotypes. A list of candidate genes was identified, including those potentially involved in signal transduction, hormone-mediated defense pathways, plant cell structural modification, and ubiquitination. Also, several genes from this list have been reported for their roles in PTI in heterologous systems, which may indicate that basal resistance may be another component of partial resistance. These findings supported our hypothesis that defense to P. sojae may be a coordinated, multifaceted response to infection. Eleven of the 15 genes with SNPs had significantly different changes in transcript abundance between the R and S genotypes in response to P. sojae infection in the qRT-PCR assay, which also supports our hypothesis that SNP analysis could expedite the identification of candidate genes involved in partial resistance. In addition to transcriptional regulation examined in this study, other regulatory mechanisms, including post-transcriptional and translational regulation, could contribute to the differential partial resistance levels between R and S and represent interesting targets for future studies. Whole-genome sequencing of these two cultivars may aid in the discovery of Conrad-specific genes, which may contribute to partial resistance. Overall, this study provides an initial list of candidate genes for further study and additional SNP markers for fine mapping and marker-assisted breeding of soybean partial resistance to P. sojae.
Declarations
Acknowledgements
We would like to thank S. Berry, M. Ellis, M. Ortega, Z. Zhang, L. Zelaya, C. Phelan, C. Van Pelt, and D. Anco for technical assistance. We thank the OARDC Molecular Cellular Imaging Center for assistance in sequencing. Salaries and research support provided in part by State and Federal Funds appropriated to the Ohio Agricultural Research and Development Center, The Ohio State University. This project was funded in part by NSF Plant Genome grant DBI-0211863, by the United Soybean Board, North Central Soybean Research Program, and by the Ohio's Soybean Producers' check-off dollars through the Ohio Soybean Council. Additional funding was also provided for SNP genotyping from Ohio Bioproducts Innovation Center and an OARDC Seeds grant.
Authors' Affiliations
(1)
The Department of Plant Pathology, The Ohio State University, Wooster, USA
(2)
Molecular and Cellular Imaging Center, OARDC, Wooster, USA
(3)
Department of Horticulture and Crop Science, The Ohio State University, Columbus, USA
Copyright
© Wang et al.; licensee BioMed Central Ltd. 2012
This article is published under license to BioMed Central Ltd. This is an Open Access article distributed under the terms of the Creative Commons Attribution License (http://creativecommons.org/licenses/by/2.0), which permits unrestricted use, distribution, and reproduction in any medium, provided the original work is properly cited.