Research article
Open Access
Transcriptional profiling of bovine milk using RNA sequencing
Received: 12 September 2011
Accepted: 25 January 2012
Published: 25 January 2012
Abstract
Background
Cow milk is a complex bioactive fluid consumed by humans beyond infancy. Even though the chemical and physical properties of cow milk are well characterized, very limited research has been done on characterizing the milk transcriptome. This study performs a comprehensive expression profiling of genes expressed in milk somatic cells of transition (day 15), peak (day 90) and late (day 250) lactation Holstein cows by RNA sequencing. Milk samples were collected from Holstein cows at 15, 90 and 250 days of lactation, and RNA was extracted from the pelleted milk cells. Gene expression analysis was conducted by Illumina RNA sequencing. Sequence reads were assembled and analyzed in CLC Genomics Workbench. Gene Ontology (GO) and pathway analysis were performed using the Blast2GO program and GeneGo application of MetaCore program.
Results
A total of 16,892 genes were expressed in transition lactation, 19,094 genes were expressed in peak lactation and 18,070 genes were expressed in late lactation. Regardless of the lactation stage approximately 9,000 genes showed ubiquitous expression. Genes encoding caseins, whey proteins and enzymes in lactose synthesis pathway showed higher expression in early lactation. The majority of genes in the fat metabolism pathway had high expression in transition and peak lactation milk. Most of the genes encoding for endogenous proteases and enzymes in ubiquitin-proteasome pathway showed higher expression along the course of lactation.
Conclusions
This is the first study to describe the comprehensive bovine milk transcriptome in Holstein cows. The results revealed that 69% of NCBI Btau 4.0 annotated genes are expressed in bovine milk somatic cells. Most of the genes were ubiquitously expressed in all three stages of lactation. However, a fraction of the milk transcriptome has genes devoted to specific functions unique to the lactation stage. This indicates the ability of milk somatic cells to adapt to different molecular functions according to the biological need of the animal. This study provides a valuable insight into the biology of lactation in the cow, as well as many avenues for future research on the bovine lactome.
Keywords
Gene OntologyMammary GlandWhey ProteinBovine MilkPeak Lactation
Background
Milk is a unique biological fluid consumed by mammalian infants. It contains many macro- and micro-nutrients that are essential for the growth and development of the newborn [1, 2]. In addition, a diverse cocktail of bioactive factors, such as antibodies, oligosaccharides and nucleotides in milk, play immune, pre-biotic and protective functions in the infant gut [1, 3, 4].
Cow milk has an important role in human nutrition because cow milk-based infant formula is the most available substitute for human breast milk and cow milk is consumed beyond infancy in human populations around the world. However, there are significant differences between the physicochemical properties of human breast milk and cow milk [5]. Bovine milk contains a higher percentage of caseins whereas human milk has higher percentage of whey proteins, the highest being α-lactalbumin. β-lactoglobulin, the most abundant whey protein in bovine milk, is not present in human milk. These differences between human and cow milk in the amount and types of proteins have been suggested to be responsible for cow milk allergies in approximately 2-2.5% of human infants [6]. Oligosaccharides are abundant in human milk, and studies on milk demonstrate local and systemic beneficial effects to the suckling neonate [7, 8]. The concentration of free oligosaccharides in bovine milk is reported to be approximately 20-fold lower than in human milk oligosaccharides [9]. The majority of these free oligosaccharides in bovine milk are sialylated whilst in human milk most of them are fucosylated [10]. Because of these differences between human and bovine milk, it would be desirable to change the composition of cow milk according to specific needs of target groups such as infants or immune compromised individuals. In order to achieve this goal, a thorough understanding of the components and the regulation of bovine milk composition is required.
Cow milk contains a heterogeneous population of somatic cells consisting of lymphocytes, neutrophils, macrophages and exfoliated epithelial cells [11]. These cells are responsible for the synthesis and secretion of components such as proteins, lipids and oligosaccharides in to the milk [12, 13]. Even though many studies have been conducted on the physicochemical properties of cow milk and the genes expressed in bovine mammary gland [11, 14], limited research has been published on the detailed characterization of genes expressed in somatic cells in milk. In a previous study we identified extensive similarities between the mammary gland and milk somatic cell transcriptome of the same cow [15]. Most of the genes expressed in the mammary gland transcriptome were present in milk somatic cells (MSC). Compared with the mammary gland, higher numbers of genes were expressed in MSC. Sets of genes related to immunity, organ development and behavior were uniquely expressed in MSC. Therefore, the identification and characterization of genes expressed in MSC represent an important step toward understanding the complex biological properties and species-specific variations of milk.
In the current study we used RNA sequencing (RNA-Seq) technology to examine the genes expressed in transition (day 15), peak (day 90) and late (day 250) lactation somatic cells in Holstein cow milk. Day 15 was selected to study the transition occurring from early lactation to peak lactation. Day 90 represents the peak lactation stage with the highest milk production. Day 250 represents the milk produced in the involuting mammary gland (in the initial stage). A global analysis was conducted first on the bovine milk transcriptome by studying the highly expressed genes in each stage of lactation and genes with statistically significant expression between the stages. Then a detailed analysis was conducted on the expression of important genes encoding enzymes in major milk component synthesis pathways (lactose, protein and fat), endogenous proteases and enzymes in ubiquitin- proteasome pathway. Figure
1
shows the analytical flow chart that was followed in the study.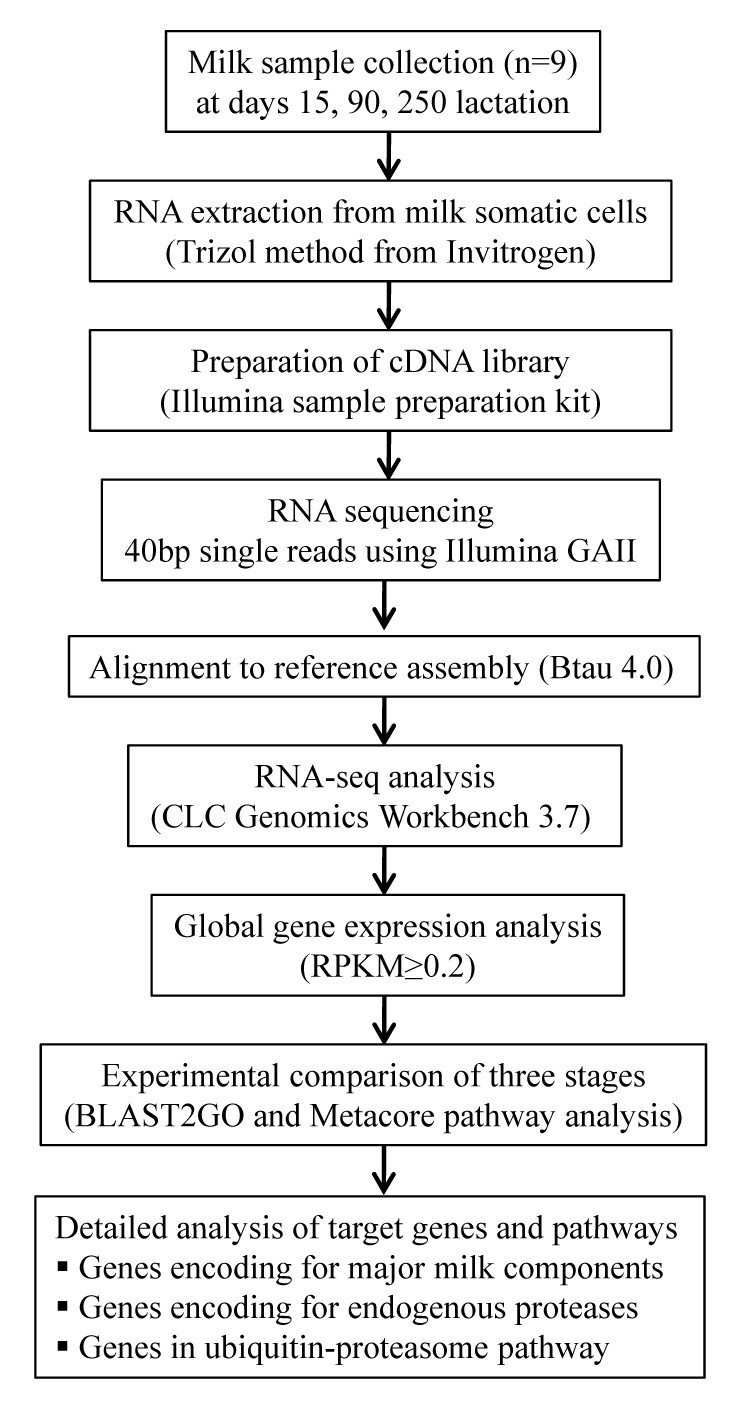 Conclusions
This is the first published study on the global expression profiling of genes in the somatic cells of milk of any mammalian species. Sixty nine percent of genes annotated in NCBI Btau 4.0 bovine genome assembly were expressed in somatic cells. There was ubiquitous expression of ~9,000 genes while ~6,930 genes had a significant change in expression with the stage of lactation. The highest number of genes were expressed in peak lactation (day 90) MSC. Genes encoding caseins, whey proteins and enzymes in the lactose synthesis pathway showed high expression in transition lactation (day 15) MSC, and indicated higher production of casein and whey derived bio-active peptides. Most of the genes in fat metabolism also had high expression in transition and peak lactation MSC. There was an increase in the expression of genes in UPP along the course of lactation. Most of the endogenous milk proteases were expressed in peak and late lactation MSC and the important findings obtained from the detailed analysis of protease gene expression highlight the significance of metabolic pathway-based gene expression analysis. Analysis of the results obtained on all the gene network pathways are beyond the scope of this article and this is the first chapter of a fascinating journey on the biology of milk and milk somatic cells.
Methods
Animals and their management
Six healthy mastitis-free Holstein cows in their second or third lactation at the UC Davis dairy were selected for the study. The animals were kept in free stall housing, fed total mixed ration (TMR) and had access to water ad libitum. Cows were milked twice daily, at 4 a.m. and 4 p.m., in the milking parlor and managed according to AAALAC (American Association for Accreditation of Laboratory Animal Care) guidelines. Sample collection was approved by the UC Davis Institutional Animal Care and Use Committee (IACUC) protocol #16151. Microscopic examination with a trypan blue exclusion test for viability of milk somatic cells [55] was conducted in a preliminary study. Milk samples were collected from 4 cows (150-170 day lactation) at 0, 1, 2, 3 and 4 hours after the morning milking and examined under the microscope. The same procedure was repeated in another set of 4 cows in a separate day. The highest percentage of epithelial cells (11.6%) and the highest viability (86%) were detected 3 hours after morning milking. Therefore fresh milk samples were collected by hand milking the four quarters of the cows (50 ml from each quarter) at days 15, 90 and 250 of lactation 3 hours after the morning milking (three biological replicates per stage of lactation with a total of 9 samples). Initially the study was designed to analyze the milk obtained at days 15 and 250 and later, milk obtained at day 90 was included in the study. Therefore the day 15 and day 250 samples were collected from the same three cows whereas the day 90 samples were collected from three different cows. Day 90 cows were well matched to the other ones. Day 90 cows were selected from the same dairy and the animals were kept under the same management conditions. One animal collected at days 15 and 250 was in the third lactation, while the other two animals in these collection days were in their second lactation. Therefore, at day 90, one animal sample was collected from a cow in her third lactation and the other two samples were from cows in their second lactation.
RNA extraction
Milk samples collected from the four quarters were mixed and a sub sample of 50 ml was used for RNA extraction from MSC. Milk cells were pelleted by adding 50 μl of 0.5 M EDTA to 50 ml of fresh milk and centrifuging at 1800 rpm at 4°C for 10 minutes. The pellet of cells was washed with 10 ml of PBS at pH7.2 and 0.5 mM EDTA and filtered through a sterile cheese cloth to remove any debris. Milk cells were then centrifuged again at 1800 rpm, 4°C for 10 minutes. The supernatant was decanted, and RNA was extracted from the milk cell pellet by the Trizol method (Invitrogen, Carlsbad, CA) according to the manufacturer's instructions. RNA was quantified by an ND-1000 spectrophotometer (Fisher Thermo, Wilmington, MA), and the quality and integrity was assessed by the spectrophotometer 260/280 ratio, gel electrophoresis and capillary electrophoresis with an Experion bio-analyzer (Bio-Rad, Hercules, CA).
RNA sequencing and data analysis
Gene expression analysis (three samples per lactation stage) was conducted by Illumina RNA sequencing (RNA-Seq) technology. Messenger RNA was isolated and purified using an RNA-Seq sample preparation kit (Illumina, San Diego, CA). Then mRNA was fragmented to approximately 200 bp fragments and first and second strand cDNA were synthesized, followed by end repair and adapter ligation. The fragments were purified and sequenced at the UC Davis Genome Center DNA Technologies Core Facility using the Illumina Genome Analyzer (GAII). Short sequence reads of 36-40 bp were assembled and analyzed in RNA-Seq and expression analysis application of CLC Genomics Workbench 3.7 (CLC Bio, Aarhus, Denmark). The bovine genome Btau 4.0 http://www.ncbi.nlm.nih.gov/genome/guide/cow/index.html was utilized as the reference genome for the assembly. The following criteria were used to filter the unique sequence reads: minimum length fraction of 0.9; minimum similarity fraction of 0.8; maximum number of two mismatches. Data were normalized by calculating the reads per kilobase per million mapped reads (RPKM = total exon reads/mapped reads in millions × exon length in kb) [18] for each gene and annotated with NCBI bovine genome assembly (27,368 unique genes).
The experiment was carried out in two steps with day 15 and day 250 samples collected from the same cows and day 90 samples collected from different cows. Initial model checking was conducted to test for independence of samples collected at two time points from the same cow. Using R, a model was fit with animal and stage of lactation as two (non-interacting) factors on the expression of 27,368 unique genes in day 15 and day 250 samples. P values were obtained for the animal effect and the distribution of the p values was plotted. The majority of the genes had reasonably uniform p values between 0.4-0.5, and there was no significant animal effect on the analysis. Because of this uniform distribution of p values and the 235-day interval between samples collected from the same cow, samples were assumed to be independent of each other. T-tests and ANOVA were performed on log2-transformed data (0.5 was added to each number before log transformation to deal with zero counts) to identify the genes with significant changes in expression (p ≤ 0.05, FDR q ≤ 0.3) between the stages of lactations.
GO annotation
Coding sequences of genes with high expression in each stage of lactation and genes that showed statistically significant changes between the lactation stages were obtained from the ENSEMBL biomart martview application http://www.ensembl.org/biomart/martview. These sequences were imported to the Blast2GO program to perform the blastx, mapping and GO annotation [28]. Statistical assessment of annotation differences between lactation stages were performed using all expressed genes as background and Fisher's Exact Test for multiple test correction in Blast2GO.
Pathway analysis
MetaCore pathway analysis by GeneGo, a Thomson Reuters business, was used to identify the significant Gene GO pathways and Gene GO metabolic networks in genes with high expression and statistically significant changes in expression in each stage of lactation. This is calculated using a built in function of MetaCore software that uses a variation of the Fisher's exact test adjusted for multiple sample testing using the Benjamini-Hochberg FDR analysis. Human orthologs were used for the analysis.
Declarations
Acknowledgements
The authors thank Doug Gisi and Sharlie Cunningham at the UC Davis dairy facility for their valuable help in sample selection and managing the dairy herd, and Charlie Nicolet at UC Davis genome center for his excellent technical expertise to perform Illumina GAII sequencing. We thank Tom Famula for his help in writing an R script used in the statistical analysis. S. Wickramasinghe was supported by the Austin Eugene Lyons Graduate fellowship at the University of California, Davis. This work was supported by a grant from Dairy Management Inc. number 08 MEJ-01-NH and the California Dairy Research Foundation, and by the U.C. W.Kellog Endowment.
Authors' Affiliations
(1)
Department of Animal Science, University of California, Davis, USA
Copyright
© Wickramasinghe et al; licensee BioMed Central Ltd. 2012
This article is published under license to BioMed Central Ltd. This is an Open Access article distributed under the terms of the Creative Commons Attribution License (http://creativecommons.org/licenses/by/2.0), which permits unrestricted use, distribution, and reproduction in any medium, provided the original work is properly cited.