CTen: a web-based platform for identifying enriched cell types from heterogeneous microarray data
Received: 9 December 2011
Accepted: 31 August 2012
Published: 6 September 2012
Abstract
Background
Interpreting in vivo sampled microarray data is often complicated by changes in the cell population demographics. To put gene expression into its proper biological context, it is necessary to distinguish differential gene transcription from artificial gene expression induced by changes in the cellular demographics.
Results
CTen (c ell t ype en richment) is a web-based analytical tool which uses our highly expressed, cell specific (HECS) gene database to identify enriched cell types in heterogeneous microarray data. The web interface is designed for differential expression and gene clustering studies, and the enrichment results are presented as heatmaps or downloadable text files.
Conclusions
In this work, we use an independent, cell-specific gene expression data set to assess CTen's performance in accurately identifying the appropriate cell type and provide insight into the suggested level of enrichment to optimally minimize the number of false discoveries. We show that CTen, when applied to microarray data developed from infected lung tissue, can correctly identify the cell signatures of key lymphocytes in a highly heterogeneous environment and compare its performance to another popular bioinformatics tool. Furthermore, we discuss the strong implications cell type enrichment has in the design of effective microarray workflow strategies and show that, by combining CTen with gene expression clustering, we may be able to determine the relative changes in the number of key cell types.
CTen is available at http://www.influenza-x.org/~jshoemaker/cten/
Keywords
Cell type enrichmentMicroarray dataDeconvolutionInfluenzaSystems immunology
Background
Microarray studies quantify genome wide changes in gene expression and have a variety of applications - from tracing allele ancestry as species evolve [
1
] to the development of genome-based personalized medicine [
2
]. A major challenge in the microarray analysis of tissue collected
in vivo
is that often the perceived gene regulation is the result of changes in the populations of particular cell types as opposed to an actual change in transcriptional activity (see Figure
1
). Particularly in situations which invoke the immune response, as the cell count of various lymphocytes change within the tissue, they bring with them their own unique quantities of RNA [
3
]. This leads to large changes in the copy number of RNA transcripts and can lead to the false perception of increased transcriptional activity.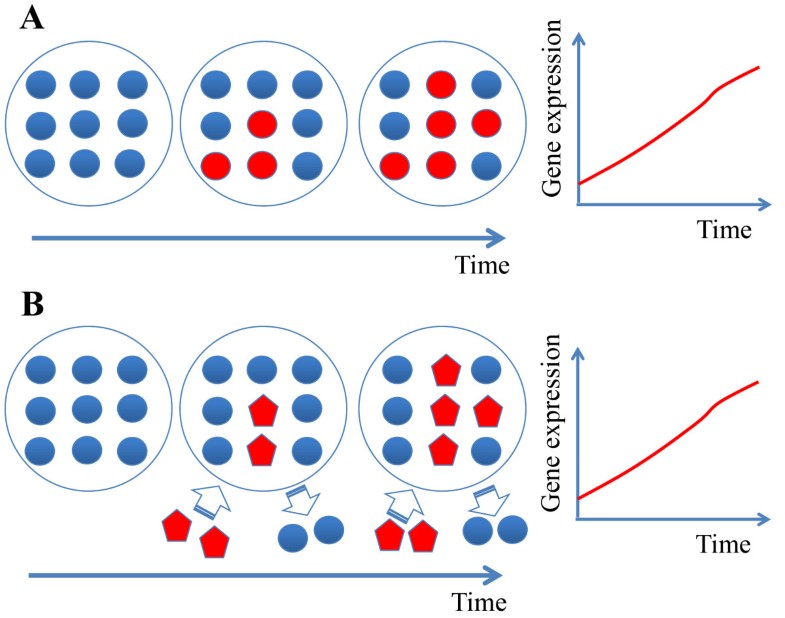 Several bioinformatics tools exist to identify the cause and effect of changes in gene regulation, with gene set enrichment analysis (GSEA) [4] and gene ontology (GO) enrichment [5] being the most popular, and there are several other web-based platforms with improvements or variations of these analytical tools [6–8]. GSEA relies on a database of reference gene lists which were previously determined to be regulated under several conditions (e.g., by transcription factors, chemical and genetic perturbations, or between healthy and diseased states). GSEA determines which reference list - if any - has statistically significant, concordant regulation. Although very useful for linking gene expression to specific transcription factors or identifying similarities between diseases, this tool does not include cell specific data at this time. The other popular alternative, GO, relies on a controlled vocabulary to describe the biological role of genes and their products. It is often accurate in predicting the local phenotype from gene expression data (e.g., inflammation annotations are highly enriched in samples from inflamed tissue [9]). However, cell specific GO annotations are often overwhelmed by more ubiquitous terms in the GO annotation hierarchy.
Additionally, some algorithms exist to unmix cellularly heterogeneous gene expression data into expression profiles for each cell type [10, 11] but generally either the number of cell types must be known a priori or cell counts must be determined. The Gene Expression Barcode [12] and BioGPS [13] web platforms provide tissue specific gene expression data and allow researchers to compare gene expression between different tissues in their databases. However, these tools do not provide a means to relate user-generated sets of differentially expressed genes to specific cell types. Hence, to facilitate the proper interpretation of genomic regulation from in vivo microarray data, we developed CTen to determine if the observed gene regulation is the result of changes in the cellular make up of the sample.
Two principles guided the development of our highly expressed cell-specific (HECS) gene database and the CTen website's interface. First, basal gene expression levels strongly differ between cell types [3, 14]. By analyzing gene expression across several cell types and tissues, we can select genes with very high expression in a limited number of cell types. In turn, each cell type has a collection of HECS genes to act as a cell-specific signature. Thus for any user generated list of genes, we can determine if the number of HECS genes for a particular cell type is greater than the number expected by chance.
The second principle, which led us to optimize CTen's interface for gene expression clustering studies, is the observation that changes in messenger RNA levels due to cell migration or variances in sample collection techniques result in conserved expression patterns in microarray data. Several clustering strategies, including hierarchical clustering and the weighted gene corregulation network algorithm (WGCNA) [15], have been developed to identify gene expression patterns which are conserved temporally or across experimental groups. By combining clustering with cell type enrichment, CTen can address a major challenge in biology today; namely separating gene expression from cellularly heterogeneous RNA samples into clusters representing differential transcriptional activity and clusters representing changes in gene expression due to cell migration.
Here, we first describe the construction of the HECS database and discuss the workflow behind the CTen website's design. We then validate CTen's ability to correctly identify the appropriate cellular signature and evaluate the benefits of users requiring increasingly strict enrichment scores. We motivate the use of CTen using genes differentially expressed in the lungs of mice infected with influenza virus, and, lastly, provide an illustrative example promoting the use of CTen for detecting changes in the cellular demographics and the critical role this plays in functional enrichment and gene network inference studies.
Conclusions
In conclusion, CTen can effectively distinguish between active gene transcription and apparent gene expression resulting from differences in the numbers of select cell types in microarray data. Furthermore, we provide a novel research workflow which helps to ensure that gene expression is interpreted in the proper biological context. We will continuously improve the enrichment algorithm so that a larger number of gene lists can be processed simultaneously (currently, users are limited to 20 gene lists in a single session). Recently, a gene set enrichment analysis based on the degree of pairwise correlation within a given gene set was shown to successfully relate samples to their corresponding tissue [26]. No simple interface is available yet for researchers, but it will be interesting to compare the performance between these two approaches in the near future. Additionally, we plan to introduce additional cell specific gene expression datasets so users can compare the results from different databases. And finally, while the examples focused on lymphocyte migration, CTen can be used in several other scenarios; for example, comparing excised tissue to ensure homogeneity between tissue samples.
Availability and requirements
Declarations
Acknowledgements
This work was supported by the Japanese Science and Technology Agency's ERATO influenza induced host responses project.
Authors' Affiliations
(1)
JST ERATO KAWAOKA Infection-induced Host Responses Project, Tokyo, Japan
(2)
The Systems Biology Institute, Tokyo, Japan
(3)
Influenza Research Institute, Department of Pathobiological Sciences, School of Veterinary Medicine, University of Wisconsin-Madison, Madison, USA
(4)
Institute of Medical Science, Division of Virology, Department of Microbiology and Immunology, University of Tokyo, Tokyo, Japan
(5)
Sony Computer Science Laboratories, Inc, Tokyo, Japan
(6)
Open Biology Unit, Okinawa Institute of Science and Technology, Okinawa, Japan
Copyright
© Shoemaker et al.; licensee BioMed Central Ltd. 2012
This article is published under license to BioMed Central Ltd. This is an Open Access article distributed under the terms of the Creative Commons Attribution License (http://creativecommons.org/licenses/by/2.0), which permits unrestricted use, distribution, and reproduction in any medium, provided the original work is properly cited.