Research article

Open Access
Network-based SNP meta-analysis identifies joint and disjoint genetic features across common human diseases
Received: 29 May 2012
Accepted: 12 September 2012
Published: 18 September 2012
Abstract
Background
Genome-wide association studies (GWAS) have provided a large set of genetic loci influencing the risk for many common diseases. Association studies typically analyze one specific trait in single populations in an isolated fashion without taking into account the potential phenotypic and genetic correlation between traits. However, GWA data can be efficiently used to identify overlapping loci with analogous or contrasting effects on different diseases.
Results
Here, we describe a new approach to systematically prioritize and interpret available GWA data. We focus on the analysis of joint and disjoint genetic determinants across diseases. Using network analysis, we show that variant-based approaches are superior to locus-based analyses. In addition, we provide a prioritization of disease loci based on network properties and discuss the roles of hub loci across several diseases. We demonstrate that, in general, agonistic associations appear to reflect current disease classifications, and present the potential use of effect sizes in refining and revising these agonistic signals. We further identify potential branching points in disease etiologies based on antagonistic variants and describe plausible small-scale models of the underlying molecular switches.
Conclusions
The observation that a surprisingly high fraction (>15%) of the SNPs considered in our study are associated both agonistically and antagonistically with related as well as unrelated disorders indicates that the molecular mechanisms influencing causes and progress of human diseases are in part interrelated. Genetic overlaps between two diseases also suggest the importance of the affected entities in the specific pathogenic pathways and should be investigated further.
Keywords
Genome-wide association study
Genetic overlap
Shared variant network
Disease comorbidity
Background
In the past years enormous progress has been made in the identification of complex trait susceptibility loci. The application of genome-wide association studies (GWAS) created a still growing set of genetic markers associated with increased risk for a multitude of different diseases[1]. In contrast to few single loci exerting large effects on some phenotypes – mostly immune-related traits – the majority of traits was only associated with loci displaying small effects of odds ratios ranging from 1.1 to 1.5[2]. Meta-analyses of several GWA studies further extended the set of known disease-related associations with even lower-effect variants. Despite the impressive progress in the field, for most traits only a small proportion of the total heritability is yet explained by known risk variants[3]. A notable exception is type 1 diabetes (T1D) where validated risk loci explain a large proportion of the total heritability[4]. In contrast, for most traits a considerably larger number of variants was reported to be associated, but typically these explain less than 50% of the total heritability[5].
Intriguingly, although published individual GWAS are usually carried out for one trait at a time, a significant overlap in the associations of several complex diseases becomes apparent[6]. Besides effects on a specific phenotype, loci and single SNPs thus may also exert pleiotropic effects by contributing to a variety of traits. While it is not surprising that susceptibility genes for closely related traits should be shared, multi-functionality of a gene in phenotype presentation, i.e. pleiotropy, sensu stricto refers to seemingly unrelated and distinct traits[7]. Loci or variants affecting several traits might have small effects on each specific trait, but may be of major biological interest while indicating shared or branching etiological mechanisms. In principle, the influence of such loci can be agonistic or antagonistic, i.e. involve concurrent similar or opposite effects of the same variant for different traits. So far, few studies attempted to study such loci in a systemic fashion and rather focused on shared risk variants in closely related traits like autoimmune diseases[8–10], heart diseases[11] or cancer[12].
In order to identify shared or branching pathways of related as well as diverse (i.e. medically and phenotypically distinct) diseases, we performed a systematic comparative analysis of genetic commonalities and differences across traditionally defined traits using the available repository of GWAS results. In the context of network medicine[13], we utilized an approach based on the diseasome concept[14] and investigated high-significance associations beyond conventional single-marker analysis in a hypothesis-free and comprehensive way. In former studies we found differing approaches of gene and locus assignment to association markers which partially led to controversial results (e.g.[15]). We therefore developed a more sophisticated locus assignment method and evaluate its reliability by utilizing the information contained directly in the reported markers. For this variant-based approach we manually curated a high-quality data set to construct a network extending the knowledge on genetic overlaps between diseases as provided by GWA studies.
Results and discussion
Considerable discrepancies across GWAS through differing genotyping platforms, varying sample sizes and diverging measures of statistical significance demand accurate data selection. Therefore, to sustain the genuine variant-linked information provided by GWAS, we combined several steps of data curation and filtering. To provide a comprehensive base for the analysis of potentially multi-functional loci and variants, respectively, we compiled two network representations of the information made available by GWA studies: the locus-based "shared locus network" (SLN, Figure
1
B) and the variant-based "shared variant network" (SVN, Figure
1
C). To be able to cluster diseases by their "genetic relatedness", we additionally created a disease-centric projection of the SVN (Additional file
1
: Figure S1).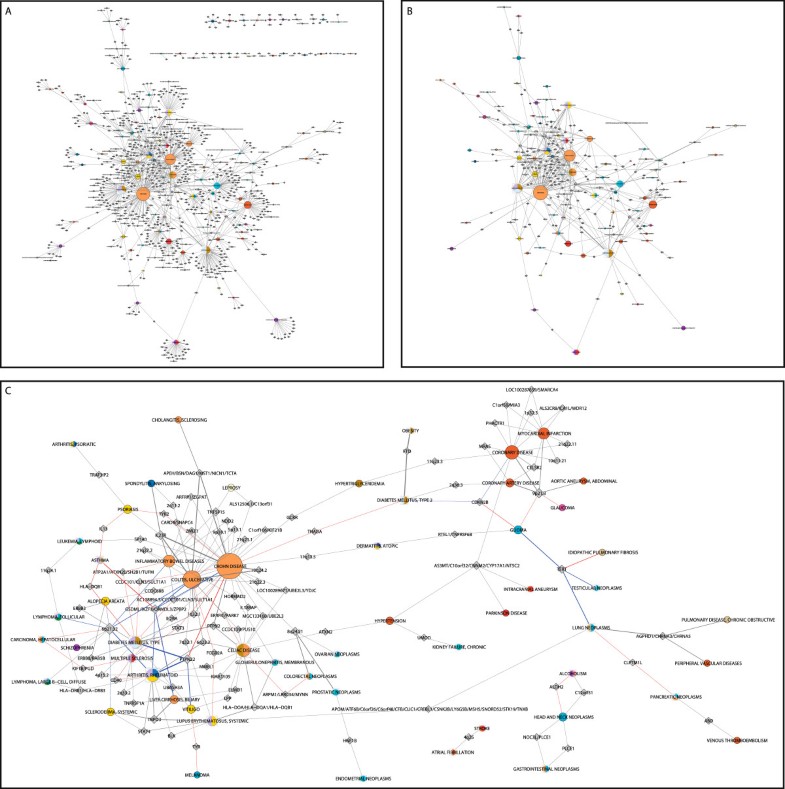 We defined the associated loci over the variant-based linkage disequilibrium (LD) measure r2 and, accordingly, expected the SLN and the SVN (Figure1B and C) to be of similar shape. However, when visually comparing the networks, significant differences in size and structure became apparent. Therefore, we performed further analyses to compare established property measures of the networks in detail to investigate potential reasons for this divergence.
Conclusions
Our results present new starting points for studying the genetics of complex diseases. The observation that more than 15% of the SNPs considered in our study are associated both agonistically and antagonistically with related as well as unrelated disorders indicates that the molecular mechanisms influencing causes and progress of human diseases are in part interrelated. Genetic overlaps between two diseases also suggest the importance of the affected entities in the specific pathogenic pathways and should be investigated further. These may be secondary, such as genes involved in inflammatory responses related to T2D as well as cancer[30, 38]. The findings presented also demonstrate the need to clarify the relation of any phenotype linked to an associated marker. For directly interrelated diseases such as PS and PSA often PS patients without present arthritis or arthritis in the past are used as additional control group. Associations are then interpreted as PSA-specific if not as strongly associated with PS[74, 75]. Comparable procedures may proof useful in frequently co-occurring diseases genetically linked by agonistic variants. Nevertheless, the complex genetics of multifactorial diseases asks for a better understanding of the functions underlying common disorders. An improved characterization of the endophenotype, such as metabolite or protein concentrations, may enhance our understanding of identical pathomechanisms that link agonistic genetic loci to clinically distinct traits. Pleiotropic effects, on the other hand, that are harbored in the same locus may trigger different mechanisms interfering with the genetic or environmental background. The detailed examination of antagonistically associated loci may thus lead to first insight into the mechanism of the various types of pleiotropy in human diseases.
Methods
Association selection and curation
We obtained the core list of candidate sentinel SNPs from 'A Catalog of Published Genome-Wide Association Studies'[
1
] accessed on June 30, 2011 (
http://www.genome.gov/gwastudies
). Additional associations where retrieved from HuGE Navigator[
76
] and automated Text Mining[
77
]. New (i.e. not contained in the GWAS Catalog) association markers were manually tested on compliance with the criteria for inclusion in the GWAS Catalog before insertion in the candidate list. Associations with copy number variants (CNVs) as well as with pending SNPs were removed. For consistency, SNP identifiers were mapped to the RefSNP numbers of the same dbSNP release (build 131,
http://www.ncbi.nlm.nih.gov/snp
). For the same reason we semi-automatically translated trait descriptions to the official terms given in the Medical Subject Headings (MeSH). In this process, associations with quantitative and non-disease traits were eliminated. Finally, we lowered the association P-value threshold from 10
−5
(as in the GWAS Catalog criteria) to 10
−7
as to reduce the potential of artificial associations. The workflow of the methods of our approach is sketched in Figure
4
.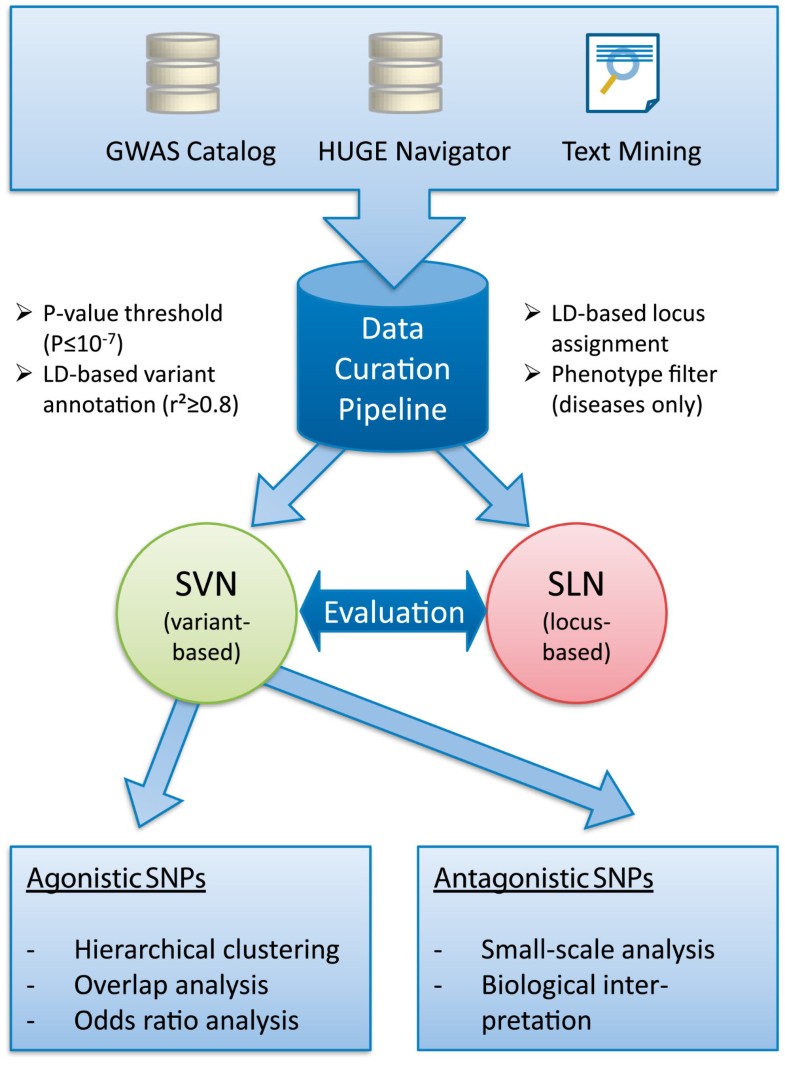 Construction of GWAS networks
For the construction of the locus-based data representation, we defined an associated locus as the whole genomic region captured by SNPs in strong LD, r2 ≥ 0.8, with the marker originally reported in a GWAS contained in our data set. The locus is then characterized as all genes located within this genomic region (referred to as "gene locus") (Figure2). If the region contains no genes, the locus is assigned to its chromosomal location (referred to as "intergenic locus"). LD data and gene information were obtained with the SNAP tool[78]. After locus assignment, our final data set consisted of 111 different traits linked via 1,120 SNPs to 508 gene loci and 226 intergenic loci.
Based on this list we constructed a bipartite graph consisting of two disjoint sets of nodes (Figure1A) representing the complete association data. The first node set corresponds to the traits, whereas the other set comprises the associated loci. Two nodes are connected by an edge if a variant within the respective locus is associated with the corresponding trait. By removal of isolated traits, i.e. traits which share no associated locus with another trait (n = 27) (Figure1A), and cutting out loci which are associated with only one trait (n = 577), we retrieved the SLN (Figure1B).
To obtain a variant-based representation of the data, we repeated the network generation on marker scale by utilizing the set of variants associated with more than one distinct trait. For this, we used the LD data to mutually assign the associated traits of sentinel SNPs in pairwise LD if not already present. In other words, each variant is, in addition to its own associated traits, assigned the traits associated with all correlated SNPs. This set consists of 175 SNPs located in 94 loci and associated with 55 diseases (Additional file2: Table S1). In the resulting bipartite SVN, a trait and a locus are linked if the locus contains a variant which comprises associations with this and at least one other trait. Here, the allele information was included in the graph visualization by coloring of the edges (Figure1C). Both the SLN and the SVN are provided as machine-readable files, see Additional files5 and6.
Network analysis
The network concepts which we used to compare the properties of the SLN and the SVN are defined as given in[
79
]:
where
a
ij
 = 1 if nodes
i
and
j
are connected and 0 otherwise.
mean
(
k
) denotes the mean connectivity, which for a node
i
is defined as.
To automatically distinguish the two node sets contained in the SVN, we used directed edges. Direction is always from disease (source) to locus (target). The distinct node degree distributions thus are identical to the indegree distribution and the outdegree distribution. The topological coefficient as a measure of modularity[
80
]
T
i
of a node
i
is defined as:
where N i is the number of neighbors of i and S(i, j) is the number of shared neighbors of nodes i and j (undefined if i and j do not share a neighbor) plus one if j is a neighbor of i.
Power-law functions of the form
y
 = 
e
a
x
b
were fitted using least squares fitting where the coefficients are defined as and. As goodness-of-fit measure, we give the coefficient of determination
for the linear transformation of the power-law functions, i.e. ln y = a + b ln x.
Determination of agonistic and antagonistic effects
For all variants associated with more than one trait, we manually extracted the risk alleles (OR > 1, independently of major or minor allele status) and odds ratios from the reporting studies. The alleles were mapped to the forward DNA strand according to dbSNP 131. The same procedure was applied to markers which were indirectly associated with a trait over LD. If for all traits the same associated risk allele (and corresponding allele, respectively) was reported, the SNP was classified as agonistic. If the risk alleles of a SNP were opposed in the associated diseases, the variant was classified as antagonistic.
Genetic clustering
We applied complete-linkage hierarchical clustering to identify groups of traits genetically overlapping with respect to agonistic signals. Normalization was performed using the linear PCC defined as where the input are the vectors of the variant-based agonistic overlap of two distinct diseases X and Y to all other diseases. Thus, disorders which are clustered together show a homogeneous association overlap pattern to all other diseases, while diseases which are not clearly assigned to a cluster present a more heterogeneous pattern relatively unique in the SNP data. For cluster definition, we used a Euclidian distance threshold of 1.71. This threshold was determined as the maximal distance at which the six traits not correlating with other diseases (Figure3) remain non-clustered.
Calculation of the CPMA statistic for autoimmune loci
We downloaded the dataset S1 from[8] and extracted the information on autoimmune-linked SNPs contained in the SVN. We used the Z-scores given in the file to compute two-sided P-values for all seven GWAS. Using the CPMA code provided onhttp://www.cotsapaslab.info/index.php/software/cpma/ we calculated the CPMA P-values as described in[8].
Declarations
Acknowledgements
This work was supported by the Helmholtz Alliance on Systems Biology (project CoReNe and the Joint Technology Platforms); the German Federal Ministry of Education and Research as part of the National Genome Research Network [NGFN 01GS 0429, NGFN 01GS 0818]; the German Federal Ministry of Education and Research in its MedSys initiative (project SysMBo) [FKZ: 0315494A]; the TUM Graduate School for Information Science in Health; the Christiane Kühne Center for Allergy Research and Education (http://www.ck-care.ch/); the Schleswig-Holstein Excellence Cluster "Inflammation at Interfaces"; and a Heisenberg professorship of the DFG [WE 2678/4-1 to S.W.]. The funders had no role in study design, data collection, interpretation and analysis, decision to publish, or preparation of the manuscript.
Authors' Affiliations
(1)
Institute of Bioinformatics and Systems Biology, Helmholtz Zentrum München, German Research Center for Environmental Health, Neuherberg, Germany
(2)
Department of Dermatology and Allergy Biederstein, Technische Universität München, Munich, Germany
(3)
TUM Graduate School of Information Science in Health (GSISH), Technische Universität München, Garching, Germany
(4)
Institute for Clinical Molecular Biology, University of Kiel, Kiel, Germany
(5)
Clinic for Pneumology and Neonatology, Hannover Medical School, Hannover, Germany
(6)
Institute for Human Genetics, Technische Universität, München, Munich, Germany
(7)
Department of Neurology, Technische Universität München, Munich, Germany
(8)
Institute of Human Genetics, Helmholtz Zentrum München, German Research Center for Environmental Health, Neuherberg, Germany
(9)
Institute of Genetic Medicine, European Academy Bozen/Bolzano (EURAC), 39100 Bolzano, Italy – Affiliated Institute of the University Lübeck, Lübeck, Germany
(10)
Department of Child and Adolescent Psychiatry, University Clinic of Munich, Munich, Germany
(11)
Institute of Epidemiology, Helmholtz Zentrum München, German Research Center for Environmental Health, Neuherberg, Germany
(12)
Chair of Genome Oriented Bioinformatics, Center of Life and Food Science, Freising-Weihenstephan, Technische Universität München, Munich, Germany
Copyright
© Arnold et al.; licensee BioMed Central Ltd. 2012
This article is published under license to BioMed Central Ltd. This is an Open Access article distributed under the terms of the Creative Commons Attribution License (http://creativecommons.org/licenses/by/2.0), which permits unrestricted use, distribution, and reproduction in any medium, provided the original work is properly cited.