Research article

Open Access
High-resolution autosomal radiation hybrid maps of the pig genome and their contribution to the genome sequence assembly
Received: 19 March 2012
Accepted: 25 October 2012
Published: 15 November 2012
Abstract
Background
The release of the porcine genome sequence offers great perspectives for Pig genetics and genomics, and more generally will contribute to the understanding of mammalian genome biology and evolution. The process of producing a complete genome sequence of high quality, while facilitated by high-throughput sequencing technologies, remains a difficult task. The porcine genome was sequenced using a combination of a hierarchical shotgun strategy and data generated with whole genome shotgun. In addition to the BAC contig map used for the clone-by-clone approach, genomic mapping resources for the pig include two radiation hybrid (RH) panels at two different resolutions. These two panels have been used extensively for the physical mapping of pig genes and markers prior to the availability of the pig genome sequence.
Results
In order to contribute to the assembly of the pig genome, we genotyped the two radiation hybrid (RH) panels with a SNP array (the Illumina porcineSNP60 array) and produced high density physical RH maps for each pig autosome. We first present the methods developed to obtain high density RH maps with 38,379 SNPs from the SNP array genotyping. We then show how they were useful to identify problems in a draft of the pig genome assembly, and how the RH maps enabled the problems to be corrected in the porcine genome sequence. Finally, we used the RH maps to predict the position of 2,703 SNPs and 1,328 scaffolds currently unplaced on the porcine genome assembly.
Conclusions
A complete process, from genotyping of a high density SNP array on RH panels, to the construction of genome-wide high density RH maps, and finally their exploitation for validating and improving a genome assembly is presented here. The study includes the cross-validation of RH based findings with independent information from genetic data and comparative mapping with the Human genome. Several additional resources are also provided, in particular the predicted genomic location of currently unplaced SNPs and associated scaffolds summing up to a total of 72 megabases, that can be useful for the exploitation of the pig genome assembly.
Keywords
Radiation HybridGenetic LengthRadiation Hybrid PanelUnplaced ScaffoldRadiation Hybrid Data
Background
With the important reduction in cost of sequencing, whole genome sequencing data are becoming much easier to produce. However sequencing projects still need medium to long range information to anchor scaffolds on chromosomes and produce high quality reference maps [1]. The Pig (Sus scrofa domestica) genome sequencing project used high resolution physical maps based on a combination of restriction fingerprint maps and BAC end sequencing together with state-of-the-art Human-Pig comparative maps [2, 3]. Although these maps enabled coverage of over 98% of the 18 pig autosomes with 139 contigs [3], their internal ordering and orientation needed validation from another independent source. RH mapping is a widespread physical mapping approach that has been frequently used to assist genome assembly [4–11]. In the pig, two radiation hybrid panels are available, at different radiation doses: 7,000 rads [12] and 12,000 rads [13], with estimated resolutions of 35.4 Kb/cR and 12.5 Kb/cR respectively each of which was produced from multiple animals [13]. These panels were used to construct whole genome [14–16] as well as localized (e.g.[17–23]) radiation hybrid maps.
Recently, a high density SNP array was produced for the pig [24], allowing the simultaneous genotyping of 64,232 SNPs in one individual. Compared to previous RH mapping strategies focusing on ESTs or microsatellites, the use of high density SNP arrays has several advantages, in particular in the context of genome assembly. First the number of genotyped loci is large, close to if not above the number that the resolution power of the RH panels allows to order. Second, these SNPs correspond to sequences that are, by design, known to be unique on the pig genome. Finally, the distribution on the genome of the SNPs is roughly homogeneous, covering equally gene rich and gene poor non-repetitive regions.
We describe here genome-wide high resolution RH maps of the pig autosomes constructed by genotyping the two pig RH panels with the Illumina porcineSNP60 array. The construction of RH maps in this context presented two challenges: the accurate genotype calling from the raw intensity data and the construction of chromosome maps with thousands of markers. Because answering these questions is error prone, we validated the map ordering using genotyping data in families. Once confident in the validity of our RH maps, they were compared to a draft version of the pig genome assembly (build9) which led to propose improvements that were included in the build10 assembly. Finally we show the added value of RH maps for the mapping of unassigned sequences: we propose likely positions for 1328 unplaced scaffolds totaling 72 megabases of genome sequence.
Discussion
In this study, we present what we believe is the first example of constructing genome-wide high resolution RH maps from SNP array data. Our main motivation for building these maps was to provide independent data to analyze and validate the pig genome sequence. Before proposing improvements to the pig genome, we carefully validated our results using information on segregation data in pig families. Eventually, this made our inference more robust and allowed us to contribute significant improvements to the pig genome: we proposed modifications for the largest discrepancies and the assembly was modified when this did not contradict sequence data (e.g. breaking a contig). We discuss here what we believe are important aspects of the current study: genotyping an RH panel with a high density SNP array, construction of high (ultimate) resolution genome-wide RH maps and finally the analysis of discrepancies between maps and assemblies.
Conclusions
Overall there is good agreement between the current genome assembly and the robust RH maps presented here. Although the pig genome sequence is now released, we believe our RH maps can still be useful to the community. There are likely to still be ordering problems on the pig genome, as has been seen for other mammalian genomes before, and the RH information can provide the pig genetics community with valuable information to help improve further the pig genome sequence. Also, the RH maps allow the positioning of currently unassigned SNPs and sequence to the pig genome, which effectively increases the coverage of the assembly, allowing for example the mapping of significant genome-wide association signals currently positioned on an unassigned scaffold. Our RH maps have already proved to be useful to study the recombination rate patterns in the pig [28], by providing a robust ordering of markers which is crucial for recombination rate estimation.
The approach used for this study relies on the availability of both RH panels and a high density SNP array. For species where both tools are available, this study demonstrates that high density RH panels are very useful for providing physical evidence for the ordering genome sequence and for positioning unplaced scaffolds. However, we do not expect that it can be applied as presented here to a large number of species. Indeed, the production of an RH panel, let alone two, is a labor intensive, highly technical and therefore expensive task. High density SNP array also come with a large designing cost and will likely be available for a small number of species. While we can expect an increasing number of genomes to be sequenced, even de novo thanks to NGS techniques, producing high-resolution genome maps based on non sequence data (such as RH maps, genetic maps, in situ hybridization etc.) will be essential for the production of good quality genome assemblies. This will most likely require bypassing the limitations mentioned above, for example by substituting SNP arrays by Genotyping By Sequencing techniques and radiation hybrids by other chromosome breaking mechanisms such as genetic recombination in large samples. The methods used here can readily be applied to such datasets.
Methods
Genotype calling
We genotyped two RH panels with the Illumina porcineSNP60 chip. In the same experiment, one sample of pig genomic DNA and hamster genomic DNA were added as controls. Radiation hybrid samples contain only a fraction of the total genomic DNA found in a cell, as such, the genotype calling methods used on genomic DNA samples are not adapted for radiation hybrid data. We used a specific methodology for calling the RH genotypes: the principle is to identify markers for which raw signal intensities show a clear-cut difference between the negative hamster control and the positive control.
We started with a data set of 59,950 SNPs for which at least 5 genotypes were initially called in the 180 radiation hybrids. We then compared raw intensities on the X and Y axes (for two SNP alleles) in the hamster and averaged over RH clones (Figure
7
, left). As we could observe mean intensities as low as 500 on the X axis and 1000 on the Y axis within RH clones, any SNP exceeding these thresholds in the hamster was discarded. We also discarded SNPs for which the mean intensity in RH clones was less than 3000 on the Y axis or less than 1500 on the X axis, because we lacked the discrimination power to distinguish clones that retained the SNP and clones that did not.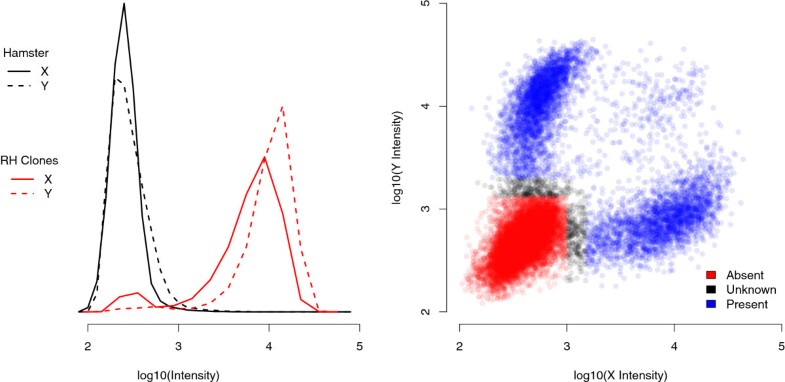 For the remaining SNPs, we determined thresholds for genotype calling based on the observed distribution of raw intensities (Figure 7, right): signal with an X intensity less than 1000 and Y intensity less than 1300 were called absent, signals with an X intensity greater than 1500 or a Y intensity greater than 2000 were called present; other signals correspond to intermediate values and the corresponding genotypes were set as missing. Finally, we eliminated SNPs for which a genomic control was negative (186) or dubious (92) as well as SNPs presenting more than 10 unknown genotypes over 180 clones (3219). Eventually we produced RH vectors for 50220 SNPs. The proportion of SNPs passing these filters was constant across autosomes (between 85% and 90%). However, for SNPs that were not assigned a chromosomal position on build9, about 40% of the SNPs failed these filters.
Construction of Radiation Hybrid maps
We first partitioned SNPs according to their assigned chromosome on assembly build9. For each autosome, we determined linkage groups among SNPs, based on RH data alone. Specifically, we used the multigroup option of the carthagene software [33], requiring a minimum LOD score of 6 in each panel, and keeping only linkage groups of size greater than 10. This resulted in typically few (less than 5) linkage groups per chromosome. We treated them jointly using a method [25] that combines a priori information (here coming from the build9 assembly) and RH data as implemented in carthagene by merging the two RH datasets and the assembly dataset. Using this method guarantees that discrepancies observed between the RH map and the assembly are strongly supported by RH data, as regions were RH data are not informative keep the prior (i.e. the assembly) ordering. RH maps were built with the lkh command. On these initial RH maps 570 SNPs did not show clear evidence for linkage and were therefore removed to obtain RH maps totaling 41,729 SNPs.
We next applied a novel approach [26] to build maps with a highly reliable ordering, which we call robust maps. Briefly, the principle of the method is to obtain a set of possible maps with associated probabilities of being correct and then extract from this distribution a subset of markers that show the same ordering across maps of high probability. Specifically, we first estimated the posterior distribution of possible orders using an MCMC approach [26] implemented in the mcmc command of carthagene. We performed 5000 MCMC iterations and discarded the first 1000 as burning iterations. Finally we extracted robust maps from the posterior distribution using the metamap software [26], with default values for all parameters. This approach is closely related to the idea of constructing framework maps. In the case of framework maps, an order is accepted based on a maximum likelihood ratio, also called LOD, criteria: the logarithm of odds between the best order and the second best order must exceed a preset ratio, such as 1,000:1 for example (LOD-3) [34]. In contrast, the construction of robust maps falls into the Bayesian paradigm [35].
Predicting the position of uSNPs on the pig genome
6076 SNPs with RH vectors were not assigned to a chromosome on build9. Here we describe how we used the RH data to assign them to the pig genome and to predict their position on the pig genome assembly. The robust RH maps that we developed are composed of a subset of markers for which a position on build9 was known (M. Groenen, pers. comm.). Given the high number of markers, producing maps de novo would require a very long time. We decided to use a more rapid approach, which would be good enough to provide reasonable predictions.
The principle of the mapping of an unassigned SNP (uSNP) on a pig chromosome is based on computing a similarity score between this SNP and all the already mapped SNPs (mSNPs). Given two SNP RH vectors (one uSNP and one mSNP), we count the number of clones which show the presence of both SNPs. We can derive a chi-square statistic for seeing N match (present,present) between the two markers, under the null hypothesis that the two markers are independent. The score used is -log10 of the pvalue corresponding to this statistic. We performed an empirical study to obtain a threshold for the score of unlinked SNPs. We sampled a mSNP on a chromosome and calculated its maximum score on another chromosome. Repeating this process a 1000 times provides a distribution of the scores of a SNP when tested against a wrong chromosome.
The first step of our analysis was to assign uSNPs to pig chromosomes. To this end, we calculated the similarity score of each uSNP with all mSNPs, using RH vectors of the lower resolution panel [12]. A uSNP was assigned to a chromosome when its score exceeded an empirical threshold. Given the empirical distribution above, a score of 5 seemed appropriate. However, this led to many uSNPs that could be assigned to more than one chromosome. Indeed, we had to use a score of 7 to get a single chromosome assignment for all SNPs (Additional file 8). At the end of this step we had a list of SNPs to map for each of the 18 autosomes. For each autosome, we calculated for each uSNPs assigned to this chromosome a score with all the mSNPs, using RH vectors of the higher resolution panel [13]. We identified the highest scoring neighbor as a first flanking marker and the second highest scoring SNP as its other neighbor. We then predicted its RH position as the barycenter, with weights equal to the scores, as a mean to give more weight to the highest scoring neighbor. At the end of this step, we obtained a list of uSNPs with a predicted chromosome and position on the RH map. The last step was to predict the position of the uSNP on the genome assembly. For this we first fitted a spline of the assembly position on the map position, using the mSNPs. We then used this spline to predict new positions for uSNPs, given their predicted position on the RH map.
Software availability
All software and computer programs used in this study are freely available from the corresponding author.
Declarations
Acknowledgements
This work was financed by ANR grant ANR07-GANI-001 (DeliSus project). Apart from the genotyping of RH clones, the DeliSus project provided the genetic data used for the production of recombination maps. The authors thank two anonymous reviewers for their helpful comments on an earlier version of the manuscript.
Authors' Affiliations
(1)
Laboratoire de Génétique Cellulaire, Animal Genetics Division, INRA, Chemin de Borde-Rouge Auzeville, Castanet-Tolosan, France
(2)
Centre National de Génotypage, Evry, France
Copyright
© Servin et al.; licensee BioMed Central Ltd. 2012
This article is published under license to BioMed Central Ltd. This is an Open Access article distributed under the terms of the Creative Commons Attribution License (http://creativecommons.org/licenses/by/2.0), which permits unrestricted use, distribution, and reproduction in any medium, provided the original work is properly cited.